Individuals only add to Army-Navy rivalry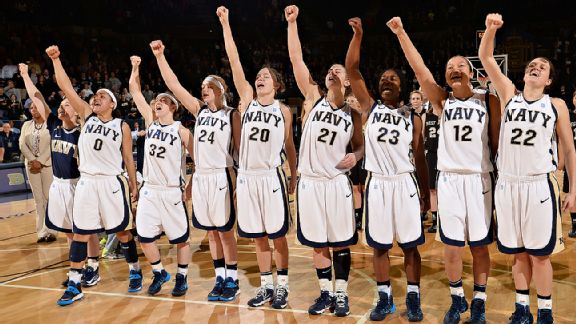 Phil HoffmanIncluding Saturday's win, Navy leads its all-time series with Army 31-30.
The first female pilot to graduate from the Navy's famed TOPGUN training program, Becky Dowling Calder chartered another club Saturday afternoon when she became the first former women's basketball player to have her jersey retired by the United States Naval Academy. Fittingly, the honor came at halftime of a game between Navy and Army in Annapolis, Md.
Even better, at least from her perspective presumably, it came on a day that Navy beat Army.
A 1998 graduate who remains Navy's all-time leader in rebounds, Dowling Calder joined CBS announcers Jason Knapp and Chris Spatola for an interview during the second half and spoke about the significance of her trailblazing role in the sky.
"People have asked me that a lot throughout my career -- especially flying F-18s, there's not a lot of women," Dowling Calder told them. "I've never thought about it like that. You know, I might have been the first woman that went to TOPGUN, but most importantly, I won't be the last."
Play continued on the court, and as she finished the above sentence, Navy senior Kara Pollinger pulled up a few feet away and hit a 3-pointer to extend her team's lead to nine points.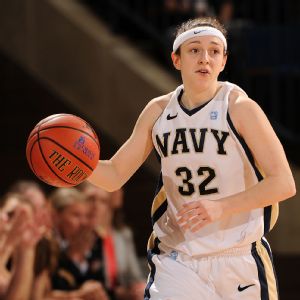 Phil HoffmanNavy senior Kara Pollinger finished with 19 points, eight assists and five rebounds.
As Dowling Calder moved on to a question about the basketball rivalry between academies, Army guard Kelsey Minato brought the ball up the court, dribbled once between her legs as she sized up the defender waiting at the top of the key, twice more to move forward and answered with a 3-pointer of her own to cut the deficit back down to six points.
There is no rivalry quite like Army-Navy. To most of us on the outside, that is because of the institutions involved. Army. Navy. But it is just as much because of the individuals.
Basketball led both Pollinger and Minato, each her respective team's leading scorer this season, to choose a different sort of college experience than most of their peers. Pollinger's two sisters played Division II basketball in their home state of West Virginia. She figured she would do the same. Then Navy recruited her. Minato's great-grandfather served in World War I, her grandfather in World War II, but West Point never crossed her mind until the school reached out to her when she was already halfway through her senior year in high school.
A lot of people would take one look at the lifestyle and pass. Some people don't.
"I wanted to come to a place where I would be challenged every day in as many different ways, emotionally, physically, mentally," Minato said this week. "And I knew that I wouldn't get that anywhere else."
On the court, Minato quickly became arguably the Patriot League's best player. Beyond the traditions and pageantry on display, Army-Navy matters in women's basketball because it shapes the balance of power in the conference. The two teams entered Saturday's game a combined 6-0 in the league and 22-6 overall. And while Navy's senior class aspires to make a fourth consecutive trip to the NCAA tournament, remarkable for any school in a one-bid league, Army was the No. 1 seed in last season's conference tournament after it swept the regular-season series from its rival.
That was in no small part because of Minato, who totaled 36 of the 101 points Army scored in those two wins a season ago.
None of which made her anything other than a first-year cadet when she left the court. Not even beating Navy meant she could speak outside or avoid picking up laundry for upperclassmen.
"As a sophomore, now you have a name," Minato said of the West Point experience. "People acknowledge your existence."
Pollinger is nearer the other end of the timeline. She will graduate this spring and proceed to flight school in Pensacola, Fla., where she might spend two years. She picked up 10 flight overs over the summer as part of a training program, including her first solo time. She also had an opportunity to sit down to breakfast with Dowling Calder.
"I asked her a lot about her experience here as a female," Pollinger said. "She said it was hard, and that things have definitely gotten a lot better. She didn't go into too much detail, but I could tell she's definitely a very driven person. So she had to go through a lot of things, but was very good at being focused at her goals and what she wanted to achieve in life. And I mean, clearly, she did it. She buckled down and closed her ears and kept her eyes straight."
Saturday went Navy's way. Minato scored 25 points, but Army couldn't find an answer in the post for Navy senior Jade Geif, the Patriot League preseason player of the year and a future Marine Corps officer who paced her team with 24 points and seven rebounds. One of those running such precision sets and feeding the ball inside to Geif time and again, Pollinger finished with 19 points, eight assists and five rebounds. Navy leads the all-time series -- 31-30.
Maybe it's the power of the Army-Navy rivalry that people who have so much else of consequence going on are so passionate about it.
"I like to think that every game we play the same way regardless of the team in the other locker room," Pollinger said the day before the game. "But at the end of our alma mater, which we sing after every home game, we pound our chest and put our fist in the air and we say 'Beat Army.' So I think it would be a lie if I told you that this game doesn't mean an incredible amount to our team and to our program.
"Now, depending on the outcome, it could change how special this game is to me, per se."
Safe to say this one was special.
espnW.com
Graham Hays covers college sports for espnW, including softball and soccer. Hays began with ESPN in 1999.
A trio of talking points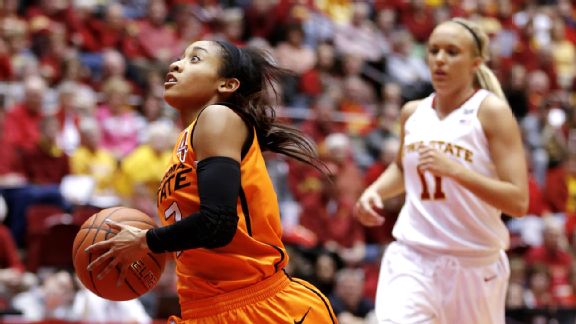 AP Photo/Charlie NeibergallTiffany Bias' 22 points, four assists and one turnover in 34 minutes helped Oklahoma State top Iowa State.
1. North Carolina is older than it was a week ago: We saw North Carolina struggle to deal with prosperity. We saw North Carolina rally against adversity. We saw the Tar Heels get a week older. And a week in ACC time can feel like the basketball equivalent of a year to a dog.
Coming off a loss at home against then-No. 8 Maryland on Jan. 5, North Carolina overcame another sluggish start against No. 20 NC State on Thursday, asserted itself with a 24-2 run and took control by halftime. Diamond DeShields looked like the most unstoppable player on the court, if not the entire conference. Stephanie Mavunga and Xylina McDaniel got points in the paint. The defense harassed NC State into 14 turnovers. The Tar Heels looked like the superior team and carried themselves like they knew it. The only problem was they forgot to play like it for most of the second half. A 16-point lead dwindled to five points with two minutes to play before a win was finally secured.
It was the kind of sloppy second half a young team plays, and a good NC State team nearly punished them for it.
Sunday was the kind of second half a young team plays to suggest it won't always be young.
North Carolina admittedly got a gift on the road against No. 18 Florida State when whistles took Seminoles standout Natasha Howard out of the game (although Tar Heels freshman Jessica Washington should get some credit for the two quick fouls early in the second half that sealed it, first expertly selling contact on a moving screen and then taking the ball at Howard on the next trip down the floor). Considering how well Florida State played even without its star, those fouls were four of the game's biggest plays. Still, down by as many as 12 points in the first half and nine points in the second half, the Tar Heels followed a familiar recipe -- DeShields, defense and post touches -- to a 65-61 win.
It is a team that still has work to do when it comes to managing the prosperity its talent will create. But not buckling in the face of adversity on the road matters.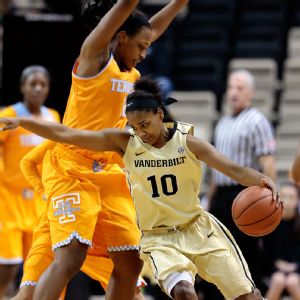 AP Photo/Mark HumphreyChristina Foggie helped Vanderbilt beat Tennessee for just the ninth time in their all-time series.
2. It's a new day in the SEC: While LSU started it with a win against Tennessee in Knoxville, and Florida pitched in with a win in Lexington against Kentucky, it was left to Vanderbilt to throw the SEC race wide open with Sunday's 74-63 win against the eighth-ranked Lady Vols. Of course it would be the Commodores, previously 8-62 all-time against the Lady Vols, who proved the point.
We're not even halfway through January and Tennessee has two conference losses, Kentucky has the same and Georgia is all but out of the race. You know, the teams that went 39-9 in conference play a season ago. Game on.
Sunday's result in Nashville was all the more stark because it was just a week earlier that South Carolina, another SEC contender, wore down an undersized Vanderbilt team. Granted, that game was in Columbia, S.C., not quirky Memorial Gym, but with Isabelle Harrison in foul trouble, the Lady Vols couldn't get from Mercedes Russell and Bashaara Graves what South Carolina got out of a less heralded young tandem of Alaina Coates and Elem Ibiam. Instead, Vanderbilt guards Jasmine Lister and Christina Foggie picked apart the bigger team during a comeback.
3. Oklahoma State turns the table: Turnabout is fair play, although No. 11 Iowa State might point out that No. 15 Oklahoma State's revenge would have been better directed at West Virginia. A week after Oklahoma State lost a second-half lead at home against West Virginia and lost its perfect season, it rallied from a halftime deficit for a 69-62 win on the road that knocked Iowa State from the rapidly dwindling ranks of the unbeaten. And a week after her own frustrating day against the Mountaineers, Tiffany Bias put together the kind of game she will want to send to professional scouts.
A 33 percent shooter as a freshman (albeit a freshman who started 31 games), Bias has gradually bumped that up to her current 42 percent. But when she can knock down mid-range jumpers, as she did on multiple occasions during an 8-for-11 shooting performance against the Cyclones, she becomes next to impossible to guard. She finished with 22 points, four assists and one turnover in 34 minutes, stretched the defense, stayed composed in front of more than 10,000 fans and paced the win. That's why the Cowgirls, as are the Cyclones, are serious contenders in the Big 12.
She Also Starred

KeKe Stewart, Middle Tennessee: Entering this season, only 10 players had hit as many as 11 3-pointers in a game since the shot was added for the 1987-88 season in women's basketball. We could quite easily go another quarter of a century without adding a less likely member of that club than Middle Tennessee's Stewart.
When Stewart woke up Thursday, she was a 6-foot-1 senior center who had made 16 3-pointers this season after making just 17 in her first three seasons combined. So it's safe to assume that despite the mild uptick in long-range proficiency this season (she did hit four 3-pointers in back-to-back games in December), the North Texas scouting report for that night's Conference USA opener didn't account for what came next. Stewart matched an NCAA record with 26 3-point attempts against the Mean Green and hit 11 of them, joining the likes of Missouri's Morgan Eye and former Washington markswoman Kristi Kingma on the list of those who hit at least that many in one game.
For good measure, presumably after icing her arm, Stewart knocked down two 3-pointers in Saturday's win against Louisiana Tech. The 3-pointer has been an inconsistent tool for the Blue Raiders in recent seasons and a largely ineffective one this season after Kortni Jones wrapped up her career last spring. Perhaps they found their answer.
Also spotted: Ameryst Alston. If the present is somewhat confusing for Ohio State, which added a victory at previously undefeated No. 22 Indiana to a win against then-No. 17 Purdue on Jan. 2 but sandwiched those two results around a loss at home against Michigan, the future looks clear. Surround Alston with more talent. Watch the wins roll in. The sophomore was the best player on the court in Saturday's game against the Hoosiers with 29 points on 13-of-21 shooting. She doesn't try to be the 3-point shooter Tayler Hill was, but she has the same ability to leave a defender at wit's end -- play tight and she gets to the basket or the free throw line, but play off her and she will knock down jumpers.
Have we reached a point where Odyssey Sims going for 48 points, 10 rebounds and seven assists is par for the course? On the road in conference play? Against West Virginia, which had limited 11 teams to 58 or fewer points this season? It's a scary thought. Sims is taking 28.3 percent of her team's shots this season, second only to Stanford's Chiney Ogwumike among ranked teams. The rest of the top five: Nebraska's Jordan Hooper, Penn State's Maggie Lucas and Iowa State's Hallie Christofferson.
Team of the Week
Washington State: Not a lot of things happen in women's basketball for the first time since before your faithful wrap scribe was born, but Washington State managed to do just that with its first regular-season series sweep against Washington since 1975 and only missed by months in recording its first 4-0 start in conference play since 1977-78.
Washington State now has a two-game winning streak against Washington after going 36 consecutive games without a win in the series. That's a streak, as the Seattle Times noted, someone like Washington State guard and Spokane native Tia Presley grew up with the in eastern part of the state and was understandably eager to end.
Lia Galdeira was the star in the first win, scoring 28 points and hitting the clinching free throws, while Presley put up 29 points in Saturday's win in Seattle. But in 80 minutes of basketball, the Cougars turned over the ball just 19 times. That from a program that as recently as 2010-11 averaged 19 turnovers per game (and the past two seasons were only marginally better). When you don't rebound or shoot the 3 particularly well, counts on which Washington State has been guilty for the better part of, well, it seems like forever, you can't afford to give away possessions.
Also spotted: St. John's. The Big East team wasn't coming off any losing streaks that stretched into decades, but it did begin the past week fresh off a loss against conference newcomer (and projected lightweight) Xavier. It finished the week near the top of the table after convincing wins against Creighton and DePaul, the two preseason favorites.
For the week, St. John's shot 55 percent from the field, including 60 percent against DePaul. That isn't sustainable, even for what has been a much better than average shooting team this season, but what is sustainable is a rotation that includes Danaejah Grant. A transfer from Clemson who became eligible six games ago, she scored 16 points in 17 minutes against DePaul and a team-high 16 points in 29 minutes against Creighton.
We can't close without including Michigan State. No. 21 Purdue's upset at No. 14 Penn State on Sunday left the Spartans as the Big Ten's lone unbeaten after wins this past week against Nebraska and at Michigan. The team's strength is its balance (and, for once, its health), but Annalise Pickrel is making her senior season count. Big in both wins this week, she shoots 50 percent from the field, 46 percent from the 3-point line, 81 percent from the free throw line and leads the team in blocks, offensive rebounds and points.
Before Next Weekend
Connecticut at Baylor (ESPN2 and WatchESPN, 7 p.m. ET Monday:) Chiney Ogwumike, Alyssa Thomas, Maggie Lucas and Elizabeth Williams collectively averaged 15.8 points on 39 percent shooting against Connecticut this season. They combined to turn over the ball 18 times. If you'd rather run the experiment with Chelsea Gray, Alexis Jones or Tricia Liston as Duke's representative, the results aren't going to be much different. That's not so much an indication that the Huskies gear their defense to stopping stars as it is that it's difficult for everyone to score against Connecticut. Next to try her hand: Odyssey Sims.
Florida State at NC State (ESPN3, 7 p.m. ET Thursday): The other side of Sunday's game in Tallahassee was a Seminoles team that proved something precisely by surviving without Natasha Howard. Ivey Slaughter, in particular, backed up the near-double-double she averages for the season. But for two teams coming off losses to the Tar Heels, this is something of a test to see which might stick around the top of the table in the ACC.
Syracuse at Maryland (Thursday): The Orange needed Sunday's 76-70 win against Georgia Tech. Instead of heading to Maryland 0-3 in its first ACC season and in danger of a spiral, now Syracuse can take its best shot at an upset without the winless mark hanging over its head. Brianna Butler hit seven 3-pointers in Sunday's win at home. She's also shooting 40 percent from behind the arc away from home, but that drops to 31 percent in true road games.
UTEP at Middle Tennessee (Wednesday): It's a game to see in Conference USA, where teams enter with a combined 26-5 record and NCAA tournament aspirations. But it's also a showcase for two players fans should see: Middle Tennessee's Ebony Rowe and UTEP's Kayla Thornton. Rowe's feats are well chronicled, but Thornton is coming off a week in which she totaled 22 points and 20 rebounds against Tulsa and 23 points and seven rebounds against UAB. The former was the first 20-20 game in program history. The latter made her it's all-time top rebounder.
George Washington at Dayton (Thursday): It's a good week for mid-major games (in addition to this and the Conference USA game, Marist and Iona meet in a key MAAC game on Monday). Dayton has quietly won seven games in a row by double digits, including a win against St. Bonaventure on Saturday, and looks more like the team it was heralded as in the preseason. But getting Clemson transfer Jonquel Jones on the court has given George Washington a whole new look. If the Colonials can get leading scorer Megan Nipe back from a knee injury, look out.
California at Arizona State (Friday): California already got a leg up on one potential contender for second place in the Pac-12 (and that's really what we're talking about), rallying from a woeful first half to win at Colorado this past week. And while USC and Washington State are also hovering near the top at the moment, a win in Tempe would be check, if not yet checkmate.