Parkinson turning around program at IUPUI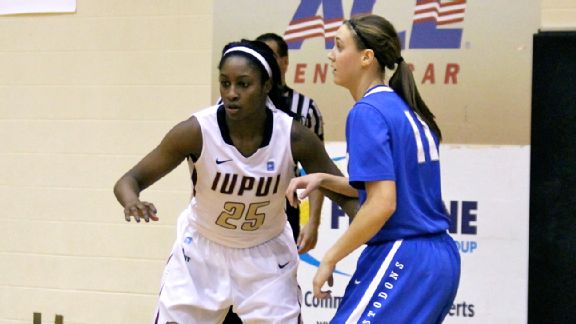 Graham Hays/espnWDeAirra Goss scored 26 points Saturday as IUPUI improved to 14-6 overall, 4-1 in the Summit.
When he was named interim coach of an IUPUI program in the midst of implosion, Austin Parkinson already knew the players despised "breakfast club," team runs of at least a mile each morning.
So Parkinson, until that time an assistant coach for the school's men's basketball team, told his new players to meet him at the track at 7 a.m. soon after he took the job. Once there, he recited a series of grueling sprints and distance runs they needed to complete. Considering the command came from someone who played at Purdue for Gene Keady, an old school coach if there ever was one, it probably didn't seem all that difficult to believe.
After a few steps, he called them to a halt. They returned inside.
"My idea of breakfast club is actually having breakfast," he recalled telling them. "We sat and we talked."
Nothing better symbolized how much of a mess the IUPUI women's basketball program had become five years ago than the fact that by the time the school fired head coach Shann Hart in the fall of 2010 shortly after an Indianapolis Star report of misconduct, more than 40 players and coaches had left the program in her six seasons. The technical term "without cause" was applied to Hart's dismissal, leaving open the question of culpability, but whatever did or didn't happen on her watch, such attrition spoke to an unhealthy program.
So perhaps nothing better illustrated how things have changed at the Indianapolis school than the sight of DeAirra Goss scoring 26 points and shutting down the reigning Summit League player of the year in a 70-68 win against IPFW on Saturday, a result that pushed IUPUI to 14-6 overall and 4-1 in conference.
Goss, after all, transferred to IUPUI three seasons ago. Transferred in.
She wanted to be a part of the program that is no longer a pariah.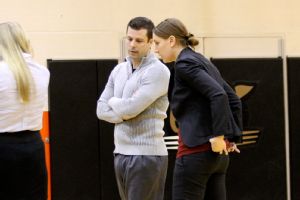 Graham Hays/ESPNCoach Austin Parkinson with associate coach Alex Mislan have guided IUPUI to a 4-1 mark in the Summit.
They play some good basketball in the Summit League. Just ask Penn State, which lost earlier this season at South Dakota State, or Michigan State, which lost at home against IPFW. Saturday's matchup was an entertaining, tense game that pitted not just in-state rivals tied for second place in the standings but two of the conference's best players in Goss and IPFW's Amanda Hyde.
The older sister of Kentucky guard Bria Goss, DeAirra spent her first two college seasons at Western Michigan as a role player, to some degree as she was for Indianapolis powerhouse Ben Davis High School (although she's one of the top 10 scorers in that school's history, she shared her four seasons with and ceded scoring honors to former Penn State All-American Alex Bentley). It wasn't until this season that she was asked to lead an offense. In five conference games, she's averaging 19.8 points per game. And she still plays those other roles. A week ago she took the lead in holding South Dakota top scorer Nicole Seekamp scoreless. Saturday, the normally über-efficient Hyde scored just 13 points on 5-of-14 shooting, breaking a string of six consecutive games in which she scored at least 23 points.
"The neat thing is she's never been the best player until this year, so she had to learn the responsibility that came along with that," Parkinson said of Goss. "The one thing I think is huge for her, and why I think she's maybe the best player in the league, is because she plays offense and defense. … Where so many players in our league are offensive minded, I love the fact that she does both."
What Parkinson inherited in his first season was a mess, a 4-24 ordeal that came on the heels of a 3-26 season under Hart. But in nearly three full seasons since his interim tag was removed, IUPUI is 47-37 with a roster built largely from the substantial talent pool in Indianapolis and surrounding communities.
The Jaguars nonetheless found themselves with a mess at least partly of their own making to clean up Saturday.
In about a four-minute span between media timeouts midway through the second half, IUPUI made one field goal and committed six turnovers. From a 52-39 lead with a little more than 12 minutes remaining, it found itself facing a 66-62 deficit with a little more than two minutes to play. When Goss made just one of two free throws with 18 seconds remaining, IUPUI still trailed by a point. But instead of fouling, the Jaguars came up with a steal on the ensuing inbounds play and an offensive rebound putback from Akilah Sims with 9 seconds left to reclaim the lead.
"We got out to that comfortable lead and then just started throwing the ball over the place," Parkinson said. "They not only made a run, but they were hitting 3s left and right, left and right. But it showed our toughness. The good news is we've been averaging double-figure [margins of victory] the past couple, so to be in a close game and actually pull it out, especially when we looked dead in the water, was good."
All the more considering how recently the entire program appeared dead in the water.
espnW.com
Graham Hays covers college sports for espnW, including softball and soccer. Hays began with ESPN in 1999.
Weekend talking points
1. Kentucky stabilized, not cured: If you have enough options to pick a most surprising Kentucky defeat this season, do they by definition stop becoming surprises? Maybe that is not fair to a team that goes to sleep Sunday ranked No. 9 with a 16-4 record, but not quite three weeks after a loss at home against Florida, Kentucky dropped another game in Lexington, against Alabama on Thursday. Trailing by as many as 10 points in the second half Sunday against Arkansas, more of the same was in the works.
Instead, Kentucky rallied for a 68-58 win. Crisis averted, right? Well …
Kentucky entered Sunday's game shooting just 42.7 percent on two-point field goals in SEC play, compared to 49.7 percent on the same shots out of conference. The Wildcats also forced 18.8 turnovers per game in their first six SEC games, compared to 25.6 per game out of conference. The two developments are not unrelated. If they aren't getting points off turnovers, or at least possessions off turnovers, they aren't pushing the pace of play. And for all its strengths, Kentucky in its half-court offense is not always a thing of beauty. See: Samarie Walker, DeNesha Stallworth and Azia Biship combining to hit 4-of-17 shots as the primary options inside Sunday. Some of that was them, some was the looks they got.
The run that put the Wildcats back in front for good concluded with Janee Thompson swiping away a careless dribble from Calli Berna and going end-to-end for a layup, followed by an easy look for Walker off a Kentucky offensive rebound and a pull-up 3-pointer by Thompson on the secondary break. That's Kentucky basketball. A few minutes of it was enough Sunday, along with some hot shooting from Jennifer O'Neill, but it was still missing much of the day.
A side note: One more reason Kentucky struggled? Arkansas freshman Jessica Jackson, who is now doing to SEC defenses what she did to lesser opponents in the first half of the season. She finished with 23 points on 7-of-13 shooting, showing off the 3-point range and off-the-dribble ability that make her so tough to defend at 6 feet, 3 inches.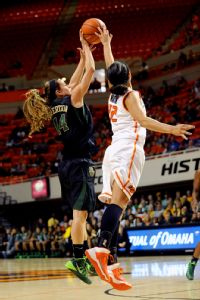 AP Photo/Brody SchmidtBaylor's Makenzie Robertson went 6-for-10 from 3-point range for 18 points in Sunday's win.
2. Baylor and Oklahoma State leave us wanting more: The best game of the weekend, at least among ranked teams, took place Sunday afternoon in Stillwater, Okla,. because the supporting casts of both No. 12 Baylor and No. 8 Oklahoma State refused to let tough shooting days from their respective leads ruin the fun.
Billed as a showdown between lead guards Odyssey Sims and Tiffany Bias instead became a battle of wills between the likes of Baylor's Makenzie Robertson and Nina Davis and Oklahoma State's Kendra Suttles and Roshunda Jones. Sims ultimately came up with the winner, hitting a layup and a free throw with three seconds left in overtime, but Robertson rescued the Lady Bears when they squandered a big lead by hitting two 3-pointers late in regulation, one with Sims off the court and another to pull level with six seconds remaining, and another in overtime. She finished with six 3-pointers, five in the second half or overtime.
It was a compelling game in which both teams showed big-game depth. Now let's get to the rematch Feb. 9.
3. Tennessee milestones abound: On a day when she attempted fewer field goals in an entire game against Old Dominion than she often does by halftime, Middle Tennessee's Ebony Rowe still managed to set a scoring record. With 18 points in a win against Old Dominion, Rowe became Middle Tennessee's all-time leading scorer. It might be a mid-major program, but that's a major achievement when you're talking about a history that includes prolific scorers like current assistant coach Alysha Clark, Chrissy Givens and Kim Webb, whose record Rowe surpassed.
When Rowe was born on Nov. 21, 1991, Jim Foster was beginning his first season at Vanderbilt, a season that would end in the Elite Eight. Of course, Foster had also picked up more than 200 wins at Saint Joseph's before Rowe or any of his current Chattanooga players were even born. Saturday, he became just the ninth Division I coach to record 800 career victories (and the second this season after Montana's Robin Selvig), the final step taken in a 63-50 win against Samford that moved Chattanooga 9-0 in the Southern Conference.
Just for good measure, Bentley College coach Barbara Stevens became just the sixth coach at any level of NCAA women's basketball to reach 900 wins the same day that Foster won No. 800.
She Also Starred

Ariya Crook, Southern California: Take your pick of big performances on the road. Kayla McBride had one with 22 points, seven rebounds, seven assists and three steals in a win at Tennessee. Meighan Simmons bounced back from that with 26 points and just one turnover in a much-needed, nerve-settling win at Texas A&M. And Chiney Ogwumike had the kind of line we shouldn't be numb to with 30 points and 16 rebounds at Arizona State.
Still, all three of those performances came from stars we expect such things from in games in which their respective teams were probably at least marginal favorites. What Crook did with the biggest scoring outburst by a USC player in more than a decade provided a true road upset, her 34 points paving the way for a 77-71 win at No. 19 California.
Also spotted: Rachel Tecca, Akron. Granted, Akron plays a style that while not Oregon warp speed, lends itself to big numbers. It still doesn't produce numbers like the ones Rachel Tecca put up with 43 points and 22 rebounds against Eastern Michigan on Sunday. So was it a double-overtime marathon? Hardly. She did all her work in just 27 minutes on the court. Anyone looking for confirmation there is basketball life after a serious knee injury should look to Tecca, the reigning MAC player of the year who missed most of the 2011-12 season with an injury.
Emily Homan, Lafayette. All you need to know about her week is the 32-point, 13-rebound effort she had against Holy Cross was the low point. Lafayette lost that game despite Homan hitting 15-of-21 shots to record a career-best scoring performance. But if the Leopards were going to split the week's games, they did so in the right order. Behind Homan's 23 points in just 20 minutes, Lafayette cruised to a 73-51 win Saturday against arch rival Lehigh. The all-time series between two schools for whom such things really matter still favors Lafayette, but it was just 2-10 against Lehigh in the past five seasons, including 1-3 in Homan's first two seasons. No more.
Team of the Week
South Carolina:
Sure, it wasn't the busiest of weeks, but South Carolina made its lone game count by going to Nashville and showing why it is the SEC's best bet to get back there for the Final Four. Unlike some of its SEC peers, who are great in good times and lost at others, South Carolina is a team with an identity this season in good times and bad. There were some of both Sunday, as Dawn Staley's team committed 24 turnovers and 24 fouls. When things aren't going well, they're still going to get the ball to Tiffany Mitchell, who showed again she can create her own points. They're still going to rebound with Aleighsa Welch, Elem Ibiam and Alaina Coates. And they're going to defend -- put aside Christina Foggie's hot hand and Vanderbilt shot 29 percent at home.
It's possible South Carolina's ceiling -- what it can be on its absolute best day -- isn't as high as Tennessee's ceiling or maybe even Kentucky's ceiling. Trips to both Lexington and Knoxville await, and South Carolina already came up short once on the road at Texas A&M. But what the Gamecocks produce day in and day out, even gritty days like Sunday, matters.
Also spotted: It was a good week for Staley's alma mater, too, although perhaps she shouldn't get credit for that in what is an increasingly strong candidacy for coach of the year. Virginia couldn't slow Syracuse on the road Sunday, but for the second week in a row it made Charlottesville a fortress. And if a win against Florida State on Jan. 19 was a surprise, a win against Maryland four days later might have been the season's biggest stunner. This time the star was Kelsey Wolfe, who put a memorable exclamation point on her return from a knee injury with 24 points.
Before Next Weekend
Notre Dame at Maryland (ESPN2 and WatchESPN, 7 p.m. ET Monday): Sure, it's farcical on some level that they meet for the first and final time as conference opponents (at least in the regular season), but it's also a compelling basketball matchup. Both teams take exquisite care of the ball, and their assist-to-turnover ratios aren't the product of a lone point guard piling up a surplus. Between the two teams, 19 players average double-digit minutes per game. Only three of them have more turnovers than assists. Every Fighting Irish player in the rotation has more assists than turnovers. Although it would help if one of those players on the court is Jewell Loyd.
Southern California at Stanford (ESPN2 and WatchESPN, 9 p.m. ET Monday): We should offer a thank you to USC for making this more compelling than it appeared it would be when the Women of Troy were picked to finish sixth in the league. USC was also the only team other than Cal to come within single digits of Stanford in conference play a season ago. But it is playing a bit of a dangerous game during its 7-1 conference start. Pac-12 foes are outrebounding USC by nearly four rebounds per game. Second-chance points didn't help Cal on Friday, and Stanford isn't quite the same rebounding juggernaut of seasons past, but can Cassie Harberts and Alexyz Vaioletama stay out of foul trouble and own the boards?
Wichita State at Indiana State (Monday): Games between unbeaten conference opponents are harder and harder to come by as we head to February, but that's where the Shockers and Sycamores stand. Wichita State is winning Missouri Valley games by an average of 21.1 points per game and has one of better players in the mid-major ranks in Alex Harden. The junior averaged 20 points, 8.0 rebound and 6.5 assists in two wins this past week.
Iowa State at West Virginia (Wednesday): Iowa State needed overtime to win at Texas Tech on Saturday, but beggars can't be choosers after four consecutive conference losses. There aren't any gimme road games left on the schedule for a Cyclones team that hasn't done much away from home other than a win at Oklahoma, but they need to win to make up ground. West Virginia won't knock down 12 3-pointers again, as it did in a win in Ames on Jan. 15, but Iowa State also needs a good game from Nikki Moody to handle the defensive pressure the Mountaineers apply every game.
Penn State at Purdue (Thursday): Stanford has another big game on the same night, with the first leg of its home-and-home series against Cal that concludes on Sunday, but the Big Ten serves up a good appetizer. This isn't a must-win for the Boilermakers, but a fourth conference loss in January (assuming they don't pick it up Monday night at Illinois, which sprang just such a surprise at Michigan State this past week) would be a big hurdle to overcome. On the other hand, sweeping both January games against Penn State would leave Purdue in excellent shape.
Harvard at Princeton (Friday): If the Ivy League title is going to change hands after residing with Princeton for the past four seasons, it will likely begin here. The two teams split the series a year ago, Harvard's win in Cambridge stopping Princeton's 33-game conference winning streak, but a road win would be particularly valuable. This will be Princeton's first game in nearly three weeks following its annual extended schedule lull during exams.