Efficient offense leads way for Irish
Dear ACC, what else have you got?
Sincerely, Notre Dame.
The Fighting Irish won't say it, but somebody might as well.
A week that began for No. 2 Notre Dame with a win at No. 8 Maryland -- for which conference losses at home are accumulated with about the same frequency as tree rings -- concluded with an 88-67 win at No. 3 Duke, which last lost an ACC game at home when Jewell Loyd was in middle school. And in the middle was a trip home to rout Virginia Tech and, you know, go to classes.
One week and the ACC became a race for second place.
It wasn't just Duke that took a step back while Notre Dame surged forward in Sunday's encounter between teams that entered without a conference loss. The weight of the season seemed to catch up to the whole league. North Carolina lost twice at home against unranked teams and now plays five of its final eight games on the road, including trips to Duke, NC State and Notre Dame. Maryland appeared to come away from Monday's loss against Notre Dame with reason for optimism born of a strong second-half run, but the Terrapins then lost a third consecutive conference game at NC State. Only the Wolfpack, with that win against Maryland, escaped unscathed among Notre Dame's ranked challengers.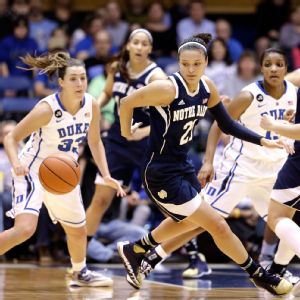 AP Photo/Gerry BroomeKayla McBride and the Irish shoot 51.8 percent from the field, 44 percent on 3-pointers, and 72.7 percent at the foul line.
Throw in the win Notre Dame earned out of conference two weeks ago at Tennessee, and we just saw the most impressive stretch any team had this season. The Fighting Irish won those three marquee road games in front of a combined crowd of 28,032 (as a point of comparison, before Sunday's game at Cal, Stanford had played in front of 28,128 fans on the road all season). Even Connecticut played once at home during the stretch in which it ran through Stanford, Maryland and Penn State in the span of a week earlier in the season.
People in South Bend won't appreciate the comparison, especially given their team's upper hand in the series in recent seasons, but Notre Dame is the most Connecticut-like team out there this season. And yes, before the pitchforks and torches come out along Twyckenham Drive, the facsimile could yet prove better than the original. As you might have heard, the two no longer play each other, so we can only wait for Nashville.
All five players in Notre Dame's standard starting lineup have more assists than turnovers (so do the three reserves who have appeared in all 21 games this season, including a freshman post player in Taya Reimer). Care to guess which other team in the top 10 can say that? The only other one that hasn't lost a game.
The Fighting Irish were uncharacteristically inefficient from the free-throw line Sunday, at least by their standards, missing eight attempts. They nonetheless remain the only team in the top 10 shooting at least 50 percent from the field, 40 percent from the 3-point line and 70 percent from the free throw line. Connecticut is closest, but not even the Huskies do that.
Sunday was impressive -- it even took Notre Dame coach Muffet McGraw until roughly the second breath of her opening comments to share her displeasure with the defense, compared to the first breath of her comments Monday at Maryland -- but it was also essentially par for the course. Duke's Tricia Liston was outstanding for stretches of the game, just as Alyssa Thomas was for Maryland, but Notre Dame's balance and flexibility across all five positions absorbed those individual efforts like rain drops on the ocean.
Against Tennessee, Kayla McBride, Loyd and Natalie Achonwa shot 54 percent (20-of-37). Against Maryland, McBride, Loyd and Achonwa shot 62 percent (21-of-34). Against Duke, they shot 63 percent (22-of-35).
Entering the weekend, none of those teams were allowing opponents to shoot better than 37.1 percent overall.
Why is this team capable of winning a championship? That's why. Not even the Irish teams that reached the Final Four in recent seasons were so efficient offensively. And it hasn't come against a soft schedule.
All the pieces fit together, which is often the most remarkable thing about watching that other team from Storrs. McGraw contended after Sunday's game that she has the nation's best backcourt with McBride and Loyd, and it's difficult to argue the point. But don't discount Achonwa's role in all of this, either. Unlike McBride and Loyd, the senior center's numbers are about where they were a season ago (and let's be clear, those were awfully good), but Achonwa's ability and willingness to take the team by the scruff of the neck -- which Diggins did last season and which takes the pressure off of McBride and Loyd -- matters just as much.
The season after Candace Parker moved on to the WNBA, Tennessee lost 11 games, including a first-round game against Ball State in the NCAA tournament. In its first season without Diana Taurasi, Connecticut lost eight times and exited the NCAA tournament in the third round. And those were programs theoretically best equipped to maintain success, their institutional capital built up over years.
The season after saying goodbye to Skylar Diggins, Notre Dame is 21-0.
And here the ACC thought it got the Fighting Irish at just the right time.
espnW.com
Graham Hays covers college sports for espnW, including softball and soccer. Hays began with ESPN in 1999.
Sooners top Cowgirls, focus on Lady Bears
NORMAN, Okla. -- Unless we're talking about the long weekends of the NCAA tournament in March or April, seasons aren't won or lost in three days. We're not there yet, as Punxsutawney Phil forecasted Saturday and a wind-blown snowscape on Super Bowl morning in Oklahoma confirmed a day later. Winter remains our host. Games remain to be played.
But perhaps three days are enough to revitalize a season, to restore it to the promise it held in October.
Entering Monday's game against Baylor (ESPN2 and WatchESPN, 7 p.m. ET), Oklahoma is halfway there.
The preseason favorite to end Baylor's three-season run atop the Big 12 standings, Oklahoma looked the part in Saturday's 81-74 win against No. 11 Oklahoma State. You never would have guessed Oklahoma was the same team that three days earlier lost at ninth-place Kansas State and dropped to .500 in the conference.
There, in less than a week, were the highs and lows of a season with those preseason expectations but also three overtime losses, including one against No. 5 Louisville, and a single defeat by a double-digit margin.
"I think that ultimately, that's going to be maybe a piece of this group's legacy," Oklahoma coach Sherri Coale said of the Wednesday-to-Saturday gamut. "We don't know what their legacy will be yet, but that ability to reinvent themselves over and over and over again is going to be a part of it. And that's not an easy thing to do. You have to have a little bit of something inside of you to be able to incite that, when you kind of climb two steps up the mountain and then fall back a step. And then you've got regather and figure it out again."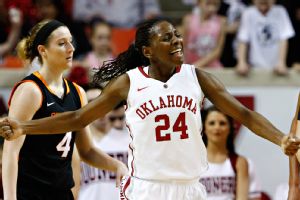 AP Photo/Alonzo AdamsOklahoma junior Sharane Campbell's 28 points on 8-of-13 shooting from the field helped Oklahoma down Oklahoma State.
Oklahoma won without big point production from Aaryn Ellenberg and Morgan Hook. Defended well by Tiffany Bias and Roshunda Jones, respectively, Ellenberg and Hook combined for 17 points, 13 fewer than what they collectively average for the season. Oklahoma State coach Jim Littell noted his team also succeeded in taking away the outside looks by which Oklahoma reserves Nicole Kornet and Derica Wyatt prosper. And still the Sooners scored 81 points.
Good offensive teams, and Littlell contended the Sooners might be the best in the Big 12, are like that. When her teammates don't ask Ellenberg to shoot 20-plus times a game, they can be that offensive team.
Oklahoma State took away a lot. It couldn't take away Sharane Campbell. The junior, who hadn't attempted even 10 shots in a game since Dec. 21, scored 28 points on 8-of-13 shooting from the field and 11-of-11 shooting at the line.
"She beat us off the dribble," Littell said. "I mean, I wish I could give you a fancy long-version answer, but she beat us off the dribble. And then when she didn't make it, we fouled her. And the kid's an 85 percent free throw shooter."
While they still had to execute plays, make defensive rotations and the rest, it was evident from the outset Saturday that the Sooners had energy. That is as it should be in a rivalry game, "Bedlam" as they call it here. Coale credited the rivalry stakes when she talked about Campbell's performance, that these games mean just that much more to in-state products like the junior from Spencer, Okla. But even a Milwaukee transplant like Nicole Griffin seemed dialed in, that half step or half beat more aggressive as she totaled 14 points, 10 rebounds and six blocks.
All of the Sooners played like it was a rivalry game.
"You just kind of feed into that culture, I guess," Griffin said. "And then once you get it, you're like 'They're not winning it.' You just kind of become a part of the state. This is what it is; it's not happening. After freshman year ... you're a part of the state. It's who you are. It's like you're from here almost."
Despite a now familiar deficit on the boards, Oklahoma got to the free throw line and minimized turnovers. But forget the component parts, Coale suggested, or at least put them in their proper place in the pecking order.
"When we play with that immersion and that energy -- and that's such a vaporous kind of word, but it's real, it's what ignites us -- we're really good, we're really effective," Coale said. "There's nothing really we can't handle. When we don't have it, we're very average, we're very mediocre. We found a way to get it back, and the important part is now we have to maintain it."
Now how do they do that when the opposing team isn't from just up the road?
In reality, Oklahoma already accomplished what was necessary in this stretch. It needed a split of the games against Oklahoma State and Baylor, both as a brake on negative momentum and a boost to its at-large credentials for the NCAA tournament -- to continue moving away from a No. 8 or No. 9 seed and the potential therein for a second-round game against a No. 1 seed. Better to save that challenge for the tournament's second weekend.
"It's not just a big 48 hours for our team," Coale said. "It's a big month for our team."
But that month starts with 48 hours that mean a heck of a lot.
She Also Starred

Chiney Ogwumike, Stanford: Really, she could be here every week, just like Odyssey Sims (who decided she didn't feel like losing to Texas and scored 26 second-half points and 44 points overall to break open Saturday's 87-73 win by Baylor). There wasn't even anything out of the ordinary about what Ogwumike did in a sweep of the home-and-home weekend sweep against Cal, putting up 23 points and 12 rebounds at home and 29 points and eight rebounds on the road. That's just what she does -- at home or on the road, ranked or unranked opponents, sunny or cloudy, weekday or weekend.
Also spotted: Lexie Brown, Maryland. At least the week ended well with an 89-64 win at Syracuse. Alyssa Thomas had a triple-double, but the performance of the day went to Brown's 31 points on 11-of-13 shooting, including 7-of-8 shooting from the 3-point line, and added seven assists. Brown couldn't quite rise to the level at which Thomas, McBride and Loyd played in Monday's thriller, but she had moments that night -- a flurry of points to open the second half and a big 3-pointer in the closing minutes -- when she looked the part. And with 20 points, five assists and no turnovers in 39 minutes, she did her part and then some to try to stave off the midweek loss at NC State.
Molly Schlemer, Cal Poly. Another outstanding center playing outside of the spotlight, like BYU's Jennifer Hamson, Schlemer ensued Cal Poly remained atop the Big West with two big performances in the past week. The reigning Big West player of the year began with 26 points and nine rebounds in a win at UC Davis and then added 31 points and seven rebounds in a win at UC Irvine. She hit 27 of 40 shots for the week, as might be expected of a 6-foot-5 post who ranks among the top 25 nationally in field goal percentage this season.
Mehryn Kraker, Green Bay: It's a close race this season, but Horizon League teams would do well to get the Phoenix while they can. That door might soon slam shut again. Freshman Tesha Buck and sophomore Kaili Lukan (four games of 20-plus points in the past four weeks) were reason enough for optimism. Now redshirt freshman Kraker goes for 30 points, including 7-of-13 shooting from the 3-point line, and nine rebounds in Saturday's win at Detroit.
Team of the Week
Colorado State: The name Fennis Dembo draws an almost Pavlovian smile from basketball fans of a certain age. The unusual name associated with a school well off the beaten path of traditional basketball powers, not to mention a memorable Sports Illustrated cover, made the former University of Wyoming All-American a cult figure. All of this is a roundabout way of getting to the fact that the same year Dembo's career at Wyoming came to a close, Ryun Williams was named the state's high school Mr. Basketball. Which brings this tangent to its conclusion in Fort Collins, Colo. Now the second-year coach at Colorado State, Williams has engineered an impressive turnaround. After wins this week against Nevada and San Diego State, the latter by 47 points, Colorado State is 16-4 overall, alone in first place at 8-1 in the Mountain West.
A dominant program in the WAC when it had the services of one Becky Hammon, and even for a couple of years thereafter in the Mountain West, Colorado State entered this season with as many as eight conference wins in just one of the past nine seasons and an overall conference record of 43-97 in that span. Now with a roster that includes three Swedish players and two Danish players, which is bit like pairing Capulets with Montagues, and six players averaging between 8.9 and 12.1 points per game. things are rolling again.
Also spotted: Miami. The Hurricanes are probably going to miss the NCAA tournament for the first time in four seasons. That doesn't change because of an 83-80 win at No. 6 North Carolina on Sunday that came three days after Miami came within a basket of upsetting Duke. What those results do suggest is a team that will next season return its four leading scorers at the moment might not be out of the March Madness mix for long.
Start the optimism with Adrienne Motley. The freshman totaled 27 points and eight rebounds against the Tar Heels and 15 points, seven rebounds and six assists against the Blue Devils. Far from wearing out, she has improved her field goal percentage, 3-point field goal percentage, scoring and rebounding numbers through nine ACC games.
Before Next Weekend
Kansas at Oklahoma State (Wednesday): This is a perilous stretch for Oklahoma State. After this game against Kansas, the Cowgirls travel to Baylor, host a Bedlam rematch against Oklahoma and travel to West Virginia. They can make or lose a lot of ground in terms of both the Big 12 race and NCAA tournament seeding in those games. A lot of variables contribute to success or failure therein, but here's one that needs to change: 12-42. That is the combined field goal shooting from Liz Donohoe and Brittney Martin in the past three games.
Middle Tennessee at Southern Miss (Wednesday): It's an important conference game and a potential stumbling block for Middle Tennessee, but it's also a showcase for Ebony Rowe and Jamierra Faulkner. In addition to better than eight assists per game, standard stuff for Faulkner at this point in a prolific passing career, the Southern Miss senior is shooting better than 50 percent from the field and 40 percent from the 3-point line. She is point guard gold.
Notre Dame at Florida State (Thursday): The road challenges aren't quite over for the Fighting Irish, even if Florida State will drop out of the rankings this week. Even more than a loss at Virginia two weeks ago, Sunday's 78-54 loss at Wake Forest was a sign of a season in serious danger of spiraling away from the Seminoles. Still, they pushed both North Carolina and Duke in Tallahassee, and the battle between Natalie Achonwa and Natasha Howard is intriguing.
Iowa at Penn State (Thursday): To this point, Iowa has basically lived up its place as a mid-table team in the Big Ten, beating other teams in the middle or lower but losing against Penn State, Michigan State and Nebraska at home. Maybe that is this team's level, and there's no shame in that at 17-6 overall. But if Iowa has grander aspirations, this would be a good place to start. Getting Melissa Dixon going would help. Iowa's sharpshooter was just 4 of 19 from behind the arc in those games against the Lady Lions, Spartans and Cornhuskers.
George Washington at Duquesne (Wednesday): The Dukes have quietly climbed to the top of Atlantic 10 with seven conference wins in a row, five of them away from home. But now it gets brutally serious. This game begins a five-game stretch against George Washington, Dayton, at St. Bonaventure, at Saint Joseph's and Fordham. That's basically a rundown of the teams chasing Duquesne in the standings. George Washington finally has Jonquel Jones and Megan Nipe in the lineup together. The two combined for 62 points in two wins this past week.
Watch: Today's Top Videos