Liston leads Duke into key stretch
It is a cruel twist that it took a teammate, classmate and friend being forced from the court to shine a light on exactly how much Tricia Liston can do on one. It is crueler still that it happened a second time.
That makes it no less critical for Duke that she was ready for the extra wattage on both occasions.
And it's about to get brighter still.
Beginning with Big Monday's home game against North Carolina (ESPN2 and WatchESPN, 7 p.m. ET), four of Duke's final six games in the regular season will air on national television. That stretch includes both ends of a home-and-home against the Tar Heels, as well as a home game against Maryland and a road trip to Notre Dame. Throw in another home game this week against an NC State team that is currently closest on Duke's heels for second place in the ACC and we will have a reasonable sense of what kind of shot the Blue Devils have in the postseason well before it arrives.
Folks in Durham can only hope it looks something like Liston's shot.
Duke has played seven games since Chelsea Gray suffered a season-ending injury for the second season in a row. Thursday's game against Clemson marked the first one of those games in which Liston didn't score at least 20 points. Not that she failed to contribute to a comfortable win with 15 points, 10 rebounds and three assists. Without Gray, she's averaging 22.6 points, 6.1 rebounds, 2.3 assists and shooting 61 percent from the field and 53 percent from the 3-point line.
In other words she's playing like an All-American and arguably the best player in the ACC, which is precisely what Duke lost when Gray went down.
"The biggest thing for me on the offensive end is moving without the ball, whether that's coming off screens or cutting backdoor through the lane," Liston said of her approach with Gray out. "It's just trying to be difficult to guard by always moving and making myself available to our point guards and to our posts and just getting myself open."
That she is knocking down 3-pointers is nothing new. Liston was already arguably the nation's best 3-point shooter, less prolific than some of her competition for that label but more efficient than any of them. As much as any player who can shoot the ball like she does, and there aren't many of them, she understands that the best shot is sometimes the one not taken.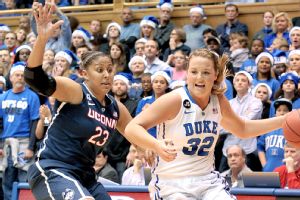 Lance King/Getty ImagesTricia Liston and Duke play four of their final six regular-season games on national television.
To put it another way, you don't shoot 50 percent from long distance if you're prone to heat checks.
What was often overlooked about her offensive game in seasons past was what went with that outside touch.
As a freshman, 55 percent of her shots came from the 3-point line, which earned her the spot-up shooter reputation. Yet her percentage of attempts from the 3-point line hasn't topped 50 percent in any season since. And in those seven games without Gray this season, when she has been as good an offensive player as there is in the ACC, it's just 36 percent.
It's not just that. Before Gray got hurt, Liston averaged 2.5 free throw attempts per game in Duke's first 17 games. Without Gray, she's averaging 5.4 free throw attempts per game.
Even with Alexis Jones to pick up the playmaking slack, a spot-up shooter might flounder without Gray. An all-around scorer would get to the line more than twice as much.
Liston has been a shooter for as long as she has played the game. Always one of the taller girls in her class, she was never pigeonholed as a post player, instead encouraged by her father to hone her outside shot. It's just not all she was.
"I think from the beginning I liked every shot," Liston said. "I liked dribbling to the basket, I liked the pull-up, I liked the 3. But that changed a little bit my freshman year here. I think I got away from doing that, whether it was a lack of confidence or whatever it was. I kind of got away from that, and as the years progressed, I kind of got back to what I did as a young child because I felt more comfortable and more confident on the floor."
Liston played her part in last week's game against Notre Dame. She scored 23 points, hit half her shots and got to the free throw line. She more than held her own against fellow ACC player of the year contenders Kayla McBride and Jewell Loyd. It still wasn't enough for the Blue Devils to avoid a 21-point loss. Now comes North Carolina, one of the few teams she struggled against last season when tasked with taking on a bigger role without Gray. And after that, more ACC contenders, one after the next.
It's time to see if Duke still has a shot at Nashville.
"I think it's really good for us," Liston said. "It simulates the tournament where you're just playing good opponent after good opponent. In that sense I think being able to play and then regroup and refocus and play another great team, I think that's going to be really great for us in comparison to something like a postseason.
"It will test us, and I think that's good for us."
espnW.com
Graham Hays covers college sports for espnW, including softball and soccer. Hays began with ESPN in 1999.
Weekend talking points
1. Bad week for Big Ten point guards: For reasons ranging from sheer rotten luck to self-inflicted purgatory, two Big Ten teams with aspirations of extended NCAA tournament stays spent the week without their point guards. One team will have to get used to it. We'll have to wait and see about the other.
Purdue is no stranger to adversity in recent seasons, be it season-ending injuries to life-threatening ailments for staff and players. So perhaps it shouldn't be a surprise that the Boilermakers responded to senior KK Houser's season-ending ACL tear with wins at home against Ohio State and on the road at Michigan this past week. While not a player most would automatically think of in the same light as Chiney Ogwumike or Odyssey Sims, Houser wasn't far from that territory when it came to her offensive burden. Prior to her injury she was taking nearly 24 percent of Purdue's field goal attempts, in addition to leading the team in assists.
Purdue is a good but not great rebounding team. It is a good but not suffocating or opportunistic defensive team. It is a very efficient team. Such was the case against Michigan (18-of-19 free throws, six turnovers) and Ohio State (27-of-29 free throws, 10 turnovers). That needs to remain the case if the Boilermakers are going to stick around the Big Ten race. Whitney Bays was productive off the bench in both wins and could carry a bigger offensive burden, but April Wilson will also play a big role. As along as she exhibits good ball control, Courtney Moses can worry about scoring more than playmaking.
The news is no cheerier out of East Lansing, where starting guard Kiana Johnson was suspended indefinitely for an unspecified violation of team rules. Talk to Johnson and you come away with a sense of someone who is engaging, bright and vibrant. But this is also her second suspension in three seasons. Her absence deprives the Spartans of not only their assists leader but a player with a nearly three-to-one assist-to-turnover ratio. Without her, Klarissa Bell and standout freshman Tori Jankoska will have to take control of an offense with a lot of options but not a lot who are going to create their own points out of nothing.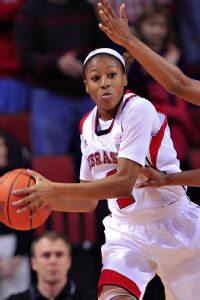 AP Photo/Nati HarnikTear'a Laudermill and No. 22 Nebraska are 17-5 overall and 7-3 in the Big Ten.
2. Nebraska stakes a claim: As much as Johnson's absence hurts Michigan State, let's just state for the record that no Spartans point guard, save perhaps Earvin Johnson, would have stopped what happened Saturday in Lincoln. Down 14-6 early against Michigan State, Nebraska went on a 34-6 run to close the first half and cruised to a 76-56 win. The Huskers picked apart the Spartans in that first half run, using Rachel Theriot and the high pick and roll the way older siblings use the stop hitting yourself" gambit on younger siblings.
As is sometimes the case in conference play, it was difficult to believe how different the game played out than in the first meeting, when Michigan State came away with a 70-57 win at home. In that game, Nebraska got 37 points from Jordan Hooper and Emily Cady and 20 from everyone else. Saturday, the totals were 31 for Hooper and Cady and 45 from everyone else. That included 15 points from Tear'a Laudermill, which actually qualified as a quiet afternoon by her recent standards. She had three points in the first game against Michigan State, but she's averaging 18.7 points per game over the past six games and shooting 53 percent, including 56 percent on 3-pointers.
Thursday's trip to Michigan is anything but easy, but with a remaining schedule that also includes trips to Ohio State and Purdue and home games against Illinois and Indiana, in addition to a potentially huge home game against Penn State, Nebraska is very much in the championship picture.
3. Strong Big East debut: St. John's and DePaul have pulled ahead of the pack in the Big East, the former riding a 10-game winning streak in the conference after a surprise loss at Xavier on Jan. 5, but a newcomer is making a push for player of the year honors. Creighton dropped two games behind DePaul for second place with Sunday's loss against the Blue Demons in Chicago. Nevertheless, Marissa Janning maintained her Big East scoring lead in the process.
Averaging 15.8 points per game a month ago, she currently resides at 18.2 points per game, the most recent outburst a 38-point effort against Georgetown. Creighton coach Jim Flanery spoke in the preseason about Janning coming back stronger as a sophomore, and the evidence backs up an expanded offensive game. In addition to cutting the percentage of her attempts that come from the 3-point line, albeit slightly, she's averaging 5.7 free throw attempts per 40 minutes, up from 3.1 per 40 minutes as a freshman. All while handling expanded playmaking duties.
As a result of Janning's surge and Doug McDermott's excellence, new addition Creighton is the only school in any of the American, Atlantic 10, ACC, Big 12, Big East, Big Ten, Pac-12, SEC or West Coast with both the men's and women's conference scoring leaders.
4. Maine steals the weekend: How did Maine coach Richard Barron hold up his end of the bargain after Sunday's home game raised $10,000 for the Kay Yow Foundation? It involved pink hair dye and a razor, but, well, you just need to watch.
She Also Starred

Yashira Delgado, Florida State: There might not be a more meaningful line all season, and that has nothing to do with Florida State getting a much-needed 72-55 win against Boston College to regain some footing lost in recent weeks.
Delgado, who goes by Cheetah, played a big part in earning that result, of course, coming up with six points, nine rebounds and a school-record 15 assists.
But as anyone who watched games Sunday noticed, it was also a day to celebrate those who struggled against breast cancer and remember those whom it ultimately took. That list includes Mary Ann Montes, Delgado's mother who died almost four years ago from the disease and about whom Delgado spoke after the record performance.
Also spotted: Myneshia McKenzie, Rider. Her team began the week with a losing record and mired in mid-table mediocrity in the MAAC. It closed the weekend with a winning record and closer to a third-place tie than the logjam in the middle of the conference standings.
And McKenzie had a lot to do with both. She put up 20 points and 11 rebounds in Sunday's win against Niagara, but it was Thursday's performance against Iona that landed her here. Facing an Iona team in first place and that had gone to Marist and won, McKenzie totaled 37 points, 19 rebounds and three blocks in a 92-90 overtime win. Her total included the final 10 points her team scored in regulation.
Team of the Week
Washington: Leading by a point with less than four minutes to play at home against California on Friday, Washington watched the visitor score the final six points of the game and leave Seattle with a victory. Coming that close to a signature win against a ranked team and letting it slip away could have lingered, could have left the Huskies flat two days later.
Instead, while things got interesting in the closing seconds, Washington started strong and pulled off an even bigger upset with an 87-82 win against No. 3 Stanford. That snapped a 14-game losing streak against the Cardinal and marked the first win any Pac-12 team other than Cal has scored against Stanford in more than six calendar years.
Stanford coach Tara VanDerveer suggested after the game she couldn't imagine a better freshman in the country than Washington's Kelsey Plum. She has some serious competition for that distinction, but who are we to argue with a Hall of Famer? Plum scored 23 points against Stanford and totaled 16 points and nine assists against Cal.
Also spotted: It was a difficult week that ended in the best way possible for Army. Scheduled to play at Lehigh on Wednesday, West Point players instead spent part of the day at an area hospital after the team bus was rear-ended in what all accounts suggest was a violent collision. The game against the Mountain Hawks was postponed and Army entered Saturday's rivalry game against Navy battered, bruised and obviously separated from normal routine.
But with Kelsey Minato distributing (six assists) and scoring big points (her 3-pointer with a little more than six minutes remaining broke a 42-42 tie for good and ended an 8-2 Navy run), Army came away with a 54-48 win. Not only did that split the season series, but it left Army just a half game behind Navy for the Patriot League lead and a chance to host any potential third meeting in the conference tournament.
Before Next Weekend
Vanderbilt at Tennessee (ESPN2 and WatchESPN, 9 p.m. ET Monday): Tennessee might no longer have the rest of the SEC right where it wants them, but with Vanderbilt, Kentucky and South Carolina passing through Knoxville in coming weeks, the Lady Vols at least have some of the other contenders where they need them. A lot hinges on Ariel Massengale, who missed her fourth game in a row at Ole Miss on Thursday, but she's not the only element missing at times recently. Tennessee got to the free throw line just 13 times in a loss at Vanderbilt nearly a month ago. Including that game, the Lady Vols averaged just 18.5 free throw attempts in their past eight games, compared to 25.3 per game in their first 15 games. In that same span, their rebounding numbers dropped by nearly four rebounds per game. At its best, Tennessee owns those facets of the game.
West Virginia at Oklahoma (Thursday): This will almost certainly be the last chance Oklahoma gets to play a ranked opponent at home this season, an important opportunity for a team whose season is now about NCAA tournament seeding more than the pursuit of a conference title. West Virginia, specifically Bria Holmes, got the offense going in a weekend win against Kansas State. Behind 31 from Holmes, the Mountaineers topped 80 points for the first time this calendar year. Holmes was similarly productive when last these teams met, scoring 21 in a win in Morgantown on Jan. 18, so it might not be the best news in the world for Oklahoma that she comes in with a hot hand.
Gonzaga at San Diego (Thursday): The new year hasn't been kind to San Diego, which entered 2014 unbeaten and now faces what amounts to a last stand at home against WCC leader Gonzaga. Saturday's win at Santa Clara ended a three-game losing skid for the Toreros, who are alone in fourth place in the conference. A team that produced terrific rebounding numbers out of conference, San Diego is struggling to maintain that edge of late, and lost decisively on the boards (as well as the scoreboard) when it traveled to Gonzaga on Jan. 11.
Florida State at Syracuse (Thursday): Are either of these teams contenders to make it to the second weekend of the NCAA tournament? Both have their strong points, but with Syracuse coming off a 37-point loss at Notre Dame and Florida State still mired in ninth place in the conference, neither is a sure thing. It won't come down to anything quite so simple, but which streaky shooter gets the hotter hand: Florida State's Morgan Jones or Syracuse's Brianna Butler?
Arizona State at Stanford (Friday): One of these teams leaves with a two-game losing streak, which isn't how this game shaped up Sunday morning. Stanford's defensive deficiencies against Washington were one thing, but Arizona State came up empty at both ends in a almost more stunning 68-49 loss against Arizona, a team that hadn't won a game since beating Arkansas-Pine Bluff on Dec. 29 (and managed just 36 points at Arizona State five days earlier). The 3-point shot has largely deserted the Sun Devils of late. They hit just two in Sunday's loss and are shooting 25 percent (15-of-61) in the past five games. They hit just 2-of-12 in a 24-point home loss against Stanford on Jan. 20.
Watch: Today's Top Videos