McBride makes case for national player of year
More than a decade has passed since a player was awarded Associated Press national player of the year honors for a season in which she averaged fewer than 18 points per game, not since Connecticut's Diana Taurasi in 2002-03.
It probably won't happen this season. Not with Stanford's Chiney Ogwumike and Baylor's Odyssey Sims at or near the top of the national scoring charts for teams that need those points to maintain familiar Final Four aspirations.
Not with Breanna Stewart following in the footsteps of Taurasi and others for an undefeated team at Connecticut.
But good luck finding someone who makes 17.5 points per game matter more than Kayla McBride.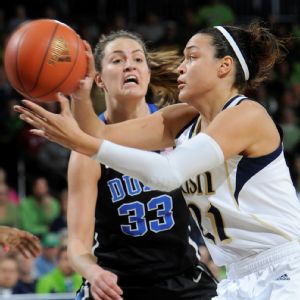 AP Photo/Joe RaymondKayla McBride's 31 points, seven rebounds, four assists and four steals helped Notre Dame clinch the ACC regular-season title.
McBride has led Notre Dame in field goal attempts in each of the past two seasons to help the Fighting Irish clinch back-to-back conference championships in the Big East and ACC, respectively, without losing a regular-season game in the process. That Sunday's performance to clinch the second of those titles in an 81-70 win against No. 7 Duke might have been the best of the bunch -- a career-high 31 points on 13-of-25 shooting with seven rebounds, four assists and four steals -- only underlined how good she generally is when we're all watching.
In Notre Dame's five biggest games -- against Maryland, Penn State, Tennessee and twice against Duke -- McBride averaged 21.8 points and shot 50 percent from the field. She also averaged 6.8 rebounds, 4.2 assists and 2.2 steals in those games. Only in the win against Penn State was she not one of the decisive players on the court.
Oh, and Sunday's game was the first of the five played at home, where she has lost just four times in her career.
All five games were on national television. The average crowd, hostile until Sunday, was more than 8,500 people.
This from someone who averaged 18.7 points per game a season ago in seven games against Baylor, Connecticut, Duke and Tennessee, three points more than she averaged in the rest of Notre Dame's games.
Basketball gyms across the country, including more than a few inhabited by even supposed college contenders, are full of 5 o'clock players, those who look great when the gym is empty and the scoreboard is turned off. But there is a world of difference in those few hours between 5 o'clock and the tip time of games that mean something. We know exactly how much because there are people like McBride against whom to measure the pretenders.
The antithesis of Skylar Diggins in her quiet, soft-spoken demeanor, McBride is nonetheless every bit the competitor. So personality aside, she was the ideal person to challenge with the task of keeping Notre Dame atop whatever conference it called home.
"I knew my role was going to change," McBride said as her final season approached. "After losing Sky, I figured the ball was going to be in my hands a lot more. So I think a lot of it was just mentally preparing. Just knowing that being a part of a Final Four team the past three years -- knowing that I can contribute so much, but now I'm going to have the ball. So [offseason work] was a lot of ballhandling, a lot of 3-point shooting and a lot of getting to the basket.
"Getting my body leaner and faster because I know I'm going to be playing a lot more minutes and I'm going to need to be in the best shape of my life."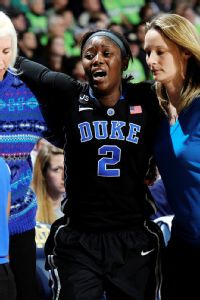 AP Photo/Joe RaymondAlexis Jones, who has stepped up for Duke since Chelsea Gray's season-ending injury, suffered an injured knee in the second half Sunday.
Put aside the points, all those midrange jumpers and contortionist drives. McBride ensures "shooting guard" remains a valid label, but she leads the Fighting Irish in assists. She had just seven more assists than turnovers through her first three seasons. She has 44 more assists than turnovers this season, enough to rank in the top 100 nationally.
It somehow perfectly encapsulates McBride's place in the basketball universe these past four years that it can simultaneously be debated whether she's the best player in the country and whether she's the best player on her own team. It was, after all, Jewell Loyd who scored all of her 19 points Sunday after Notre Dame's initial surge and helped keep Duke from completing a comeback that trimmed the deficit to seven points before Alexis Jones left with a knee injury (that with an MRI pending hopefully for the Blue Devils will not match in severity the anguish on the sophomore's face when she returned to the bench). And it was Loyd who stymied Tricia Liston, as the latter attempted just eight shots.
It is Loyd, not McBride, who leads Notre Dame in scoring and who shoots better than 50 percent from the field.
As long as the Fighting Irish are allowed to play them together, they won't much care about any Simon-and-Garfunkel debate. Nor will they care nearly as much about McBride's place in the national or ACC player of the year debate as a place in Nashville and a chance to win the championship that eluded them the past three Final Fours.
Equally strong arguments exist for Ogwumike, Sims, Stewart and Alyssa Thomas. It's that kind of season. Surplus points just shouldn't be among the evidence. McBride scores plenty, which is a giant reason her team still hasn't lost.
espnW.com
Graham Hays covers college sports for espnW, including softball and soccer. Hays began with ESPN in 1999.
Is BYU's Hamson an All-American center?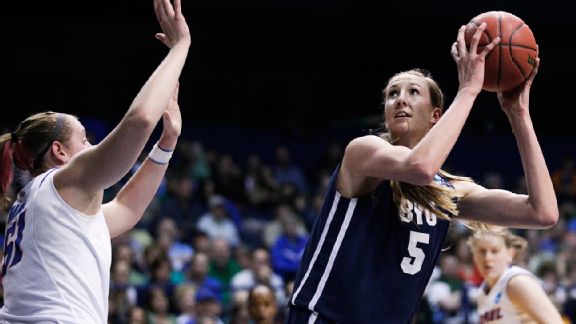 (AP Photo/Nam Y. HuhJennifer Hamson joins Stefanie Dolson, Elizabeth Williams and Natasha Howard as top centers.
On the list of things that set Jennifer Hamson apart from most of her peers, starting with the fact that the BYU senior stands 6 feet, 7 inches, is, well, starting with the low-hanging fruit. There are so many more interesting avenues to explore.
Start with the fact that the NCAA's leading shot-blocker, 118 through 28 games, still has fewer on the basketball court this season than she did as a first-team All-American who helped BYU's volleyball team reach the Sweet 16 in 2012.
Not bad, but we can do better.
How about her place on a short list, so to speak, of basketball players whose mothers have Wikipedia entries?
Now we're getting somewhere.
Finish off with the mounting evidence that she should join former Stanford star Kristin Folkl in the very exclusive club of athletes to achieve All-American status in both basketball and volleyball.
That's the one.
Associated Press voters are encouraged to submit "playable teams" when they vote for All-American basketball honors, i.e. not a collection of five point guards. With Chiney Ogwumike, Breanna Stewart and Alyssa Thomas around, there is enough wiggle room to put together a first team without a true center in the mold of, say, Brittney Griner. Very much a true post, Connecticut's Stefanie Dolson is in that mix, too, with Duke's Elizabeth Williams and Florida State's Natasha Howard likely to draw support. Hamson should be on ballots, too.
A week after she helped BYU upset Gonzaga with a huge second half and totals of 20 points, eight rebounds and seven blocks in a win that at least made it possible for the Cougars to contemplate a place in the NCAA tournament at-large mix, Hamson was at it again. She warmed up with 17 points, 14 rebounds and 5 blocks in a win against Pepperdine and finished the weekend with 23 points, 19 rebounds and 2 blocks against Loyola Marymount.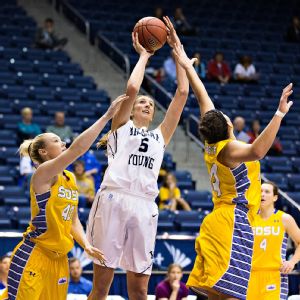 Courtesy of BYU Athletics Jennifer Hamson has blocked 118 shots in 28 games this season.
As good as the numbers have been in recent days, they are representative of what she has done all season in averaging 18.4 points, 11.5 rebounds and 4.1 blocks per game. And that itself is part of the story precisely because she has been on the court all season long. For the first time in her years at BYU, Hamson is a one-sport athlete.
And arguably the best center in the country, as a result.
It wasn't her idea to stop the athletic juggling act, and she said she wasn't even initially sure she liked it, but that when both basketball coach Jeff Judkins and volleyball coach Shawn Olmstead encouraged it, she relented. The free time she envisioned would finally come her way this past fall never materialized (she still made her way to many volleyball practices to lend her support), but the benefit came with a full preseason on the basketball court.
"I had all the summer and stuff to get into the flow with volleyball, but transitioning to basketball was sometimes hard to get my rhythm right and my timing down as quickly as possible," Hamson said of her routine the first three years. "I definitely think it's helped, especially in the beginning. Now my timing is definitely down."
It's not as if she had a lifetime of basketball to fall back on when she made the switch in past seasons, either. Her mother's Wikipedia entry is largely the result of the All-American honors Tresa Hamson (née Spaulding) earned for the Cougars. But her eldest daughter was more inclined to gymnastics. It wasn't until high school that her mom convinced her to take up some sports that might be a more natural fit for her height. By her own admission shy in those days, Hamson struggled to muster the aggressiveness required of centers -- and still struggles with that part at times.
Not that toughness is an issue, not when she was left bloodied but unbowed after elbows to the nose in back-to-back games earlier this season.
In some ways just getting started, she won't be ready to give up sports after the next academic year, when she intends to return for a final season of volleyball eligibility. She also isn't letting on which sport she might choose if forced to make a permanent decision in the professional ranks. The idea of playing for a national team appeals to her, which might point to volleyball, if only because Griner and Tina Charles aren't exiting the picture anytime soon. But there is more to her basketball game than height. She is good enough to have a future on that court if she wants it.
Good enough to be an All-American in a second sport, which would be a first even in a family with some experience when it comes to accolades.
"I hear a lot of stories from her and from my dad about her," Hamson said of her mom. "And we actually have some old tapes of her playing, and so those are kind of cool to see. I don't know, she was just an amazing player, from what I know -- and from what she's taught me."
She Also Starred
Tabatha Richardson-Smith, Seton Hall: Points seem to be a theme this week. It took just about all of them, but Richardson-Smith's 38 points paced Seton Hall to a 90-86 win against Marquette on Saturday.
That's a big scoring day regardless of any other circumstances, coming on 15-of-27 shooting with eight rebounds, three assists and just one turnover in 44 minutes. It would merit a tip of the cap as simply an individual achievement, but there was more than that at stake -- which is an unfamiliar thing to say about a Seton Hall game in February. The Pirates moved back within a game of .500 in the Big East with the win, but they also clinched a winning record overall this season (even with losses in their final three regular-season games and potentially in back-to-back postseason tournaments, they would be 16-15). And the prospect of the first 20-win season since 1994-95 remains in play.
Seton Hall has turned South Orange, N.J., into an unpleasant destination for visiting teams under first-year coach Tony Bozzella, and Richardson-Smith is a big part of why. With Saturday's big game added to the mix, she's averaging 18.9 points per game at home in her sophomore season.
Also spotted: Ameryst Alston, Ohio State. So which contender wants to draw her in its first game in the Big Ten tournament? The Buckeyes are currently tied for eighth in the Big Ten and would need to win a first-round game just to get a shot at one of the top four seeds, but Alston has the ability to mess up the championship race if she gets that far. Nebraska got its win and got out of Columbus this past week, able to overcome a career-best 31 points on 12-of-17 shooting from Alston. Northwestern wasn't so fortunate on Sunday. Alston fell just a point shy of matching her earlier work, but 30 points on 8-of-15 shooting (and a whole bunch of free throws) were enough for a 71-62 win.
Team of the Week
Bowling Green: Do yourself a favor and keep an eye on the MAC tournament in Cleveland. If seeding holds and the final offers a third meeting between Bowling Green and Central Michigan with an NCAA tournament bid on the line, find time to watch.
The two teams that have more or less lapped the rest of the conference, each five games clear of any other team save Akron, played a second entertaining game this past Wednesday. Unlike the first meeting, when Central Michigan made a furious late rally to force overtime and eventually win on its home court, Bowling Green held its lead this time and came away with a 67-55 win. But what the rematch lacked in the original's late drama it made up for in contentiousness. Without devolving into something that took away from the game, it wasn't a friendly encounter.
Continuing to play like one of the best mid-major point guards out there, 5-foot-6 senior Jillian Halfhill had 18 points, eight rebounds (she's third on the team with 99 defensive rebounds) and three assists in the win. She also had just two turnovers in 39 minutes, eliminating much of the fuel with which the Chippewas fed their comeback weeks earlier. Alexis Rogers and Erica Donovan took over Saturday to avoid a letdown at Buffalo, combining for 49 points in a win.
Also spotted: Princeton. Look which team has the inside track at the Ivy League title -- yet again. When Princeton lost at home to Harvard earlier this season, its first home conference loss in five years and a game in which it trailed by as many as 18 points, it opened the door on the Ivy League race. But after returning the favor with a win against the Crimson in Cambridge on Saturday, and getting a helping hand from Dartmouth, which bounced back from a big loss against Princeton on Friday to stun second-place Penn on Saturday, the league is again Princeton's to win.
The Tigers even got the win against Harvard despite a rough shooting day from Blake Dietrick, the junior who has the rare distinction of ranking in the top five in her conference in scoring, field goal percentage and 3-point percentage.
Before Next Weekend
Penn State at Nebraska (ESPN2/WatchESPN, 7 p.m. ET Big Monday): It's an odd quirk that Penn State's lone road load this season came not in a familiar Big Ten port of call but in Brookings, S.D. The road success includes a win at Michigan State, one of its closest challengers, but completing the run through the Big Ten will require a win at Nebraska, its other main challenger. One player to watch is Nebraska's Emily Cady. Penn State had widened its rebounding margin in conference play, but Cady was effective in a pair of games against the Lady Lions a season ago (admittedly in losing efforts both times) and is one of the nation's unsung glue players this season as a slightly undersized post.
Albany at New Hampshire (Wednesday): Really? Yes, really. Albany is unbeaten in the America East with a share of the conference title already clinched, but New Hampshire could keep itself in the running for that share and cap off an impressive program turnaround under fourth-year coach Maureen Magarity (one branch of the Brian Giorgis coaching tree). New Hampshire's 18 wins are already its most since 1998-99. Its last 20-win season was 1983-84.
Iowa State at Oklahoma State (Wednesday): When last we checked Charlie Creme's Bracketology, Iowa State was projected as a No. 10 seed in the NCAA tournament. That's not comfortable territory for an at-large aspirant. Another signature road win to pair with one at Oklahoma in early January would go a long way in shoring up a bid for the Cyclones. In its past three road games, all losses, Iowa State is shooting 24.7 percent from the 3-point line.
North Carolina at Notre Dame (ESPN3, 7 p.m. ET Thursday): It's almost reassuring to find out that Diamond DeShields isn't going to simply dominate every court she steps on from now through the rest of eternity. Just most of the time. She and the Tar Heels played the part of young team in Sunday's 50-47 loss at home against Virginia Tech, capping a week in which they also nearly let Virginia back into a game UNC led by 19 points in the second half. Both Virginia teams edged North Carolina on the boards, the first time that happened in back-to-back games since the season's early weeks.
Green Bay at Wright State (Thursday): What do regular-season conference championships mean? Perhaps not as much as they should because of the scourge of conference tournaments, but the Horizon League is one of those in which the regular-season champion gets home-court advantage in the tournament. Well, with the finish line in sight, Green Bay is half a game ahead of Wright State and prolific junior guard Kim Demmings.

Tennessee at LSU (Thursday): Forget the standings. In the SEC, Tennessee cannot be the team you want to see visit with the season nearing crisis mode. LSU let a rough stretch become something worse with losses this past week against Georgia and Arkansas, the latter at home in Baton Rouge. That's five losses in the past six games. When the Lady Tigers beat the Lady Vols in Knoxville almost two months ago, they did so without a field goal from Raigyne Moncrief. Will they have her at all this time after she missed Sunday's loss with an injury?
Saint Mary's at Gonzaga(Thursday): The first meeting was one of the games of the year, complete with a wild ending and brilliant individual performances from Saint Mary's Jackie Nared and Danielle Mauldin and Gonzaga's Haiden Palmer. It was also one of just two Gonzaga losses in WCC competition, which means this game is little more than a formality. Gonzaga already clinched a share of its 10th consecutive league crown. A win here would remove all doubt.
e
Watch: Today's Top Videos