One title down, one to go for Chattanooga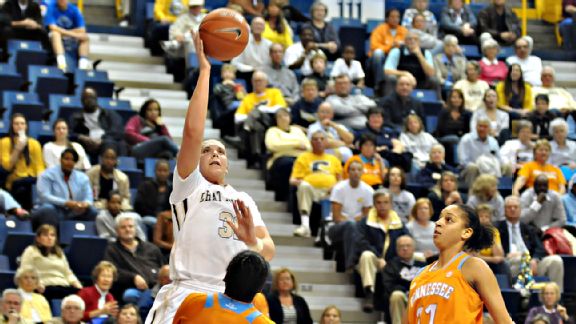 Courtesy Chattanooga AthleticsJim Foster calls Taylor Hall "as good an all-around basketball player" as he has coached in 36 years.
The past two and a half months proved beyond any doubt that no team is better equipped or more deserves to represent the Southern Conference in the NCAA tournament than Chattanooga.
Under the direction of one of the most recognizable coaching names in women's basketball and following the lead of a player who is one of the game's best-kept secrets, Chattanooga lapped the field in its own conference. Sunday's 77-56 win against UNC Greensboro completed an 18-0 conference record and a regular-season conference title long since clinched, the first at the school for Hall of Fame coach Jim Foster and the second in a row for senior Taylor Hall.
Now three days in Asheville, N.C., will decide whether all of that means anything.
"I think for us the conference tournament is the more important title because that's our only ticket to the [NCAA] tournament," Hall said this weekend. "So I guess that comes into play. But we do like to get things done throughout the season as well. It just comes down to those games in the tournament that we have to win to move on."
Something isn't right with that equation.
A banner earned over months should mean more than one settled over days. In many of the tournaments we will watch over the next two weeks, that's an annoyance. Notre Dame, South Carolina, Stanford and others earned conference championships over a long grind, but they are going to the NCAA tournament no matter what happens in the days ahead. After finishing six games ahead of its closest competitor in the league, Chattanooga might well still need the NCAA tournament automatic bid attached to the conference tournament.
From America East to the Summit League, the same is true in more conferences than not.
The result, as Foster described it in calling on an old John Wooden adage, is an overemphasis on the final game.
"I think that's grossly unfair to a team a such as this," Foster said. "It's grossly unfair to a lot of teams because it is much, much harder to win a regular-season championship than it is a conference tournament. You have to do it over a long period of time -- 18 games is a long period of time. Months, it's months of preparation.
"Because we live in such a media-driven society, the emphasis on March Madness, etc., has taken away something from student-athletes that never should have been taken away from them."
In Chattanooga's case, a loss in Asheville would inevitably take away something from what has been an impressive display of continuity amidst a changing world. Like many fans, Hall and her teammates were caught off guard when Wes Moore left the school to take the head coaching position at NC State after the 2012-13 season. Not that most begrudged him the opportunity, one he has done a remarkable job with in his first season, but after 15 seasons and nine NCAA tournament appearances with Chattanooga, he seemed like a lifer at the helm of a mid-major dynasty.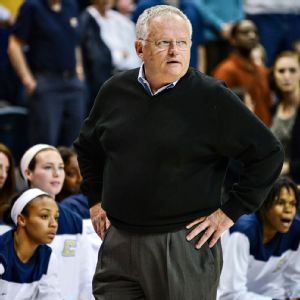 Courtesy Chattanooga AthleticsJim Foster, whose Lady Mocs won the SoCon by six games, thinks teams should be better rewarded for regular-season championships.
Enter Foster, who was inducted into the Women's Basketball Hall of Fame shortly after taking the job in Chattanooga following 11 seasons at Ohio State and more than 30 in the sport. He tinkered with what had worked previously. He installed a read-and-react offense that gave players more freedom on the court. A few games into the new season he handed the starting point guard job to freshman Chelsey Shumpert. But most importantly, he turned Hall loose.
"I'm definitely more involved with the offense," Hall said. "I'm up front usually with the point guard and I have the ball in my hands quite a bit, and that's different for me. He allows me to make my own decisions and just go with the flow of the game, and I think I play better that way, just more relaxed."
At various times this season, Foster has described Hall as the first "great passing frontcourt player" in his career, dropping names such as Dave DeBusschere and Larry Bird as reference points, and "as good an all-around basketball player" as he has coached in 36 years. She leads the team in points, rebounds, assists and steals and ranks in the top five in the conference in all five categories (she's in the top 10 in blocks, just for good measure).
Like in-state counterpart Middle Tennessee's Ebony Rowe, Hall -- who first made a national impression with 24 points, nine rebounds, five assists, four steals and three blocks in a win against Tennessee a season ago -- will finish her career with a great deal more on her résumé than many of those recruited ahead of her by bigger programs.
"I have more than one player that should be playing at a higher level," Foster said. "I think the most common mistake made in recruiting is everybody falls in love with what they see. They don't have a sense of what the player could be."
Asked who else fit the description, the coach said he would keep that to himself, but it isn't a stretch to think freshman Jasmine Joyner is among them. Slow to find a place in the rotation earlier in the season, she averaged 3.5 blocks per game in increased February minutes.
"She is an amazingly quick study," Foster said. "She is a very intelligent basketball player. The more she is out there the more she grows as a basketball player because that intelligence becomes wisdom with experience."
Such are the challenges of a season, to manage the present and build for the future all at the same time.
Chattanooga is better now than it was in November because of the defensive presence Joyner offers, the minutes Shumpert has under her belt and a dozen other things. It would be an NCAA tournament threat because of those things and because of Hall. If it gets to the real tournament.
"The conference tournaments are nothing, in the case of women's basketball, nothing but opportunity to lose money," Foster said.
And perhaps opportunities to lose sight of the teams that deserve better.
espnW.com
Graham Hays covers college sports for espnW, including softball and soccer. Hays began with ESPN in 1999.
Green Bay closing in on another title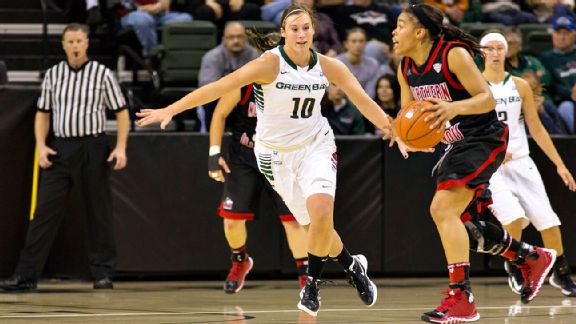 Courtesy of Green Bay Athletics Mehryn Kraker's 19 points Thursday gave Green Bay sole possession of first place.
If you need a refresher on what the world looked like the last time Green Bay didn't win at least a share of its conference regular-season title, all you have to do is Google the information.
You couldn't do that at the time, of course. Two Stanford students didn't incorporate Google until several months after the 1997-98 basketball season. So it is for the sport's most enduring dynasty, even one that rules a modest empire.
This was the season the rest of the Horizon League was supposed to get even. Instead, with two rounds left in the regular season, those teams find themselves in the familiar position of struggling to stay even with the Phoenix.
With an overtime road win this past Thursday at Wright State, Green Bay swept the season series against one of its challengers and pushed that team out of a tie atop the standings (also part of the three-way tie after it had swept Green Bay, Youngstown State lost twice over the weekend and dropped to third). Green Bay needs to win one of its final two games at home to clinch a share of a 16th consecutive title and the No. 1 seed in the conference tournament, in which the top seed hosts the final two rounds. Win both, or if Wright State loses, and it's an outright title.
All of this with a starting lineup in Saturday's game at Valparaiso that featured one true freshman, two redshirt freshmen and one sophomore who played just 105 minutes a season ago and missed substantial time with an injury. Green Bay began this season without four starters and 74 percent of the points that fueled last season's 29-3 record.
John Calipari is supposed to maintain a power with that kind of turnover. Mid-major teams are supposed to flounder.
In coach Kevin Borseth's mind, a fair question in the preseason was how the team would win even half its games.
"But it really wasn't up to me," Borseth said. "It was up to them. And those kids said that they didn't want this to fall on their watch. They fight."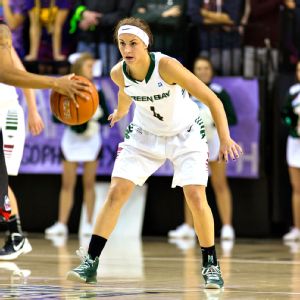 Courtesy of Green Bay AthleticsSophomore Kaili Lukan played just 105 minutes as a freshman but leads Green Bay in scoring (12.1 ppg) this season.
The weekend road swing was in some ways the season condensed into a 48-hour window. Against a good Wright State team that beat NC State earlier this season and might have the league's best player in Kim Demmings, Green Bay struggled and won. Against a Valparaiso team with just four wins all season, Green Bay struggled and won.
Such is life with young talent. Or at least such is life with young talent for this program.
Down a point with less than three minutes to play at Valparaiso, Kaili Lukan hit a 3-pointer that gave Green Bay the lead. Still up three points with a little more than 20 seconds remaining, Mehryn Kraker hit another 3-pointer with the shot clock winding down to all but seal the win. Never mind that to that moment, the Phoenix had hit just 6-of-30 attempts from the 3-point line, only two of them by anyone other than Tesha Buck. A pair of seniors, Breannah Ranger and Sam Zastrow, provided key contributions in the Wright State win. Redshirt junior Megan Lukan, Kaili's older sister, is a steady hand at point guard. But Kaili, Kraker and Buck combined for 41 points against Wright State and 34 against Valparaiso, more than half of the team's total points for the trip. All are essentially doing this for the first time.
"I'm just not a very patient person; the kids have kind of seen that," Borseth said. "I told them, 'You guys are winning games, so you've increased my expectation level for you guys being champions. So if I get a little upset at times, you've given me that. You've made me do that.'"
The first of the championships in the current streak came in Borseth's first season, when he inherited a star player in Chari Nordgaard from coach Carol Hammerle, who started the program and forged its championship credentials. Off the cuff after the Valparaiso game, Borseth recalled the streaks and scores of that 1998-99 season in almost flawless detail, so his memory can probably be trusted when he recalled Nordgaard saying it was the best team she had ever been on -- not necessarily in the sense of the most talented but the most committed to a common cause. There was no jealousy if she took most of the shots. Every player had a role, that was just hers.
Nordgaard is long gone. Gone, too, are Nicole Soulis, Kayla Tetschlag, Julie Wojta, Adrian Ritchie and others who came and went without ever finishing second. Even Borseth left and returned. Times change. Rosters change. Google happens. But kids pulled largely from Wisconsin, Minnesota and Ontario keep playing roles and winning titles.
If it isn't going to stop now, you start to wonder if it ever will.
"Every day in practice we have to come to fight and every game we have to come to fight," Kaili Lukan said. "We want to be that 16th team. But it's not handed to us. We have to fight and we have to work together."
She Also Starred

Courtney Moses, Purdue: Moses couldn't wear teammate KK Houser's jersey Sunday, as she did in a game shortly after Purdue thought it lost the latter for the season with a torn ACL. Houser needed the number this time, playing a handful of minutes near the beginning and end of the game against Nebraska, seemingly less as a comeback than a happier farewell. But it was still Moses who made sure everyone went home happy in West Lafayette, or at least those not attached to the Nebraska team that missed out on a share of the Big Ten title in an 82-66 loss.
Moses scored 29 points on 8-of-13 shooting against the Huskers, topping the 21 points on 7-of-13 shooting she produced when her team won in Lincoln in January. Nebraska survived Minnesota's Rachel Banham and contained Penn State's Maggie Lucas, but its championship hopes crumbled because of Moses.

Also spotted: Ny Hammonds, Charlotte. Start with the fact that the 5-foot-5 Hammonds put up back-to-back double-digit rebound games in her final two home games, wins against Florida International and Marshall.
Despite her size, Hammonds is third on the team in defensive rebounds.
But she didn't just go double-digits on the boards. Hammonds became the first player in Conference USA history to record back-to-back triple-doubles.
According to the sports information department at Charlotte, she's also just the sixth player in NCAA history to manage that feat.
Team of the Week
West Virginia: If you're going to travel more than a thousand miles for a conference road game, you might as well make it worth the hassle. Accomplishing something last done shortly after the close of the Winter Olympics in Vancouver, and placing at least a share of the Big 12 regular-season title under your own control, qualifies and then some. West Virginia's 71-69 win at Baylor both ended the latter team's 39-game conference winning streak at home and pulled the Mountaineers level with the Lady Bears with one round of games left to play in the regular season.
It can't be a surprise that the pivotal play came courtesy of West Virginia's defense. Averee Fields got the credit for the steal that set her on her way to the winning basket with 12 seconds left, but she was the free safety benefiting from the pressure of a West Virginia trap on Odyssey Sims near half court. Sims scored 39 points in her final home game, but Baylor shot just 39 percent and its star committed 10 turnovers. Sims averaged 43.5 points in two games against the Mountaineers, which boggles the mind, but opponents in the other 15 games Mike Carey's team has played in conference play averaged just 55.1 points -- much more indicative of the overall pressure Baylor felt Sunday.
West Virginia is making a move for a No. 2 seed in the NCAA tournament because a healthy Asya Bussie is such a valuable asset in the middle and because it is shooting the 3-pointer much better this season than it did a season ago. But success for Mike Carey's team, all of his teams, eventually comes back to defense.
Also spotted: DePaul. The Blue Demons will have a chance to win a conference tournament in their own backyard in Chicago, but they had to hit the road to earn the first regular-season championship in the reconfigured Big East. The exclamation point on the program's first title since its days in Conference USA came with wins against fellow contenders Villanova and St. John's this past week, both by double digits. A 2-2 start in conference that saw Doug Bruno's team give up 86 points in a loss at Creighton and 96 points in a loss at home against St. John's put the preseason favorite in some peril, but save for one subsequent slip at Marquette, little got in the way after that.
DePaul is the only team in the seven major conferences with two players who have at least 150 assists: Brittany Hrynko and Chanise Jenkins. That still holds true if the West Coast and Atlantic 10 are added in as analogous to the new Big East. In addition to five assists per game on the road trip, Hrynko averaged 23 points and seven rebounds.
Also spotted: Tennessee. Madness? Sure, it's a given in March. But the month hasn't started with much momentum for Tennessee in recent seasons. Whether the end result, as in a return to the Final Four, is different remains to be seen, but the Lady Vols start this March on a roll after closing February with a win at LSU and then beating South Carolina 73-61 in Knoxville on Sunday. This was Tennessee in peak form, a prolific shooting game from Meighan Simmons at LSU (31 points on 11-of-18 shooting) but also defense and domination on the boards in both games. The Lady Vols neutralized South Carolina's post game and held Tiffany Mitchell to 5-of-13 shooting, much as they limited LSU's Theresa Plaisance to 6-of-21 shooting (including 3-of-16 from inside the arc) days earlier.
Contrast that with a season ago, when Tennessee beat Texas A&M in its home finale but struggled to keep the Aggies from shooting 50 percent and then lost on the road at Kentucky to end the regular season. Or contrast it with two seasons ago, when Tennessee lost at home against Arkansas the final week of the regular season.
Also spotted: Notre Dame. What more can the Fighting Irish do? They closed the regular season with an eight-day stretch of games against Duke, North Carolina and NC State and won them by a combined 60 points. That on the heels of a 14-day stretch earlier in the season in which they went 5-0 and beat Tennessee, Maryland and Duke by a combined 41 points. Only the Terrapins played them to single digits in any of those games. It sounds like pretty good preparation for the rhythm of the postseason, be it the ACC or NCAA tournaments.
What role will freshman Taya Reimer play in the postseason? Rewind the tape to 2010-11 and Natalie Achonwa emerged as a future force down the stretch, averaging 19.5 minutes per game in the NCAA tournament despite a foul-plagued final against Texas A&M that cost her time. Reimer's minutes dipped overall in ACC play, but she had six points, five rebounds and three blocks against North Carolina on Thursday and added five points, seven rebounds and a block against NC State on Sunday. She led Notre Dame's reserves in minutes for the week.
Before Next Weekend
Twelve conference tournaments get underway this week, but there are also important regular-season games to play.
Connecticut at Louisville (ESPN2/WatchESPN, 7 p.m. ET Monday): Bria Smith is back for Louisville after she missed the first game between these two teams, but so is Kaleena Mosqueda-Lewis for Connecticut after she missed part of that game with an elbow injury and wasn't a factor. If you watched any of Sunday's games on ESPN networks, you probably saw Kara Lawson beautifully illustrate how Moriah Jefferson took Shoni Schimmel out of that first game. Another part of the defensive success comes in denying anyone else, particularly Antonita Slaughter, the 3-point looks Schimmel isn't getting. Over the past three seasons, Louisville is shooting 24 percent from the 3-point line against Connecticut -- exactly those shots that Baylor so readily conceded in last season's Sweet 16 upset.
Baylor at Iowa State (Tuesday): All things considered, Ames probably wouldn't be Baylor's first choice of destinations with a share of the Big 12 title on the line. All the more so because the Cyclones are finally back on a bit of a roll after wins against Texas, Oklahoma State and Kansas, the last two on the road. Baylor won by 38 points when the teams played in Waco, a game that saw the Cyclones hit just 3-of-25 3-point attempts, but even during the Brittney Griner era, the games in Ames trended toward scrappy. As a sophomore. Sims attempted just one field goal in 35 minutes in Ames. A season ago, she scored 12 points on 10 field goal attempts in the game.
North Carolina A&T at Hampton (Thursday): It's first against second in the MEAC, but Hampton locked up the regular-season title with games to spare. This one bears watching to see if Hampton can join Notre Dame, Chattanooga and potentially Connecticut as unbeaten conference champions -- and join Notre Dame as the only teams to do that in each of the past two seasons. Like Kayla McBride and Jewell Loyd, Hampton's Malia Tate-DeFreitas (19.1 ppg) and Alyssa Bennett (17.3 ppg) form one of the highest-scoring partnerships in the country.
Saint Mary's vs. San Diego (Friday): It looked at the start of the calendar year as if both teams might have reason to pack for the NCAA tournament. Now any hope either has of making that trip hinges on a WCC tournament run that begins with this quarterfinal. Out of conference, Saint Mary's shot 47.8 percent from the field and its opponents shot 38.9 percent. In conference, the Gaels shot 40.5 percent and their opponents shot 42.3 percent. San Diego suffered a similar, though not total, reversal on the boards. Still, if you're asking Jackie Nared or Amy Kame to get hot from the field for a few days and carry a team, you aren't asking for the impossible.
Watch: Today's Top Videos