West Virginia executes game plan, upsets Irish

By Charlie Creme
ESPN.com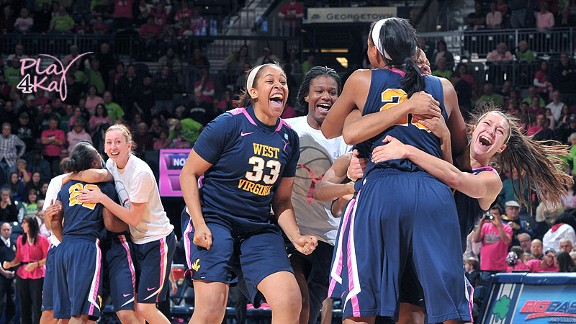 Matt Cashore/US PresswireIn snapping Notre Dame's 21-game win streak, West Virginia beat its highest-ranked foe.
Editor's note: This edition includes all games played Sunday, not just the matchups included in ESPN's Play 4Kay event.
Mountaineers steal the headlines in Play 4Kay
For a while, Sunday afternoon in South Bend seemed like the kind of game that Notre Dame perhaps needed: getting pushed by an inferior team for the first time all season and playing in a close game for the first time in five weeks. With March approaching, West Virginia was merely reminding Notre Dame what tournament basketball is usually like.
Then things went too far. Natalie Novosel missed a runner, the horn sounded and West Virginia had not only made the Irish sweat, but upset the nation's No. 2 team, 65-63, in a stunning result that came out of nowhere.
The odd thing? Notre Dame didn't play terribly. It wasn't a performance Muffet McGraw will want in the archives, but it was no disaster. And that's why, even with West Virginia playing as well as it has all season, Sunday's game didn't feel for a second like the Irish wouldn't eventually make a play or two and win.
That was, until the final seconds, with the score tied and Skylar Diggins missing a layup (one of the plays Notre Dame was sure to make … but didn't), then committed a silly foul at midcourt with 4.6 seconds left (one of the plays Notre Dame was sure not to make … but did). Brooke Hampton made both free throws, Novesel came up short at the buzzer, and Irish fans all over the Joyce Center had to collectively pick up their chins off the floor.
As stunning as the loss was for Notre Dame, though, make no mistake: West Virginia won this game.
Sure, Notre Dame usually shoots a tops-in-the-nation 48.7 percent from the field but shot just 40.7 percent Sunday. And yes, the normally balanced Irish only had two players score more than four points. But that had more to do with West Virginia's deliberate, disciplined game plan than any Fighting Irish shortcomings.
Layered execution led West Virginia to the upset, and it started with rebounding. Mike Carey's team boasted just a 35-31 advantage on the glass, but by controlling the boards, West Virginia controlled the tempo. That prevented Notre Dame from getting many easy buckets, and held the patented Irish run -- the kind that looks like a 25-2 run and typically demoralizes opponents with lesser talent -- in check.
A slower tempo also allowed West Virginia to run its high-low post game of Asya Bussie (22 points) and Ayana Dunning (11 points) to ultimate effectiveness. It always seemed to be the answer when that feeling of "this is where Notre Dame pulls away and wins" began to set in. And it kept the Joyce Center crowd at bay. The fans so wanted to fully ignite an Irish burst to the finish, but then came a Bussie layup or a foul and trip to the free throw line.
Bussie and Dunning were never glamorous, but effective to the point where they fouled out both Irish posts. Devereaux Peters and Natalie Achonwa each finished with four points.
Outside of her plays in the final few sequences, Diggins was fantastic -- 32 points on 10-of-19 shooting, five rebounds, three assists and four steals. This coming after a week in which she attended classes, practices and film sessions, plus took a trip to Syracuse where Notre Dame blew out the Orange, and a separate cross-country journey to Los Angeles to shoot a segment for ESPN's Sport Science.
Her teammates, who likely weren't nearly as tired, didn't produce at their normal levels thanks to a West Virginia team that had a game plan, executed it and now has the right to claim the biggest upset in program history and of the women's college basketball season.
St. John's sneaks up on Rutgers
By Graham Hays
Stop us if you've heard this one: An unranked Big East teams goes on the road to win against a storied conference rival and stake a claim to one of the top four spots in the standings. No, as much as there is to say about West Virginia's win at Notre Dame, this isn't more on the events in South Bend.
[+] Enlarge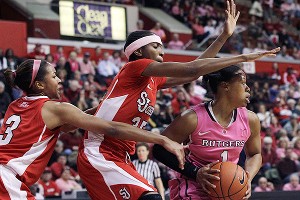 AP Photo/Mel EvansDa'Shena Stevens and St. John's put the pressure on Rutgers and Khadijah Rushdan.
The same scenario played out in slightly less stunning fashion when St. John's beat No. 16 Rutgers on the road Sunday, giving coach Kim Barnes Arico the most wins in program history. Slightly less stunning because Rutgers is not Notre Dame, but also because St. John's beating just about any team that resides beyond the very top of the rankings shouldn't come as a surprise.
The win for the Red Storm is a big deal in the short term, giving them a two-game sweep against the Scarlet Knights this season and improving their chances of getting some time off at the start of the Big East tournament. But one line in the box score might have long-term significance that trumps the specifics of the moment. St. John's senior Da'Shena Stevens finished with 16 points, eight rebounds and two blocks in 37 minutes, exactly the kind of ironwoman work the team needs out of her down the stretch -- and the kind of workload it has only recently been able to ask of her.
Even as St. John's pushed Baylor in Madison Square Garden earlier this season and beat Temple, Louisville and Rutgers in the first of two games between the teams, it didn't have Stevens at full strength. In fact, it didn't have her at all until after the Baylor game on Dec. 11, the 10 games she missed the result of offseason knee surgery for an MCL injury. Once back in the lineup, Stevens shot just 36.6 percent from the floor in her first nine games, but with Sunday's 5-of-10 performance included, she's shooting 54.1 percent in the past six games. That run includes a pair of double-doubles for a team that needs every rebound it can get with its rebound margin essentially even on the season.
At her best, Stevens averaged 14.3 points, 7.6 rebounds and shot 47.5 percent from the floor as a sophomore. So while St. John's is likely going to be ranked when the AP Top 25 comes out Monday, a distinction that will mean it becomes the team at the risk of being surprised, the good news is that's going to be considerably more difficult to accomplish if Stevens is really and truly back.
Prahalis provides
By Charlie Creme
Players are often defined strictly by how they perform in the most important of moments. As spectacular as LeBron James is, to many he's labeled a bum because his teams are 0-2 in NBA Finals and last season he played like he was 5-8, not 6-8, in the final three games of the NBA season against the Mavericks.
Ohio State's Samantha Prahalis isn't even 5-8, but on Sunday, and for the entire season, has played big in big moments. That hasn't always been the case for the point guard. She had a reputation for melting down in crunch time of some important games during the first three seasons of her career. The Buckeyes were disappointments in those NCAA tournaments, and some pointed to Prahalis as a reason.
[+] Enlarge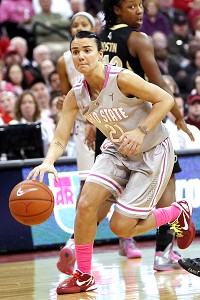 AP Photo/Terry GilliamSamantha Prahalis, the only senior on OSU's roster, scored 21 of her 26 points after halftime.
No one can say that anymore. She has had an outstanding senior season. The Buckeyes are in a position few thought they would have reached at this point in 2012 thanks in large part to Prahalis' 26 points and Ohio State's 80-71 victory over Purdue on Sunday.
Coming off Thursday's disappointing loss at Illinois, which was only two games removed from a loss at Minnesota (yes, we acknowledge that the Buckeyes have had moments of underachieving), Ohio State was in a must-win situation in Columbus against the Boilermakers if it wanted to hold onto any chance of a Big Ten title.
Prahalis had only five points at the half and her team trailed by six. In fact, the Buckeyes spent much of the game playing from behind. But there was no fade, no emotional lapse, no poor decisions, no outbursts. Instead, Prahalis, very much the senior now, scored 21 points after halftime. She also made the two most important plays of the game in a matter of seconds down the stretch. With Ohio State clinging to a two-point lead a long time in the making, and with just 40 seconds remaining, Prahalis stroked a 3-pointer from the right wing, then got her hands on a Purdue pass that led to a steal that led to free throws that led to icing the game completely. A day's work was complete.
The Buckeyes caught Purdue and kept pace with Penn State and Nebraska, setting up what should be the wildest two-week battle for a league championship in the country. And it was Prahalis that lifted Ohio State when it needed it most.
Big logjam in the Big 12
By Mechelle Voepel
This is a transition season in the Big 12 -- which now has 10 teams -- in regard to the basketball schedule. For the first 15 years of the league, the Big 12 was divided into North and South for scheduling purposes. Teams played those in their division twice, while facing those in the other division once. Meaning Iowa State was used to going to Lubbock, Texas, every other year, not annually. Same for Texas Tech visiting Ames, Iowa. Both are considered among the toughest home courts in the conference for foes, even in years when the respective teams are struggling.
And this season, Texas Tech and Iowa State certainly have had their difficulties. Now, they're both 5-7 in the league and tied for sixth along with Oklahoma State after Tech's 51-41 victory Sunday at United Spirit Arena in Lubbock.
It was a reverse of the first Tech-Iowa State meeting this season, when the Cyclones won at home 66-49 on Jan. 22. That victory was Iowa State's first in league play after starting 0-5, and it began a run in which the Cyclones won five of their next six games.
Meanwhile, Texas Tech went 12-0 in nonconference play, and started the league season with two victories in a row. But then Tech lost five straight. During that time, leading scorer Kierra Mallard went into a slump and also was injured. Tech won without her at Texas on Jan. 28, but it has been up and down since then for coach Kristy Curry's team. That roller-coaster continues despite Sunday's victory, because it did have a down side for Tech: Mallard suffered an injury just before halftime.
It was reported as a knee sprain, pending an MRI on Monday. Mallard was 2-of-5 for four points before she was hurt Sunday; in her five games prior to that, she was shooting just 16.4 percent from the field (10-of-61).
Mallard's injury wasn't the only notable one Sunday in the Big 12; Kansas forward Carolyn Davis appeared to suffer a serious leg injury in the Jayhawks' 47-43 loss at Kansas State. Next up for the Jayhawks is a trip to Iowa State; the Cyclones lost 74-67 in double overtime at Kansas on Jan. 11.
If all this makes you think, "It's a logjam behind runaway winner Baylor in the Big 12," you're on target.
West Virginia upsets Irish
Fourth-Annual Frenzies
ESPN's annual Play 4Kay event (née Think Pink and February Frenzy) always falls during the entertainment awards season. Four years ago, we got all clever and started handing out our own fictional awards to honor the highlights of Sunday's action. We don't have Ricky Gervais' sense of humor or LL Cool J's abs, but we do have the Frenzies. And this year, West Virginia gave us our very own version of Adele, hitting the high notes as the big winner. Without further ado …
• Best Score: Forget the music. We're taking this one literally. Brooke Hampton is the easy pick after hitting two free throws with 4.6 seconds left to lift West Virginia over No. 2 Notre Dame. It is Mike Carey's team's biggest win over a ranked opponent in the Mountaineers' history.
• Best Director: Her star player grabs all the headlines, and deservedly so. But while the nation's Division I leading scorer, Elena Delle Donne, put in another outstanding performance (31 points in 25 minutes), Delaware coach Tina Martin gets the nod. The Blue Hens won their 12th consecutive game to give Martin, in her 16th season at Delaware, her 300th career victory.
• Outstanding Lead Actress: Move over Shenise Johnson and Riquna Williams. Miami might be best known for that super duo, but the Canes have become a triple threat. As Graham Hays wrote in his story from College Park, Md., earlier Sunday: "With Yderstrom playing the part of Chris Bosh, leave it to a team from South Beach, or at least nearby Coral Gables, Fla., to make a statement of postseason intent on the strength of three star players." Yderstrom's career-high 26 points helped the No. 6 Hurricanes rally past eighth-ranked Maryland for a big road win.
• Best Ensemble Cast: Anne Marie Armstrong led the way with a career-high 23 points as No. 20 Georgia beat No. 25 Vanderbilt 76-63, snapping the Commodores' five-game win streak. But one of the other best storylines out of Athens on Sunday happened at halftime. As tweeted by ESPNU's Cara Capuano (@CapuanoESPN), the members of Georgia's dance team were each joined by their moms, who wore pink T-shirts with "Momma Dawg" inscribed on the back. "Those moms could really shake it! There was a huge burst of love that you could feel throughout the number, watching them dance it out together. It was a brilliant idea," said Capuano, who was impressed by the overwhelming wave of pink in the crowd. "You could really feel the spirit of the initiative, people honoring both Coach Kay Yow and perhaps others important to their own personal lives."
• Special Effects: We still love the daring look of a crisp black business suit -- completed with pink kicks, a la Miami coach Katie Meier (a previous winner) or Duke coach Joanne P. McCallie. But Sunday, we were kind of … bedazzled by Brenda Frese's pink, sequined top.
• Best Costume: Under Armour and Nike made pink blend with colors it wouldn't normally go with incredibly well as teams across the country adopted the hue Sunday. But sometimes, simple is better. Example: Ohio State's grey and pink blended seamlessly.
• Best Pop Duo Performance: Markeshia Grant carried South Carolina on Sunday, hitting five 3-pointers to finish with 20 points. But when Grant hit her final trey with 5 minutes, 2 seconds remaining to give the Gamecocks a three-point lead against Florida, she wouldn't score again. Enter LaKeisha Sutton, who netted South Carolina's final five points to seal a 62-58 victory. Sutton finished with nine points, including a left-handed scoop shot in the final minute after the Gators had pulled within one point.
• Best New Artist: Plenty has already been written this season about Elizabeth Williams. But the freshman just keeps feeding the hype. Sunday, she scored 10 of her 13 points in the second half as Duke remained unbeaten in the ACC (12-0) with a 67-57 victory over Florida State.
-- ESPN.com's Melanie Jackson
Miami rallies past Maryland
Wolfpack fall short
NC State is the epicenter, if you will, of Play 4Kay. And a sold-out crowd Sunday came to the Wolfpack's Reynolds Coliseum in hopes the home team could prevail -- which it has done more often than not on this special day.
Previously, NC State was 4-2 in the game it labels "Hoops for Hope." But Wake Forest sent the Wolfpack fans home disappointed this time, plus delivered a blow to NC State's NCAA tournament chances.
Poor shooting did in the Wolfpack in their 70-57 loss to the Demon Deacons. NC State shot just 31.3 percent from the field overall, 25 percent from behind the arc. NC State now has lost five of its past six ACC games -- it did slip in a nonconference victory on Thursday against Longwood -- and things aren't going to get easier for the Wolfpack (15-11 overall, 4-8 in the ACC).
Thursday, NC State hosts a surging Miami team that won 76-74 at Maryland on Sunday. Then Feb. 19, the Wolfpack face an equally desperate North Carolina team; the Tar Heels lost at home 56-54 Sunday to Georgia Tech.
NC State finishes the regular season with a trip to Boston College, which is still winless in the ACC, and then a visit from Maryland. At this point, it will take a real turnaround to get the Wolfpack an NCAA tournament berth.
-- ESPN.com's Mechelle Voepel
Preview: Kentucky-Tennessee
Big Monday Schedule
All games on ESPN2; tipoffs ET
Feb. 13
7 p.m.: Kentucky at Tennessee
9 p.m.: Connecticut at Oklahoma
Feb. 20
7 p.m.: Notre Dame at Louisville
9 p.m.: Ohio State at Penn State
Feb. 27
7 p.m.: Baylor at Texas A&M
9 p.m.: Notre Dame at Connecticut