Zags, Phoenix continue to make waves in March

By Graham Hays
espnW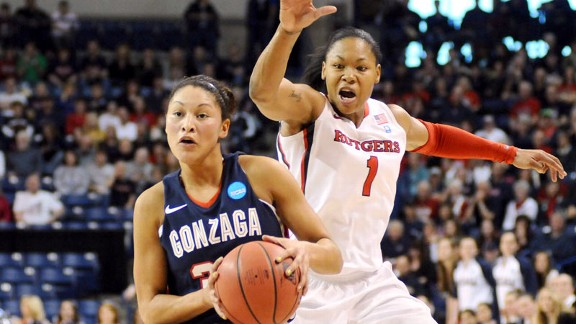 James Snook/US PresswireFoes should watch their back. Gonzaga and Green Bay have become March mainstays.
Call them mid-majors … if you must
One pulled off the only upset of the opening day of the NCAA tournament, accomplishing what even home-court advantage couldn't convince fans it was capable of doing a season after losing a player it couldn't replace.
The other went on the road and lived up to the still-unfamiliar label of favorite, a tag that doesn't often have much shelf life for programs so far beneath the radar of the power conferences.
Gonzaga and Green Bay advanced to play another day. Exactly as programs of major significance are supposed to do in the NCAA tournament.
Call them mid-majors, call them Cinderella, call them little guys; Gonzaga and Green Bay continue to prove they are two of the best basketball programs in the college game the only way they can -- by winning games in March. Not for one year, not with one star, but repeatedly, regularly.
No. 11 seed Gonzaga's 86-73 win against sixth-seeded Rutgers comes with an asterisk for some, the lower-seeded team able to play on its home court in Spokane, Wash., a place where it is 14-2 this season and averaged more than 5,000 fans per game. But the win also came a year after All-American point guard Courtney Vandersloot played her final game for the Bulldogs, and if you want to know which mattered more to public perception of the game, consider that 75 percent of entrants in ESPN.com's Women's Tournament Challenge picked the Scarlet Knights to advance, within 3 percentage points of the majorities that picked fellow No. 6 seeds Arkansas, Nebraska and Oklahoma.
[+] Enlarge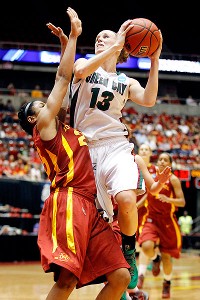 Matt Ryerson/US PresswireAdrian Ritchie and Green Bay (31-1) beat Iowa State in Ames, Iowa.
Gonzaga beat tournament teams Dayton and Georgia in the regular season, played Stanford about as tough as any team not named Baylor or Connecticut, and lost just four times in the regular season. But to a lot of people, without Vandersloot, the Bulldogs weren't a team that made the Sweet 16 two seasons ago and a regional final last season.
They were just another small school going against a name brand.
Kayla Standish might not be an All-American, but she looked more than capable in scoring 23 points against the Scarlet Knights -- just as she looked capable scoring 30 points against Iowa in the first round last season and 30 more against UCLA in the second round. Backcourt partners Haiden Palmer and Taelor Karr, transfers from Oregon State and Kansas State, respectively, who didn't play for Gonzaga last season, aren't Vandersloot, but they looked capable of competing against a Big East defense in combining for 35 points, 8 steals and 6 assists.
The same held true in Ames, Iowa, where No. 7 seed Green Bay jumped out early against host 10th-seeded Iowa State and never looked back in a 71-57 win. The Phoenix made it to the Sweet 16 for the first time last season with a lineup that included Kayla Tetschlag and Celeste Hoewisch, two players just about anyone in Title Town will tell you rank among the best in the program's long and ridiculously successful history (try no losing seasons since Jimmy Carter was in office). All this season's team did was go 30-1 entering the tournament, including a neutral-court win against Georgia Tech in Puerto Rico, which is about as close to Green Bay as most top programs are willing to come. The Phoenix did it with one special player, Julie Wojta, leading the way, but they did it with every player in the rotation doing her part. And so when Wojta wasn't a force offensively Saturday, four players scored between 14 and 16 points. That's the depth good programs have.
Does anybody want to suggest the University of Wisconsin wouldn't have been a heck of a lot better this season with Adrian Ritchie, Sarah Eichler and Lydia Bauer, let alone Wojta?
In Nashville preparing for Sunday's game between Vanderbilt and another mid-major with staying power, Middle Tennessee, I came across this quote from current Vanderbilt coach Melanie Balcomb explaining to The Tennessean why she left Xavier a decade ago for both the challenge and competitive security of the SEC.
"At the mid-D-I level at Xavier, what I wanted to get away from was the peaks and valleys," Balcomb told the paper. "Because that level of recruiting, you build and build and have that one great year, and then you start all over again. It's very hard to be consistently good, consistently Top 25."
There is no arguing that point, and no faulting a coach who makes the same choice Balcomb made, a choice Graves faced last offseason and one Bollant is likely to face this coming one. But it also makes what these programs are doing that much more impressive.
Nobody is penciling in the Bulldogs or Phoenix for a spot in Denver, but that's true for all but five or six teams at the moment, including a lot of programs with supposedly better basketball pedigrees than Gonzaga and Green Bay. There is a huge step still to be taken if either program wants to go from a top-10 team with Sweet 16 aspirations to a legitimate national championship contender. It's a step that at least Green Bay, given the financial realities of one of the Horizon League's smallest athletic budgets, probably can't make.
But count off how many of the 70-plus programs that reside in power conferences are definitively better in the present and better bets in the near future than Gonzaga and Green Bay, and you aren't going to run out of fingers.
One was an upset at home. One was the day's only win on the road.
Together they were wins by two programs that do this about as well as any in the country.
White returns for reigning champ
By Mechelle Voepel
When he found out senior Tyra White would need to sit out Texas A&M's opener in the Big 12 tournament quarterfinals because of a foot injury, coach Gary Blair was at his grumpiest.
"I was in a horrible mood," Blair said March 8 in Kansas City. "I was snapping at the trainers, snapping at my team during the shootaround. Woe is me, woe is me."
[+] Enlarge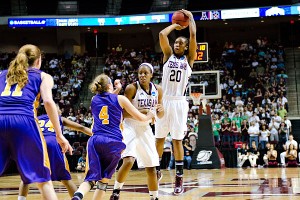 Brendan Maloney/US PresswireA foot injury sidelined Tyra White during the Big 12 tournament, but she was back in the Aggies' starting five Saturday.
It turned out White didn't get to play in the Big 12 tournament at all, missing the semifinals and final as well. And while her presence might not have changed the ultimate outcome in the championship game against Baylor, it might have made the 23-point margin more respectable.
Blair didn't think it was worth the risk, though, and sat White in hopes she would be in better shape to play in the NCAA tournament. One of the heroes of last year's national championship run for the Aggies, White was back in action Saturday as Raleigh Region No. 3 seed Texas A&M beat No. 14 seed Albany 69-47.
White, also back in the starting lineup, looked like her usual self. She scored a team-high 18 points on 8-of-13 shooting, plus had seven rebounds, in 31 minutes.
Texas A&M will need more of that from White on Monday (ESPN2, 9:35 p.m. ET) as the Aggies face No. 6 seed Arkansas. The Razorbacks beat No. 11 seed Dayton 72-55, as all four SEC teams in action Saturday won: South Carolina, Kentucky, Arkansas and Tennessee.
Texas A&M will be joining them in the SEC next season. But White will end her Aggies career in the Big 12, and Blair hopes to extend that as long as possible.
DePaul faces tall task versus Tennessee
By Mechelle Voepel
ROSEMONT, Ill. -- Because of injuries, DePaul has been doing a lot with less virtually all season. One of Tennessee's strengths is depth. Then you throw in the Blue Demons' record against the Lady Vols: 0-19, including a loss in December.
So what could make their NCAA tournament second-round meeting any different?
Well, DePaul does have the home-city advantage, playing here in suburban Chicago at AllState Arena. The Blue Demons drew 4,161 on Saturday for their 59-55 victory over No. 10 seed BYU and hope for more Monday (ESPN2, 9:40 p.m. ET) as they try to topple the Orange Crush.
[+] Enlarge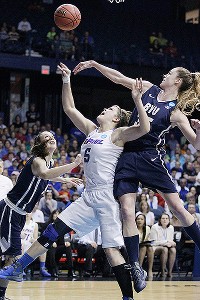 AP Photo/Nam Y. HuhAnna Martin had a team-high 17 points on Saturday, but just 10 when DePaul played Tennessee earlier this season.
"We'll give Chicago a little pass today," coach Doug Bruno said of not having an even bigger crowd, "because it's St. Patrick's Day."
The Blue Demons will need all the luck of the Irish -- not to mention that of various other nationalities -- when they face Tennessee for a berth in the Sweet 16. Coach Pat Summitt's Lady Vols have made it that far all but one year since the NCAA tournament began in 1982. DePaul has advanced to the Sweet 16 twice in the program's 16 previous trips to the NCAA tournament.
If the Blue Demons are going to pull what would be the biggest upset in program history, they'll do so with a team Bruno has nicknamed the "Magnificent Seven." Injuries -- the biggest of them being to senior star forward Keisha Hampton -- have reduced the Blue Demons to a small but determined group.
They had enough firepower to hold off BYU, despite the Cougars making them sweat for it in the end. DePaul trailed by two at halftime, but then completely turned around the game in the latter 20 minutes. The Blue Demons went up by as much as 11 points midway through the second half.
"We went zone, and I think it was very effective and important," Bruno said, specifically referring to a 14-0 run the Blue Demons used to take control of the game.
Still, the Cougars had a chance to send the game to overtime, but Haley Steed's 3-pointer with six seconds left appeared nearly down before spinning out. DePaul's Brittany Hrynko hit one of two free throws with two seconds remaining to seal the victory. She was one of four Blue Demons who scored in double figures with 15. Anna Martin led DePaul with 17.
On Monday, DePaul might need all seven in double figures, and even that might not be enough. Still, Bruno is not going to concede anything, especially considering the gumption with which DePaul has played this season despite its many obstacles.
"Coach Summitt is the ultimate competitor," Bruno said. "But I'm coaching seven kids who know how to compete as well."
K-State finally gets crack at UConn
By Mechelle Voepel
Back in 2002, the breakthrough year for Kansas State's program, the Wildcats were in the same quarter of the NCAA tournament bracket as UConn. Same in 2003, 2005 and 2011. But each time, the Wildcats lost before facing the Huskies. The programs have never played each other.
That will change Monday (ESPN2, 7:05 p.m. ET), as No. 8 seed Kansas State takes on No. 1 seed Connecticut in the second round in Bridgeport, Conn.
Not a lot was expected from K-State this season; the Big 12 coaches picked the Wildcats to finish ninth in the 10-team league. Instead, they finished tied for fourth. And by season's end, no one was lobbying for K-State to have a spot in the top 25 rankings, as many were doing for Ivy League champion Princeton.
But in Saturday's NCAA first round, K-State topped the ninth-seeded Tigers 67-64, thanks in large part to Branshea Brown, a 6-foot-2 senior out of South Carolina. She had a career-best 22 points for K-State, which fell to Baylor in the Big 12 tournament semifinals.
Now, the Wildcats will face a team that, like Baylor, is an NCAA No. 1 seed. Under coach Deb Patterson, K-State has advanced as far as the Sweet 16 only once: in 2002, when the Wildcats fell to Old Dominion.
UConn cruises past Prairie View
Player Of The Day
There's no place like home.

Unless you're a homegrown shooting legend who is struggling to find the range in a state that worships the jump shot above all else. Then you might start worrying about being exiled to Illinois.
But Purdue sophomore and Indiana native Courtney Moses can rest easy after hitting nine 3-pointers, a first-round NCAA tournament record, in an 83-68 win against South Dakota State that would have been too close for comfort without her heroics.
A scoring sensation in high school in Indiana (which is to say a star along the lines of a "Friday Night Lights" character in her tiny hometown of Sweetser; it welcomes you with signs honoring her), Moses didn't hesitate to keep pulling early and often as a freshman for the Boilermakers last season. Even after she was unexpectedly tasked to handle the majority of minutes at point guard following KK Houser's season-ending injury in the opening game, Moses found time to lead the team in 3-pointers (54) and do so with near-pinpoint accuracy (40.9 percent).
But despite being freed by Houser's healthy return to play more of a scoring role this season, Moses entered Saturday'a game shooting just 28 percent from behind the arc. Whether the result of the new 3-point line (she said during the season that it didn't affect her) or just a prolonged run of ill fortune, it seemed like a concern for a team that thrives on defense but sometimes scrambles to find points. It doesn't seem like so much of a concern now.
The only down side for Moses? Teammate Brittany Rayburn still has in-state bragging rights after hitting 12 3-pointers in a win against Minnesota this season, tying an NCAA record. -- Graham Hays
Nneka Ogwumike leads Cardinal
Williams brings energy to Lady Vols
Tennessee junior Kamiko Williams has a naturally bubbly personality, part of which the Lady Vols always want to see on the court. The part that's highly energetic, that is.
"Since my freshman year, Pat has been getting on me about that," said Williams, who is from Clarksville, Tenn., the same area of the state as coach Pat Summitt. "I couldn't figure it out at first. My sophomore year, it clicked. And I realized when they call on me, they're looking for energy.
"It's always a situation where I can see that the team needs it, and I try to give that to them. I don't want to let them down. If I don't do that, I'm not filling my role. I'm being lazy."
Williams definitely couldn't be accused of that Saturday in the Lady Vols' 72-49 victory over UT-Martin at AllState Arena in Rosemont, Ill. She played 17 minutes off the bench, getting four points, six rebounds and three assists.
"Glory [Johnson] pulled me to the side and said, 'When they sag off you, shoot the ball. Don't worry if you miss; I'll get the rebound,'" Williams said of her senior teammate. "She was trying to build my confidence. I'm going to have to keep doing that, because I'm sure other teams might sag off me as well, and you have to try to make them pay." -- Mechelle Voepel
Aggies advance past Albany
Saturday's columns and stories
Green Bay tops Iowa State
Tournament Challenge

Hall of Famer Ann Meyers nailed the first 16 games, maintaining a perfect bracket through Saturday. How did the brackets from other ESPN analysts, WNBA stars and espnW contributors fare? Check out our espnW group and your own bracket.