So far, defending Delle Donne remains a mystery

By Mechelle Voepel
espnW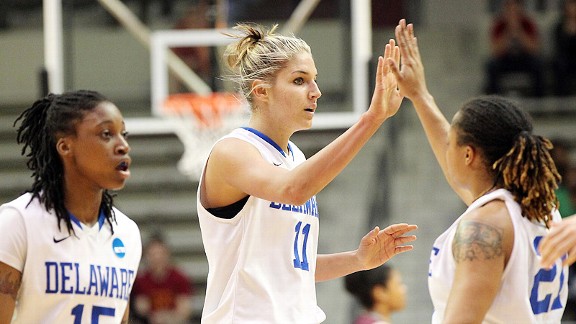 Nelson Chenault/US PresswireElena Delle Donne's 39 points in 30 minutes led Delaware to its first NCAA tournament win.
Bandwagon filling up, but it's not a bad thing
Over the years, there have been some dominant scoring threats in the NCAA tournament who force teams to try to gamble against them. Like gambling in a casino, though, much of the time it doesn't pay.
No. 14 seed Arkansas-Little Rock decided when facing Elena Delle Donne of No. 3 seed Delaware that a lot of single coverage might be the best bet. But it turned out that no bet was a winning one for the Trojans on Sunday.
All the anticipation for Delle Donne's first NCAA tournament game was warranted, as she scored 39 points in a 73-42 NCAA first-round victory in Little Rock, Ark.
Eleven years ago, teams tried various defensive strategies against guard Jackie Stiles of Missouri State, and none of them worked very well. Stiles finally ran out of gas against Purdue in the 2001 national semifinals, but by that point her team had eliminated No. 4 seed Rutgers and No. 1 seed Duke. Against the latter, she scored 41 points.
In 2009, Iowa State had no post player to really counter Stanford All-American center Jayne Appel in the Elite Eight. The Cyclones still opted to go with mostly single coverage on Appel in hopes they could contain the rest of the Cardinal well enough. That didn't work, as Appel had 46 points and Stanford won 74-53.
Sometimes, there just isn't a good answer for a great player, and that was the case Sunday with Delle Donne. She hit shots from all over the court in 30 minutes of play, plus also had 11 rebounds and three blocked shots.
For some folks, it was their first time seeing her play, and they no doubt came away impressed. The snark factor in women's basketball -- it does have one, of course -- might be saying that the Delle Donne bandwagon has filled up awfully quickly in the past month or so.
But it's understandable why: She's an incredibly skilled player whose back story is touching and compelling. That and the fact that she's playing for a mid-major in her home state all might be old news to those who closely follow women's hoops. But it's a door-opener to the casual sports fan who might check in only in March, looking for reasons to tune in to the women's tournament. Delle Donne, just by being herself, is a fan magnet.
The name on the front of the jersey matters most in sports, but to say the name on the back isn't also very important is to ignore how much spectators love stars. Delle Donne's silky-smooth shooting and ballhandling, along with an improved effort on defense, are made for March memories.
Next up to try to slow her down is No. 11 seed Kansas, a team that -- despite the loss of forward Carolyn Davis to an ACL in February -- has a little more size and versatility to throw at Delle Donne than did UALR.
Look for KU's 6-foot-2 senior post player, Aisha Sutherland, to spend some time trying to check Delle Donne. Sutherland is a very good defender when she's focused, but the latter has been a problem during her career. Sutherland has a tendency to commit silly, unnecessary fouls that undermine the athletic ability she can bring both offensively and defensively. But when she's locked in, Sutherland can be very good on both ends.
KU has some speed on the perimeter with its guards to try to defend the 6-5 Delle Donne, but like most teams, not enough height out there to thwart her. Kansas will have to avoid foul trouble and keep the game at a pace the Jayhawks are more comfortable with to try to upset Delaware.
And, remember, the rest of the Blue Hens have hurt teams, too. Delle Donne does the most damage, but she's not the only one for opponents to worry about. However, she is the main one who brings in the eyeballs, and that's something the sport should relish and appreciate.
Kansas rocks the chalk in upset
By Mechelle Voepel
You want to know just how much No. 11 seed Kansas' 57-49 victory over sixth-seeded Nebraska in the NCAA tournament's first round meant to the Jayhawks? A whole rock-chalking lot.
Exactly one month ago -- Feb. 18 -- the interview room at Kansas' Allen Fieldhouse was a depressing place to be for the home team.
[+] Enlarge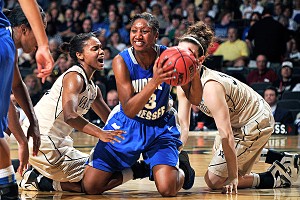 AP Photo/John RussellCoach Rick Insell said he appreciates his Blue Raiders players more than ever.
The Jayhawks had just lost to archrival Missouri 70-65. It was the Tigers' first Big 12 victory and threw what KU coach Bonnie Henrickson called "a dagger" at the Jayhawks' NCAA tournament hopes.
Six days previously, the Jayhawks had lost their leading scorer, junior post Carolyn Davis, to a gruesome-looking ACL injury early in their game at Kansas State. After she went down, her cries echoed around a hushed Bramlage Coliseum.
And as Henrickson leaned over to console her, Davis kept saying, "I'm so sorry! I'm so sorry!" As if that dastardly ligament tearing -- as it does far too often in women's hoops -- had been her fault.
And there were the Jayhawks -- still battling for their first NCAA berth since 2000 -- letting a home game slip away to the last-place team in the Big 12. Just before tipoff of that Mizzou game, Davis had been in the team huddle and fell down, the injured knee giving way suddenly, as they sometimes do. She'd fallen to the court, in pain again.
In the postgame news conference, Henrickson struggled with her emotions in saying that the team had dealt with Davis' injury better than she had. Then senior Aisha Sutherland, trying to keep her composure talking about what looked to be the downward spiral of her final college season, dissolved into tears. And Sutherland is not the crying type.
Yeah, we told you it was depressing.
But another player, her composure unbroken, vowed that the Jayhawks were not going to give up and that they still had a chance to be an NCAA tournament team. That was junior point guard Angel Goodrich, who had been through two ACL injuries herself at KU. More …
Middle Tennessee still healing after tragic loss
By Graham Hays
NASHVILLE, Tenn, -- Middle Tennessee State's players broke huddles this season with a simple exultation, one part message to a teammate no longer in their midst and one part reminder of why they were walking back on the court.
Together on three for T.
The season came to an end Sunday night. Dealing with the loss of Tina Stewart, or "T," is in some ways still beginning.
Stewart, who would have been a senior on the team that played Vanderbilt, was stabbed to death last year just days before Middle Tennessee was to begin postseason play in the Sun Belt tournament. Shanterrica Madden, Stewart's roommate at the time in an off-campus apartment, will stand trial on first-degree murder charges later this spring.
The senselessness of Stewart's death lingers to this day, as it will for years to come. But where it hung like a dark cloud over her teammates as they tried to come to terms with her death a year ago and figure out where the sport they loved and she loved fit in the healing process, eventually electing to play in the conference tournament and the NCAA tournament, it is no longer the first thing people ask about when the Blue Raiders appear in public.
In Nashville this weekend, most of the questions on the eve of the game against Vanderbilt were about the rivalry that isn't, what some perceive as Vanderbilt's unwillingness to schedule its mid-major neighbor from nearby Murfreesboro, Tenn.
The questions after the game, a 60-46 loss for the Blue Raiders, dealt with basketball matters, of the missed opportunities inherent in getting 25 offensive rebounds and just four second-chance points, and of possessions squandered to uncharacteristic freelancing as a chance for victory slipped away in the second half. They dealt with the atmosphere in a gym in which Middle Tennessee fans seemed to outnumber Vanderbilt fans.
They didn't deal with issues of life and death. Only a basketball season ended and a rivalry potentially born.
But things left unsaid and unasked are not the same as things forgotten. Stewart's death isn't the subject of the questions the players and coaches are asked these days, but their own questions as to why she isn't with them remain unanswered. How they cope, how they choose to remember and even try to forget, continues to change them.
"They're not over it," coach Rick Insell said in the quiet of a hallway the day before the game. "They talk about her every day, they talk about Tina's situation every day. Sometimes you see them drifting off a little bit and I know right then what's going on. They're not over it. My coaching staff isn't over it. And I'm not over it.
"There's not a day goes by that I don't think about that situation, and it's tough. It's still tough."
A flexible word, tough in another form might be the first one most people use to describe Insell, a legendary high school coach in Tennessee who wasted little time lifting Middle Tennessee to national prominence in women's basketball in his first college coaching job. His teams play fast and play hard, and woe be the Blue Raiders player who draws his ire for any of a million possible on-court indiscretions. Asked to describe her coach, Middle Tennessee standout Ebony Rowe broke out a big grin. A physics major with a grade-point average close to 4.00, Rowe has often been on the receiving end of barbs from her coach to the effect that if she understood basketball half as well as she understood physics, his team would be in better shape.
"

They talk about her every day … Sometimes you see them drifting off a little bit and I know right then what's going on. They're not over it. My coaching staff isn't over it. And I'm not over it.

"

-- Middle Tennessee coach Rick Insell on the tragic death of Tina Stewart a year ago
And that's arguably his best player. Yet Rowe can't help but smile at the thought of the two side of Insell.
"On the court he might be the toughest person that I've ever had to deal with and pushed me the hardest that anyone has ever pushed me," Rowe said. "Off the court, it's a complete transition. He cares about us, genuinely. I'm not just saying that because he's my coach. He cares."
But experiencing something like the death of a player, losing someone not to illness or even accident but to something as grotesque and incomprehensible as being stabbed to death, left Insell as much in search of answers as his players. Riches don't await a women's basketball coach in Murfreesboro, Tenn., and there are better ways to feed a need for personal glory. Basketball and the satisfaction of winning drove him, and still drive him, but losing one member of what every coach unfailingly and often hollowly calls a family drove home something else.
"I always loved my players, and maybe I said it more than I felt it," Insell said. "Now I feel it, and I don't have to say it. I think they feel it, too. They always came over to my house all the time. Now when they come over to the house, it's a different feeling. Maybe sometimes we coaches abuse the time we have with our players, and I've tried not to do that this year with my players. What I mean by that, when they're around, I appreciate them more, and I think they appreciate me more.
"Now, I'm still their coach, and I still get on them. And they're still players, and they get emotional. But I think their relationship with them and my relationship with them has absolutely changed."
There were times Sunday when Insell's team left him hopping mad, star guard Kortni Jones at one point literally driving Insell to a series of two-footed stomps at one end of Memorial Gym, configured in a way that leaves coaches at either end of the court instead of along the sidelines. And still, after lamenting the missed open looks, the deviations from his plan and the missed opportunity with three Vanderbilt players in foul trouble, Insell sounded like the coach at the end of a season unlike any in his career.
"This little bunch right here I feel like has overachieved this year, and I'm awful proud of them," Insell said in defeat. "If you look out there, they're not real big, and they're not real fast, and we're not a great defensive team, and sometimes we don't shoot the ball real good. But we got 26 wins. We got to the NCAA tournament. And we was playing a good team in their gym today and we battled, so I'm very proud of what I had out there."
They played the season together, even though they were perhaps the only team in the country for whom it was impossible to truly be whole.
"It's still there and it's never going to go away," Rowe said before the game. "We're going to carry her wherever we go. But now we can say we honestly have our focus on basketball, and we're doing this for her."
The basketball is over for another year. The questions never go away for lives forever changed.
Marist knocks off 4-seed Georgia
Player Of The Day
Angel Goodrich was the point guard that Kansas coach Bonnie Henrickson had been waiting for, so her arrival at KU from Tahlequah, Okla., in 2008 was big news. Unfortunately, Henrickson had to wait a year longer to have Goodrich in the lineup; she suffered a torn left ACL in the Jayhawks' second practice that fall.

Goodrich came back for her redshirt freshman season a year later, and started 15 games before horrible lightning struck again. This time, it was an ACL tear in her right knee on a drive to the basket during a January game against Oklahoma State.
She was able to rehab fast enough to return for the next season, when she played 27 games and averaged 7.5 points. This season as a junior, Goodrich has started all 32 games and is averaging 13.3 points, 7.4 assists and 2.5 steals. (She has set a school single-season record of 238 assists, with 113 turnovers.)
Sunday, her 20 points, five assists and five rebounds led No. 11 seed KU to a 57-49 upset over No. 6 seed Nebraska in Little Rock, Ark. It was the Jayhawks' first NCAA tournament game since 2000, and their first victory in the tourney since 1999, when they beat Marquette in the first round but then fell to eventual NCAA champion Purdue.
Goodrich is just 5 feet, 4 inches, but her playmaking, court vision and scoring ability are excellent. And looking at her speed, you wouldn't know she'd been through ACL surgery on both knees. She's still very quick, and hurt Nebraska's defenders with her ability to get by them and to the rim.
Goodrich picked up two early fouls, but didn't let that take away her aggressive mindset -- including when it came to taking charges.
"Like Bonnie said, it was a little daring, but I don't want to change my game up because I have two fouls," Goodrich said. "I still want to be aggressive and do what I want to do. And taking charges is one of the things I do."
-- Mechelle Voepel
Kim Mulkey on Baylor's win
A Bonnies day
We watched St. Bonaventure and Florida Gulf Coast both play in their first NCAA tournament game on Sunday. It seemed a shame that they had to face each other, and especially so after the No. 5 seed Bonnies' 72-65 overtime victory against the No. 12 Eagles. It would have been nice to see both these teams make it to the second round.

It was an entertaining game that set the tone for a more interesting afternoon/evening on the second day of the women's tournament, and it showed we will see more of these two teams in future NCAA games.
For now, the No. 5 seed Bonnies are the ones who remain alive, but it took a big rally to keep the Eagles from advancing in their home state. With host school Florida State not making the NCAA field, FGCU was the defacto "home" team in the Tallahassee subregional, where the so-called "little guys" stole the show and the big-conference team, No. 4 seed Georgia, got bounced.
Marist, which has some practice at beating the big leagues, defeated the Bulldogs 76-70, meaning the No. 13 Red Foxes will be next for St. Bonaventure in an Atlantic 10 versus MAAC battle.
Which wily chess-master will outfox the other: Marist's Brian Giorgis or St. Bonaventure's Jim Crowley, a candidate for national coach of the year this season, in Tuesday's second round?
-- Mechelle Voepel
Speaking of Marist
The master of the mid-majors, Marist coach Brian Giorgis did it again.
A day after Green Bay and Gonzaga booked appearances in the second round, No. 13 seed Marist extended its own run of postseason success with a 76-70 victory against fourth-seeded Georgia. It's Marist's second win in the past six tournaments as a No. 13 seed, meaning it's responsible for a third of all such wins since the field expanded to 64 teams. The last time it happened, in 2007, the Red Foxes didn't stop there, winning a second-round game to reach their first Sweet 16.
Doing more with less has become a way of life for Marist in March. More from Graham Hays …
Conference call
After one round, let's look at how the "Big Six" conferences have done.
• ACC: Four of four won.
• Big East: Seven of eight won; No. 6 Rutgers out.
• Big 12: Five of seven won; No. 9 Texas and No. 10 Iowa State out.
• Big Ten: Two of seven won; No. 6 Nebraska, No. 8 Ohio State, No. 9 Iowa, No. 10 Michigan State and No. 11 Michigan out.
• Pac-12: Two of two won.
• SEC: Seven of eight won; No. 4 Georgia out.
Sizing up Delle Donne's big day
Tournament Challenge

Here's food for thought: Not one bracket in the Women's Tournament Challenge nailed the first round (several dozen missed just one game). In espnW's group, Hall of Famer Ann Meyers continues to lead the way, ranking in the 99.6 percentile.
• Check your bracket » Leaderboard »
Want more?
The Quick Dish wraps up all the action during the opening four days of the women's NCAA tournament.