Half of Sweet 16 set -- and Gonzaga's in again

By Graham Hays
espnW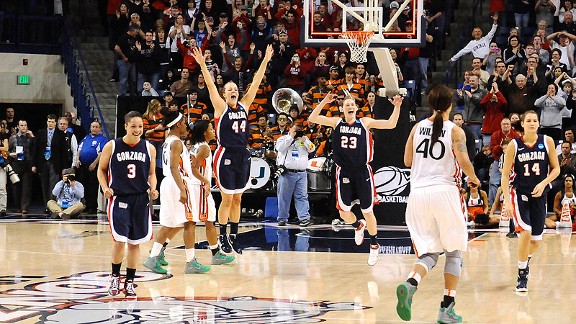 James Snook/US PresswireFans -- and family members -- now get to cheer on Gonzaga in the Kingston region semifinals.
Good fortune aside, Zags are just plain good
Even one of his own children told Gonzaga coach Kelly Graves before the season that his team wasn't going to be any good without Courtney Vandersloot, the All-American point guard who piled up plenty of records while leading the Bulldogs to six NCAA tournament wins, two Sweet 16 appearances and one trip to the Elite Eight in her four seasons.
Dad's going to have a lengthy last laugh; it is, after all, a long flight from Spokane to Rhode Island.
That No. 11 seed Gonzaga will carry with it an asterisk of sorts to Kingston, R.I., and a Sweet 16 game against second-seeded Kentucky is inescapable. For the second consecutive season, the Bulldogs had the luxury of playing their first two NCAA tournament games on their home court, a place where they have rarely lost since Graves came to town 12 seasons ago. The result that sent them through, a 65-54 win against No. 3 seed Miami in the second round on Monday, came against a team that left an All-American back in Florida for disciplinary reasons.
But a lot of teams catch breaks in the postseason. And as long as the criteria for hosting remains as it is now, a lot of teams will get home games that belie their seeding.
Not a lot of teams reach the Sweet 16 three years in a row. That kind of achievement doesn't merit an asterisk. It merits a round of applause.
Consider the teams Gonzaga beat to make those Sweet 16 appearances the past three seasons: North Carolina, Texas A&M, UCLA, Iowa, Rutgers and Miami.
Graves will tell you there isn't a lot those programs have to offer that his can't match. It's why he's not especially fond of the mid-major label. Sure, those programs might come from athletic departments with a little more money, a few more bells and whistles attached to their facilities. But beginning with the success of the men's program more than a decade ago, Gonzaga invested in both of its basketball programs. The Bulldogs don't go wanting when it comes to the niceties. And at least within the West Coast recruiting base in which he operates, particularly the territory in the Pacific Northwest ripe for picking given the struggles of Oregon, Oregon State, Washington and Washington State over the past decade, there aren't a lot of doors in which he can't at least wedge a foot.
If you've ever met Graves, had your hand disappear in shaking his, you know that's a sizable foot to wedge.
The thing is, those programs the Bulldogs beat the past three seasons do have something Graves doesn't. Something this season ought to earn him but which might yet prove elusive.
They have the benefit of the doubt.
Gonzaga lost Vandersloot to graduation and the WNBA lottery after last season, but it returned two all-conference players in Kayla Standish and Katelan Redmon, another starter in Kelly Bowen and added a pair of well-regarded transfers from major conferences in Taelor Karr and Haiden Palmer. It nonetheless debuted in "others receiving votes" territory in the AP Top 25.
It's difficult to imagine what LSU, USC, UCLA and Texas, all schools that made the preseason Top 25 after finishing last season out of it, had in their favor other than brand recognition.
Year in and year out, Texas and schools like it get to prove they aren't good. Year in and year out, Gonzaga has to prove it is. This team did just that by finding its own identity without a superstar, among the hardest tasks of all for, sorry, mid-majors.
When the season started, Graves said he thought this might be the deepest team of his tenure. It didn't work out that way, at least not when it came to the players he sent out on the court during games. By the time the postseason arrived, he was basically down to a six-player rotation, those regulars all averaging at least 20 minutes a game while no other player averaged double digits. Standish, Redmon, Bowen, Karr, Palmer and Jazmine Redmon (no relation to Katelan) played 379 of a possible 400 minutes in the first two rounds.
When Gonzaga beat UCLA in the second round a season ago, the Bulldogs totaled 23 assists, 17 of them from Vandersloot to go along with her 29 points. When the game against Miami ended Monday night, the Bulldogs had 17 assists. No player had more than Karr's five. No player had more than Standish's 19 points. But Standish, Katelan Redmon and Palmer shouldered the collective scoring load, and a team that opened the season looking like a defense-optional outfit held the Hurricanes to 33 percent shooting two days after holding Rutgers to 41 percent shooting.
This might not be Graves' best team. It might be a team that capitalized on some good fortune. But to answer the criticism from inside his own house, it is definitely a good team.
As you would expect from a Sweet 16 regular.
Defense puts UConn in Sweet 16, record books
By Graham Hays
Connecticut limited Notre Dame to 36 percent shooting when the teams played in South Bend in January. It held its main Big East rival to 39 percent shooting when the teams reconnected in Hartford to close the regular season. And it held St. John's to 39 percent shooting when the Red Storm came calling on Senior Night in Storrs, Conn.
The Huskies, as you might have heard, lost all three of those games.
[+] Enlarge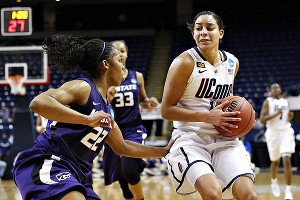 David Butler II/US PresswireUConn's Bria Hartley scored a team-high 16 points -- yes, just 10 fewer than Kansas State managed.
Defense has never been a problem for this team, something the No. 1 seed went to the extremes of the NCAA record book to reinforce in a 72-26 win against No. 8 seed Kansas State. That point total for the Wildcats, lower than their total in either half of a first-round win against Princeton, set an NCAA tournament record for futility, besting -- if that's the word -- Southern's 27 points in a first-round loss against Duke in 2006. How bad was it? Kansas State's Stephanie Wittman played eight minutes and had two assists; the rest of her team combined for 192 minutes and one assist.
That kind of defense is why Connecticut is a No. 1 seed, why it's first in the nation in fewest points allowed per game and first in the nation in lowest opponents' field goal percentage. It's this team's greatest asset and the biggest reason why the Huskies should be favored to play to their seed and come out of Kingston next week and return to the Final Four.
But while Connecticut held the Wildcats to just 18 percent shooting from the field, the 50 percent accuracy that Kaleena Mosqueda-Lewis and Bria Hartley combined for -- hitting 12 of 24 shots and scoring 31 points -- could be a more important number in the long run. It's just the fourth time since Jan. 1 that both players hit at least half their shots in the same game, and it was the first time each did so while hitting at least six field goals.
Obviously, those are largely arbitrary markers, but what they represent isn't arbitrary at all. Hartley and Modqueda-Lewis are Connecticut's two best offensive players. There are games when Tiffany Hayes will have the hot hand or Stefanie Dolson will pile up points from the post, but Hartley and Mosqueda-Lewis are the two most likely to keep opposing coaches awake at night. It's no coincidence that some of Connecticut's unsteadiest play came when both slipped into scoring funks in which they shot worse than 40 percent from the floor for prolonged stretches.
Connecticut didn't need their points or efficiency against Kansas State. Those things were ancillary to a defensive effort for the record books. They will need them in the days ahead.
Nowhere but up for South Carolina
By Mechelle Voepel
Twenty years ago, Dawn Staley was a shy, serious senior at Virginia, consumed with winning an NCAA title in her third and last trip to the Final Four as the Cavaliers' star guard.
The consensus national player of the year her final two seasons at UVa, Staley had been the Final Four's most outstanding player as a junior despite the Cavs' loss to Tennessee in overtime in the NCAA title game.
[+] Enlarge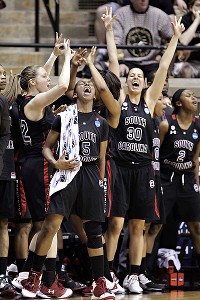 AP Photo/Michael ConroySouth Carolina will play top-seeded Stanford in the regional semifinals.
When the Cavs fell short again in 1992, losing a 66-65 semifinal game to Stanford, Staley was despondent. It's still a tough memory for her.
But after three Olympic goal medals, a successful WNBA career and a transition into coaching, she is now back into a place she hasn't been since her days at Virginia: the NCAA tournament's Sweet 16.
Staley led South Carolina to the Fresno Regional semifinals, as the No. 5 seed Gamecocks defeated 4-seed Purdue 72-61 on the Boilermakers' home floor.
Next up, South Carolina will face Stanford, the team that ended Staley's playing career so long ago. The Cardinal have to be ready for a relentless South Carolina team that doesn't have that one "big" weapon but comes at you a little like a school of piranhas.
Staley went to the NCAA tournament as Temple's head coach six times but did not get past the second round. Now in her fourth season of rebuilding the program at South Carolina, Staley has the Gamecocks not only back in the tournament for the first time since 2003, but also in the Sweet 16.
Monday, South Carolina was one of three SEC teams to advance to the regional semifinals, along with Tennessee and Kentucky, both No. 2 seeds. The one SEC team to lose Monday was No. 6 seed Arkansas, and it lost to a future SEC team: No. 3 seed Texas A&M, in the Raleigh region. Three more SEC teams vie for Sweet 16 spots Tuesday: LSU, Florida and Vanderbilt.
"You look at Florida, who everybody said, 'We hope they get in,'" Tennessee associate head coach Holly Warlick said. "And they had a great win against Ohio State. For Dawn to take her team to the Sweet 16, Kentucky going, Arkansas had a great year … the future looks tremendous for the SEC. I'm not surprised at how we're playing."
Elonu, Carter lift Aggies
By Mechelle Voepel
After her subpar performance in the Big 12 tournament title game loss against Baylor, one Texas A&M senior was facing a challenge from coach Gary Blair: Would the real Adaora Elonu please stand up?
Elonu, a starter on last season's NCAA title team, had no points on 0-of-5 shooting against Baylor in the league championship. That especially hurt the Aggies since her fellow senior Tyra White was out of the Big 12 tournament with an injury.
Blair knew that for the Aggies to get very far in the NCAA tournament, he'd have to have much more from Elonu. He certainly got it Monday in No. 3 seed Texas A&M's 61-59 nail-biter over 6-seed Arkansas. Elonu tied her career high with 23 points, and she also had seven rebounds.
No one else scored in double figures for the Aggies. The biggest load was carried by Elonu, and they needed everything she could give them against the upset-minded Razorbacks.
White had a difficult night with just three points and eight turnovers. However, she and fellow senior Sydney Carter came through in crunch time. With Arkansas holding a 59-58 lead, Carter made two free throws with 23 seconds left to put the Aggies in front.
And when Quistelle Williams missed what could have been the winning basket for Arkansas with five seconds left, White was the one who grabbed the rebound with one second left and was fouled. She made the first free throw and intentionally missed the second, running out the clock and sending Texas A&M to the Sweet 16.
The Aggies have missed the senior starters they lost from last year's team, Danielle Adams and Sydney Colson. But Monday, this year's seniors kept Texas A&M alive.
Lady Vols eliminate DePaul
Player Of The Day
One moment to forget at the end of a game wasn't going to derail a night to remember for Maryland's Tianna Hawkins.

Her team leading by three points with the clock ticking down and less than 20 seconds to play, Hawkins couldn't quite control the ball with only one step and empty court between her and a layup that would have provided the exclamation mark on a win. Her subsequent foul gave Louisville possession with 15 seconds on the clock and a chance to tie. Absolution came in the form of an airballed 3-point attempt that landed in Hawkins' hands and allowed her to seal the 72-68 win at the free throw line.
The final redemption was only fair because Maryland wouldn't have held the lead in the first place, or perhaps even been in contention, without Hawkins on Monday. Providing the muscle in support of teammate Lauren Mincy's big scoring day, Hawkins finished with 15 points, 14 rebounds -- eight of them on the offensive glass -- and six steals in 38 minutes. Few things in basketball are as demoralizing as an offensive rebound at the end of a successful defensive effort, and few players in the country are better at creating second chances than Hakwins. In fact, no player in any of the six power conferences had more offensive rebounds this season than the 6-foot-3 junior.
Thanks in large part to her persistence in creating second chances, Maryland gets its first crack at a Sweet 16 since 2009.
-- Graham Hays
Kentucky survives vs. Green Bay
Seed catches up with Phoenix
Green Bay fell just short of a second consecutive trip to the Sweet 16, but don't put this loss on the Phoenix.
Green Bay played a Sweet 16-caliber game this March; it just had to play it in the second round.
Overwhelmed by Kentucky's pressure in the first half, Green Bay turned the tables on the SEC champions in the second. The Phoenix forced more than 20 turnovers in those final 20 minutes to erase a 17-point deficit and put themselves in position to win until the Wildcats responded with a clutch jumper to escape. It was a game of uneven halves, but it was a fair fight all the way.
The catch is that had it taken place a week ago, Kentucky would have exited with a mild upset, the No. 11 team in the nation beating the No. 10 team by three points.
The selection committee shouldn't be beholden to the polls any more than it should be slavishly devoted to the RPI. But if a team with a 30-1 record and a history of NCAA tournament success with largely the same cast of characters is placed in the same company as Kentucky by a consensus of poll voters, the two shouldn't be meeting the second round.
Common sense failed miserably, and a game that should have given a player like Julie Wojta -- not to mention Keyla Snowden, A'dia Mathies and a host of Wildcats -- a national spotlight in the Sweet 16 was instead played a round too early amidst the din of seven other games.
Green Bay proved in defeat that it belonged among the best. The shame is that will be all too easy to forget.
-- Graham Hays
Postgame analysis: Stanford's win
Monday's complete coverage
Preview: Florida vs. Baylor
Tournament Challenge

Cindy Brunson's bracket has taken over the lead in espnW's group, but brackets from Hall of Famer Ann Meyers, Beth Mowins and Rebecca Lobo aren't far behind.
• Check your bracket » Leaderboard »
• President Obama's bracket » Watch »