Breakout frosh help KU break into Sweet 16

By Mechelle Voepel
espnW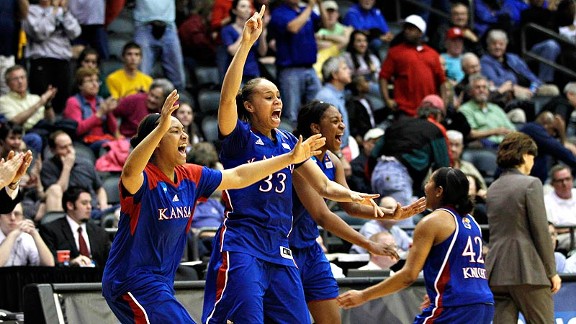 AP Photo/Danny JohnstonThe Jayhawks join Gonzaga as No. 11 seeds in the regional semifinals.
Freshmen help Kansas reach first Sweet 16 since 1998
Coaches always say that every bit of adversity for a team brings an opportunity for under-the-radar players to emerge. That's the optimist's way of looking at a negative situation. But a lot of the time it's just wishful thinking.
Teams usually don't have one potentially rising star (Keena Mays) transfer and another established star (Carolyn Davis) get hurt during a season, yet still come back to earn an at-large bid in the NCAA tournament. And even if they do, they don't make the Sweet 16. But Kansas did.
The Jayhawks are headed to the Des Moines Regional semifinals, and one of the key reasons (besides point guard Angel Goodrich, a junior who has been carrying the team all season) is the play of freshmen Natalie Knight and Chelsea Gardner. Both were very important in the Jayhawks' early-round victories against Nebraska and Delaware.
Gardner, a 6-foot-3 post player out of Texas, is averaging only 4.3 points and 2.9 rebounds this season, but she had a combined 25 and 23 in the Jayhawks' two NCAA games. Talk about a breakout performance.
Knight is a born Jayhawk; three of her uncles played basketball at Kansas, and her parents are both graduates of KU. One of her uncles, Danny Knight, was on the KU men's 1974 Final Four team.
Knight went to Olathe South High in the greater Kansas City area, not far from Lawrence. She's a 5-7 guard who was the Gatorade Kansas player of the year in 2011, and she has started every game this season for KU.
Knight had eight points and five assists against Delaware. And she contributed to the defensive effort on the perimeter against Elena Delle Donne, who also had to deal with KU's 6-2 senior Aishah Sutherland inside. Furthermore, Knight played 38 minutes against Nebraska and 40 against Delaware.
Jenkins helps Bonnies make history
By Graham Hays
In the time it took you to read this … too late, Jessica Jenkins already got off a 3-pointer.
The quickest thing this side of summer in St. Bonaventure's upstate home of Olean, N.Y., Jenkins' release was on display throughout the fifth-seeded Bonnies' 66-63 victory against No. 13 seed Marist in the second round. As a result of that victory, a program saddled with a string of four consecutive seasons of single-digit wins less than a decade ago will continue the best season in its history, extend its first trip to the NCAA tournament and travel to the Sweet 16 to play one of the sport's giants in top-seeded Notre Dame.
[+] Enlarge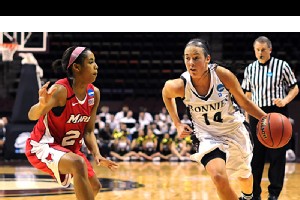 Melina Vastola/US PresswireSt. Bonaventure's Jessica Jenkins went 6-for-12 from 3-point range for 22 points.
It's remarkable how far a good shot can take you.
Jenkins led all scorers in the game with 22 points, just enough, as it turned out, to ensure that only her third missed free throw of the season in the closing seconds didn't matter in the final outcome. She hit 6 of 12 shots from behind the 3-point line (often well behind it, as is her wont), compared to just 1 of 5 shots from shorter distances.
That's not a surprise. Although close to automatic from the free throw line, Jenkins is most comfortable with considerably more real estate between her and the basket. Consider that for the season, she has attempted 276 3-point field goals and just 120 of the 2-point variety. And her career numbers are even more stark: 847 3-point attempts, 301 2-point attempts.
Looking at her, it's easy to see all the things she isn't. She isn't big. She isn't a point guard (although she played one in high school). She isn't going to win a first-step contest with Odyssey Sims. And all of those things are what most Division I programs saw when they looked at her coming out of high school in Ohio. But she is a natural shooter, and already working as a personal trainer in her spare time, she is also tireless -- an underrated skill that separates a good spot-up shooter from the Reggie Millers of the world, willing to run all day in search of the picks that provide open looks.
Those are the things that sold coach Jim Crowley on Jenkins, the things that helped her hit more 3-pointers than all but a handful of players in NCAA history and become one of the school's all-time greats.
Among the things she isn't, she isn't Elena Delle Donne. And to that point, St. Bonaventure isn't going to the Sweet 16 because of a transcendent individual talent. Jenkins is the leading scorer and the player who has the greatest effect on whether the team wins or loses, but there are games in which Megan Van Tatenhove or Doris Ortega are more valuable, stretches of games in which Alaina Walker, Armelia Horton, CeCe Dixon or Chelsea Bowker make the big plays. Each of them has a list of things they aren't, one reason it's easy to look at the Bonnies and see a team that doesn't pass the eye test. But to be 31-3 and within two wins of the Final Four, each also has a list of things they are.
Jenkins is the perfect face of the team not because of how much better she is than her teammates but because of how similar her story is to those of the rest of the roster.
If you blink at the wrong time, you might miss a shot from Jenkins. But don't worry; she's around for at least one more game.
Gray helps lead Duke to Fresno semifinals
By Graham Hays
NASHVILLE, Tenn. -- Duke guard Shay Selby backpedaled down the court, arms raised in mock consternation, but the grin directed at teammate Chelsea Gray was a dead giveaway as to her true feelings. Gray had just missed the finish on an alley-oop attempt, costing Selby an assist and adding an offensive rebound to her own account on the putback.
All Gray could offer by way of apology was a slightly sheepish smile as she made her way to the defensive end, a quarterback who dropped the touchdown pass on a halfback option.
At least she has something to work on. Gray spent the rest of the night showing why her coach calls her the most extraordinary passer in the college game.
Far from the final seconds of a blowout, more than three minutes remained in the first half when the scene played out between Gray and Selby, but the revelry was hardly premature. Gray's basket, sans assist, put the Blue Devils ahead by 24 points and placed a light-hearted exclamation point on an evening that turned from competition to victory lap in a hurry.
That the Blue Devils sweated out the second half in a 96-80 win against Vanderbilt was only because the temperature in the sweltering gym in Nashville hovered somewhere between those two point totals throughout the game. The final score marked the smallest margin since the middle stages of the first half and failed to in any way reflect the run of play.
Unlike the season before, when Duke struggled to salvage a lucky escape at home in the second round against Marist, this was the ACC champ at its offensive best.
And Gray was the charismatic sophomore point guard running the show.
If that sounds a little like a certain sophomore point guard from South Bend a season ago, it should. More …
Griner dunks, Baylor wins
Player Of The Day
How do you score 90 points on the nation's 15th-best defense? LSU, meet Maggie Lucas.

Only five teams had managed more than 70 points against the Lady Tigers this season (and only one got to 81 points). In fact, in the most recent stats released by the NCAA, LSU was allowing an average of just 53.1 points per game.
But on Tuesday, Penn State's Lucas scored 30 points -- just three short of her career high -- as the fourth-seeded Lady Lions beat No. 5 seed LSU 90-80 in Baton Rouge, La., to advance to the Sweet 16. Lucas went 5-for-7 from 3-point range, 7-for-12 from the field and hit all 11 of her free throws, including eight in the final 1 minute, 10 seconds to seal the victory.
The last team to score as many points against LSU? Ole Miss beat the Lady Tigers 102-101 on Feb. 7, 2010 -- in triple overtime.
-- Melanie Jackson
Delle Donne 'sorry for the seniors'
Tuesday's complete coverage
From Bowling Green, Ohio, to South Bend, Ind., and from Norman, Okla., to Nashville, Tenn., espnW had the games covered.
• Voepel: Griner dunk jump-starts Baylor
• Hays: Duke's Gray latest to break out in tourney
• Fortuna: Peters helps push Irish past Cal
• Chatmon: St. John's reaches first Sweet 16
• espnW player blogs: Delle Donne, Diggins, Gray
Irish in third straight Sweet 16
Tournament Challenge

Cindy Brunson's bracket remains in first place and in the 98.0 percentile in espnW's group. Cara Capuano and Carolyn Peck aren't far behind.
• Check your bracket » Leaderboard »
• President Obama's bracket » Watch »
Georgia Tech tops Georgetown
Duke dismisses Vanderbilt