Five observations from Saturday's opening day
Pacing is not an option in the opening two days of the NCAA tournament. More than a quarter of the games that will be played in this tournament are already done. Like Thanksgiving, all we can do is try to sample a bit of everything.
• 1. Big day for Big 12: So much for the Big 12 being cast as Baylor and the nine dwarves. Brittney Griner's team doesn't open defense of its title until Sunday, but the conference the Lady Bears dominated the past two seasons took out some frustration on the rest of the bracket. By the seedings, No. 12 Kansas scored the day's biggest upset with a 67-52 victory against No. 5 Colorado in Boulder. On the heels of last season's trip to the Sweet 16 as a No. 11 seed, the Jayhawks join the likes of Florida State (2007-08), Gonzaga (2011-12), Marist (2011-12), Middle Tennessee (2004-05) and San Diego State (2009-10) as recent teams to win as double-digit seeds in back-to-back tournaments.
It's possible that wasn't even the biggest surprise in a 5-12 game. Fifth-seeded Iowa State was the higher seed against No. 12 Gonzaga, but Iowa, Miami, Rutgers and UCLA had all tried and failed to beat the Zags in Spokane the past two tournaments. Iowa State did it behind 19 points from Chelsea Poppens and 11 assists from Nikki Moody. The kicker? The Cyclones lost on their own home court in the first round a season ago against Green Bay.
Only Texas Tech's loss against South Florida ruined the run.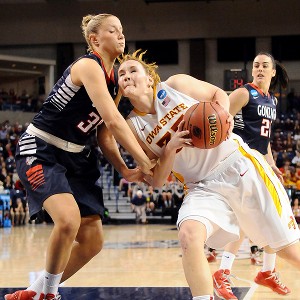 James Snook/USA TODAY SportsChelsea Poppens' 19 points helped fifth-seeded Iowa State find a way to beat Gonzaga on its home court.
• 2. We are all McKenzie Fujan in March: No. 10 Creighton's 61-56 win against No. 7 Syracuse was a victory for the little guys. The first tournament win since 1994 for the Bluejays, and the first for a team from the Missouri Valley Conference since 2002, validated the mid-major team's at-large bid. Creighton coach Jim Flanery believes the 3-pointer is the best tool at his disposal to level the playing field against opponents with bigger players (and budgets), and the nation's second-most prolific 3-point team hit 11 against the Orange, including six from junior McKenzie Fujan -- but they also beat the Big East team on the boards.
• 3. Your move, Chiney: We're not done with Skylar Diggins, Elena Delle Donne and Brittney Griner just yet, but if this year's tournament is an early primary in the 2013-14 preseason player-of-the-year race, Maryland junior Alyssa Thomas made a strong case Sunday. Thomas put up 29 points, 13 rebounds and five assists in a 72-52 win against Quinnipiac. She's versatile enough to play point guard for a team hit hard by injures, but she's also an elite scorer and a ferocious post presence. Presumptive 2013-14 POY frontrunner Chiney Ogwumike debuts Sunday (ESPN2, 5 p.m. ET), as does Baylor junior Odyssey Sims (ESPN2, 7:30 p.m. ET).
• 4. A modest opening statement: No. 2 California took its time pulling away in a 90-76 win against No. 15 Fresno State. Is that cause for concern for a chic pick to break up the march of the No. 1 seeds? Not necessarily. Since the field expanded to 64 teams in 1994, only Arkansas in 1998 reached the Final Four after winning its first-round game by single digits. But there are ample examples of teams that won by more modest margins than the likes of No. 1 seed Connecticut's 68-point win against No. 16 Idaho. Those include one each for Diggins (Notre Dame's 13-point win against Utah in 2011) and Griner (Baylor's 14-point win against Fresno State in 2010). Now the bad news for Cal. No champion won its first-round game by fewer than 20 points. And only Purdue in 1999 and Baylor in 2005 won by fewer than 30 points.
• Parting shots: Fresno State's Ki-Ki Moore and Central Michigan's Crystal Bradford deserved longer stays. Playing her final college game because of the toll of a number of injuries, Moore scored 33 points in the loss against Cal, while Bradford put up a Courtney Paris-like 36 points and 14 rebounds in a 78-73 loss at Oklahoma.
A 'special' win for Warlick
Nell Fortner caught up with Holly Warlick after the coach won her first game in the NCAA tournament, a 83-62 victory over Oral Roberts.
Watch: Today's Top Videos
Saturday's Best

Alyssa Thomas, Maryland: Quinnipiac might have had more able bodies at its disposal. But nobody has one quite like Maryland does with Alyssa Thomas. The junior led the injury-depleted Terps into the second round with 29 points, 13 rebounds, five assists and two steals. For more on Thomas, check out Graham Hays' story from College Park, Md.
NCAA Tournament Snapshots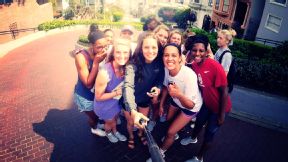 @OU_WBBall/Twitter
Check out the latest photos teams and players are sharing during the NCAA tourney. Photos »
Sunday's Schedule
Noon ET on ESPN2 and WatchESPN
• West Virginia at Delaware
• Hampton at Duke
• Liberty vs. Purdue
Noon ET on ESPNU and WatchESPN
• Navy vs. Kentucky
2:30 ET on ESPN2 and WatchESPN
• Albany vs. North Carolina
• DePaul vs. Oklahoma State
• Middle Tennessee at Louisville
• St. John's vs. Dayton
5 ET on ESPN2 and WatchESPN
• Cal Poly vs. Penn State
• UT Martin vs. Notre Dame
• Tulsa at Stanford
• Princeton vs. Florida State
7:30 ET on ESPN2 and WatchESPN
• Green Bay at LSU
• Iowa vs. Miami
• Villanova vs. Michigan
• Prairie View at Baylor
• Complete schedule and results
• Coverage maps, channel listings