Five Questions with Elizabeth Williams
Duke's Elizabeth Williams shows off a hidden talent in this edition of Rebecca Lobo's Five questions.
Give us your best Geno Auriemma
The UConn Huskies take turns imitating their head coach. -- ESPN
The skinny on McGraw's courtside crouching
Notre Dame players discuss coach Muffet McGraw's sideline crouching. -- ESPN
Sweet 16 Schedule
Saturday on ESPN and ESPN2
• Delaware vs. Kentucky, noon
• Maryland vs. Connecticut, 2:30 p.m.
• Georgia vs. Stanford, 9 p.m.
• LSU vs. California, 11:30 p.m.
Sunday on ESPN and ESPN2
• Kansas vs. Notre Dame, noon
• Nebraska vs. Duke, 2:30 p.m.
• Oklahoma vs. Tennessee, 4:30 p.m.
• Louisville vs. Baylor, 6:30 p.m.
• Complete schedule and results
All tipoff times ET.
NCAA Tournament Snapshots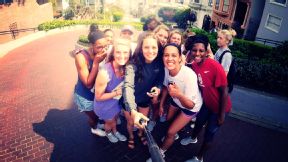 @OU_WBBall/Twitter
Check out the latest photos teams and players are sharing during the NCAA tourney. Photos »