Delle Donne, Griner linked to Stiles
Tuesday was why the NCAA tournament is more than merely a means of determining a champion. From Elena Delle Donne leading Delaware to the Sweet 16 to Brittney Griner underscoring four seasons of dominance with 33 points and 22 rebounds (and, yes, three dunks and one tweet), it proved again that the stories along the way can be as enduring as any at the end.
It also happened to be 12 years to the day since the zenith of one of the all-time great stories, when Jackie Stiles scored 32 points and earned a trip to the Final Four in Southwest Missouri State's 104-87 win against Washington.
All these years later, Delle Donne and Griner both find Stiles a character in their own stories.
In Delle Donne's case, not since Stiles has a player who so few people had an opportunity to watch for much of her career become such a must-see attraction. Television ratings for Tuesday's first set of games, including the one between Delaware and North Carolina, were up 18 percent over the same time slot a year ago. Now an assistant coach at Loyola Marymount, Stiles spoke earlier this season about her tournament memories, including a scene she and her teammates encountered in their post-regional return to in Springfield, Mo., that sounded a lot like the scene Delle Donne and her teammates left behind in Delaware for the trip to Bridgeport.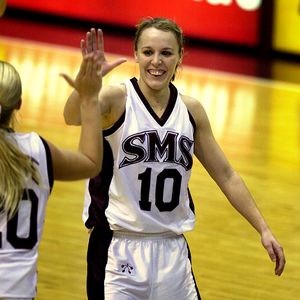 AP Photo/Charlie RiedelJackie Stiles scored an NCAA-record 3,393 career points and was the WNBA rookie of the year before injuries forced her to retire early.
"We get off the airplane and get into the airport and literally it's pandemonium," Stiles recalled. "It was wall-to-wall people. People were trampling other people to get close to us. What took us usually 10, at the most 15, minutes to get our bags and get out of a 10-gate airport took us three hours. That was the craziness of that. And it was just something so special for women's basketball and something I'll never forget."
Delaware is only dealing with a regional, not the Final Four that Stiles headlined. But given the nature of Delle Donne's return to a state that already paid a lot of attention to women's basketball, it's instructive to consider Stiles' recollection of the toll taken by the demands on her time in the days leading up to the Final Four and even in St Louis, the full weight hitting her in a moment she could laugh about in hindsight.
"Literally, I'm in tears in the bathroom because my hair -- I can't get my hair to do anything," Stiles lamented of her preparations for a Final Four banquet. "Now, normally do I cry over my hair? No. But it was just exhaustion. And that's the day before the biggest game of your life. I know now they've changed [the schedule] and it's not so crazy, but we did the best we could with what we knew. But we'd never been there before."
No team from beyond the major conferences has reached the Final Four since. No player has scored more points than Stiles, either. But that, too, is in play this time around.
Griner needs 125 points to pass Stiles as the NCAA's all-time leading scorer. If Baylor plays four more games, that would require 31.3 points per game (she averaged 31.8 points in her four most recent games).
"I would definitely support and congratulate anyone that was to break my record. Records are meant to be broken," Stiles said in December. "The thing about my record is I look at it as a team record because so many things had to happen for me to be able to do that. From my parents at a young age -- my mom working two or three jobs so I could go to any camp across the country or my dad teaching me the game at a young age. I had great coaching all along, my teammates being so unselfish to set screens and get me the ball in scoring positions. So many people are a part of that record, so I look at it as something I share with numerous people."
espnW.com
Graham Hays covers college sports for espnW, including softball and soccer. Hays began with ESPN in 1999.
Watch: Today's Top Videos
Sweet 16 Schedule
Saturday on ESPN and ESPN2
• Delaware vs. Kentucky, noon
• Maryland vs. Connecticut, 2:30 p.m.
• Georgia vs. Stanford, 9 p.m.
• LSU vs. California, 11:30 p.m.
Sunday on ESPN and ESPN2
• Kansas vs. Notre Dame, noon
• Nebraska vs. Duke, 2:30 p.m.
• Oklahoma vs. Tennessee, 4:30 p.m.
• Louisville vs. Baylor, 6:30 p.m.
• Complete schedule and results
All tipoff times ET.
NCAA Tournament Snapshots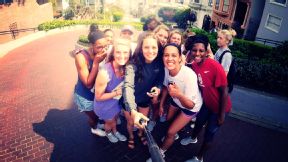 @OU_WBBall/Twitter
Check out the latest photos teams and players are sharing during the NCAA tourney. Photos »