Five things to look for in the Sweet 16
The Sweet 16 is here, which means the matchups get better -- even with four No. 6 seeds still alive -- and the stakes get higher. And beyond the winners and losers, there's plenty more to look for when action resumes Saturday (ESPN, noon ET). Here are five things we're looking forward to -- and questions that will be answered before a Final Four can be decided.
1. How does Duke's Alexis Jones hold up? Duke, of course, would rather have a healthy Chelsea Gray these days, but let's face it: The Blue Devils have been quite good with freshman Jones as Gray's replacement at the point. When Gray went down with her knee injury Feb. 17, there was immediate speculation about a Duke drop-off.
Well, Joanne P. McCallie's team hasn't really suffered at all, losing just once since. Jones hasn't always been a statistical wonder, but she has run the team with a calm confidence that few outside the program expected. However, each win brings on an even better opponent and the added pressure of each game potentially being the last game. How the freshman handles that cloud will likely dictate the Blue Devils' success in Norfolk. Sunday's opponent, Nebraska, has played as well as anyone in the tournament outside of the top seeds. And the Huskers have experience at the point in Lindsey Moore.
2. Will the Lady Bears show a chink in their armor? To this point, Baylor has shown no weakness. The Lady Bears head into the Sweet 16 following two as-expected blowout wins. The scary part is that it almost seems Brittney Griner is getting better. She already looked to be playing the best basketball of her life at the end of the regular season. In the NCAA tournament, she has just been ridiculous. The question probably isn't whether Louisville can beat Baylor. Rather, it's can the Cardinals expose something that someone else down the line can use to topple what appears to be the unbeatable?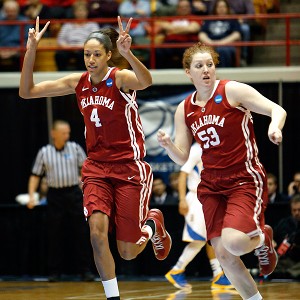 David Kohl/USA TODAY SportsCharlie Creme thinks the Sooners are the No. 6 seed with the best chance of advancing to the Elite Eight.
3. Is there more magic for Delaware and Elena Delle Donne? Playing on their home floor on the final run for the best player in program history, the Blue Hens created the best atmosphere and most fun environment of the opening two rounds. Will the nuttiness in Newark carry over to Bridgeport when Delaware meets Kentucky on Saturday? Delle Donne has been fantastic in two games, but in order to keep playing for the school she loves so much, the senior might have to be even better.
Coach Tina Martin has program mainstays in seniors Danielle Parker (14 points and 13 rebounds versus North Carolina) and Lauren Carra, and senior Trumae Lucas had a great game Tuesday (20 points versus North Carolina). Still, this is Delle Donne's show. Without her 66 points in two games, the Blue Hens wouldn't be in their first Sweet 16. Delle Donne not only scored, she was the key cog in breaking West Virginia's pressure in the opening round. Kentucky will bring that full-court pressure faster and harder. For the magic to remain, Delle Donne will likely have to be all things, all the time again Saturday.
4. Is UConn's defense really this good? To this point, the answer is a resounding yes. Of course, the Huskies playing great defense is no surprise. They rank third in the country in fewest points allowed and second in field goal percentage defense. But Connecticut has played at a slightly better level in the tournament. The Huskies crippled Idaho, holding the Vandals to 37 points. Vanderbilt, while not quite as good this season, is a traditionally strong execution offense, but the Commodores went more than eight minutes at one stretch without a field goal, shot a meager 37.8 percent and scored just 44 points. That's just suffocating.
UConn's Sweet 16 opponent, Maryland, had similar troubles when the two met in December; the Terps scored just 48 in a 15-point Connecticut win. The difference on Saturday could be that Maryland has now gotten used to playing without a true point guard, and Alyssa Thomas is as good as any player in the tournament right now not named Brittney Griner or Elena Delle Donne. Baylor and Notre Dame might have made the Huskies look more vulnerable during the regular season, but any rematches with the Lady Bears and the Irish would be two and three rounds away. UConn's calling-card defense should still be on full display in Bridgeport.
5. Which No. 6 seed has the best chance of pulling another upset? An unprecedented four 6-seeds are still playing (along with a No. 12 in Kansas). Oklahoma and LSU have recent tournament pedigree even if that doesn't include any current players to look to. Nebraska was here in 2010 and that's it. Delaware is in completely uncharted waters. None of that experience or lack of it probably matters here. It really comes down to matchups.
Nebraska, despite the dynamic duo of point guard Moore and versatile forward Jordan Hooper, might have a difficult time dealing with Duke's depth and length, not to mention the relative proximity of Durham to Norfolk. Kentucky is even deeper than Duke, and the Wildcats' athleticism greatly exceeds Delaware's. The Blue Hens could have some problems dealing with the relentless Kentucky pressure.
LSU is riding high after upsetting Penn State in front of its own fans in Baton Rouge, but is traveling to Spokane to play a Cal team that still has much to prove after two disappointing, albeit successful, first two games. The Lady Tigers are also the opposite of deep, barely scraping by these days with seven or eight players. Junior guard Jeanne Kenney, who missed the Penn State win after suffering a concussion in the opening round against Green Bay, is with the team in Spokane, but her status is still up in the air. Beating the Lady Lions without Kenney was special. Beating Cal without her would be nearly impossible.
That leaves the Sooners as the No. 6 seed with the best chance to advance one more round. Oklahoma can score with Tennessee. With Aaryn Ellenberg, the Sooners could shoot themselves to an upset. The Lady Vols can also be explosive, meaning this could also serve as the most entertaining game of the Sweet 16. Ultimately, it's fan support that could be the biggest factor in this potential upset. The Sooners and Tennessee are playing in Oklahoma City, just 20 miles from Oklahoma's Norman campus. No team, No. 6 seed or not, will have that kind of advantage in the Sweet 16.
ESPN.com
Charlie Creme projects the women's NCAA tournament bracket for ESPN.com.
Watch: Today's Top Videos
Sweet 16 Schedule
Saturday on ESPN and ESPN2
• Delaware vs. Kentucky, noon
• Maryland vs. Connecticut, 2:30 p.m.
• Georgia vs. Stanford, 9 p.m.
• LSU vs. California, 11:30 p.m.
Sunday on ESPN and ESPN2
• Kansas vs. Notre Dame, noon
• Nebraska vs. Duke, 2:30 p.m.
• Oklahoma vs. Tennessee, 4:30 p.m.
• Louisville vs. Baylor, 6:30 p.m.
• Complete schedule and results
All tipoff times ET.
NCAA Tournament Snapshots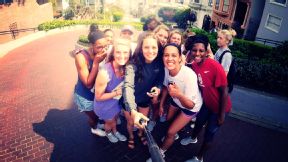 @OU_WBBall/Twitter
Check out the latest photos teams and players are sharing during the NCAA tourney. Photos »