Win or lose, it really has all worked out
Connecticut still has a chance to make a sixth consecutive women's Final Four. But that opportunity is over for fellow No. 1 seed Stanford.
Also, there will be no UConn versus Elena Delle Donne game in this NCAA tournament. Or ever, for that matter. It was a fascinating potential storyline, but Kentucky ended Delaware's season 69-62 on Saturday, leaving the Blue Hens short of a regional final game against the Huskies in Bridgeport, Conn.
Meanwhile, in the late, late show out west in the Spokane Regional, No. 4 seed Georgia upset the Cardinal 61-59. So there won't be a repeat of last year's Final Four participants. While there will be no "six in a row" coming out of that regional, Georgia could make that program's sixth Final Four overall. The Lady Bulldogs' last one was in 1999.
Or, No. 2 seed Cal could make the school's first Final Four appearance. It also would be the first for a Pac-12 team not named Stanford since Southern California made the third of its Final Fours in 1986.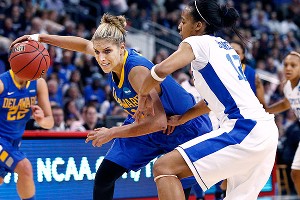 Mark L. Baer/USA TODAY SportsFor the third straight NCAA tournament game, Elena Delle Donne scored 33 points.
No. 6 seed LSU was trying to advance for a chance to be the "home" team in the Final Four in New Orleans, but in the second half, it couldn't hang with Cal and fell 73-63.
Delaware was another No. 6 seed hoping to make the Elite Eight. Instead, UConn and Kentucky will meet in a regional final for the second year in a row. So there will be another Samarie Walker versus UConn game; the Wildcats junior had 14 points in last season's regional final loss to the Huskies.
Let's face it: Not many kids have the chance to play for UConn, which has won seven NCAA titles. Fewer still get that opportunity, then decide to walk away from it. Which Walker did, after appearing in 17 games for the Huskies in the 2010-11 season before transferring to Kentucky, and Delle Donne did after leaving Storrs before ever playing for them.
But it has all worked out for Delle Donne, for Walker, for UConn and for women's college hoops.
Delle Donne's poignant family story, her hero stature in her home state, her elevating a small-conference school to its greatest heights in program history -- those things left a permanent mark on this sport.
Women's college hoops says goodbye and thank you to Delle Donne, who now will take her 6-foot-5 multifaceted talents to the WNBA. Likely her next game in Connecticut will be in July -- either for the Chicago Sky (No. 2 pick in the draft) or the Tulsa Shock (No. 3) -- against the Sun.
Meanwhile, one of the jewels of next season's college senior class -- Maryland's Alyssa Thomas -- finished this season with an uncharacteristic rough outing Saturday. She had 13 points on 4-of-16 shooting in the Terps' 76-50 loss to UConn.
Women's Basketball
ESPN.com women's basketball/college sports writer
28 seasons covering women's college basketball
Covered 19 Final Fours
Watch: Today's Top Videos
Today's Best

Jasmine James, Georgia: Either of Georgia's Jasmines could get the nod. Teammate Jasmine Hassell scored six of her 13 points in the final three minutes of the Lady Bulldogs' upset of top-seeded Stanford. But James, a senior guard, was top dog Saturday. Despite shooting just 5-for-15, she scored a team-high 16 points, including a pair of free throws to seal the 61-59 victory, and added five assists and three steals.
Schedule
Sunday: Sweet 16
• Kansas vs. Notre Dame, noon (ESPN)
• Nebraska vs. Duke, 2:30 p.m. (ESPN2)
• Oklahoma vs. Tennessee, 4:30 p.m. (ESPN2)
• Louisville vs. Baylor, 6:30 p.m. (ESPN2)
Monday: Elite Eight
• Maryland vs. UConn, 7:30 p.m. (ESPN)
• Georgia vs. California, 9:30 p.m. (ESPN)
• Complete schedule and results
All tipoff times ET.
NCAA Tournament Snapshots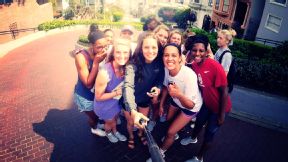 @OU_WBBall/Twitter
Check out the latest photos teams and players are sharing during the NCAA tourney. Photos »