Now introducing … the California Golden Bears
Five things you should know about the upstart Bears:
1. The Bears broke the mold in many ways: At 32-3, they have the best record in program history. They won 16 straight games at one point to establish a new team record. They won the program's first Pac-12 title (sharing it with Stanford) and earned their highest NCAA tournament seed at No. 2.
All of it set the table for Cal's first trip to the national semifinals. The Bears had a strong nonconference season, and have lost only to Duke on the road, at home to Stanford and in the Pac-12 tournament semifinals against UCLA. Cal split its regular-season series with the Cardinal, but it was the Bears' win at Maples on Jan. 13 which ended Stanford's 81-game conference win streak and got Cal coach Linsday Gottlieb thinking that her team was destined for big things.
"Everything we did with our scheduling and our mentality and our team meetings this year were to prepare us for what I called kind of being elite and having a shot at being at a Final Four," Gottlieb said "When we lost at Duke earlier in the year, I said this is the type of game we scheduled on purpose so we can win against a top-5, 6 team when we need to. But there's a difference in feeling like you can do it and believing you can do it and absolutely knowing you can, and I think winning at Maples, the kids can look at each other and say we know we can do this.
"I think that was the biggest moment of saying we belong in this company."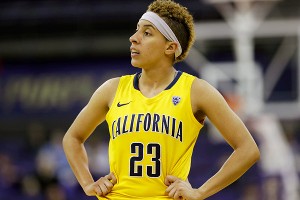 AP Photo/Elaine ThompsonESPN's
LaChina Robinson tweeted
that Layshia Clarendon and Cal have "the best hair" of the tourney.
2. These Bears are homegrown: Twelve of the 13 players on Cal's active roster are from the California. Brittany Boyd is the local native, having attended Berkeley High School. Afure Jemerigbe came from St. Mary's High in Stockton, which also produced Duke star Chelsea Gray. The rest of the starting lineup is Southern California-heavy, with Layshia Clarendon from San Bernardino, Talia Caldwell from Los Angeles and Gennifer Brandon from Sylmar.
"We are truly representing West Coast basketball. We are going to a Final Four with all Big East and we are West Coast legitimately," said reserve guard Mikayla Lyles, who is from nearby Pleasanton, Calif., about 20 miles southeast of the Berkeley campus. "We all share some of the same experiences and that helps with our bond, but really, home is where your heart is and our hearts are all here now. We aren't close because we are all from California, but because we all love each other as people."
3. Let's talk about the hair: Layshia Clarendon's curly blonde mohawk is the most distinctive look in women's basketball. Clarendon said she went with the mohawk last August, wanting something different.
"I had short hair all summer and then, I don't know why I wanted a mohawk, I just thought it would be cool," Clarendon said. "My thought was, 'You're young and 21. How many times can you have a blonde Mohawk in life?'"
But Clarendon has to know she won't be able to move around New Orleans without being recognized now.
"Here in Berkeley, I dress normal because I don't always want to be an athlete, I just want to be normal," Clarendon said. "But people stop me. Even if you didn't know me, though, you'd know because of the hair.
"In New Orleans, I'll fit right in."
4. A secret weapon: Tierra Rogers' story is extraordinary. A highly-recruited high school star out of San Francisco, her father was murdered during halftime of one of her games during her junior season at Sacred Heart Prep. She considered leaving the sport, but signed with Cal. Early in her freshman season, she collapsed at practice, was diagnosed with a genetic heart condition, had a pacemaker implanted and was forced to retire from basketball.
But Rogers has remained on the Cal roster and on scholarship the last four years. She comes to practice, travels with the team and is their greeter at the end of the line when starting lineups are announced. Rogers will complete her degree over the summer.
"She is a huge part of this team," Gottlieb said. "There is not a player in Cal women's basketball history who has had more impact without ever putting on a jersey or playing a game. She is a friend to the players, a mentor and a source of inspiration. They see her as a symbol of taking advantage of their opportunity every day. She is with us all the time, and that took courage because the sight of a basketball court made her sad for a really long time and she's been open about that. But she's all for this team.
"There was a day early in the year we were sitting at practice and she said to me, 'Coach, this team is special.' And I said, 'I know, T.'"
5. These Bears think they can win: "I think, why not us?" Clarendon said Wednesday. "That's what I've been thinking all year. Why not us? Why not the Cal Bears? There is all this hype around how we've made it this far. We're not backing down to anyone now. We're not going to be like, 'Oh yay, we are at the Final Four. That's nice. Let's enjoy the festivities and we're are ready to go home.' We came here to win."
Contributor, espnW.com
Michelle Smith has covered pro and college sports for AOL Fanhouse, the San Francisco Chronicle and espnW.
Watch: Today's Top Videos
Final Four Schedule
Sunday: National semifinals
• Louisville vs. California, 6:30 p.m. (ESPN)
• UConn vs. Notre Dame, 8:30 p.m. (ESPN)
Tuesday: National championship
• Sunday's winners, 8:30 p.m. (ESPN)
• Complete schedule and results
All tipoff times ET.
NCAA Tournament Snapshots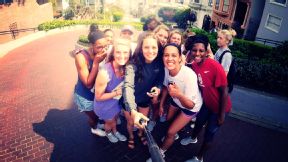 @OU_WBBall/Twitter
Check out the latest photos teams and players are sharing during the NCAA tourney. Photos »