Five trendy topics for New Orleans
UConn's Geno Auriemma and Notre Dame's Muffet McGraw are regulars. Louisville's Jeff Walz has done this once before. Cal's Lindsay Gottlieb is the boundlessly enthusiastic rookie.
All four spoke Wednesday during the annual Women's Final Four coaches' teleconferences, during which media are always scrambling for nuggets before everyone heads to the city where the national champion will be crowned.
This time around, fortunately, we had only one question about the ridiculous Brittney Griner/NBA nonstory. Auriemma got tossed that grenade, and he smothered it expertly. (Note to Mark Cuban: Here's something about which we'd actually like to hear a "Why not give it a chance?" answer from you: owning a WNBA team.)
After listening to all four teleconferences and sifting through the answers, we offer a "starting five" -- what will be among the most-discussed topics concerning these four teams this weekend in New Orleans.
• 1. Big East in Big Easy: Breaking up is hard to do. For the Big East, Auriemma called this Women's Final Four "a great swan song -- if it's going to end, this is a great way for it to end."
Not "if." The Big East as we know it is definitely going to end. Among these Final Four participants, Notre Dame will head to the ACC, while both UConn and Louisville will be in the new American Athletic Conference. Then, in 2014, Louisville will make the move to the ACC.
So this weekend, perhaps everyone will take a moment to say goodbye to the old Big East.
"It's a little sad to think that next year we'll be gone; the year after Louisville will be gone," McGraw said. "A shame it has to end, but what a way to go out."
• 2. You look familiar: Notre Dame versus UConn. Again. Great rivalry, but is it too much of a good thing? They'll play for a fourth time this season, just as they did last year. The Irish have won seven of the last eight. Does that suggest UConn has sort of a mental block now about Notre Dame? Or does it mean the odds are finally about to swing back in the Huskies' favor?
Obviously, you can spin this any way you want. And it most definitely will be spun over and over, until Sunday night is finished and we know the answer.
"The battles we have had this year have gone back and forth and down to the wire. Every one of them," McGraw said. "So we've done some really great things at the end of the game to win. We would certainly hope that the karma continues."
Auriemma said, "Come Sunday night, when that game starts, I hope -- and I want to believe -- that what's happened in the past is not going to be a factor."
At least, not the recent past. The 2010 past would be fine with UConn.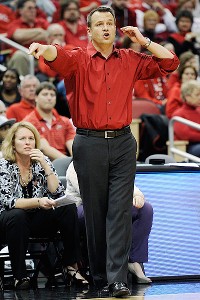 Jamie Rhodes/USA TODAY Sports"We're the party crashers," Louisville coach Jeff Walz said. "We're going to try to run with it, and see where it can take us."
• 3. First impressions: It will all be new for Cal, which is making the program's first Women's Final Four appearance. The role of "West Coast representative" has been played seemingly forever by Stanford.
Cal didn't have to go mano-a-mano with the Cardinal in the NCAA tournament to take that spot away from them, since Georgia eliminated Stanford. Now it's a matter of what the Bears can do with the opportunity.
"I think it's beyond words," Gottlieb said of the experience so far (and the Bears had not even gotten to New Orleans yet).
"This is something that I knew these players were capable of, and we've kind of all dreamed about. But the reality is better than that."
• 4. Hoosiers, Part XXV: Kelly, meet Skylar. Skylar, meet Kelly. Oh, wait … no introductions are needed. In fact, these two seniors are probably quite sick of each other. Indiana natives Kelly Faris of UConn and Skylar Diggins of Notre Dame will be meeting for the 15th time in college. The "series" between them is 7-7.
Diggins, the South Bend kid, has been a spotlight performer for most of her career with the Irish.
"It's a bonus to have a player like that stay close to home," McGraw said, "and help us grow our fan base and create more interest in the women's game." (Make obligatory reference to Diggins' popularity on Twitter.)
Meanwhile, Faris is that most beloved character in UConn folklore: the player who has had 5 million stories written about how underappreciated and underrated she is.
"There's no one I would want to represent us in everything that she does more than Kelly," Auriemma said. "I think she is what Connecticut basketball is all about. Just show up every day, practice hard, play hard, compete for a national championship -- and not worry about whether you get any credit or not." (Cue the violin music.)
• 5. Never fear: Underdog is here: Fess up: Did you pick the Cardinals? Yes, that's right, with an "s." Come on, stop fibbing. A lot of people might have tabbed the Cardinal -- singular, as in Stanford -- to make it to New Orleans. But the plural Cardinals -- the bird, not the color -- were considered the afterthought of the Oklahoma City Regional by most observers. The storyline was supposed to be about whether Tennessee could possibly get past Baylor when they met for the third time in four years in the NCAA tournament. Oklahoma, the hometown team, was there to provide the big crowd -- at least for the semifinals. Oh, and the other team present was No. 5 seed Louisville.
There are plenty of times when players and coaches manufacture an underdog mentality -- "Nobody thought we'd even be here!" -- and it's really just a bunch of self-motivating hokum. In this case, though, Louisville is speaking the truth. But after upsetting No. 4 seed Purdue, No. 1 Baylor and No. 2 Tennessee, are the Cardinals actually still underdogs? Not exactly. But …
"I think it's fair to say we're the party crashers," Walz said. "We're going to try to run with it, and see where it can take us."
espnW.com
ESPN.com women's basketball/college sports writer
33 seasons covering women's college basketball
Covered 24 Final Fours
Watch: Today's Top Videos
TV Schedule
Sunday: National semifinals
• Final Four Special, 6 p.m. (ESPN)
• Louisville vs. California, 6:30 p.m. (ESPN)
• UConn vs. Notre Dame, 8:30 p.m. (ESPN)
Sunday on ESPNU
• One on One: Pat Summitt, 8:30 a.m.
• Knight and Auriemma, 9 a.m.
Sunday on ESPN Classic
• Knight and Auriemma, 7:30 a.m.
• '01 Big East final: Notre Dame-UConn, 8 a.m.
• '01 NCAA semi: UConn-Notre Dame, 10 a.m.
• '12 NCAA semi: UConn-Notre Dame, noon
• '13 Big East final: UConn-Notre Dame, 2 p.m.
• '13 3OT game: UConn-Notre Dame, 6 p.m.
Tuesday: National championship
• Women's Championship Special (ESPN)
• Sunday's winners, 8:30 p.m. (ESPN)
Tuesday on ESPNU
• Crunch Time, 4 p.m.
• The Experts, 5 p.m.
• College Basketball Live, 6 p.m.
Tuesday on ESPN Classic
• '03 NCAA final: Tennessee-UConn, midnight
• 2000 NCAA final: UConn-Tennessee, 2 a.m.
• '09 NCAA final: Louisville-UConn, 7 a.m.
• '11 NCAA final: ND-Texas A&M, 9 a.m.
• '08 NCAA final: Stanford-Tennessee, 11 a.m.
• '04 NCAA final: UConn-Tennessee, 1 p.m.
• '10 NCAA final: Stanford-UConn, 3 p.m.
• '12 NCAA final: Notre Dame-Baylor, 5 p.m.
• Complete ESPN Final Four on-air schedule
All times ET.
NCAA Tournament Snapshots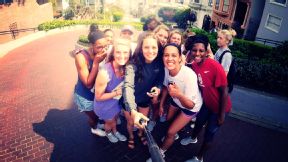 @OU_WBBall/Twitter
Check out the latest photos teams and players are sharing during the NCAA tourney. Photos »