Since the last time we were in New Orleans …
Let's see, the last time the women's basketball world gathered in New Orleans for a Final Four, Andy Landers and Georgia lost a regional final played in the state of Washington; Duke lost a regional final in Norfolk, Va; Tennessee lost a regional final against a program that wore a lot of yellow and had never reached a Final Four; and Connecticut extended a long streak of semifinal appearances without having to leave the Nutmeg State in the first four rounds.
Oh, and the Phoenix Mercury were expected to use the No. 1 pick on a player with both uncommon ability and mass name recognition.
So, um, clearly a great deal has changed since 2004.
But if some things stay the same, there are at least a few ways in which women's basketball looks different on this visit to New Orleans.
• 1. Next-generation coaches: There's nothing wrong with the coaches who were on top of the sport nine years ago. Two of them will be on the sideline for Sunday's second semifinal, and Geno Auriemma and Muffet McGraw seem to be doing just fine. But the other semifinal, pitting California's Lindsay Gottlieb against Louisville's Jeff Walz, is a showcase for the generation of coaches who were just getting started when coaches like Auriemma and McGraw already had championships. The coaching talent pool continues to expand as more former players become part of it and more schools devote resources to the sport. Both Cal and Louisville are in New Orleans because of it.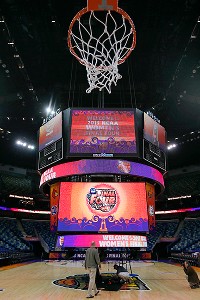 AP Photo/Dave MartinThe Women's Final Four returns to New Orleans for the first time since 2004.
• 2. Shooting suffers: Several Auriemma headlines ago, Connecticut's coach caused a ruckus when he opined about lowering the rims, at least in part to improve shooting percentages. Perhaps he was just nostalgic. In 2003-04, a team needed to shoot 43.4 percent to make the NCAA top 50, and 25 teams shot at least 45 percent. The numbers were even better in the 2002-03 season, better still a season before that. This season? Only nine teams shot 45 percent, and 42.2 percent was good enough for the top 50. Credit better coaching (see above) or better athletes playing better defense -- or lament the loss of fundamentals in an AAU culture -- but shooting is on the wane.
• 3. Power base broadens: We're talking incremental expansion here. But when Connecticut won the 2004 championship in New Orleans, that was the eighth time in 11 seasons since the field expanded to 64 teams that either the Huskies or Tennessee cut down the net. In eight seasons since, those schools won a total of four titles, but also didn't win four times. Baylor, Maryland and Texas A&M all won championships for the first time; last year Baylor became the first school since Stanford two decades earlier, other than Connecticut or Tennessee, to win multiple championships.
• 4. SEC struggles: We're in the heart of SEC country without a representative from the conference on the court, which is a distinct difference from 2004, when LSU and Tennessee were around. Not counting Texas A&M, which won its title in 2010 while still a member of the Big 12, the SEC last sent a team to the Final Four in 2008, when Tennessee won the second of back-to-back titles with Candace Parker. Before that, the league had been represented in every Final Four since 2001, and every one before that going back to 1992. Georgia, Kentucky and Tennessee were just a game away from New Orleans this season, and these things tend to be cyclical, but we've still not seen a cycle like this.
• 5. Future prospects: In 2004, the Final Four teams were also well-represented in the WBCA High School All-America Game. Led by Sylvia Fowles and Candace Parker, seven players in that game had committed to the schools that were playing in the Final Four. This time around, only three of the prep stars who will be on the court in New Orleans committed to the Final Four participants: Notre Dame's Lindsay Allen and Taya Reimer and Connecticut's Saniya Chong.
espnW.com
Graham Hays covers college sports for espnW, including softball and soccer. Hays began with ESPN in 1999.
Watch: Today's Top Videos
TV Schedule
Sunday: National semifinals
• Final Four Special, 6 p.m. (ESPN)
• Louisville vs. California, 6:30 p.m. (ESPN)
• UConn vs. Notre Dame, 8:30 p.m. (ESPN)
Sunday on ESPNU
• One on One: Pat Summitt, 8:30 a.m.
• Knight and Auriemma, 9 a.m.
Sunday on ESPN Classic
• Knight and Auriemma, 7:30 a.m.
• '01 Big East final: Notre Dame-UConn, 8 a.m.
• '01 NCAA semi: UConn-Notre Dame, 10 a.m.
• '12 NCAA semi: UConn-Notre Dame, noon
• '13 Big East final: UConn-Notre Dame, 2 p.m.
• '13 3OT game: UConn-Notre Dame, 6 p.m.
Tuesday: National championship
• Women's Championship Special (ESPN)
• Sunday's winners, 8:30 p.m. (ESPN)
Tuesday on ESPNU
• Crunch Time, 4 p.m.
• The Experts, 5 p.m.
• College Basketball Live, 6 p.m.
Tuesday on ESPN Classic
• '03 NCAA final: Tennessee-UConn, midnight
• 2000 NCAA final: UConn-Tennessee, 2 a.m.
• '09 NCAA final: Louisville-UConn, 7 a.m.
• '11 NCAA final: ND-Texas A&M, 9 a.m.
• '08 NCAA final: Stanford-Tennessee, 11 a.m.
• '04 NCAA final: UConn-Tennessee, 1 p.m.
• '10 NCAA final: Stanford-UConn, 3 p.m.
• '12 NCAA final: Notre Dame-Baylor, 5 p.m.
• Complete ESPN Final Four on-air schedule
All times ET.
NCAA Tournament Snapshots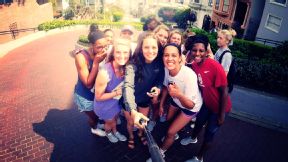 @OU_WBBall/Twitter
Check out the latest photos teams and players are sharing during the NCAA tourney. Photos »