Five thoughts for Tuesday's final
NEW ORLEANS -- Will what amounts to the last game in Big East history prove to be anything but more of the same for the team that so dominated that conference for close to the past two decades?
Its arch nemesis defeated Sunday night, Connecticut plays for its eighth national championship not against Baylor, the other team it lost to this season, but Louisville, the upstart No. 5 seed that last beat the team from Storrs in 1993 and lost by 22 points when the programs met for the championship four years ago.
So even as fans from Connecticut and Louisville make their way into the French Quarter for two days of celebration, let's take an early look at five things to watch in Tuesday's national championship game (ESPN, 8:30 p.m. ET).
• 1. Arrival time: It's possible, perhaps even likely, we're watching the emergence of the next great superstar in Connecticut's Breanna Stewart, the freshman who outlasted Skylar Diggins, Brittney Griner, Elena Delle Donne and every other superstar the sport had to offer this season (save Shoni Schimmel). If that's the case, Louisville might be spectators Tuesday night along with the rest of us. After his team's win, Louisville coach Jeff Walz talked about the need for programs beyond the usual suspects to break the hold those schools have on the very upper echelon of recruits. Stewart is the latest proof that it hasn't happened yet after putting up 29 points, five rebounds and four blocks in her first Final Four game.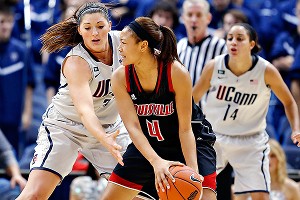 David Butler II/USA TODAY SportsStefanie Dolson, left, and Bria Hartley beat Louisville and Atonita Slaughter 72-58 on Jan. 15.
• 2. Louisville's hot hand: At what point does a hot hand become something else? Louisville is shooting the ball from the 3-point line at a ridiculous clip in the postseason, including 45.3 percent in wins against Purdue, Baylor, Tennessee and California, four games across three weekends and three cities against some of the better defenses around. This from a team that barely cracked 30 percent in the regular season. The Huskies are not impervious to the long ball. Purdue hit 13 of 22 3-point attempts in a game earlier this season, and Connecticut's opponents are hitting a greater percentage of their attempts than any season since 2008-09. The bad news for Louisville is that's still just 28.8 percent.
• 3. Shoni under control: Not surprisingly given the way it plays defense against just about everyone, Connecticut has made life difficult for Shoni Schimmel over the years. Louisville's leading scorer has hit just 32 percent of her shots in three career games against the Huskies, including 27 percent of her attempts from behind the arc. For the Cardinals to win, she probably needs to come up with the game of her life. But if her shot isn't falling, she needs to play the way she did Tuesday night. She finished the win against California with six assists and just one turnover, including three assists and no turnovers in 19 second-half minutes. At least twice in late-game situations, she visibly stifled what might have been shots on other nights and kept the ball moving in sequences that eventually led to points from other players.
• 4. Ball control: It hardly hurt Connecticut on a night when it pulled away from a team that handed it so many defeats over the past two seasons, but Geno Auriemma's team committed 22 turnovers against Notre Dame. This is a completely different team mentally and emotionally from the one that committed 35 turnovers in the regular-season finale against that same Irish squad, but it's still a team that can be sloppier with the ball than some of its predecessors.
• 5. Start the bus: Walz is a master of the halftime adjustment, but it hasn't mattered recently in this series. These are the halftime scores in the past five games, dating back to the 2009 national championship game: 37-23, 33-17, 31-26, 54-18, 39-25. That the scores were generally more competitive in the second half doesn't much matter when only one game was really competitive at the break. Walz said he told his team it was lucky it wasn't down 20 points at halftime against Cal. If it repeats that effort against Connecticut, it might well be.
espnW.com
Graham Hays covers college sports for espnW, including softball and soccer. Hays began with ESPN in 1999.
Watch: Today's Top Videos
Today's Best

Breanna Stewart, Connecticut: After scoring a combined 31 points in UConn's three previous games against Notre Dame this season, the Huskies freshman seemed unstoppable Sunday. Stewart scored a career-high 29 points, hitting 10 of 16 shots, four of five 3-point attempts and all five free throws. She also had five rebounds, four blocks, an assist and a steal to help move UConn one win away from its eighth national championship.
TV Schedule
ESPN2 on April 15
• WNBA draft, first round, 8 p.m.
ESPNU on April 15

• WNBA draft, continued coverage, 9 p.m.
All times ET.
NCAA Tournament Snapshots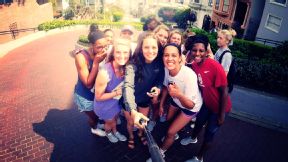 @OU_WBBall/Twitter
Check out the latest photos teams and players are sharing during the NCAA tourney. Photos »