Overheard in New Orleans
NEW ORLEANS -- The last day before the last day of the season. One more practice. One more team dinner. One more curfew. One more chance to answer questions about what might be rather than what could have been. Connecticut and Louisville went through their rituals Monday, 30-odd hours before they will play for a national title, and responded to the national media gathered in New Orleans.
The five best quotes of the day:
1. Career change? UConn coach Geno Auriemma on Sunday night quipped that Louisville coach Jeff Walz's checkered, button-down shirt looked like an Italian tablecloth. Walz answered back -- by accepting a new job offer. "This will likely be the last game that I coach here," Walz said. "It's been a great six years. As a women's basketball coach, you go through times where you're always wondering what are you going to do when you're finished. And I've been to three national championship games.
"And now that I've got an opportunity to be a waiter in [Auriemma's] restaurant, I don't know what the hell else anybody wants in life. So my goal is to become the head waiter. Not just one that sits in the back. I want to be the best damn one he's got. So I'm going to talk to him after the game tomorrow night and see when I can start, see if we can get a contract through and hopefully we can get things taken care of. Because it would be an honor to work in his restaurant." (Walz was an associate head coach when Maryland won the 2006 NCAA title.)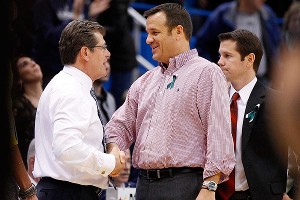 David Butler II/USA TODAY SportsGeno Auriemma and Jeff Walz kept the yuks coming Sunday and Monday.
2. Same ol', same ol': Breanna Stewart was asked if her coaches had advice for her as she was going through her midseason slump: "I don't really have anything in particular, no. But they always seem to be busting my chops."
3. Family comes first: Louisville's Sara Hammond talked about why she chose the Cardinals over Connecticut three years ago. "Every time we play them that is the main thing that gets brought up, 'How does it feel to be playing UConn when you could be playing on the side with Stefanie Dolson and Kaleena Mosqueda-Lewis?'" she said.
"But I decided to stay at home because I wanted my family to watch me play. I took a visit to Connecticut and loved their program. I loved their campus. Geno Auriemma, beside Jeff Walz, was my next-favorite coach. I saw the look on my mom and dad's face when they saw me excited and they knew that I loved it and they were happy for me; but I could tell they were going to be really sad if they couldn't come watch me play basketball. I knew 15 hours from home was going to be heartbreaking to me and my family, so I think that was the main reason I stayed in Louisville. So instead of driving 15 hours, they just had to drive two hours down the road to watch me play."
4. Senior send-off: Auriemma paid tribute to two of his seniors, Caroline Doty and Kelly Faris. Doty has struggled through her college career with ACL injuries. Faris has been a steady worker who has never quite achieved the star status of some of the Huskies' other players.
"I don't think there's anybody that appreciates being here more than she does," Auriemma said of Doty. "I think back to the one year that she played the entire year when she was healthy and we went 39-0 and we didn't have a point guard. It was her and Tiffany Hayes in the backcourt and we won a lot of games. I wish I could have had that Caroline for the whole four years."
On Faris: "Will she leave as one of my favorite players? Absolutely. Absolutely. I think she's going to leave as a lot of people's favorite player … She's from Indiana. She looks like an Indiana kid. She looks like a kid from a basketball-crazy state who just loves to play basketball, who plays just for the love of the game. And I don't think there's much of that anymore."
5. Mixed emotions: Auriemma said he's happy to have Walz on board. Sort of. "I ran into Shoni Schimmel's parents on the way over here and they said they are all for it and the Schimmels are transferring to Connecticut," Auriemma deadpanned. "He doesn't dress well enough to work in the front room of my restaurant, so he'll be bussing dishes and taking out the trash in the back until he fixes his attitude."
Contributor, espnW.com
Michelle Smith has covered pro and college sports for AOL Fanhouse, the San Francisco Chronicle and espnW.
Watch: Today's Top Videos
TV Schedule
ESPN2 on April 15
• WNBA draft, first round, 8 p.m.
ESPNU on April 15

• WNBA draft, continued coverage, 9 p.m.
All times ET.
NCAA Tournament Snapshots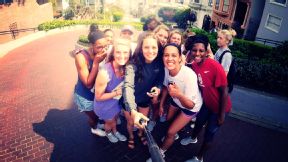 @OU_WBBall/Twitter
Check out the latest photos teams and players are sharing during the NCAA tourney. Photos »