Five observations from Sunday's games
Thirty-two games are in the books. The second round is in sight. What did we learn Sunday as the first round wrapped up?
• 1. The upsets that were: Sunday was the day for No. 11 seeds. As a result, Florida and James Madison get a chance to make Tuesday their day, too. The Gators took down sixth-seeded Dayton by beating the Flyers at their own game -- offense. Led by Cassie Peoples, Florida put five players in double figures and torched Dayton for 54 second-half points, erasing a three-point halftime deficit to win going away, 83-69.
Of the last four teams that received at-large berths into the tournament, the Gators were the third to win their first-round game. BYU and Florida State pulled upsets to win Saturday.
The Dukes were an automatic bid but still felt like they were underseeded at No. 11. Gonzaga, a No. 6, was playing with its highest seed in program history, but James Madison advanced thanks to better play down the stretch of an otherwise evenly matched game. The Dukes' 72-63 victory was their first in the NCAA tournament since 1991. They owe it to a 12-0 run late in the second half and the relentlessness of Kirby Burkholder. The CAA Player of the Year made just 4 of 17 field goal attempts but kept going to the glass and getting to the free throw line to finish with 28 points and 18 rebounds.
• 2. The upsets that weren't: Penn State and North Carolina both advanced to the second round. Both are fortunate to be moving on, and did so at least partially due to being on the right side of officials' decisions.
The Lady Lions trailed Wichita State by 11, rallied to take a 12-point lead and then held off a late Shockers charge to win 62-56. After Wichita State got within two with 1:53 left, the Shockers forced a missed shot and the ball out of bounds. A dubious replay review gave the ball back to the Lady Lions despite not appearing to touch a Shocker. Penn State capitalized when Talia East put back another missed shot and the Lady Lions avoided being the first No. 3 seed to ever lose to a No. 14.
That East putback was indicative of the day. Penn State outrebounded the Shockers by 17 and had 17 offensive rebounds. Maggie Lucas, hoping she wasn't about to play her last game in State College, scored 22 points and spent much of the afternoon imploring the crowd and her teammates with more emotional expression than the senior sharpshooter typically shows.
It was also emotional in Chapel Hill, where the Tar Heels were in even more trouble than Penn State for much of the day against UT Martin. North Carolina was down 50-37 when the Skyhawks' Tiara Caldwell was whistled for a controversial flagrant foul call as players moved into the lane after a Brittany Rountree free throw with 8:59 left. The review, the delay and the decision seemed to change momentum and the Tar Heels went on an 18-3 run over the next 5½ minutes to take the lead. More controversy came later with the emergency alert announcement during a key UT Martin timeout, and it all resulted in a North Carolina escape, 60-58, and two top-16 seeds breathing much easier Sunday night after being pushed to the brink of upsets.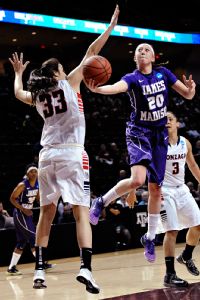 AP Photo/Pat SullivanJames Madison's Kirby Burkholder had 28 points, 18 rebounds, 4 assists and 3 steals.
• 3. Top Terp: She was already the all-time best scorer in Maryland women's basketball history. Now Alyssa Thomas stands alone among all Terrapin basketball players, men or women. With her 13 points in Sunday's 90-52 win over Army in College Park, Thomas passed men's player Juan Dixon on Maryland's all-time scoring list and now has 2,271 points in a career that also includes three ACC Player of the Year honors and likely two first-team All-American selections. Thomas' typically well-rounded game against the Cadets also included 14 rebounds and four assists. If the Terps can keep winning, she will have a chance to pass Crystal Langhorne as the women's program's all-time leading rebounder. Thomas is 38 away.
• 4. Bombs away in Baton Rouge: Three teams -- LSU, Michigan State and Louisville -- set school records for most points scored in a tournament game and one -- West Virginia -- matched its largest margin of victory in NCAA tournament play.
The Lady Tigers and the Mountaineers did their damage on the same court at the Maravich Center. LSU's performance against Georgia Tech was especially impressive given that the Lady Tigers hadn't even scored 80 points since Jan. 16; Sunday, they won 98-78. LSU never trailed, shot 50 percent from the field and dominated the Yellow Jackets on the glass, 57-30.
Second-seeded West Virginia, playing with its highest seed in program history behind a school-record 30 victories, wasn't quite as offensively potent but won comfortably, 76-61, over America East champion Albany. The Mountaineers' starting backcourt of Bria Holmes and Christal Caldwell combined for 46 points and the WVU defense held America East Player of the Year Shereesha Richards to nine points.
Now LSU and West Virginia meet right back in Baton Rouge on Tuesday night.
• 5. Good to be back in the win column: Texas and Saint Joseph's might not sleep well in their hotel rooms on Sunday because neither is accustomed to being around for these extra nights. The Longhorns' victory over Penn was the program's first NCAA tournament win since 2008, which, given the history of Texas basketball, seems like a lifetime. For Saint Joe's, beating Georgia meant the first tournament win since 2000.
Texas, 0-4 in the tournament since 2008, ended the skid by erasing a 15-point late first-half deficit to win going away, 79-61. The Hawks' second half wasn't nearly as impressive, but a 10-0 run at the midway point was the difference.
The reward for both will be true road games, but Texas' meeting with Maryland isn't nearly as daunting as what the Hawks face -- Connecticut in Storrs.
ESPN.com
Charlie Creme projects the women's NCAA tournament bracket for ESPN.com.
Watch: Today's Top Videos
Sunday's Best

Aerial Powers, Michigan State: The redshirt freshman powered Michigan State past Hampton in one of the first games of the day -- but it was memorable. Powers tallied 26 points and 18 rebounds in 30 minutes. As Graham Hays wrote in his column from Chapel Hill, the explosive and versatile Powers showed off her tools Sunday, "everything from attacking the glass to spotting up for 3-pointers to bringing the ball up the court and initiating the offense on occasion."
NCAA Tournament Snapshots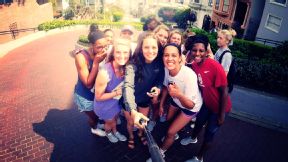 @OU_WBBall/Twitter
Check out the latest photos teams and players are sharing during the NCAA tourney. Photos »
Monday's Schedule
6:30 ET on ESPN2, ESPN3 & WatchESPN
• DePaul vs. Duke
• Syracuse vs. Kentucky
• Florida State vs. Stanford
6:35 ET on ESPN2, ESPNews & WatchESPN
• Arizona State vs. Notre Dame
9 ET on ESPN2, ESPN3 & WatchESPN
• Oklahoma State vs. Purdue
• St. John's vs. Tennessee
• BYU vs. Nebraska
• California vs. Baylor
• Complete schedule and results
• Coverage maps, channel listings