Five observations from Monday's games
• 1. Cougars crash the party: After a strong run leading up to the second round, which included a Big Ten tournament championship and a relatively easy first-round NCAA tournament win, Nebraska was all set to move on to the Sweet 16, where the Cornhuskers would be entertaining three other teams at Pinnacle Bank Arena in Lincoln, Neb. They even caught a break when No. 12 seed BYU pulled an upset over NC State in the opening round. Or so they thought.
The Cougars spoiled the Huskers' hosting plans by pulling off a second straight surprise, an 80-76 win. There will be no Sweet 16 homecoming for Nebraska. The Cougars' hot shooting, which included 10 3-pointers, built a lead as big as 17 points, and then BYU hung on at the end. Some shaky ball handling and decision-making down the stretch gave the Huskers some fleeting hope, but, ultimately, the hole was too big.
BYU is in the regional semifinals for the first time since 2002 and is just the third No. 12 seed ever to get this far -- but the second to do it in as many seasons, after Kansas made the trip last year.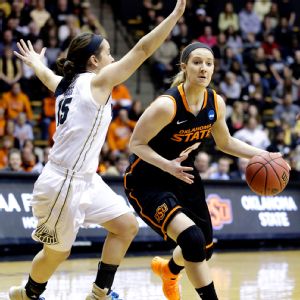 AP Photo/Michael ConroyLiz Donohoe and Oklahoma State won back-to-back games for the first time since late January.
• 2. Cowgirl turnaround: At one point on Saturday, Oklahoma State was toast. The Cowgirls played uphill nearly the entire game against Florida Gulf Coast in the opening round and barely survived the upset bid in overtime. On Monday, the Cowgirls were the team pulling the upset, topping Purdue 73-66 on the Boilermakers' home court in West Lafayette.
This time, Oklahoma State played from in front most of the night, never trailing after the 7:59 mark of the first half. In a season that might best be described as uneven, this was the Cowgirls' best win. It marked the first time since a five-game winning streak ended on Jan. 26 that Oklahoma State has won even two games in a row. It was also another win without a stellar effort from senior point guard Tiffany Bias, who missed time with an injured leg and was ineffective from the field. Bias had seven points and five turnovers one game after producing just six points and eight turnovers against FGCU. Brittney Martin more than compensated for her struggling teammate with 20 points and 20 rebounds, and now the Cowgirls are in the Sweet 16 for the first time since 2008.
• 3. Home not-so-sweet home: Every year, so much talk is invested in the top seeds playing on the home courts of teams with worse seeds. Nothing in the women's tournament creates more angst. Then, every year it has little impact on the tournament. This March, it's having even less influence. In fact, it has actually worked the other way. The higher seeds are losing games in their own gyms. On Monday, No. 2 seed Duke lost in Durham to seventh-seeded DePaul, and No. 4 seed Purdue fell to fifth-seeded Oklahoma State in Mackey Arena. In the first round, No. 10 seed Florida State beat seventh-seeded Iowa State in Ames. The motivation of playing a Sweet 16 game at home didn't help Nebraska at all in the Huskers' loss to BYU.
To this point in 2014, the home court has changed nothing. Upsets can happen anywhere.
• 4. Waco rally: Baylor ended up winning comfortably as Odyssey Sims finished her home career at the Ferrell Center with 27 points, but it took a big finish for the Lady Bears to dispatch Cal.
Cal hung in for much of the night behind a second straight solid outing from Afure Jemerigbe. The score was tied at 44 with 13:58 when Baylor exploded, outscoring Cal 31-12 the rest of the way. Sims had seven straight points during a two-minute stretch that put the game away. The national player of the year finalist is now 66 points away from Jackie Stiles' record for most points in a single season (1,062). That seems like a long shot. However, Sims scored 47 points in one game earlier this season against Kentucky (granted, it was a four-overtime game, but she played 41 minutes before fouling out late in the first overtime). Baylor's next opponent? Those same Wildcats.
• 5. McStruggles? It is hard to find fault when an unbeaten team moves into the Sweet 16 with a 17-point win, but Notre Dame's 84-67 win over Arizona State was not its best effort by a long shot. It's also difficult to label a 22-point, nine-assist game lacking, but Kayla McBride, Notre Dame's best player on most nights, was not her best either.
The Sun Devils choked the Irish's normally fluid offense for the better part of 25 minutes, and Notre Dame committed 22 turnovers. Until making three straight buckets five minutes into the second half, McBride was floundering with just two field goals in 11 attempts.
Both Notre Dame and its senior leader pulled their night together in plenty of time, McBride getting help from four-year running mate Natalie Achonwa, whose 25 points and 11 rebounds held the game together until the rest of her Notre Dame teammates found themselves. The normally consistent Irish were anything but on Monday night in Toledo, but it was more than enough to move onto a fifth straight regional appearance, which the Irish will host Saturday in South Bend.
ESPN.com
Charlie Creme projects the women's NCAA tournament bracket for ESPN.com.
Watch: Today's Top Videos
Monday's Best

Megan Rogowski, DePaul: The 5-foot-9 junior guard hit 6 of 12 3-point attempts to score a game-high 22 points and help lead the Blue Demons past second-seeded Duke in Durham, N.C. Rogowski also had four rebounds, three steals, two assists and a block. She and teammate Megan Podkowa led the way for DePaul, which toppled Duke with defensive pressure and good shooting, as Graham Hays reported from Durham.
NCAA Tournament Snapshots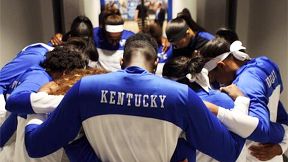 Courtesy of the University of Kentucky
Check out the latest photos teams and players are sharing during the NCAA tourney. Photos »
Tuesday's Schedule
7 ET on ESPN2, ESPNU & WatchESPN
• Saint Joseph's vs. Connecticut
7 ET on ESPN2, ESPN3 & WatchESPN
• Michigan State vs. North Carolina
• Texas vs. Maryland
• Florida vs. Penn State
9:30 ET on ESPN2, ESPN3 & WatchESPN
• James Madison vs. Texas A&M
• Iowa vs. Louisville
• Oregon State vs. South Carolina
• LSU vs. West Virginia
• Complete schedule and results
• Coverage maps, channel listings