Looking ahead: Louisville vs. Maryland preview
Many felt Louisville was underseeded at No. 3 and now the Cardinals, after easily disposing of LSU on Sunday, have reached the precipice of a second straight Final Four anyway. On Tuesday, they get that chance at home at the KFC Yum! Center against No. 4 seed Maryland (ESPN, 7 p.m. ET).
The Terps, who haven't been to the Final Four since winning a national championship in 2006, had little trouble with No. 1 seed Tennessee in their regional semifinal.
Here are five observations of the two teams in what sets up to be an evenly matched Elite Eight contest:
1. Awesome Alyssa: Maryland All-American Alyssa Thomas somehow went scoreless in the first half against Texas in the second round. Apparently, nothing motivates like failure. In her 58 minutes on the floor since, Thomas has recorded 49 points and 20 rebounds. She torched Tennessee in Sunday's regional semifinal with 13 rebounds and a career-high 33 points. The size of the Longhorns' front line seemed to bother Thomas in that unusual first half, but Tennessee's length was no problem at all. The Cardinals are not as big as either the Longhorns or the Lady Vols. The matchup is conducive to another huge game from the three-time ACC Player of the Year.
It might need to be for Maryland to win. Her performance against Tennessee helped cover some Terrapin warts. Maryland was able to win despite too many turnovers (16), too many fouls (25), curious shot selection (38.6 percent), poor 3-point shooting (5-for-18) and not enough ball movement (27 field goals, nine assists).
2. Schimmel settles in: The maturation of Shoni Schimmel's game has been a big part of Louisville's success. The turnovers are down, the shot selection is more discretionary and the efficiency is up. The next step in the evolution that has been on greater display in the tournament is Schimmel's midrange game. She hasn't been as compelled to take the ball all the way to the basket after beating the initial defender or settling for a long 3-pointer. Schimmel is shooting 50 percent on 2-point attempts in the tournament and has only been Louisville's leading shot taker once in the three games.
3. Rebounding: This has been an area of strength for Maryland almost since the arrival of coach Brenda Frese. She has recruited size and players who eat up missed shots. The board work of Crystal Langhorne, Marissa Coleman, Tianna Hawkins and Thomas has been a centerpiece of the program's success. Once again this season it is the area in which Maryland excels the most. The Terps were the top rebounding team entering the tournament and just outboarded the second best, Tennessee, in their regional semifinal win.
Maryland starts a front line of 6-foot-4 Alicia DeVaughn, 6-3 Brionna Jones and 6-2 Thomas. At 6-2, Sara Hammond is Louisville's tallest starter, and 6-3 sophomore Courtnee Walton, who averages only 12 minutes per game, is the only significant size that Jeff Walz brings off his bench. (It's worth mentioning, but also well known, that Walz served as an assistant coach on Frese's staff at Maryland and Minnesota, and was part of the Terps team that won the 2006 title.)
4. Experience: Both of these senior classes will be playing in a second Elite Eight -- four starters for Louisville; three starters, plus a key reserve for Maryland. The difference is the experience for the Cardinals was just last year, and it was a good one, beating Tennessee on their way to the championship game.
For Maryland's Thomas, Lauren Mincy and DeVaughn, their trip two years ago was a disastrous 31-point loss to Notre Dame (Katie Rutan lost to Stanford as a freshman at Xavier in the 2010 Elite Eight). This Maryland group has won some big games, including a 72-68 decision over Louisville in that same 2010 tournament, but hasn't proven an ability to win the biggest. For Schimmel, her sister Jude, Antonita Slaughter, Hammond and Bria Smith, that has been done, and as recently as last year's championship game. Knowing what it requires to win these types of games is a big advantage for Louisville.
5. Yum, Yum: Louisville has another advantage: the home court of the KFC Yum! Center. The Terrapins took down a No. 1 seed in Tennessee, but the task might be even greater trying to beat an experienced Louisville team playing in familiar surroundings. The Cardinals' fan support is tremendous. They have lost only three games there in two seasons, and the only defeat at home in 2013-14 was to Connecticut. Maryland, meanwhile, was just 3-2 in true road games against tournament teams. The Terps won at North Carolina early in the ACC season in Chapel Hill, but that pales in comparison to the magnitude of winning at Louisville with so much on the line.
For Charlie Creme's preview of Baylor-Notre Dame in Monday's regional final, click here.
ESPN.com
Charlie Creme projects the women's NCAA tournament bracket for ESPN.com.
A closer look at Loyd's signature play
Notre Dame sophomore Jewell Loyd breaks down how the "Jewelly-Oop" became a signature play for the Fighting Irish.
Watch: Stanford Regional video
Sunday's Best

Alyssa Thomas, Maryland: On a day full of impressive individual performances, the Maryland senior's star shined brightest. One of the game's most dependable double-double machines, Thomas notched the 65th of her career, a school record. And as impressive as her 13 rebounds were -- she scored on two putbacks in the opening three minutes -- Thomas established a career high with 33 points, hitting 14 of 25 shots and all four of her free throws.
Watch: Louisville Regional video
NCAA Tournament Snapshots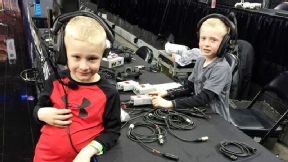 University of Maryland Athletics
Check out the latest photos teams and players are sharing during the NCAA tourney. Photos »
Watch: Elite Eight look ahead