Five observations on UConn, Notre Dame
Connecticut and Notre Dame remain on their unbeaten, championship game collision course after each conquered the Elite Eight with wins Monday.
The Irish, in front of a sold-out home crowd in South Bend, beat Baylor 88-69 to take a 36-0 record to their fourth consecutive Final Four. The Huskies are 38-0 and off to their seventh straight Final Four after methodically dispatching Texas A&M 69-54 in the Lincoln Regional.
Here are five observations from Monday's Elite Eight games:
1. Achonwa agony: Notre Dame's celebration was a bit muted with the lingering question as to the availability of Natalie Achonwa. The senior center finished with 19 points and 15 rebounds, but on her way up for a layup with 4:53 to play Monday, Achonwa grimaced, screamed, grabbed her left knee and went down on the baseline. Moments later, the Irish's unquestioned leader limped to the locker room. She re-emerged, wearing sweatpants, to see her teammates finish out the victory, but the limp remained. The severity of Achonwa's injury will be determined Tuesday; she's scheduled to undergo an MRI.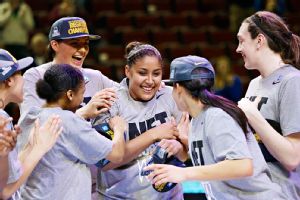 AP Photo/Nati HarnikUConn's Kaleena Mosqueda-Lewis was named MVP of the Lincoln Regional.
2. Loyd carries the load: Next season, Notre Dame will undoubtedly be Jewell Loyd's team. Monday night everyone in South Bend got an award-winning preview. With senior and second-leading scorer Kayla McBride scoreless and in foul trouble on the bench for all but four minutes of the first half, Loyd, having the task of chasing Baylor scoring machine Odyssey Sims all over the floor, scored 21 points in the opening 20 minutes to help give Notre Dame a 12-point lead at the break. The 5-foot-10 sophomore finished with 30 points. Even more revealing is the fact that Loyd's teammates were looking for her as the primary scorer. At 12-for-27 from the field, she was the only Notre Dame player with double-digit field goal attempts.
3. Sims' swan song: She wasn't able to get Baylor all the way back to the Final Four, but no one in Waco can fault all that Sims did in helping the Lady Bears exceed expectations in 2014. Sims' career, which included a 140-10 four-year record, ended with Monday's game characterized by the same dynamic offense that defined a season worthy of national player of the year honors. Hounded by the athletic Loyd nearly all night, Sims still managed 33 points, her 14th 30-point game as a senior. Just like early in the season, Sims carried the Lady Bears for long stretches against Notre Dame. Her help that had emerged for much of February and March was absent on Monday. No other Baylor player scored in double figures.
Baylor's loss also cost Sims a chance at history. Had Baylor managed an upset of the Irish, Sims certainly would have set the Division I single-season scoring record. She fell just eight points shy of Jackie Stiles' mark set in 2001. Sims, just the second woman ever to score more than 1,000 points in a season, finished with 1,054.
4. What depth problem? The Huskies' thin rotation has been the lone negative narrative during UConn's unbeaten run. Kiah Stokes is the bench. Detractors would say it eventually will catch up to UConn, but it hasn't. Not even close. Texas A&M became the latest team to be worn down by the six-player UConn depth chart. Consider that the Aggies jumped to an 11-4 lead in the first half and then made their first six shots of the second half. Not to worry, eventually Connecticut ground A&M into submission in each half.
Smarts and conditioning are two underrated areas of UConn's dominance. Not only can they outlast their opponents, the Huskies have played all season with just two players fouling out; they know it isn't a luxury they can afford. That kind of savvy comes in a year in which Connecticut also broke the single-season blocked shots record after recording 10 against A&M. Stefanie Dolson had eight of them.
5. Stewie struggles: Lincoln was not particularly kind to UConn's best player. Sophomore Breanna Stewart, a leading player of the year candidate and the most outstanding player at the 2013 Final Four, shot just 6-of-19 from the floor and failed to make a 3-pointer in the regional semifinals against BYU. Monday, Stewart spent some unusual stints on the bench with foul trouble and ineffectiveness in each half. She finished the night with just five field goal attempts and 13 points.
Even in those struggles, Stewart still had her moments. Her one and only 3-pointer of the regionals came with 12:45 left in the second half and re-established UConn's double-digit advantage, one that it never relinquished. Moments later, Stewart found Dolson on a pretty backdoor layup, and whatever life was left in the Aggies was gone.
ESPN.com
Charlie Creme projects the women's NCAA tournament bracket for ESPN.com.
Monday's Best

Jewell Loyd, Notre Dame: The sophomore stepped squarely into the spotlight she has auditioned for all season with 30 points Monday to help lead the Irish to their fourth consecutive Final Four. With senior Kayla McBride on the bench in foul trouble early on, Loyd stepped up and scored eight points in a pivotal stretch to put Notre Dame in front. Graham Hays was on site in South Bend for Loyd's big performance.
Watch: Notre Dame Regional
Elite Eight and Final Four Schedule
APRIL 1 ON ESPN & WatchESPN
Lincoln Regional
• Maryland vs. Louisville, 7 p.m. ET
Stanford Regional
• North Carolina vs. Stanford, 9 p.m. ET
APRIL 6 ON ESPN & WatchESPN
Final Four
Bridgestone Arena, Nashville
• Semifinal, 6:30 p.m. ET
• Semifinal, 8:30 p.m. ET
APRIL 8 ON ESPN & WatchESPN
Bridgestone Arena, Nashville
• National championship game, 8:30 p.m. ET

• Complete schedule and results
• Coverage maps, channel listings
NCAA Tournament Snapshots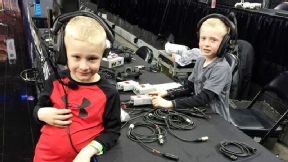 University of Maryland Athletics
Check out the latest photos teams and players are sharing during the NCAA tourney. Photos »