Five observations from Tuesday's games
For the third time in four years, Connecticut, Notre Dame and Stanford will make up three-fourths of the Final Four.
Maryland -- like Texas A&M and Baylor before it -- is this season's crasher. The Terrapins upset Louisville on the Cardinals' home floor 76-73 to advance to their first Final Four since 2006. Maryland had to survive Louisville's mad, late comeback to earn a trip to Nashville. Shoni Schimmel's 3-point attempt at the buzzer after a brilliantly designed full-court play by Cardinals coach Jeff Walz was just long, meaning that the program Walz helped win a national championship as an assistant to Brenda Frese in 2006 was heading back to the Final Four while Louisville was staying home.
Here are five other observations from Tuesday's Elite Eight games:
1. Stars being stars: Ultimately, it was not a night to remember for North Carolina's best player, Diamond DeShields, who scored 13 points on 5-of-15 shooting. But the night's other three stars shined brightly. Schimmel had a tough stretch midway through the second half, but got off to a fast start and then almost single-handedly shot Louisville back into contention with three 3-pointers in the final 31 seconds. Her final attempt that would have sent the game into overtime missed, but her 31 points was tops for the night.
Chiney Ogwumike shook off a slow start to dominate for periods of the second half. Her four first-half points turned into her 26th double-double of the season. The Pac-12's all-time leading scorer and rebounder also drew a key charge with 2:49 left and Stanford leading by just one. It was the key defensive play during a 12-2 Cardinal run to finish the game.
Alyssa Thomas was Maryland's best player from start to finish, much as she has been for the past three years. She controlled the defensive glass, often led the Maryland break, came up with a number of loose balls, and racked up 22 points and 13 rebounds.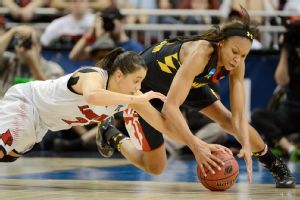 Jamie Rhodes/USA TODAY SportsMaryland center Alicia DeVaughn had 6 points, 8 rebounds, 2 steals and 2 blocks.
2. Winning ugly: When Frese and Tara VanDerveer talk to potential recruits about the artistry of the game, they likely won't be choosing the game tapes from Tuesday night. Maryland played well in key stretches, particularly in the first 10 minutes of the second half, but the Terps turned over the ball 25 times, made just 5 of 20 3-pointers and were a Schimmel 20-footer away from blowing a 10-point lead with less than a minute to go. If Maryland had not converted 25 of 28 free throws, the season might have ended in devastating fashion.
Stanford actually shot the ball well (50 percent overall, 9-for-20 from 3-point range) but got off to a slow start on defense, falling behind 22-9. The Cardinal needed nearly 25 minutes to develop any real rhythm on offense. For the entire first half, the youthful Tar Heels looked like the more fluid, seasoned team.
3. Pedigree power: Tuesday's Elite Eight games were littered with players with famous athletic relatives. Maryland freshman Lexie Brown, who delivered a huge 20-point performance in the Terps' win, is the daughter of Dee Brown, who played 12 years in the NBA and won the 1991 NBA Slam Dunk Contest. Brown also had two stints as a head coach in the WNBA. North Carolina has two famous dads. Diamond DeShields' father, Delino, played 13 seasons in the major leagues, and Xylina McDaniel is the daughter of 13-year NBA veteran Xavier McDaniel.
Most women's basketball fans are aware that 2012 WNBA No. 1 pick and rookie of the year Nneka Ogwumike is the older sister of three-time All-American Chiney, but many might not realize that the Elite Eight participant with the greatest lineage is Maryland center Alicia DeVaughn. The 6-foot-4 senior is the biological daughter of one of women's basketball's all-time greats, Yolanda Griffith. In an eight-year WNBA career, Griffith was an All-Star seven times and won a WNBA title and championship series MVP with the Sacramento Monarchs. "Yo" also won two Olympic gold medals in 2000 and 2004 and is now an assistant coach at Lafayette.
4. Bay Area balance: At times over the course of two seasons, Stanford has been accused of relying too heavily on Chiney Ogwumike. In losses to Washington and USC, defeats that cost the Cardinal a No. 1 seed, that was true. It was the case in some wins, too. That was not the scenario Tuesday night. Ogwumike was still Stanford's best player and leader, but for just the third time all season, four of Ogwumike's teammates scored in double figures. Bonnie Samuelson came off the bench to make three 3-pointers on her way to 13 points. And fifth-year senior Mikaela Ruef had the best game of her career with 17 points and nine rebounds on the way to regional MVP honors. Stanford picked the perfect time to find its most balanced attack.
5. Home-court disadvantage? With the regionals now over and this lone-standing season of both predetermined sub-regional sites and regionals with the host schools playing at home, it's once again time to evaluate the impact of home courts on the perceived fairness of the tournament. And once again, the verdict is that all the complaining about teams hosting games even if they sometimes aren't the better seed is much ado about nothing.
Only once in the entire tournament did a lower seed hosting a higher seed on its home floor actually pull the upset -- No. 7 seed LSU over No. 2 seed West Virginia in Baton Rouge. In every other instance, either the better team simply won on the road -- Louisville in Iowa -- or the host won at home as the higher seed/better team as expected.
Conversely, four higher-seeded home teams lost games. Iowa State fell to Florida State in Ames in the opening round, Duke was upset by DePaul in Durham in the second round, No. 5 seed Oklahoma State prevailed over No. 4 seed Purdue in a second-round game in West Lafayette, and of course, fourth-seeded Maryland beat No. 3 seed Louisville at the Cardinals' KFC YUM! Center.
This is the last tournament in which lower seeds will have the opportunity to host higher seeds. Next season, the top four seeds in each region will earn the right to host early-round games in 2015. This year, just like in most of the others, the perceived home-court advantage and how it impacted upsets was greatly overrated.
ESPN.com
Charlie Creme projects the women's NCAA tournament bracket for ESPN.com.
Tuesday's Best

Alyssa Thomas, Maryland: Pardon us for getting redundant. The Terps senior gets the honor here for the second time in three days after dropping 22 points and 13 rebounds to guide Maryland to its first Final Four since 2006. As Graham Hays wrote after Tuesday's game, "There is nobody quite like Thomas. … She is a small forward who can play point guard. Or maybe it's the other way around. She is a rebounder and a distributor, a shooter and a driver."
Final Four Schedule
SUNDAY ON ESPN & WatchESPN
Final Four
Bridgestone Arena, Nashville
• Maryland vs. Notre Dame, 6:30 p.m. ET
• Stanford vs. UConn, 8:30 p.m. ET
TUESDAY ON ESPN & WatchESPN
Bridgestone Arena, Nashville
• National championship game, 8:30 p.m. ET

• Complete schedule and results
• Coverage maps, channel listings
NCAA Tournament Snapshots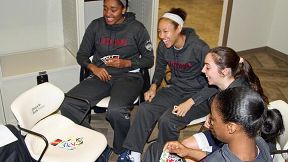 Courtesy UConn Athletics
Check out the latest photos teams and players are sharing during the NCAA tourney. Photos »