Hartley hounds Lucas, UConn tops PSU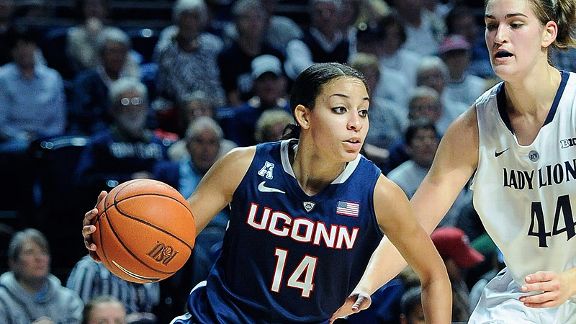 Rich Barnes/USA TODAY SportsBria Hartley's defense was even more important than her 29 points.
STATE COLLEGE, Pa. -- The indoor track season is still weeks away, but Bria Hartley might have qualified in the 3,000 meters based on the laps she spent chasing Maggie Lucas on Sunday.
Not that Connecticut has bodies to share right about now. Especially this body.
On a day No. 1 Connecticut beat 13th-ranked Penn State 71-52 on the strength of its defense -- and even on a day Hartley matched a career high with 29 points to provide much of what offense her team got -- no performance was more valuable than the one she turned in defensively.
With Kaleena Mosqueda-Lewis, Connecticut's leading scorer last season, still watching from the bench with her injured right arm in a protective sling, Hartley did her best to take Penn State's top offensive threat out of the equation.
"[Lucas] is a great player, and she really uses screens well, so it's kind of tough to get around the screens," Hartley said. "But I think your mindset going in is you can't let her catch the ball, because once she gets it, then she's a threat. I think you want to do your work early and make sure she doesn't catch it."
Lucas finished with 18 points on a flurry of late baskets, but she needed 17 shots to get there. By the time she hit her second field goal with 13 minutes remaining in the game, her team already trailed by 23 points and was in too deep a hole for even a late rally that cut the deficit to nine points to matter for more than pride. Hartley hounded Lucas most of the day, save for a brief breather from Brianna Banks in the first half.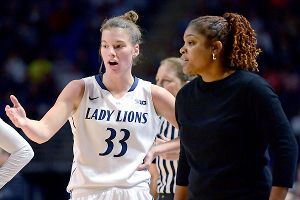 AP Photo/John BealeMaggie Lucas finished with 18 points on 6-of-17 shooting, including 4-for-10 on 3-pointers.
For the Huskies, it adds up to wins against Stanford, Maryland and Penn State in the span of seven days, the last two on the road and all by double-digit margins. And Connecticut played most of its 120 minutes across those games with seven scholarship players who at times seemed intent on piling up enough fouls to get the team's two walk-on emergency bodies some minutes.
The one thing linking each performance to the next was defense.
Not one of those teams scored even 60 points, and only one opponent shot better than 40 percent from the field for even a half. Asked after the game what is required for a program to compete at a championship level, at Connecticut's level, coach Geno Auriemma pointed directly to talent. Great teams have great players. There is no coaching genius to letting Diana Taurasi or Maya Moore score points. And yet on the other end, it sometimes feels as if he could take a roster composed entirely of walk-on players and make them at least a credible defensive team.
He laughed off the suggestion, but there is something to the mindset with which his teams defend.
"I think teams that are good defensively are that way because the coaching staff stresses it, and they get their players to play to their ability," Auriemma said. "A lot of teams come up short defensively because they can be better, but their players, for whatever reason it may be, don't put a value on it. It doesn't really get you noticed. The culture is scoring points."
With nine seconds left in the first half, Penn State had one more chance to close the deficit to something at least approaching single digits and build momentum with Stefanie Dolson leading a parade of Huskies in foul trouble. Instead, Lucas donned the blinders brought on by a half's worth of frustration and tried to bull her way to a 3-point attempt. She wound up wedged between Hartley and Banks in front of the Connecticut bench and was whistled for an offensive foul when she tried to create space with her forearm.
Lucas has arguably the quickest release in the game, but it still takes time. She didn't have it Sunday. Every screen she ran around, Hartley followed. Every time she tried to go right, Hartley dared her to go left.
Auriemma said he expects Hartley, as a senior and a leader, to hit the shots that she hit in this game. She overcame a 1-of-6 start (on the heels of a 4-of-21 night against Maryland) to score 19 points on the strength of four 3-pointers in the second half. If now expected, that part of her game has always been there. What also seems increasingly a given is what she can do on the other end of the floor. That wasn't true when she was a freshman and a sophomore, when she was more a reflection of that culture celebrating offense.
"Defensively, she left a lot to be desired back then," Auriemma said. "But I think with each year, we try to stress to her the importance of it, and I think last year, finally, in the NCAA tournament she came alive defensively. We were able to get her to focus on an individual assignment.
"Not that she's Kelly Faris -- nobody is. But she's become a much more complete player because of her ability to defend."
Early in the second half, Hartley sprinted from behind the play to catch up with Lucas in transition, stopped on a dime when Lucas tried to pull up, then stayed with the Penn State star through a pick-and-roll. All Lucas could manage was an off-balance leaner that missed its mark. Hartley then took the ball and pushed the other way, driving into the lane and finishing a three-point play.
The points will earn the headlines; they always do. But the points she kept off the board made all the difference Sunday.
"I'm not going to lie, I'm a little tired," Hartley admitted when her race was run.
Not nearly as weary as Lucas must have been of seeing her.
espnW.com
Graham Hays covers college sports for espnW, including softball and soccer. Hays began with ESPN in 1999.
George Washington's declaration
At the same time Connecticut and Maryland played what was supposed to be one of the games of the season Friday, George Washington made sure its contest a few miles away against No. 10 California was the game of the week.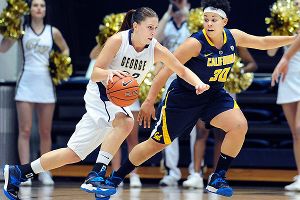 Evan Habeeb/USA TODAY SportsMegan Nipe dropped 31 points in George Washington's upset of No. 10 Cal.
Megan Nipe just missed out on espnW player of the week honors, but there won't be many performances more valuable than the fifth-year shooter's 31 points in George Washington's 75-72 win. By now you know the notes -- the program's first win against a ranked team since beating Cal in the 2008 NCAA tournament, and its first win at home against a ranked team since another great shooting night -- in that case from Sarah-Jo Lawrence -- helped beat Texas A&M in 2007. But what does it mean for a program in its second year under Jonathan Tsipis?
The Colonials committed just 10 turnovers. Ball control wasn't a particular specialty of theirs a season ago (nor was it in an otherwise easy opening win against Jackson State). Cal beat them in the battle of the boards, which had been the area of most obvious statistical improvement in the first season under Tsipis.
So maybe Friday night wasn't a blueprint for how George Washington is going to return to the kind of success on the national and conference level it enjoyed under Joe McKeown. Maybe it was, and this was the evolution of a system in its second season. Regardless of the tactical details and whether or not they can be repeated for an even tougher test this week at Maryland, even a win that isn't easily repeatable can be a building block.
If you listen to Jonathan Tsipis talking about players and coaches knocking on doors on campus the night before the game to try and turn out fans, and you consider that the top two performers against Cal were grad students who appear to have bought in to a new coach and a new system, it starts to sound like a place where the culture really is changing.
She Also Starred

Hanna Luburgh, Akron: If you aren't watching Akron, and it's admittedly not the easiest thing to do, you're missing some of the more entertaining basketball being played in Division I. Few deserve a curtain call more than Luburgh, a senior guard for a team that is almost Oregon-like in its love of pushing tempo and piling up points. In three games this past week, the senior guard averaged 28.7 points, 7.7 rebounds and 2.3 assists and shot 50 percent from the field. That run included 37 points against Dayton and 33 points against Tennessee Tech.
Luburgh actually scored more points a season ago than any Akron player had in any season up to that point. Unfortunately for her place in the record book (not to mention teams tasked with slowing down the Zips), she happened to score her 549 points during the same season that teammate Rachel Tecca scored 609 points.
While it was a tough week overall for Akron, which couldn't bounce back from a loss at Dayton well enough to avoid a defeat Sunday against Wright State, Luburgh more than held her own.
(As a refresher or an introduction, espnW awards its national player of the week honors each Monday, but there are always players whose performances merit plaudits. Hence the space here for one or two of those who also starred.)
Team of the Week
Louisville: Either the Cardinals are still riding about an eight-month hot streak that didn't cool without any games to play, or what we saw in the NCAA tournament a season ago is just who they are now.
The week began with a 100-82 win against Quinnipiac, an NCAA tournament team a season ago and a contender in the MAAC this season. That result meant Louisville had matched its total 100-point performances over the past two seasons (two) in its first two games this season. But putting up points against Quinnipiac isn't enough to get a top-five team in this space. That came with wins Thursday against No. 14 LSU and at No. 11 Oklahoma in overtime Sunday.
That so much of last season's postseason core returned intact was one reason to like Louisville's chances for back-to-back Final Four appearances. And there were plenty of familiar faces at work in the week's success, including Sara Hammond's 20 points and 11 rebounds against Quinnipiac and Shoni Schimmel's 11 assists in the same game. But the eye-openers were the performances of two players who could only cheer on the run last spring. Out all last season with an injury, Asia Taylor put up 23 points and 10 rebounds against LSU and another double-double against the Sooners. And Tia Gibbs, who essentially missed the past two seasons and three of the past four seasons because of injuries and transfer restrictions, went for 23 points and nine rebounds.
Monique Reid is gone and Sheronne Vails is injured, but Louisville appears to have no shortage of options this season. It's no coincidence the Cardinals also aren't hurting for points or big wins after a week and a half.
Before Next Weekend
Middle Tennessee at Arkansas (Tuesday): The visiting Blue Raiders continue a tough opening stretch that pits them against four teams from major conferences to start the season. They bounced back from the loss against Tennessee with a win at Miami (despite 7-of-30 shooting from the 3-point line). Arkansas, on the other hand, hasn't yet left home and hasn't played any competition of note. Can Calli Berna (29 assists, 3 turnovers) keep things rolling at home?
Iowa at Colorado (Wednesday): This is the first of five consecutive games away from home for the Hawkeyes and should rival Iowa State as their toughest game before the Big Ten season. Given Colorado's light schedule over the first week-plus of the season, this will also be the first good opportunity to see if Arielle Roberson is the go-to scorer in the post-Chucky Jeffery era, or if it will be more of a committee effort for the Buffaloes.
Drexel at Saint Joseph's (Wednesday): It's a Mel Greenberg special in Philadelphia. Drexel has a knack for producing quality scorers under Denise Dillon, but it's not yet clear if one person will step up with Hollie Mershon no longer around. Freshman Alexis Smith has scored 27 points in 42 minutes over the past two games after barely seeing the court in the opener for the Dragons.
Vanderbilt at Duke (Thursday): Not all double-doubles are created equal. And while, yes, it came against USC Upstate, Haley Peters' 17-point, 20-rebound effort this past week was truly an In-N-Out-caliber contribution. Vanderbilt isn't an Atlantic Sun team, but can the perennially undersized Commodores deal with a Duke team that is dominating the boards despite leaning more heavily on its guards and wings than its young post depth beyond Peters and Elizabeth Williams?
USC at Oklahoma State (Friday): Take all the various USCs and OSUs out there, and with apologies to South Carolina and Ohio State, this might be the most interesting matchup. Southern California didn't overwhelm its first three opponents, but while Fresno State and San Diego State aren't the teams of recent seasons, they're still reasonable competition. The Women of Troy need to get Cassie Harberts (30.6 field goal percentage) going if they are to stay with the Cowgirls. At least Harberts should be comfortable in Stillwater.