Maine moving on from bus accident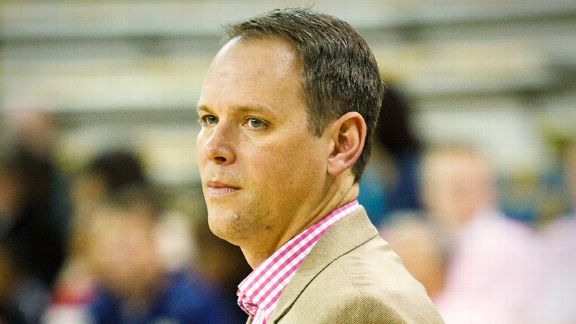 Darrell Walker/Icon SMIAfter going 4-24 in 2012-13, Richard Barron's Black Bears are 3-1 this season.
Like their peers with hundreds of college sports teams across the country, University of Maine players, coaches and staff boarded a bus for a road trip this past weekend.
Only in Maine's case was the embarkation a major storyline.
Although a team that is one of the season's early surprises is doing its best to make sure it's not the whole story.
This weekend meant the first road trip of the season for Maine, a stop in New York City for a game against Long Island University on Friday followed by a game Sunday in Syracuse, N.Y. By the time it was over, the team had traveled more than a thousand miles. It was also the first trip since one that made it impossible to take those miles for granted.
On Feb. 26, as Maine made its way south to play a conference game at Boston University, the charter bus that carried the team crossed a median of Interstate 95 near Georgetown, Mass., when the driver lost consciousness. The bus continued across the northbound lanes and crashed into a wooded area on the side of the highway.
Somehow, in what can only be described as miraculously, the bus neither contacted oncoming traffic as it crossed the busy highway nor rolled over when it left the road. The driver sustained significant injuries, but the team escaped with coach Richard Barron's facial lacerations and guard Milicia Mitrovic's broken hand as its most severe injuries.
Down to six available players because of both preexisting injuries and those suffered in the crash, Maine played its lone remaining home game last season but did not participate in the conference tournament. The game that would have been required against Albany was too much to ask physically, the bus ride there too much to ask mentally.
Speaking Thursday afternoon from the bus a few minutes into the long ride south to Brooklyn, Barron said the only time the accident had come up as the team prepared for departure earlier that morning was when he asked players if they signed off on him speaking to espnW about the accident and its aftermath.
"I've kind of intentionally steered everybody away from that conversation, whether it was media day or local media coverage of games or things like that," Barron said. "We don't want that to be the way we're introduced all the time. This is our first road trip since the accident. We don't want the next road trip to be the second road trip since the accident, you know?
"We're kind of ready to move on, so we really haven't addressed it because we seem like we're handling pretty well."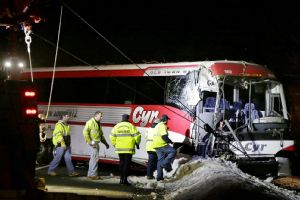 AP Photo/Elise AmendolaAfter a bus accident last February, Maine skipped its final road game and the America East tournament.
So it would seem. The other thing that separated Maine from most teams as the weekend began was its record. Even a week before Thanksgiving, unbeaten teams were a distinct minority in college basketball. And after wins at home against North Dakota State and Bryant, Maine improved to 3-0 with a 66-50 win at Long Island on Friday.
Still, Barron's job since the end of last season was unlike that of any of his coaching counterparts. Getting better wasn't strictly a matter of players honing a jump shot or working on a left hand.
"The thing I tried to do was to be non-judgmental, that everybody was going to react in their own way," Barron said. "Even for us as a staff, for people on the staff, it was more emotional than for others. There's all those different phases -- it's like the different stages of grief. You kind of go through this, almost, euphoria at one point. You're kind of giddy about it. You feel, whether it's lucky or invincible or blessed, or whatever you want to say. And there are moments of great anxiety or even guilt, survivor's guilt."
A 97-42 setback at Syracuse on Sunday brought home the reality of how much work remains on the court and how much of a climb there is from the basement of the America East. But one lopsided loss shouldn't render the first three games meaningless. Maine didn't win its second game last season until Jan. 26. It didn't win its third until Feb. 16. There have been good seasons since Joanne P. McCallie was on the sideline, but you could be excused for thinking otherwise. The Black Bears haven't finished a season with more than eight wins since the 2006-07 campaign. The last winning record was nearly a decade ago.
A team that a season ago featured eight freshmen and two sophomores remains one of the youngest in Division I, not to mention one of the most internationally diverse, with players from seven countries. Now those players, both the imports like Mitrovic and domestic talents like sophomore standout Liz Wood and senior leading scorer Ashleigh Roberts, offer more reason for optimism than any Maine team in quite some time.
That they are coming together isn't because of one terrifying night on a highway near Boston. But they do share that in common.
"What I do think is maybe a little different is that, from those experiences, this is a very close group," Barron said. "I think just that the bond that the staff has, the connections with the players, when you go through an experience that is that traumatic, I think it does strengthen those relationships. That helps as you go into the season.
"I don't know that it's always on a conscious level, or it's something that you're manipulating in any way, but I don't think there's any question that this team is better now than we were a year ago, and part of that was living through that experience."
espnW.com
Graham Hays covers college sports for espnW, including softball and soccer. Hays began with ESPN in 1999.
Spartans' Williams makes long-awaited return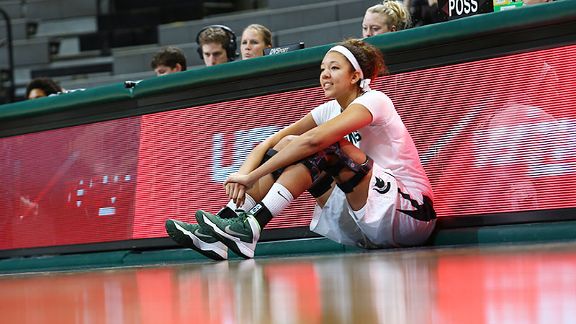 Courtesy of Matthew Mitchell/MSU Athletic Communications After three separate ACL injuries, Madison Williams played for the first time since Nov. 15, 2011.
If you're going to wait two years between field goals, you might as well make the points count.
When Michigan State fourth-year center Madison Williams checked into Saturday's game against Rice with 15:19 remaining in the first half, it marked her first game action in more than two years, since Nov. 15, 2011. Her debut also happened to come with the Spartans rather surprisingly trailing the visiting Owls 10-8.
So 26 seconds after she returned to the court, Williams hit a basket to tie the score. A little more than a minute later, after the Owls had again taken the lead, she tied it up again.
Rice was not going to spoil this moment.
In truth, the lead changed hands a few more times before the Spartans gained control for an 81-68 win. But the story of the night, if not the story of the weekend in college basketball, was Williams, the 6-foot-7 former high school All-American who suffered three ACL injuries in her first three college seasons.
Since she first suffered a torn ACL on Oct. 31, 2010, Williams had played in just three regular-season games prior to Saturday night. That meant she spent three days playing games for the Spartans. She spent the other 1,115 days of her college career putting in the physical and mental effort to earn those minutes on the court.
It's tempting to look at a line of 6 points, 1 block and 1 steal in 5 minutes and contemplate what Michigan State could look like with Williams in even part-time duty this season. For now, perhaps it's best to appreciate the present.
By her own admission, Williams was not a basketball junkie in high school. She played because she was really tall, really good and because basketball was where her friends were. Somewhere in all the hours of rehab, all the self-doubt and all those games on the bench, that changed. It would have been easy for someone who didn't love the game to walk away. It proved impossible for her.
"I can't imagine my life if I wasn't playing," Williams said last January. "Everyone said the hardest decision would be to come back, but I think it would be 20 million times harder to imagine not coming back. I wouldn't really know what to do with myself. I'd kind of be lost."
She Also Starred

Jennifer Schlott, Utah State: There aren't that many Division I schools in Utah to begin with, so it should be easy to keep track of all of them. But after BYU and Utah, Utah State finds itself an afterthought outside the Beehive State.
Just don't tell that to Schlott.
Behind Schlott's 37 points, 7 assists and 6 rebounds, Utah State beat Utah 77-61 on Tuesday for the program's first 3-0 start in nearly 35 years. That result also marked Utah State's third win in 34 all-time games against its in-state rival (in case you're wondering, the Aggies play at BYU in a month and will look for their first win against the Cougars since resuming an annual series in 2007 after a two-decade hiatus).
As if just for good measure, Schlott then added 20 points, 5 rebounds, 5 steals and 4 assists in Friday's win against Idaho State to move the Aggies to 4-0. All of it came as the senior still tries to find her touch from the 3-point line. A 35 percent shooter from long distance a season ago, she has hit just five of 18 3-pointers this season.
Utah State lost a 20-point-per-game scorer in Devyn Christensen. In Schlott and Makenlee Williams (23.8 PPG), it seems to have reloaded.
A nod also to Massachusetts sophomore Rashida Timbilla. Although she had modest numbers in Sunday's win at Hartford, Timbilia did a week's worth of work with 17 points, 12 rebounds, 6 assists and 3 blocks as the Minutewomen withstood a late run to beat Rutgers 64-63 earlier in the week.
Team of the Week
UCLA: Bruins coach Cori Close put together a schedule worthy of a team with the potential to make some noise in the Pac-12 this season. Unfortunately, she couldn't have predicted that much of the noise would come from the clapping hands of a few too many players in sweatpants and street clothes on the bench with injuries.
So whether Sunday's 82-76 win against No. 10 Oklahoma is a sign of what will come for the Bruins or not, it is at least an indication of what they can do on any given day.
There wasn't much subtlety to Sunday's victory. UCLA didn't shoot a lot of 3-pointers, didn't shoot the ball well from ample free throw opportunities and didn't force the Sooners into an undue number of turnovers. What the Bruins did was pile up 50 rebounds -- including 20 offensive rebounds -- and 18 second-chance points.
Atonye Nyingifa was among the finalists for espnW's player of the week for good reason, but Nirra Field (nine rebounds), Lauren Holiday (five rebounds before leaving with a head injury) and Luiana Livulo (eight rebounds in 24 minutes) did their part. Not bad for a team with essentially three healthy frontcourt players.
The Bruins looked like they were in for a long season when they lost their opener by 28 points at Nebraska. What's ahead isn't easy, beginning with a very good James Madison team on Friday and a trip to Notre Dame in two weeks, but there might be more for Bruins fans to do this season than wait for a loaded recruiting class to arrive.
Bowling Green also merits mention. Although it lost its opening game in the Hall of Fame Challenge to Marist on Friday, Bowling Green bounced back with wins against Old Dominion and Ohio State in Columbus. That last one means the Falcons currently have in-state bragging rights against both Dayton and Ohio State.
Before Next Weekend
DePaul at Notre Dame (Tuesday): Points will be scored. DePaul arrives in South Bend, Ind., having scored at least 80 points in each of its first three games -- and, while not the caliber of Notre Dame, Duquesne, Harvard and Illinois State were good competition. Fighting Irish freshman point guard Lindsay Allen was sharp with the ball (seven assists, two turnovers) in Saturday's win at Penn and will need more of the same as the Blue Demons look to make the game frenetic. Oh, and Natalie Achonwa returned for Notre Dame in the game against Penn, so, yeah, good luck with that, DePaul.
Stanford vs. Purdue (Tuesday): History could come a day later when Tara VanDerveer goes for career win No. 900. But for that to be the case, her Cardinal first need to beat the Boilers in Mexico. Purdue's opening fortnight wasn't arduous, although a trip to Toledo isn't something to take for granted, making this both an opportunity and a stiff test. KK Houser and Courtney Moses against Amber Orrange and Stanford's backcourt is a fair fight, but how will Whitney Bays, impressive so far in her first season on the court for Purdue, deal with Chiney Ogwumike and Stanford's size?
Louisville at Western Kentucky (Wednesday): The big in-state rivalry game for Louisville comes with a trip to Kentucky next weekend, but don't ignore this game. Jeff Walz certainly won't overlook the school at which he got his start as a college assistant and is now coached by his former assistant, Michelle Clark-Heard (with former Louisville star Candyce Bingham also on the bench). Beyond close ties, the Hilltoppers have Alexis Govan (16.4 points per game), Chastity Gooch (16.6 points, 11.2 rebounds) and home court on their side.
Texas A&M vs. Texas (Friday): The former conference rivals will travel all the way to the U.S. Virgin Islands to renew their series on neutral territory. The Longhorns haven't been on the Aggies' level in quite some time, but a strong showing in defeat at home Saturday against Stanford should turn some heads. Texas owned the glass against the Cardinal and forced Ogwumike to take 24 shots to get 18 points.
Winthrop vs. UT Martin (Friday): If you find yourself in Moon Township, Pa., on the day after Thanksgiving (and won't we all?), skip the Black Friday sales and check out the Robert Morris Thanksgiving Classic. If you do, you'll see three of the most compelling mid-major players in this game. UT Martin teammates Jasmine Newsome and Heather Butler are two of the leading active scorers in Division I, while Winthrop's Dequesha McClanahan is coming off a week during which she averaged 20 points, 10.5 rebounds and 6.5 assists in wins against St. Louis and William & Mary.