Zags, Owls, Red Foxes predictably upsetting

By Mechelle Voepel
ESPN.com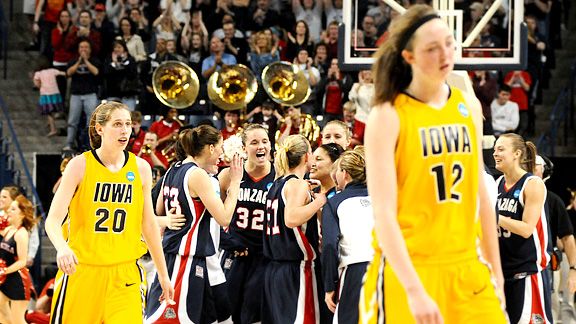 James Snook/US PresswireGonzaga was picked in about 32 percent of Tournament Challenge brackets to win Saturday.
Editor's note: This edition includes all games played as the women's NCAA tournament opened Saturday.
Pair of No. 10 seeds and an 11-seed provide biggest fireworks
The last time a school from outside one of the "big six" conferences made it to the Women's Final Four, it did so going through a regional in Spokane, Wash.
That was a decade ago, when the Jackie Stiles-led Missouri State team, as a No. 5 seed, beat No. 1 seed Duke and sixth-seeded Washington in the regional there to make it to that program's second Final Four. Stiles and crew did that despite a ton of travel in the 2001 tournament: They played the early rounds at Rutgers, then crossed the country to Washington state.
Gonzaga is a long, long way from making the Final Four still, but the Bulldogs won't have to go very far to earn that trip to Indianapolis if they get it. They'll stay right in Spokane the whole time.
Gonzaga, the No. 11 seed in the Spokane Regional, got its NCAA tournament off to the right start with a victory over No. 6 seed Iowa, 92-86 Saturday, led by career highs of 34 points from Courtney Vandersloot and 30 from Kayla Standish.
It was an opening day in which three double-digit seeds won, one took a game to overtime, and two others made their favored opponents really work to win.
[+] Enlarge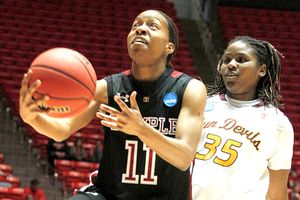 AP Photo/Jim UrquhartShey Peddy and 10th-seeded Temple were one of three double-digit seeds to score upsets Saturday. The Owls ousted Arizona State, 63-45.
Oh, and as for the two No. 1's in action Saturday, Tennessee started the day looking very ready to make a run at Indy, while Stanford ended it looking good enough … but maybe will be in need a tighter defense clamp-down in the second round.
Kentucky, the No. 4 seed in Spokane, is glad just to be in the second round. The Wildcats, who made the Elite Eight last season, nearly saw their NCAA tournament end in a day this year. But they survived, 66-62 in overtime against 13th-seeded Hampton.
It has been a down year for the SEC, with just four teams in the NCAA field, but this loss really would have been a difficult one for the league to take. Kentucky was outrebounded 40-35 and made one less field goal than Hampton.
What saved the Wildcats was that they made two more 3-pointers and four more free throws than Hampton. But Kentucky is going to need a much better effort in facing No. 5 seed North Carolina in the second round.
In the Dayton Regional, Utah -- which is host to the early rounds -- made a run at trying to become the first No. 15 seed to oust a No. 2, in this case, Notre Dame. But the Irish, who led by just three at halftime, were able to pull away for a 67-54 victory and will face No. 10 seed Temple in the second round.
Temple, like Gonzaga and No. 10 Marist (coach Brian Giorgis' Red Foxes beat Iowa State 74-64 early Saturday afternoon in the Philadelphia Regional), was really not a big surprise to get a first-round victory. All three teams seemed like they were seeded too low, and proved that with how they played Saturday.
Temple controlled its game against seventh-seeded Arizona State, which like Iowa State appeared ripe for an upset. Temple got that, 63-45, and Owls coach Tonya Cardoza is very familiar with what's next: Notre Dame, which she faced for so many years as a UConn assistant.
Meanwhile, back in the Spokane Regional, after the host Bulldogs had eliminated Iowa, they watched to see whom their second-round opponent would be. Montana, the No. 14 seed, gave third-seeded UCLA a run for its money, but the Bruins were able to hold on for a 55-47 victory.
Which means now, UCLA is in a similar position to what Texas A&M was last year: having to face Gonzaga in the second round on the Bulldogs' turf.
Last season, Gonzaga was the de facto host in the subregional at Seattle, a little more than four hours from Spokane. Then, as the No. 7 seed, Gonzaga first defeated 10th-seeded North Carolina and then -- in one of the 2010 tourney's more significant upsets -- downed No. 2 seed Texas A&M.
This year, the Bulldogs really are at home in their McCarthy Athletic Center for the early rounds. And if they get another victory, the Bulldogs will stay in town to play in the regional semifinals at Spokane Veterans Memorial Arena.
The Gonzaga-UCLA game might have a little subplot … could Bulldogs coach Kelly Graves possibly be lured after the season to fill the vacant job at Washington? Graves is very comfortable at Gongaza and loves living in Spokane, so it would probably take a lot to get him away. But Washington is in need of a total rejuvenation of the program, and maybe Graves would like to step into the what will be the new "Pac-12" next season and see if he can make Washington Huskies hoops relevant again after four difficult seasons under Tia Jackson.
Remember, in the NCAA regional in Spokane in 2001, Washington advanced to the Elite Eight. The Huskies made the NCAA field three subsequent times under former coach June Daugherty, but didn't get past the second round.
Of course, who will fill the Washington job -- like other potential very good openings such as Virginia and LSU -- is talk for after the tournament. But if teams such as No. 10 seeds Marist and Temple and 11th-seeded Gonzaga are able to consolidate first-round upsets with second-round victories, those teams' coaches will be all the more in the spotlight.
Duke rookies rise to occasion
By Mechelle Voepel
[+] Enlarge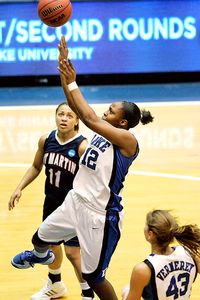 Mark Dolejs/US PresswireDuke freshman Chelsea Gray hit 5-of-8 shots for 11 points in 20 minutes.
Duke had what was rated as the top recruiting class coming in this season. But individually, a lot of freshmen for other teams garnered more attention during the year than the Blue Devils' rookies did.
However, as a group, the Duke freshmen have made very definite progress as the season has gone on, and that was on display in the No. 2 seed Blue Devils' 90-45 victory over Tennessee-Martin in the Philadelphia Regional. All five freshmen scored, led by Chelsea Gray and Haley Peters with 11 points each. Tricia Liston had eight points, Richa Jackson five and Chloe Wells four. And at one point, all five were on the floor at the same time.
"They are really good," Duke coach Joanne P. McCallie said of her rookies. "I think that they are much more competitive, and there is no comparison to December and where we were then to where we are now. They really are motivating. Tricia Liston was playing the 4, having never practiced it."
The Blue Devils might need all hands on deck in their second-round game, as they face upset-minded No. 10 seed Marist.
Lady Lions' learning experience
By Graham Hays
STATE COLLEGE, Pa. -- There will be better days for Maggie Lucas. There will be days of slightly less luminousness for Alex Bentley. But all that really mattered for Penn State was that Saturday was a good day in the middle of March.
Playing its first NCAA tournament game in six years, a drought of epic proportions for a program with 22 total appearances in the college game's signature event, No. 6 Penn State overcame a slow start and its opponent's second-half surge to beat No. 11 Dayton 75-66 and advance to the second round for the first time in seven years (it lost to Liberty in the first round in 2005).
[+] Enlarge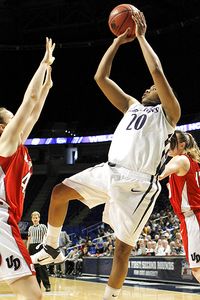 AP PhotoPenn State's Alex Bentley scored 25 points on 12-of-28 shooting.
That the Lady Lions find themselves with a game to play Monday night against No. 3 DePaul has a lot to do with Bentley, their sophomore point guard. Bentley scored 25 points in all against Dayton -- 14 of them in a first half in which her team built a 42-30 halftime lead and then added four more momentum-changing points down the stretch to save a game in which the Flyers twice had the ball and a chance to tie things up with fewer than two minutes to play.
Bentley finished the game with 28 shots. The rest of her team took 38 shots. And it was anything but a selfish display. Penn State needed every one of her looks.
"She wants to take big shots," Penn State coach Coquese Washington said on a day Bentley set a career high for attempts. "She thrives on it, and it's a great asset to have her as a point guard. She's going to take the big shot and doesn't care if she makes them or misses them. Next time down the court, she wants it again. I thought she played with a lot of confidence and made some big shots, especially when we needed them."
Dayton's coach summed up her performance a slightly different way.
"We'll have nightmares about Bentley for a long time," Jim Jabir lamented. More …
Texas out in first round again
By Mechelle Voepel
Terri Mitchell, in her 15th season at Marquette, is used to taking aim at a giant, considering you-know-who refuses to ever have a down year in the Big East.
But even with all that experience against mighty UConn, the chore of facing Tennessee at Thompson-Boling Arena is still about as appealing as trying to sell a truckload of copies of Geno Auriemma's biography at a Knoxville bookstore.
The alternative, though, is going home from the NCAA tournament. And that's much worse.
Saturday, Marquette advanced to meet the No. 1 seed Lady Vols next. Texas heads back to Austin, where fans won't have torches and pitchforks ready for coach Gail Goestenkors … but there will be some very vocal critics after seeing the Longhorns lose for the third season in a row in the NCAA tournament's first round.
Texas, the No. 9 seed, was going for the upset of No. 8 Marquette in the Dayton Regional, but fell 68-65. Texas led by as much as nine in the second half, but in the final minute, the Golden Eagles executed and the Longhorns didn't.
Marquette sophomore Sarina Simmons, a native of Milwaukee who stayed home to play for the Golden Eagles, had two key blocks on the Longhorns' second-to-last possession. Then on the other end, Marquette senior guard Tatiyiana McMorris shook her defender and got an open look at a 3-pointer. It swished with nine seconds left, and Texas didn't get a shot off before the buzzer.
Never was it more obvious how much Texas missed a strong, low-block post attack this season than by watching this game. More …
Navy's Myers now focusing on Fleet
By Graham Hays
STATE COLLEGE, Pa. -- As most of the crowd that wasn't seated with the small-but-vocal block of Navy fans filed out of the Bryce Jordan Center after Saturday's first-round game between Navy and DePaul, the Midshipmen players stood in an unbroken line in front of their pep band as it played the alma mater, punctuated by a yell of "Beat Army" after the final note.
In a line of their own just behind the team they had just eliminated from the NCAA tournament, DePaul's players stood and listened, a sign of respect for peers with whom they shared a basketball court for a day but not a life.
"We were all talking about it at dinner last night, talking about their schedules and their lives," said DePaul sixth-year player Deirdre Naughton, whose two brothers served in the Marines. "We're extremely grateful for everything they've done for us. We really look up to them, the fact that they can do all that and play college basketball -- we live in Chicago, and after games we get to go out and celebrate and they probably have to go back to their …"
There she paused, unsure what to call the accommodations in Annapolis. "Dorms" just didn't sound quite right.
Navy coach Stefanie Pemper noted after the game that the Blue Demons were far and away the best team her players had faced in her three years on the job. The Big East team was bigger, stronger or faster -- if not all three -- at every position. Still, Navy played DePaul to a standstill for much of the game. The Patriot League champions took a second-half lead before they finally yielded, a late run leading to an eventual 56-43 victory for the team from Chicago.
Navy freshman (or "fourth class" in the parlance of the academy) Jade Geif finished with 14 points and 12 rebounds in 32 minutes, leading all players in rebounds in a game in which smaller Navy finished just four boards behind DePaul. And senior (or first class) Angela Myers finished with 13 points, three assists and three steals, the two of them helping keep their team within range of the first win in tournament history by a No. 14 seed since the field expanded to 64 teams.
And yet that effort, while surely respected, was not why Naughton and her teammates stood with the Midshipmen on the court. It was this effort.
"As of right now, I'm done playing basketball, and I need to focus on what I have do in the Fleet," Myers said. "My basketball career is over. Right now, I'll focus on the Fleet."
She was still wearing her uniform as she stood outside Navy's locker room when she said it, less than 30 minutes removed from the final whistle of her final season -- a season in which she helped lead a Navy women's basketball team to the NCAA tournament for the first time. But that was now in the past. At some point in the near future she will be commissioned as an Ensign and assigned to the USS Shiloh as a surface warfare officer.
When and where that might happen is a little unclear at the moment. You see, the Shiloh is based in Yokosuka, Japan, where matters of rather more import than winning or losing basketball games have interceded recently.
This is what people in Myers' family do. Her parents were both officers in the Air Force. Her oldest sister went to West Point. Another sister went to the Air Force Academy. When she got a letter from the United States Naval Academy, it wasn't a difficult decision to pass up the normal college life in favor of a schedule in which just about every minute is accounted for and a commitment well beyond four years.
"When you graduate, your future is kind of all lined up for you; you have a job waiting for you," Myers said. "That was pretty appealing. And they were going to let me play basketball, and basketball is what I wanted to do."
And now she has done that. She would have liked to keep doing it for at least two more days, of course, but duty calls when duty calls for someone born to be a leader.
As Pemper said, "There were times in her career when we've shaken our heads and thought, 'What will we do when she graduates?'"
That remains to be seen, but there were a lot of people on Saturday who wanted to thank Myers for what she will do.
Player of the day
Kayla Standish, Gonzaga:
No one would argue with Gonzaga senior point guard Courtney Vandersloot after her career-best 34 points, along with seven rebounds and seven assists, led the Bulldogs over Iowa. But … we'll give the nod to her teammate, junior forward Kayla Standish.

The No. 6 seed Hawkeyes knew how much damage Vandersloot was capable of doing, but they weren't counting on 30 points from Standish, who was 15 of 20 from the field. Standish's point total was also her career high, and she added seven rebounds.
Standish's 11-of-12 performance in the second half led Gonzaga's 57.1 percent shooting after the break. The No. 11 seed Bulldogs shot 48.1 percent for the game to upend Iowa 92-86.
Earlier this week, Vandersloot hinted that Standish's best was still to come.
"It's crazy to see a [6-foot-2] player have so many threats and so many different options. The things she does -- I don't think she's showed it all yet. I think she hasn't reached her potential, and that's scary," Vandersloot told ESPN.com's Graham Hays. "She's just one of those players who has it all, and that's tough to come by, especially at her height. She has the athleticism, she has the smarts, she has the touch -- things that usually payers at that size are kind of lacking."
-- ESPN.com's Mechelle Voepel
Balanced Tennessee Tops Stetson
Checking in with the No. 1 seeds

• Tennessee 99, Stetson 34
The No. 1 seed in the Dayton Regional could have named the score in its first-round matchup with No. 16 Stetson. The Lady Vols spread out minutes and points, with every player scoring, led by Shekinna Stricklen's 15 points. Tennessee shot 55.7 percent from the field and dominated rebounding 56-27. More from Mechelle Voepel

• Stanford 86, UC Davis 59
It was the 62nd consecutive win at Maples for the Cardinal, the No. 1 seed in the Spokane Regional. Kayla Pedersen and Jeanette Pohlen can close out their Stanford careers without a loss at home if they can defeat No. 9 St. John's in Monday's second round. Pedersen and Pohlen each scored 11 points, and they combined for 15 assists against UC Davis. Leading the way for Stanford was junior Nneka Ogwumike with 22 points, and freshman Chiney Ogwumike had 10 points. More from Mechelle Voepel
Marist's 10 Treys Upset Iowa State
Bad day for Big 12
In the last season that the Big 12 is really the Jumbo Dozen -- Nebraska and Colorado are on the way out -- the league isn't off to a good start in the NCAA tournament. Three of the Big 12's seven teams in the field were in action Saturday, and all went out in the first round.
Iowa State, the No. 7 seed in the Philadelphia Regional, fell to 10th-seeded Marist 74-64 in the day's opening session of games. The Cyclones made their 12th NCAA tournament appearance in the last 15 years, but this wasn't one of Iowa State's stronger squads.
"We just really had a hard time defending them," Cyclones coach Bill Fennelly said of the Red Foxes. "The better team won today."
Marist made 10 of 27 shots from behind the arc. As Fennelly was describing Marist's 3-point shooting ability, he sounded a lot like many coaches in the past have when talking about the Cyclones.
"It was coming from everywhere," Fennelly said of the 3-point barrage. "Their balance was really a problem for us. They had a lot of kids hitting 3s."
Then in the Dayton Regional, No. 9 seed Texas -- which had to sweat out getting an NCAA invitation with records of 19-13 overall and 7-9 in the Big 12 -- fell 68-65 to No. 8 seed Marquette. The loss was the Longhorns' seventh in their last 10 games. And in the Spokane Regional, No. 8 Texas Tech -- in the NCAA field for the first time since 2005 -- fell 55-50 to No. 9 St. John's. Great news for Tech is that it has just one senior, Teena Wickett, on the roster.
Sunday should bring some better results for the Big 12, at least from Baylor and Texas A&M, the top two seeds in the Dallas Regional. They open play with Prairie View and McNeese State, respectively.
Also in action will be Dayton No. 6 seed Oklahoma, which has gone to the Final Four the past two seasons, facing 11-seed James Madison in Charlottesville, Va. And in Storrs, Conn., No. 8 seed Kansas State takes on No. 9 Purdue.
-- ESPN.com's Mechelle Voepel
Texas Falls In First Round Again
Saturday's results
Philadelphia Regional
• Penn State 75, Dayton 66
• DePaul 56, Navy 43
• Marist 74, Iowa State 64
• Duke 90, UT-Martin 45

Dayton Regional
• Tennessee 99, Stetson 34
• Marquette 68, Texas 65
• Georgia Tech 69, Bowling Green 58
• Ohio State 80, UCF 69
• Temple 63, Arizona State 45
• Notre Dame 67, Utah 54
Spokane Regional
• Stanford 86, UC Davis 59
• St. John's 55, Texas Tech 50
• North Carolina 82, Fresno State 68
• Kentucky 66, Hampton 62 OT
• Gonzaga 92, Iowa 86
• UCLA 55, Montana 47
Rapid reaction
Graham Hays and Mechelle Voepel had plenty to say immediately following several of Saturday's games. A look at their first impressions and analysis:
•
Hays: Trogele has answers for Penn State
Trailing 65-63, Dayton had a pair of chances to tie the score in the final two minutes, but Penn State senior Julia Trogele came up big both times.
• Hays: DePaul thwarts Navy's upset bid
Navy's Jade Geif scored coming out of a timeout with 10:33 to play in the second half to cut DePaul's lead to a point at 41-40. DePaul's China Threatt, 28 seconds after checking in for the first time in the half, then hit a 3-pointer at the other end to give the Blue Demons a four-point lead.
• Voepel: Marist wins 27th in a row
All five Marist starters scored in double figures -- led by Kate Oliver's 16 points -- and getting outrebounded 42-27 didn't bother the Red Foxes at all.
Doug Bruno On DePaul's Win
Tournament Challenge check-in

How is your bracket holding up? ESPN.com's contributors are going head-to-head in Bristol's Best, with Charlie Creme leading the way in the 99th percentile after Saturday's 16 games (he incorrectly picked Fresno State to upset North Carolina). How do brackets from Mechelle Voepel, Graham Hays and Rebecca Lobo compare to the real thing? Also, check out President Obama's picks (he went 13-for-16 Saturday).
• Trends in Women's Tournament Challenge brackets
Georgia Tech Drops Bowling Green