Kentucky finally at home at Thompson-Boling
Kentucky picked a most unlikely place to buck a few on-court trends Sunday.
With a 75-71 upset at No. 8 Tennessee, the Wildcats won at Thompson-Boling Arena for the first time in program history. Perhaps less obvious but more significant to the season at hand, No. 18 Kentucky delivered down the stretch in a game against an SEC opponent above the Wildcats in the standings. That hasn't been happening much for Kentucky, which is an unexpected 7-5 in the conference.
Bad shot selection, turnovers and some crisis in confidence have often burdened the Wildcats in crunch time in tight games, an odd set of circumstances for a team with a number of players who have been part of two straight trips to the Elite Eight.
All but one of Kentucky's losses have come in conference play. The Wildcats suffered a two-point loss at Georgia on Jan. 30 after a turnover by Jennifer O'Neill with 10 seconds left. Florida swept Kentucky this season, and in a 86-80 loss to the Gators on Feb. 9, the Wildcats committed miscues on seven straight possessions during a key second half stretch. Still, the most shocking loss of all was by two points at home to Alabama on Jan. 23, and the Crimson Tide didn't even have their leading scorer.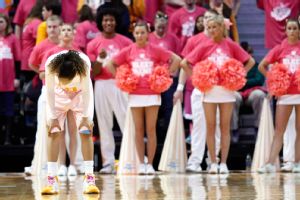 AP Photo/Wade PayneMeighan Simmons' Lady Vols committed 22 turnovers, including on three possessions in a row in the final 2½ minutes.
But Sunday, the confidence looked to have come back. This time, Kentucky made key plays in clutch moments. Instead of coughing it up, the Wildcats took away the ball from the Lady Vols on three consecutive possessions with less than 2:30 remaining. Kentucky did not fold despite losing all of an eight-point second-half lead to earn its biggest win since back-to-backs victories over Louisville and Baylor in a five-day span in early December.
The Wildcats made the biggest plays. O'Neill hit three straight baskets to turn a three-point deficit into a three-point lead with a minute and a half left. DeNesha Stallworth stole the ball from Isabelle Harrison as the Tennessee sophomore was looking to make a move to tie the score with five seconds left in the game.
O'Neill and Stallworth stood out all afternoon. O'Neill, whose poor games have directly mirrored those of her team, finished with a game-high 24 points; Stallworth battled Tennessee's outstanding frontcourt for 17 points and nine rebounds.
While Sunday's win was big, the question is whether the Wildcats have found that elusive consistency. Still, Sunday might have been the biggest building block to that end, and it was a huge win at a huge time.
On a day when everyone was feeling great about the cause, Kentucky might have done more to help its own than anyone.
ESPN.com
Charlie Creme projects the women's NCAA tournament bracket for ESPN.com.
Gamecock(s) for SEC player of the year?
Sunday's road win against LSU strengthened Tiffany Mitchell's case to become South Carolina's first SEC player of the year.
One problem. The team's first win in its past 12 attempts in Baton Rouge did the same for Aleighsa Welch.
All right, so it might not be the kind of problem that will keep Dawn Staley awake at night.
For all its assembled talent, Connecticut is Breanna Stewart's team. The same is true of Stanford and Chiney Ogwumike, Baylor and Odyssey Sims, Maryland and Alyssa Thomas and Louisville and Shoni Schimmel. After the past week, it's clear that will be the case for North Carolina and Diamond DeShields through the spring of 2017.
But as immovable objects versus irresistible forces go, the argument as to the most valuable Gamecock is right there with the votes split between Kayla McBride and Jewell Loyd at Notre Dame. The combination gave South Carolina arguably its best road result of the season, at least on par with a win at Vanderbilt three weeks ago.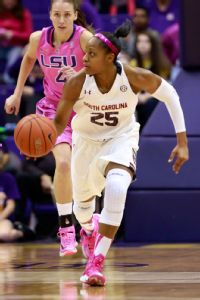 AP Photo/Tim MuellerTiffany Mitchell scored 19 points in South Carolina's win Sunday.
In a game Sunday that was for most of its 40 minutes a legitimate defensive engagement, as opposed to poor offensive execution, Mitchell was nearly flawless. She finished with 19 points, seven assists and seven rebounds and needed just seven field goal attempts, along with six attempts from the free throw line, to get those points. Her three 3-pointers against LSU helped tame the zone defense that tried to clog up the middle, and she is shooting 58 percent from the 3-point line this season. Which is to say, she is shooting more accurately from the 3-point line than all but 15 players in the country were on all shots as of Friday.
And yet here we are again, back at the start of the debate, because one of those 15 was Welch, who entered Sunday's game No. 12 in the nation in field goal percentage at 58.5 and managed to improve that to 58.8 by hitting 7-of-11 shots against LSU and matching Mitchell with 19 points. But points are wholly insufficient in measuring Welch's game. To keep the analogies going, along with the likes of Notre Dame's Natalie Achonwa in the present and Louisville's Candyce Bingham and Connecticut's Kelly Faris and Kalana Greene in seasons gone by, Welch is better appreciated through watching her than reading the box score she also fills.
Second on the team in scoring, rebounding and steals, third in blocks and fourth in assists this season, Welch bodied up Theresa Plaisance when South Carolina went small and stepped out to check everything from forwards to guards when Alaina Coates or Elem Ibiam were in the game. Twice she closed more distance than seemed possible in the moment to block shots from the help side. She calmed down Ibiam when the latter launched an outlet pass into the third row during one of LSU's second-half runs. And as always, she hit more shots than she missed.
In five games this season against ranked teams, she's averaging 17.6 points 9.6 rebounds and shooting 53.2 percent from the floor.
It's a tough closing stretch for South Carolina, which travels to Kentucky this week and Tennessee to close the regular season. But if Staley's team holds on to win the regular-season conference championship, one of her best two players should be player of the year. But the other will be equally deserving.
espnW.com
Graham Hays covers college sports for espnW, including softball and soccer. Hays began with ESPN in 1999.
Balance, not just Bias, leads Cowgirls past OU
It was Andrea Riley's day in Stillwater, as the player who was the Big 12's all-time leading scorer when she finished her career at Oklahoma State was honored at halftime of Sunday's home game against Oklahoma. But the Cowgirls aren't Riley's team these days, and they can't afford to play like they are if they want to go places in the NCAA tournament even she couldn't take them.
The nation's No. 12 team needs to play like it did Sunday. And like it hadn't in recent weeks.
Showing something close to top form for the first time since a heartbreaking overtime loss at home against Baylor on Jan. 26, Oklahoma State made its move like a Swedish cross-country skier (sorry, Sochi overload) in the closing minutes of the first half and early minutes of the second half and cruised to a 73-57 victory. The win alone is still notable in the series, given that Oklahoma State had beaten its rival just three times this century before Sunday, but that's a matter of state bragging rights. How the Cowgirls won the game is what matters more nationally.
It started with LaShawn Jones and Kendra Suttles. Made almost completely invisible by the combination of Nicole Griffin and fouls in an Oklahoma win two weeks ago in Norman, a game in which she scored just four points, Jones scored five points before Sunday's game was five minutes old. Suttles had more success off the bench in the first game, but many of her points came as that game slipped away in the second half. Inserted into the starting lineup Sunday for the first time in several weeks, the points came quickly as Oklahoma State established a paint presence.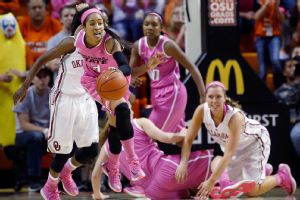 AP Photo/Sue OgrockiAll five of Oklahoma State's starters scored in double figures to help offset Tiffany Bias' 3-of-11 shooting.
It continued during the game-defining run with aggressive shots from Liz Donohoe and Brittney Martin. Led by Donohoe with 15 points, all four of the aforementioned starters scored at least 11 points. On a rough shooting day off the bench, freshman Roshunda Johnson still added seven points.
What was not required was a loud performance from Tiffany Bias, just resolute command of the floor.
Bias played all 40 minutes but took just 11 shots. The field goal attempts were a few tenths away from what she averaged in Oklahoma State's first 11 games this season. But entering Sunday, she had averaged 13.8 field goal attempts in a dozen Big 12 games, including 16 shots in the first game against the Sooners. That's not because the NCAA's No. 2 active career assists leader suddenly went rogue; it's what she had to do when there was no paint presence and Donohoe and Martin went missing -- shooting less often and less accurately once the competition improved.
Bias is a potential All-American and a top-tier WNBA prospect, but she is those things in her own way. She isn't Riley. If she's shooting 20 times a game, she has less opportunities to do all the other things at which she excels (including playing the kind of defense on Aaryn Ellenberg that contributed to one of the most forgettable days in her career).
The catch, of course, comes from the location of Sunday's game. Oklahoma State beat Michigan State and Georgia Tech on neutral courts and won at Iowa State, never an easy road trip even if it proved far from the only stumble for the Cyclones, but the loss at Oklahoma and scramble wins at Kansas, Kansas State and TCU highlight a team with a lean résumé. Beating a rival Sunday helps. Beating West Virginia on the road Wednesday would help more.
espnW.com
Graham Hays covers college sports for espnW, including softball and soccer. Hays began with ESPN in 1999.
Bracketology Update

How did Sunday's games affect the latest field of 64? A new bracket will be unveiled Monday, but here are the biggest takeaways from Play 4Kay:
• While it remains a bit puzzling as to how LSU was a top-five RPI team heading into Sunday, South Carolina's nearly start-to-finish victory over the Lady Tigers was the most significant result of the day. Any road win is big. Any road win over a top-five RPI opponent is a huge profile booster. The Gamecocks' win elevates their résumé above that of Louisville's. With Duke's recent struggles, South Carolina has entered the top line and is now the fourth No. 1 seed.
• Beating a top-10 RPI opponent on the road doesn't hurt, either. That's exactly what Kentucky did at Tennessee. The Gamecocks and Wildcats easily registered the biggest Play4Kay wins Sunday. With losses by NC State and Vanderbilt in front of them, Kentucky is due for a jump. However, the Wildcats were No. 16 overall on the board last week and the win still isn't enough to push them all the way past Texas A&M at No. 12. That is what would be required to go from a No. 4 seed to a No. 3.
• How much does Sunday's loss affect the Lady Vols? Their profile, most notably the record against top-50 teams, is still better than any of the chief competition -- Maryland, Penn State, Oklahoma State, and Texas A&M -- to supplant Tennessee from a No. 2 seed. The Lady Vols also still have a better RPI and SOS than any of those mentioned, a better road record than any other than Penn State, and had won six straight prior to Sunday, including a win over the Aggies. The Lady Vols are still a No. 2 seed.
• Louisville was impressive and dominant at Memphis, but the quality of competition versus that of South Carolina actually hurt the Cardinals. That's why the Gamecocks moved past Louisville on the overall board.
• The Big 12's contribution to Play4Kay provided solid wins by Baylor and Oklahoma State, but the results around the rest of the country meant unchanged seed status for both. The Lady Bears remain a No. 2 seed and the Cowgirls a No. 3.
-- espnW's Charlie Creme
Sixth-Annual Frenzies
ESPN's annual Play 4Kay event (née Think Pink and February Frenzy) always falls during the entertainment awards season. We don't have a sing-song montage to open with, but we do hand out our own fictional awards every year to honor the highlights of Sunday's action:
• Best picture: We usually pick the day's best game. But the best image Sunday was seeing Nebraska coach Connie Yori walk off the court under her own power after collapsing during the second half of the Cornhuskers' game. Yori, 50, has been hospitalized. She was experiencing dizzy spells prior to collapsing, Nebraska associate athletic director Marc Boehm told The Associated Press.

• Best actress in a leading role: Mechelle Voepel expands on the North Carolina freshman in espnW's national player of the week write-up, but Diamond DeShields lit up the ACC for the second time in six days. After her 30 points helped lead the Tar Heels to a win in her first trip to Duke's Cameron Indoor Stadium last Monday, DeShields scored a career-high and a UNC freshman-record 38 points Sunday in a win over NC State. DeShields shot 12 of 23 from the field, sinking 5-of-9 3-point attempts, and hit all nine of her free throws.
Also nominated: Baylor's Odyssey Sims (34 points) and Nebraska's Jordan Hooper (31 points).

• Best costume design: Thanks to a bevy of coaches who embrace the cause and get their pink on every year during Play 4Kay, this has become our favorite category. Remember Muffet McGraw in hot-pink pants last year? We love all the pink ties and seeing Jeff Walz ditch his usual red-and-white checkerboard for a pink-and-white version earlier this week. And nobody looked cooler than Dawn Staley or Nikki Caldwell. But Kim Mulkey gets the nod for a pink jacket with a collar trimmed in black leather that would have left Rizzo drooling.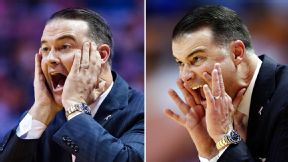 • Best animated feature: Yes, we're taking this one too literal, but let's have a little fun, shall we? Every coach is guilty of some sideline animation. Kentucky's Matthew Mitchell just happened to be caught on camera.
• Susan Lucci Award: Otherwise known as the longtime-coming category, South Carolina and Kentucky are co-winners. The Wildcats notched their first win at Thompson-Boling -- and first victory in Knoxville since 1985 -- by beating Tennessee. The Gamecocks hadn't won at LSU since 1994.

• Best visual effects: For the second straight game, Kentucky donned its Play 4Kay pink jerseys -- with an added tribute. A patch on the right shoulder with the initials BFJ honored Monday's passing of former WBCA executive director Betty Jaynes.
-- espnW's Melanie Jackson
Watch: More Sunday Videos
Donate To Play 4Kay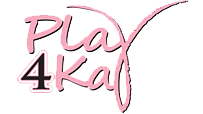 The annual Play 4Kay women's college basketball event helps raise money and awareness in the fight against women's cancers. To donate to the Kay Yow Cancer Fund, visit www.play4kay.org.