The Knicks (13-4) and Heat (12-4) sit atop the Eastern Conference, but does New York really have enough to contend with the defending champs?
Our experts break it all down ahead of the showdown in South Beach.
1. Carmelo Anthony or LeBron James: Who's having the better season?
Jim Cavan, KnickerBlogger: His Kingness. Put it this way: Melo's 24 PER would be the highest of his career by a fair margin, while LeBron hasn't finished below that since his rookie year. Anthony is having a great season -- maybe his best -- and his all-around play has been instrumental to the Knicks' early success. But the fact we're even having this discussion shows how spoiled we've become by James' quantum feats.
Tom Haberstroh, ESPN.com: LeBron. Take Melo as a base, mix in Jason Kidd's passing skills and then add Tyson Chandler's defensive impact. That's pretty much LeBron. Though Melo's shot has jumped out to a blistering hot start, LeBron dominates in more ways than one.
Adry Torres, ESPN Deportes: Melo. Carmelo is having an MVP-type season right now and looks determined like never before, perhaps the product of one of his closest friends, LeBron, winning a ring last season. Melo is doing the little things he has been chastised for not doing before: playing defense, attacking the boards, moving around the court without the ball and just making better decisions with the ball. Take away Melo from the Knicks, and they're not in the position they're in today.
Michael Wallace, ESPN.com: LeBron. Whether you're a stats geek or an eyeball-test aficionado, I think we can all agree that when it comes to production in the NBA, there's LeBron James and then there's a really great group of players vying for second-best in the league. Carmelo is having an all-around impressive season. But LeBron operates on a different level.
Brian Windhorst, ESPN.com: LeBron. Melo has made some positive improvements in his game. But LeBron remains the gold standard.
---
2. Tyson Chandler or Chris Bosh: Who's more important to his team?
Cavan: Chandler. The Heat have suffered slightly with Bosh on the pine (their ORtg drops from 115.8 to 109.7, while their DRtg falls from 106.5 to 111.3). Meanwhile -- and a bit surprisingly -- Chandler has been much more crucial to New York's offensive success (121.2 ORtg with Tyson on the court, versus 103.3 when he's sitting) than its defense (which actually improves from 107.2 to 100.7). Both of which should even out a bit. Still, this is the DPOY we're talking about. He's pretty important.
Haberstroh: Chandler. But to be honest, I weighed this one for a good two minutes before typing out his name. It came down to this: if Bosh were sidelined, the Heat have a pretty good big man to replace him and his name is LeBron Raymone James. The Knicks have no one who could bring half of what Chandler brings defensively and vertically in the pick-and-roll -- an area that terrifies the Heat.
Torres: Chandler. The reigning Defensive Player of the Year has added another weapon to his game. Chandler is not the first, second or third option, but he has taken advantage of the additional touches. He has been terrific on offense, enjoying a career season as he's shooting a career and league-leading 72.1 percent from the field. His offensive production might be undervalued because he's seen as a force on defense. It's an added plus when Melo and J.R. Smith are off, especially in STAT's absence.
Wallace: Bosh. There is some reluctance with this choice, considering Bosh is not assertive enough on a consistent basis on either end of the court whereas Chandler can flat-out dominate defensively. But the proof is in the fact that the Heat were on their way out of the playoffs -- even with LeBron playing effectively -- until Bosh came back from injury to help fuel that final run to a title.
Windhorst: Chandler. Bosh helps the Heat play small, and his versatility is key. But Chandler plays a vital role in New York. Not just as the back line of defense, but his improved offense has made him a weapon at both ends.
---
3. Amar'e Stoudemire or Dwyane Wade: Bigger health concerns?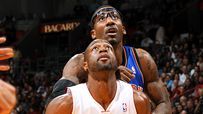 Cavan: Amar'e. The impact of STAT's latest setback remains to be seen, but suffice it to say New York's history of downgrading injury severity (e.g. "strained calf" usually means "leg fell off," "flu-like symptoms" is really "Bubonic plague," etc.) has many a Knicks fan understandably nervous. Wade's reckless play might be slowly taking its toll. Still, I'll take 81 percent of games played over none all day.
Haberstroh: Amar'e. And frankly, it's not even close, even with Wade's lingering leg issues. At least Wade is out on the court.
Torres: Wade. The Knicks are off to a start no one expected without Stoudemire being in the mix. Who can step in and fill D-Wade's production if he misses an extended number of games? The Heat still won back-to-back games he missed last month because of a sprained left foot. It would be a big blow if Miami lost its No. 2 option.
Wallace: Amar'e. Wade, at least, has been able to consistently play his way through most of those nagging injuries. When Amar'e is gone, he's gone. And when he comes back, there are all sorts of questions about how his presence might have an adverse impact on the team. That's never a legitimate argument with Wade and the Heat.
Windhorst: Probably Wade. The Knicks are showing they can be quite effective without Amar'e. The Heat need Wade to be his aggressive self at both ends to be at a championship level.
---
4. Jason Kidd or Ray Allen: Who has made the bigger impact for his team?
Cavan: J-Kidd. Make no mistake, Allen has single-handedly snatched the Heat a few clutch W's with his late-game heroics. Kidd's impact, by comparison, has been more diffuse: a crafty steal here; a run-sparking (or staving) 3-pointer there; and the extra pass always. Oh, and his 21.2 PER would be the third highest of his career. So there's that.
Haberstroh: Allen. And I'm not talking just positive impact here. Allen epitomizes the Heat's season: superb on offense, disastrous on defense. He has been the grim reaper for opponents late in games so far, but the truth is that the Heat's defense tends to turn to mush when he steps onto the floor. Kidd has been nothing short of fantastic, but he has been on the bench more often than not.
Torres: Kidd. At his age, the aches and pains will be there for Kidd. Since Kidd walked through those doors in training camp, everyone has noticed how much better the Knicks have been on defense and particularly on offense, limiting the number of turnovers.
Wallace: My choice would be even. This is the most difficult of all of the questions. While Allen's impact is more tangible, because we've seen him make three game-winning 3-pointers through the first dozen or so games, Kidd's leadership and calming influence on the Knicks is immeasurable. Which of the two is the bigger surprise? Gotta be Kidd.
Windhorst: Kidd. Allen has made splashy plays, but Kidd has helped transform the Knicks' offense while setting a new standard for defense. Kidd has been one of the biggest additions in the league thus far.
---
5. Knicks or Heat: Who will be the No. 1 seed in the East?

Cavan: Heat. I do think the table is slowly being set for an epically entertaining spring showdown between these two. But where aspects of the Knicks' success -- Melo's shooting, the overall offensive brilliance, etc. -- seem ripe for a slight tailing off, we have to expect the Heat's struggling D to lock it down eventually. Barring something catastrophic, this is still Miami's conference to lose.
Haberstroh: Heat. Knicks are a great story and a very good team, but once Miami's defense wakes up from its post-championship slumber, I'm afraid we'll be looking at a one-horse race for the No. 1 seed. Unfortunately for the Knicks' sake tonight, I can't think of a better wake-up call than surrendering 105 points to the lowly Wizards.
Torres: Heat. The Knicks will be a much better team once Amar'e and Iman Shumpert come back from their injuries. But the road to the Finals goes through Miami. The Heat can be banged up and all, but their grittiness and experience can outweigh anything the Knicks will throw at them in a seven-game series.
Wallace: Heat. While the Knicks are impressive and have proved so far that their hot start was no fluke, the East belongs to the Heat until someone proves otherwise. The Knicks will have their hands full just trying to be the top team in New York, let alone the entire conference.
Windhorst: Heat. I know the Heat haven't shown a huge interest in every game to this point. But I believe the Knicks' age will probably keep them from being 100 percent for much of the regular season.


ESPN.com and the TrueHoop Network
Tom Haberstroh, Michael Wallace and Brian Windhorst are writers for ESPN.com. Jim Cavan and Adry Torres are part of the TrueHoop Network.
• Follow the NBA on ESPN on Twitter | On Facebook | On Google+