98.7 OUT AND ABOUT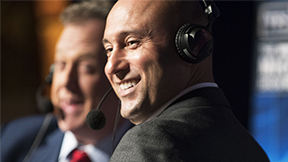 The Michael Kay Show was LIVE at Mohegan Sun before the Connecticut Cancer Foundation Celebrity Dinner on Feb. 9, 2018. There were lots of huge Yankees guests including Derek Jeter, Didi Gregorious, David Robertson, Tommy Kahnle and John Ellis. On Facebook

WEEKENDS ON DEMAND
New York Sports and Beyond
Larry Hardesty has a conversation with Carlos A. Walton, Founder and Executive Director of Growing4ward. Their mission: to save young men by providing an institution/brotherhood to prepare them for their roles in the future.
Dave Rothenberg 2-17-18 [New York]
Dave discusses the Knicks' meltdown, All-Star weekend and who the Giants should take in the first round.
Anita Marks 2-17-18 [New York]
Is anyone watching the All-Star festivities this weekend? Anita and Moke Hamilton also dive into the Knicks.
CONTESTS
At 2:55pm, listen for the daily Cash Money Word then keep listening at 3 p.m. for a chance to win $255.
SHOWS
Hosts » Podcasts

Find out how you can partner with 98.7 ESPN and ESPNNewYork.com.