98.7 OUT AND ABOUT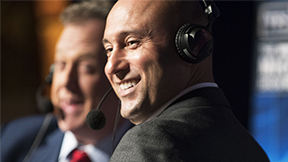 The Michael Kay Show was LIVE at Mohegan Sun before the Connecticut Cancer Foundation Celebrity Dinner on Feb. 9, 2018. There were lots of huge Yankees guests including Derek Jeter, Didi Gregorious, David Robertson, Tommy Kahnle and John Ellis. On Facebook

WEEKENDS ON DEMAND
New York Sports and Beyond
Larry Hardesty discusses The State of the Black Athlete with William C. Rhoden of The Undefeated.
The Pat O'Keefe Show
Jimmy G inked a monster deal and the Jets need a QB. Should they go after Kirk Cousins? Or go after someone in the draft?
Anita Marks [New York]
Anita discusses the recent NBA trades and the next move for the Giants.
Dave Rothenberg
Dave dives into the future for the Knicks, along with the the new deal for Jimmy Garoppolo.
ESPN New York - Gordon Damer
Gordon discusses Jimmy Garoppolo's new deal and how the Knicks will fare without Porzingis.
CONTESTS
At 2:55pm, listen for the daily Cash Money Word then keep listening at 3 p.m. for a chance to win $255.
SHOWS
Hosts » Podcasts

Find out how you can partner with 98.7 ESPN and ESPNNewYork.com.