Enter to win tickets to the 2011 TRIBECA/ESPN sports film festival!
For the fifth year, the Tribeca Film Festival teams with ESPN for an exhilarating showcase of films celebrating the spirit of competition. 1050 ESPN New York again gives its listeners the chance to win passes to see these great stories.
For more info on this year's festival or to purchase tickets click HERE.
Click below to enter for your chance to win tickets!

If you're not already a member of the 1050 Club, click here to sign up now. It's free and easy to join, and once you're a member, you're just one click away from every contest we have at 1050espn.com.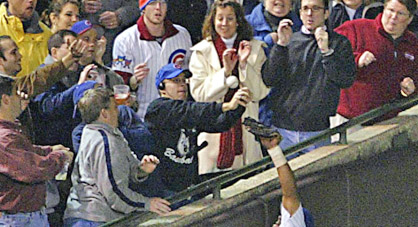 It's the pop fly that will live in infamy. When Chicagoan Steve Bartman fatefully deflected a foul ball in Game 6 of the 2003 NLCS, the city's long-suffering Cubs fans found someone new to blame for their cursed century without a World Series title. Oscar®-winning director Alex Gibney explores the psychology of die-hard sports fans, the frightening phenomenon of scapegoating, and the hysteria that turned mild-mannered Bartman into the most hated man in Chicago. Read More
---

Played against the backdrop of the national liberation movements of the '70s and '80s, this lively documentary pays tribute to the golden age of cricket in the West Indies as the teammates set out to triumph over their former colonial masters and make a name for themselves on the world stage. This celebration of the power of sports as a vehicle for social change is set to a thumping reggae beat featuring Bob Marley, Gregory Isaacs, and Burning Spear.
Read More

---

Six-foot-six Ukrainian brothers Vitali and Wladimir Klitschko emigrated to Germany to begin careers in heavyweight boxing in 1996, and the sport was never the same. After a 15-year reign over the ring, they made history in 2008, becoming the first brothers in the sport to hold world titles at the same time. Through an engaging mix of candid interviews and absorbing fight footage, Klitschko offers a captivating glimpse into the makings of these champion boxing brothers.
Read More
---

In the most brutal and often most misunderstood sport in the world, becoming a champion takes more than just blood, sweat, and tears. Like Water follows middleweight Ultimate Fighter Anderson Silva as he prepares to crown his four-year unbeaten streak as king of the sport with a record 12th straight win in the UFC. With intimate access to Silva and his intense training, the surprising and inspiring man behind one of the greatest mixed martial artists of all time emerges.
Read More
---

Shoni Schimmel, a Umatilla Indian and one of the best high school basketball players in the country, dreams of being the first from her tribe to get a college scholarship. Shoni and her mother/coach Ceci battle together to redeem generations of struggle for their family and their people, but her hoop dreams are threatened after her family leaves the Umatilla Indian Reservation. Read More
---

Despite his alpha-male reputation, tennis ace Dick Raskind always felt different from other guys. But it wasn't until his 40s, after getting married and having a son, that Dick was reborn as Renée Richards. Renée was still dynamite on the tennis court, but being the first transsexual player in the women's US Open would put her in a spotlight she—or her troubled son—couldn't escape. This fascinating doc is a testament to both personal and athletic perseverance. Read More

---

In the remote seaside village of Vanimo in Papua New Guinea, there are hardly any jobs—but there are infinite prime waves. Twenty years after the first board was introduced on the island, surfing has become a way of life. This spirited documentary, tinged by joyful music and fascinating glimpses into a rare culture, follows four local surfers competing in the country's first-ever national surfing championships in the hopes their surfboards will carry them to a better life. Read More