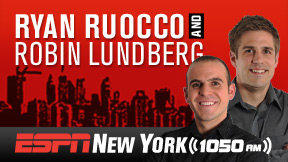 Hosts: Ryan Ruocco and Robin Lundberg
Weekdays from 12:00 PM - 2:00 PM
@RyanRuocco

Twitter
@RobinLundberg

Twitter

It's the show that'll make you laugh, cry (from laughter) and then laugh again while comprehensively covering all the stories that matter. It's your favorite show!
Latest Podcast
Jim McIsaac/Getty Images
Can the Knicks beat the Heat?
Download and listen to the latest podcasts

LIVE ON ESPNNEWYORK.COM
First and Last with Lundberg & Golic Jr.
4:00 AM-5:00 AM