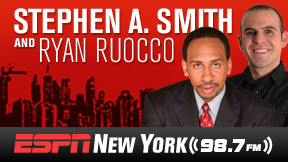 Hosts: Stephen A. Smith and Ryan Ruocco
Weekdays from 1:00 PM - 3:00 PM
@RyanRuocco

Twitter
@StephenASmith

Twitter

Latest Podcast
Nick Laham for ESPN
• Derek Jeter authors another unforgettable moment.
• Will we ever see another player like The Captain?
•
Mike Tirico:
Giants have improved dramtaically.
Download and listen to the latest podcasts

RUOCCO DOES OTHER STUFF TOO
SOUND BYTES
Jon Sciambi
Jon Sciambi joins the show and talks about what it will be like to be on the call for Derek Jeter's final home game at Yankee Stadium
Rob Demovsky
NFL Nation Packers reporter Rob Demovsky joins the guys to let you know why he believes the Jets could have some success against Green Bay on Sunday.
Ian O'Connor
Ian joins the guys and shares his take on the state of the Giants, and lets you know why fans can't place the blame solely on Eli Manning.
Demario Davis
Jets linebacker Demario Davis stops by the show to share his take on Gang Green's Week 1 matchup against the Oakland Raiders.
Justin Pugh
Giants OL Justin Pugh shares his take on the problems that have plagued Big Blue's offense in the preseason.
Donovan McNabb
Former all-pro quarterback Donovan McNabb joins the guys to share his thoughts on the upcoming NFL season. The guys also take a closer look at the NFC East.
Chris Mortensen
Mort joins the guys and lets you know that while Seattle is the favorite in the NFC, the conference is just too good not to expect some surprises.
ESPN's Mark Schlereth
Schlereth appears on ESPN New York 98.7 FM and lets you know why he believes Jets WR Eric Decker will fall short of expectations this season.
MUST READ
Our teams can't make it in New York -- which means they won't make it anywhere.
LIVE ON ESPNNEWYORK.COM
The Michael Kay Show
3:00 PM-7:00 PM