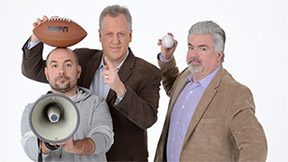 Host: Michael Kay, Don La Greca, Peter Rosenberg
Weekdays 3:00 PM - 7:00 PM
Email the show at tmksespn@gmail.com
@RealMichaelKay

Twitter
@DonLaGreca

Twitter
@Rosenbergradio

Twitter

Michael Kay, Don La Greca and Peter Rosenberg bring their expertise and insight to New York sport fans during the afternoon drive. These veteran broadcasters get you ready for the evening's games while entertaining you with good-natured humor throughout.
Latest Podcast
• Is Noah Syndergaard now the ace of the Mets' pitching staff?
• Peter makes a fashion statement that Michael and Don simply don't care for.
Download and listen to the latest podcasts

And don't miss a single episode of ENN with Peter Rosenberg

MUST LISTEN
Did you miss the show? Download or stream full TMKS podcast. Posted daily.
GIANTS CAMP LIVE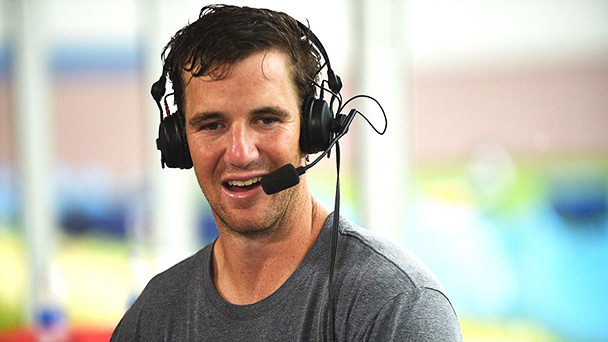 Don La Greca and Peter Rosenberg were LIVE from Giants Training Camp on Wednesday. Check out who stopped by.
•
Eli Manning

Victor Cruz

John Mara

•
Ben McAdoo

Jerry Reese

SOUND BYTES
Sean Marks
Brooklyn Nets GM Sean Marks joins the show to talk about his plan to change the franchise's fortunes.
Mike Breen
Mike stops by the show to discuss the state of the Knicks, and what the team should do moving forward.
Jalen Rose
Jalen Rose breaks down the Knicks' issues and how much blame should be placed on Carmelo Anthony.
LIVE ON ESPNNEWYORK.COM
Humpty & Canty
10:00 AM-1:00 PM


SPECIAL PODCAST!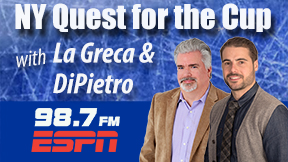 Throughout the Ranger's playoff run, listen as 98.7 host and Rangers broadcaster Don La Greca teams up with 98.7 host and former Islanders goalie Rick DiPietro to discuss and breakdown the Blueshirts' 2017 quest for the cup! Listen