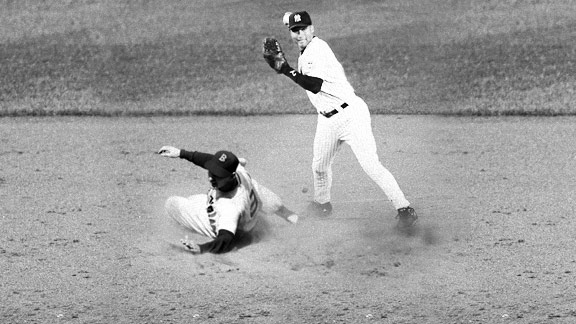 PLAYERS OF THE GAME
W. Ford
R. Jackson
Cy Who? All-time Bombers take Game 1
Editor's note: Early in April we asked ESPNNewYork.com users to select the All-Time Yankees team. Between now and Friday we'll be simulating a series between the Yankees team and the All-Time Red Sox team that was selected by ESPNBoston.com.
Who needs home-field advantage?
The All-Time Yankees, long accustomed to winning at Fenway, did just that in the opening game of ESPN's simulated seven-game series against the All-Time Boston Red Sox, outslugging the best of the Beantowners 13-7 in their lyric little bandbox.
While he may have had an award for pitching excellence named after him, Sox starter Cy Young (0-1) simply couldn't handle the Bombers' Murderers' Row, which rocked him for five runs in three-plus innings.
Down 9-1 to Yankees starter Whitey Ford (1-0) at one point, and 13-4 heading into the bottom of the ninth, the Red Sox roughed up reliever Red Ruffing to the tune of a three-run Nomar Garciaparra home run. But it was too little, too late.
Every member of the balanced Bombers attack contributed an RBI. Babe Ruth, Mickey Mantle and Reggie Jackson all homered as part of a 13-hit attack that overwhelmed Boston pitchers Young, Luis Tiant and Smokey Joe Wood. Only Curt Schilling escaped his outing unscathed, though the rest of the Sox were left bloodied indeed.
-- Matt Marrone, ESPNNewYork.com
2B-Ruth, Gehrig, Garciaparra, TWilliams 2. 3B-AlRodriguez, Lazzeri. HR-Mantle(1), Ruth(1), Jackson(1), Garciap'ra(1). K-Jeter 2, Gehrig, Jackson, Lazzeri 4, Ramirez, Foxx, Ortiz, Boggs. BB-Mantle 2, Ruth 2, AlRodriguez 2, JDiMaggio, Pedroia, Ramirez, Foxx 2, Fisk, Boggs. SF-AlRodriguez, Jackson, JDiMaggio. WP-JWood. BALK-WFord, CyYoung. GWRBI: Gehrig Temperature: 61, Field: wet, Sky: threatening, Wind: out to left at 7 MPH, Rain Delays: 26 and 10 minutes.
Play by play
Top of the 1st inning, Yankees batting
-- Jeter grounded out to second
-- Mantle reached on an infield single to the pitcher
-- Ruth doubled deep to left, Mantle to third
-- Gehrig grounded a single up the middle, Mantle scored, Ruth to third
-- AlRodriguez hit a sacrifice fly to center, Ruth scored
-- Jackson popped out to third
Bottom of the 1st inning, Red Sox batting
-- Pedroia grounded out to second
-- Garciaparra lined a single to center
-- TWilliams grounded a double down the third base line, Garciaparra to third
-- Ramirez lined a single to shallow center, Garciaparra scored, TWilliams to third
-- Started raining
-- Foxx grounded into a double play, Lazzeri to Jeter to Gehrig
Top of the 2nd inning, Yankees batting
-- JDiMaggio popped out to first
-- YBerra grounded out to short
-- Lazzeri struck out
-- Game delayed by rain for 26 minutes
Bottom of the 2nd inning, Red Sox batting
-- Ortiz struck out
-- Speaker flied out to center
-- Fisk grounded out to first
Top of the 3rd inning, Yankees batting
-- Jeter grounded a single up the middle
-- CyYoung balked, Jeter to second
-- Mantle walked
-- Ruth grounded into a double play, CyYoung to Boggs to Foxx, Mantle to second
-- Foxx, Mantle to second
-- Gehrig lined a single to shallow center, Mantle scored, Gehrig out at second
Bottom of the 3rd inning, Red Sox batting
-- Boggs grounded out to short
-- Pedroia walked
-- Garciaparra grounded into a double play, Gehrig to Jeter to Gehrig
Top of the 4th inning, Yankees batting
-- AlRodriguez tripled deep to right center
-- Jackson homered deep down the right field line, AlRodriguez scored
-- TiantJr now pitching
-- JDiMaggio walked
-- YBerra grounded out to second, JDiMaggio to second
-- Lazzeri lined a triple to left center, JDiMaggio scored
-- Jeter grounded out to short, Lazzeri scored
-- Mantle flied out to center
Bottom of the 4th inning, Red Sox batting
-- TWilliams flied out to left
-- Game delayed by rain for 10 minutes
-- Ramirez popped out to first
-- Foxx walked
-- Started raining
-- Ortiz grounded out to third
Top of the 5th inning, Yankees batting
-- Ruth walked
-- Gehrig lined a double to right center, Ruth to third
-- AlRodriguez walked
-- Jackson hit a sacrifice fly to left, Ruth scored, Gehrig to third
-- JDiMaggio hit a sacrifice fly to left, Gehrig scored
-- YBerra grounded out to second
Bottom of the 5th inning, Red Sox batting
-- Speaker grounded out to second
-- Fisk reached on an infield single to third
-- Boggs walked, Fisk to second
-- Pedroia popped out to right
-- Garciaparra singled to right center, Fisk scored, Boggs to third
-- WFord balked, Boggs scored, Garciaparra to second
-- TWilliams grounded a double down the first base line, Garciaparra scored
-- Ramirez struck out
Top of the 6th inning, Yankees batting
-- Lazzeri struck out
-- Jeter struck out
-- Mantle walked
-- Ruth homered deep to center, Mantle scored
-- Gehrig flied out to center
Bottom of the 6th inning, Red Sox batting
-- Foxx struck out
-- Ortiz lined a single down the left field line
-- Speaker grounded out to second, Ortiz to second
-- Fisk grounded out to first
Top of the 7th inning, Yankees batting
-- JWood now pitching
-- AlRodriguez grounded a single up the middle
-- Jackson struck out
-- JWood threw a wild pitch, AlRodriguez to second
-- JDiMaggio lined a single up the middle, AlRodriguez to third
-- YBerra grounded to second, forcing JDiMaggio at second, AlRodriguez scored, JDiMaggio out at second, YBerra to first
-- AlRodriguez scored, JDiMaggio out at second, YBerra to first
-- Lazzeri struck out
Bottom of the 7th inning, Red Sox batting
-- Boggs struck out
-- Pedroia popped out to second
-- Garciaparra lined a double to right center
-- TWilliams grounded out to second
Top of the 8th inning, Yankees batting
-- Jeter struck out
-- Mantle homered deep to right center
-- Ruth walked
-- Gehrig struck out
-- AlRodriguez walked, Ruth to second
-- Jackson flied out to left
Bottom of the 8th inning, Red Sox batting
-- Ruffing now pitching
-- Ramirez grounded out to second
-- Foxx walked
-- Ortiz flied out to center
-- Speaker popped out to third
Top of the 9th inning, Yankees batting
-- Schilling now pitching
-- JDiMaggio popped out to second
-- YBerra lined out to first
-- Lazzeri struck out
Bottom of the 9th inning, Red Sox batting
-- Fisk walked
-- Boggs reached on an infield single to short, Fisk to second
-- Pedroia flied out to center
-- Garciaparra homered deep to left center, Fisk scored, Boggs scored
-- Lyle now pitching
-- TWilliams flied out to center
-- Ramirez walked
-- Foxx grounded to short, forcing Ramirez at second