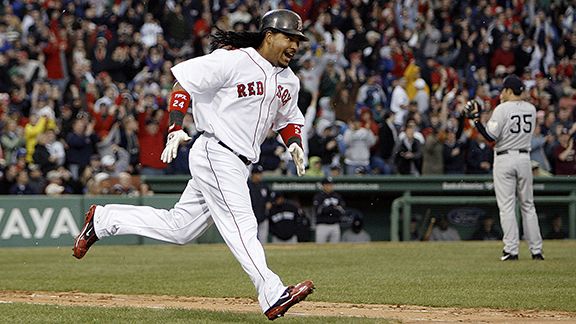 PLAYERS OF THE GAME
P. Martinez
M. Ramirez
Manny mashes Moose to even series
Editor's note: Early in April we asked ESPNNewYork.com users to select the All-Time Yankees team. Between now and Friday we'll be simulating a series between the Yankees team and the All-Time Red Sox team that was selected by ESPNBoston.com.
In real life, the Moose went out on top. In ESPN's simulated series between the All-Time New York Yankees and All-Time Boston Red Sox ... well, not so much.
Mike Mussina, who retired after posting his first 20-win season in 2008, walked off the virtual pitching mound in digitized shame in Game 2 after surrendering a two-run, walk-off home run to Manny Ramirez in the bottom of the 10th at Fenway, evening the seven-game series 1-1.
Unlike the series opener, Game 2 was a pitcher's duel, with Yankees lefty Ron Guidry and Sox fireballer Pedro Martinez posting quality starts, each allowing two runs in seven innings of work.
The Red Sox bullpen kept the game scoreless from there, with Lefty Grove (1-0) tossing three shutout innings. For the Bombers, Goose Gossage and Sparky Lyle (0-1) held down the fort until the bottom of the 10th, when Lyle exited after Ted Williams reached on an error by first baseman Lou Gehrig.
Manager Casey Stengel's decision not to use Mariano Rivera in a non-save situation cost the Yankees. Mussina was summoned instead, surrendering the two-run blast to Ramirez, the very next, and last, batter of the game.
-- Matt Marrone, ESPNNewYork.com
E-Mantle, Gehrig. 2B-Ruth, Gehrig, Ortiz, Speaker. HR-Mantle(2), Garciaparra(2), Ramirez(1). K-Jeter 3, Mantle, Ruth 3, Gehrig 3, AlRodriguez, Jackson 3, JDiMaggio, YBerra, Ramirez 2, Foxx, Speaker. BB-Mantle, Ruth, AlRodriguez, Pedroia, Fisk. SH-Jeter. SF-Boggs. WP-PMartinez. GWRBI: Ramirez Temperature: 50, Sky: clear, Wind: right to left at 12 MPH.
Play by play
Top of the 1st inning, Yankees batting
-- Jeter struck out
-- Mantle walked
-- Ruth struck out
-- Gehrig flied out to center
Bottom of the 1st inning, Red Sox batting
-- Pedroia flied out to center
-- Garciaparra flied out to left
-- TWilliams grounded out to short
Top of the 2nd inning, Yankees batting
-- AlRodriguez lined a single to shallow center
-- Jackson struck out
-- JDiMaggio grounded to the mound, forcing AlRodriguez at second, JDiMaggio to first
-- YBerra struck out
Bottom of the 2nd inning, Red Sox batting
-- Ramirez struck out
-- Foxx flied out to center
-- Ortiz grounded out to the mound
Top of the 3rd inning, Yankees batting
-- Lazzeri grounded a single to right
-- Jeter sacrifice bunted to the mound, Lazzeri to second
-- Mantle struck out, Fisk to Foxx
-- Ruth struck out
Bottom of the 3rd inning, Red Sox batting
-- Speaker grounded a double down the third base line
-- Fisk grounded out to second, Speaker to third
-- Boggs hit a sacrifice fly to center, Speaker scored
-- Pedroia grounded out to second
Top of the 4th inning, Yankees batting
-- Gehrig struck out
-- AlRodriguez walked
-- Jackson struck out
-- JDiMaggio struck out
Bottom of the 4th inning, Red Sox batting
-- Garciaparra homered deep down the left-field line
-- TWilliams to first on an error by the left fielder Mantle
-- Ramirez grounded to third, forcing TWilliams at second, Ramirez to first
-- Foxx flied out to center
-- Ortiz doubled deep to left, Ramirez to third
-- Speaker grounded out to second
Top of the 5th inning, Yankees batting
-- YBerra grounded out to second
-- Lazzeri grounded out to second
-- Jeter struck out
Bottom of the 5th inning, Red Sox batting
-- Fisk walked
-- Boggs lined a single to shallow right, Fisk to second
-- Pedroia popped out to second
-- Garciaparra lined a single to left, Fisk out at home, Boggs to second
-- TWilliams grounded out to third
Top of the 6th inning, Yankees batting
-- Mantle homered deep to right
-- Ruth lined a double to right center
-- Gehrig struck out
-- AlRodriguez grounded out to first, Ruth to third
-- PMartinez threw a wild pitch, Ruth scored
-- Jackson grounded out to second
Bottom of the 6th inning, Red Sox batting
-- Ramirez grounded a single between first and second
-- Foxx grounded into a double play, Jeter to Lazzeri to Gehrig
-- Ortiz lined a single to right
-- Speaker popped out to short
Top of the 7th inning, Yankees batting
-- JDiMaggio grounded out to third
-- YBerra lined a single to right center
-- Lazzeri flied out to center
-- Jeter struck out
Bottom of the 7th inning, Red Sox batting
-- Fisk lined out to first
-- Boggs grounded a single up the middle
-- Pedroia walked, Boggs to second
-- Garciaparra flied out to center, Boggs to third
-- TWilliams grounded out to second
Top of the 8th inning, Yankees batting
-- LGrove now pitching
-- Mantle flied out to center
-- Ruth struck out
-- Gehrig lined a double to right center
-- AlRodriguez struck out
Bottom of the 8th inning, Red Sox batting
-- Gossage now pitching
-- Ramirez struck out
-- Foxx struck out
-- Ortiz popped out to third
Top of the 9th inning, Yankees batting
-- Jackson struck out
-- JDiMaggio popped out to the catcher
-- YBerra flied out to left
Bottom of the 9th inning, Red Sox batting
-- Lyle now pitching
-- Speaker struck out
-- Fisk grounded out to second
-- Boggs grounded a single between third and short
-- Pedroia reached on an infield single to the pitcher, Boggs to second
-- Garciaparra flied out to right
Top of the 10th inning, Yankees batting
-- Lazzeri popped out to second
-- Jeter lined a single to right center
-- Mantle flied out to center
-- Ruth walked, Jeter to second
-- Gehrig struck out
Bottom of the 10th inning, Red Sox batting
-- TWilliams to first on an error by the first baseman Gehrig
-- Mussina now pitching
-- Ramirez homered to left, TWilliams scored