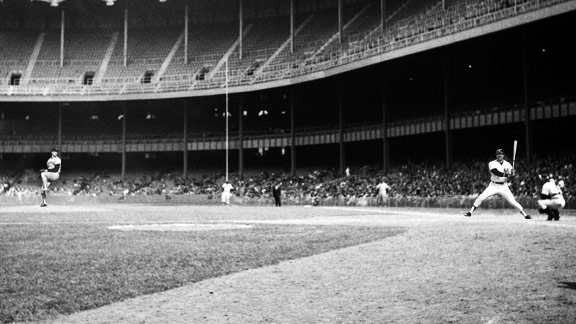 PLAYERS OF THE GAME
R. Clemens
T. Williams
Yanks, Pettitte pounded; Rocket defects
Editor's note: Early in April we asked ESPNNewYork.com users to select the All-Time Yankees team. Between now and Friday we'll be simulating a series between the Yankees team and the All-Time Red Sox team that was selected by ESPNBoston.com.
They began the day bosom buddies, forced to lock horns. By the end of the day, in a historic twist, they were teammates.
Red Sox righty Roger Clemens and Yankees lefty Andy Pettitte faced off in the Bronx in Game 3 of ESPN's simulated rivalry series between the All-Time Bombers and All-Time Red Sox. Despite generations of hatred between the two franchises, allegiances would rule the day.
After the Yankees rallied for all four of their runs on two-run homers by Babe Ruth and Reggie Jackson in the sixth, Pettitte (0-1) was tagged with five runs in the top of the seventh, though it was his mid-inning replacement, Goose Gossage, who surrendered the three-run homer to Ted Williams that put Boston up for good in a 9-4 Bombers loss.
To call what happened next "odd" would be more than an understatement. Despite his 11-strikeout performance, Boston's virtual ownership decided Clemens (1-0) had seen his best days, and decided to part ways with the ace -- immediately.
Clemens, who later cited a desire to finally win a championship, crossed enemy lines into the Yankees' dugout. After he delighted the hometown crowd by announcing his return to pinstripes over the public address system, the Rocket pitched an inning of relief for the Bombers.
When asked if he'd follow suit and defect to the Bronx as well, Wade Boggs, the All-Time Red Sox starting third baseman, declined comment.
-- Matt Marrone, ESPNNewYork.com
BOS: Pesky inserted at ss in the 8th Yastrzemski inserted at rf in the 8th E-Mantle, Lazzeri. 2B-Gehrig, YBerra. 3B-Speaker. HR-TWilliams(1), Ramirez(2), Ruth(2), Jackson(2). K-Pedroia, Foxx 2, Speaker, Fisk, Jeter, Mantle 2, Ruth 2, Gehrig, AlRodriguez 2, Jackson, JDiMaggio, Lazzeri 2. BB-Pedroia, TWilliams, Foxx, Boggs, Mantle, Jackson. SH-Pedroia. SF-Pedroia. GWRBI: Pedroia Temperature: 45, Sky: clear, Wind: right to left at 3 MPH. Yankee Stadium
Play by play
Top of the 1st inning, Red Sox batting
-- Pedroia grounded out to second
-- Garciaparra flied out to center
-- TWilliams walked
-- Ramirez homered deep down the left-field line, TWilliams scored
-- Foxx struck out
Bottom of the 1st inning, Yankees batting
-- Jeter grounded out to second
-- Mantle walked
-- Ruth grounded into a double play, Pedroia to Garciaparra to Foxx
Top of the 2nd inning, Red Sox batting
-- Ortiz grounded out to second
-- Speaker tripled deep to center
-- Fisk grounded out to second, Speaker scored
-- Boggs grounded out to second
Bottom of the 2nd inning, Yankees batting
-- Gehrig struck out
-- AlRodriguez struck out
-- Jackson struck out
Top of the 3rd inning, Red Sox batting
-- Pedroia walked
-- Garciaparra flied out to center
-- TWilliams grounded a single up the middle, Pedroia to second
-- Ramirez grounded into a double play, Jeter to Lazzeri to Gehrig
Bottom of the 3rd inning, Yankees batting
-- JDiMaggio grounded out to second
-- YBerra lined a double to right center
-- Lazzeri struck out
-- Jeter grounded out to second
Top of the 4th inning, Red Sox batting
-- Foxx flied out to left
-- Ortiz grounded out to third
-- Speaker lined a single between first and second
-- Fisk grounded out to second
Bottom of the 4th inning, Yankees batting
-- Mantle struck out
-- Ruth struck out
-- Gehrig lined a single between first and second
-- AlRodriguez grounded to short, forcing Gehrig at second
Top of the 5th inning, Red Sox batting
-- Boggs lined a single down the right field line
-- Pedroia struck out
-- Garciaparra grounded into a double play, Lazzeri to Jeter to Gehrig
Bottom of the 5th inning, Yankees batting
-- Jackson walked
-- JDiMaggio struck out
-- YBerra lined a single to shallow center, Jackson to second
-- Lazzeri struck out
-- Jeter struck out
Top of the 6th inning, Red Sox batting
-- TWilliams to first on an error by the second baseman Lazzeri
-- Ramirez grounded into a double play, Jeter to Lazzeri to Gehrig
-- Foxx struck out
Bottom of the 6th inning, Yankees batting
-- Mantle lined a single between first and second
-- Ruth homered deep to right, Mantle scored
-- Gehrig doubled deep to right center
-- AlRodriguez struck out
-- Jackson homered deep down the right field line, Gehrig scored
-- JDiMaggio flied out to right
-- YBerra grounded out to second
Top of the 7th inning, Red Sox batting
-- Ortiz lined a single to shallow right
-- Speaker lined a single to shallow left, Ortiz to third, Speaker to second on an error by the left fielder Mantle
-- Fisk reached on a fielder's choice to short, Ortiz scored, Speaker to third, Fisk to first
-- Boggs walked, Fisk to second
-- Gossage now pitching
-- Pedroia hit a sacrifice fly to center, Speaker scored, Fisk to third
-- Garciaparra popped out to second
-- TWilliams homered deep down the right field line, Fisk scored, Boggs scored
-- Ramirez grounded out to first
Bottom of the 7th inning, Yankees batting
-- Lazzeri grounded out to second
-- Jeter grounded out to short
-- Mantle struck out
Top of the 8th inning, Red Sox batting
-- Foxx walked
-- Ortiz popped out to short
-- Speaker struck out
-- Fisk struck out
Bottom of the 8th inning, Yankees batting
-- Pesky now playing shortstop
-- Yastrzemski now playing right field
-- LGrove now pitching
-- Ruth struck out
-- Gehrig grounded out to second
-- AlRodriguez flied out to left
Top of the 9th inning, Red Sox batting
-- Clemens now pitching
-- Boggs lined a single to right center
-- Pedroia sacrifice bunted to the mound, Boggs to second
-- Pesky grounded out to third, Boggs to third
-- TWilliams lined a single to left center, Boggs scored
-- Yastrzemski flied out to center
Bottom of the 9th inning, Yankees batting
-- Jackson grounded out to third
-- JDiMaggio flied out to center
-- YBerra flied out to left