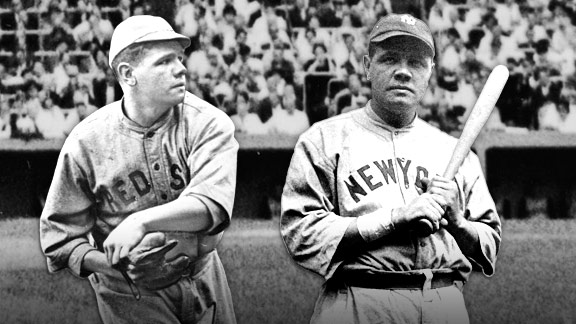 PLAYERS OF THE GAME
L. Gomez
B. Ruth
Ruth rocks Ruth as Yanks even series
Editor's note: Early in April we asked ESPNNewYork.com users to select the All-Time Yankees team. Between now and Friday we'll be simulating a series between the Yankees team and the All-Time Red Sox team that was selected by ESPNBoston.com.
Whenever baseball fans gush about Babe Ruth, the immortal Sultan of Swat, inevitably this fun fact is tossed out: He was quite a pitcher, too!
The reason we remember the Babe best as a slugger, though, was proven once and for all as Ruth blasted a pair of home runs -- both off himself -- in a 6-1 Yankees win over the Red Sox in Game 4 of ESPN's simulated series between the two ancient rivals.
That made Ruth both the hero and the goat of the game. At the plate and in pinstripes, Ruth's three hits and three RBIs helped the Bombers even the series at 2-2. On the mound, however, Ruth (0-1) allowed six runs (five earned) in 5 1/3 innings.
Boston's lone run off a dominant Lefty Gomez (1-0) came on a solo shot by Carlton Fisk in the third. The ball seemed headed foul but Fisk, waving his arms wildly, managed to will it all the way into the left center-field bleachers.
Yogi Berra added a two-run homer for the home team in the fourth, also off Ruth.
Game 5 will take place in the Bronx, before the series shifts back to Fenway Park for Game 6 and, if necessary, Game 7.
-- Matt Marrone, ESPNNewYork.com
E-Speaker. 2B-Foxx, JDiMaggio. HR-Fisk(1), Ruth 2(4), YBerra(1). CS-Garciaparra. K-Pedroia, TWilliams, Ramirez, Foxx 2, Ortiz, Jeter, Mantle 2, AlRodriguez, Jackson, Lazzeri. BB-Garciaparra, TWilliams, Ortiz, Boggs, JDiMaggio, Gehrig, Jackson 2, Lazzeri 2. SF-Jeter. PB-Fisk. GWRBI: Ruth. Temperature: 57, Sky: clear, Wind: out to left at 15 MPH. Yankee Stadium
Play by play
Top of the 1st inning, Red Sox batting
-- Pedroia struck out
-- Garciaparra lined a single to shallow center
-- TWilliams flied out to center
-- Garciaparra was caught stealing second
Bottom of the 1st inning, Yankees batting
-- Jeter grounded out to first
-- Mantle popped out to the catcher
-- JDiMaggio lined a single to left center
-- Ruth homered deep to right, JDiMaggio scored
-- AlRodriguez grounded out to short
Top of the 2nd inning, Red Sox batting
-- Ramirez grounded a single between first and second
-- Foxx flied out to left
-- Ortiz struck out
-- Speaker grounded out to first
Bottom of the 2nd inning, Yankees batting
-- Gehrig lined a single to left center
-- Fisk allowed a passed ball, Gehrig to second
-- Jackson struck out
-- Lazzeri walked
-- YBerra lined a single between third and short, Gehrig out at home, Lazzeri to second
-- Jeter popped out to right
Top of the 3rd inning, Red Sox batting
-- Fisk homered deep to left center
-- Boggs grounded out to first
-- Pedroia grounded a single between third and short
-- Garciaparra lined out to third
-- TWilliams walked, Pedroia to second
-- Ramirez grounded out to second
Bottom of the 3rd inning, Yankees batting
-- Mantle struck out
-- JDiMaggio grounded a double down the third-base line
-- Ruth reached on an infield single to short, JDiMaggio to third
-- AlRodriguez struck out
-- Gehrig grounded out to first
Top of the 4th inning, Red Sox batting
-- Foxx struck out
-- Ortiz lined a single to left center
-- Speaker grounded into a double play, Jeter to Lazzeri to Gehrig
Bottom of the 4th inning, Yankees batting
-- Jackson to second on an error by center fielder Speaker
-- Lazzeri struck out
-- YBerra homered deep down the right field line, Jackson scored
-- Jeter flied out to center
-- Mantle flied out to center
Top of the 5th inning, Red Sox batting
-- Fisk flied out to center
-- Boggs flied out to left
-- Pedroia reached on an infield single to short
-- Garciaparra walked, Pedroia to second
-- TWilliams popped out to right
Bottom of the 5th inning, Yankees batting
-- JDiMaggio flied out to left
-- Ruth homered deep to center
-- AlRodriguez grounded out to second
-- Gehrig flied out to center
Top of the 6th inning, Red Sox batting
-- Ramirez struck out
-- Foxx doubled to deep left-center
-- Ortiz walked
-- Speaker flied out to center
-- Fisk grounded out to the mound
Bottom of the 6th inning, Yankees batting
-- Jackson walked
-- Lazzeri walked, Jackson to second
-- YBerra flied out to center, Jackson to third
-- Schilling now pitching
-- Jeter hit a sacrifice fly to center, Jackson scored
-- Mantle struck out
Top of the 7th inning, Red Sox batting
-- Boggs walked
-- Pedroia grounded out to third, Boggs to second
-- Garciaparra flied out to center, Boggs to third
-- TWilliams struck out
Bottom of the 7th inning, Yankees batting
-- JDiMaggio walked
-- Ruth grounded to first, forcing JDiMaggio at second, Ruth to first
-- AlRodriguez grounded into a double play, Pedroia to Garciaparra to Foxx
Top of the 8th inning, Red Sox batting
-- Gossage now pitching
-- Ramirez flied out to center
-- Foxx struck out
-- Lyle now pitching
-- Ortiz flied out to left
Bottom of the 8th inning, Yankees batting
-- Tiant now pitching
-- Gehrig walked
-- Jackson walked, Gehrig to second
-- Lazzeri lined out to third
-- YBerra flied out to right
-- Jeter struck out
Top of the 9th inning, Red Sox batting
-- Speaker grounded out to short
-- Fisk grounded out to second
-- Boggs flied out to center