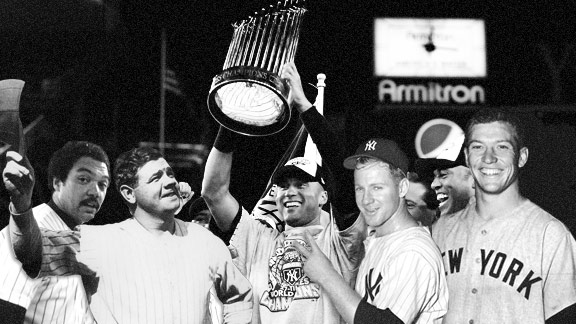 PLAYERS OF THE GAME
R. Guidry
D. Jeter
Champs! Bombers blow away BoSox
Editor's note: Early in April we asked ESPNNewYork.com users to select the all-time Yankees team. Between now and Friday we'll be simulating a series between the Yankees team and the all-time Red Sox team that was selected by ESPNBoston.com.
Who's your daddy, Boston?
That's right, it's still the Yankees.
It took six games, but history fittingly repeated itself as the Bombers again broke Beantown's heart, rallying for five eighth-inning runs off -- who else? -- Pedro Martinez, plus reliever Lefty Grove, to win ESPN.com's simulated series.
The all-time Yankees, as selected by the fans, beat the all-time Red Sox 5-1 at Fenway Park in the sixth and final game of the series -- extending their real-life dominance into the digital realm.
The Yankees were down 1-0 after a fifth-inning RBI double by Wade Boggs until Joe DiMaggio pounded a Martinez pitch over the Green Monster with one out in the eighth. After Martinez (0-1) walked Yogi Berra, Red Sox skipper Terry Francona, who's sure to draw comparisons to Grady Little, pulled his starter from the game a little too late. The sleeping giant had awoken, and after Grove walked Bernie Williams, Derek Jeter's two-run double put the Bombers up for good.
Ron Guidry (1-0) got the win, finishing the series with a 1.93 ERA in 14 innings. Babe Ruth went 0-for-4 in Game 6 but finished as the hitting star of the series, batting a team-high .348 with a series-high four home runs and eight RBIs.
In the bottom of the ninth, Mariano Rivera finally made his first appearance of the series -- and as a Tris Speaker fly ball landed in left fielder Mickey Mantle's glove for the third out, the Yankees were champs again.
All is right with the virtual world.
-- Matt Marrone, ESPNNewYork.com
NYY: Maris batted for Lazzeri in the 8th
BeWilliams batted for Maris in the 8th
Randolph inserted at 2b in the 8th
E-Jeter, Garciaparra. 2B-Jeter, YBerra, Speaker, Boggs. HR-JDiMaggio(2). K-Jeter, Mantle, Ruth 3, Gehrig, AlRodriguez, Lazzeri, Pedroia, Garciaparra, TWilliams, Foxx, Ortiz, Boggs. BB-Mantle, Ruth, Gehrig, YBerra, BeWilliams, TWilliams, Ramirez. GWRBI: Jeter Temperature: 51, Sky: threatening, Wind: in from left at 17 MPH. Fenway Park
Play-by-play
Top of the 1st inning, Yankees batting
-- Jeter struck out
-- Mantle lined a single to center
-- Ruth popped out to short
-- Gehrig lined a single up the middle, Mantle to second
-- AlRodriguez struck out
Bottom of the 1st inning, Red Sox batting
-- Pedroia grounded out to second
-- Garciaparra grounded out to short
-- TWilliams struck out
Top of the 2nd inning, Yankees batting
-- Jackson flied out to center
-- JDiMaggio flied out to center
-- YBerra lined out to second
Bottom of the 2nd inning, Red Sox batting
-- Ramirez flied out to left
-- Foxx flied out to left
-- Ortiz grounded out to short
Top of the 3rd inning, Yankees batting
-- Lazzeri struck out
-- Jeter grounded out to third
-- Mantle grounded out to short
Bottom of the 3rd inning, Red Sox batting
-- Speaker grounded out to third
-- Fisk grounded out to first
-- Boggs struck out
Top of the 4th inning, Yankees batting
-- Ruth walked
-- Gehrig flied out to right
-- AlRodriguez grounded into a double play, Pedroia to Garciaparra to Foxx
Bottom of the 4th inning, Red Sox batting
-- Pedroia lined out to short
-- Garciaparra lined a single to shallow center
-- TWilliams grounded out to second, Garciaparra to second
-- Ramirez walked
-- Foxx struck out
Top of the 5th inning, Yankees batting
-- Jackson grounded out to third
-- JDiMaggio flied out to right
-- YBerra grounded out to third
Bottom of the 5th inning, Red Sox batting
-- Ortiz flied out to center
-- Speaker doubled deep to right center
-- Fisk flied out to right, Speaker to third
-- Boggs doubled deep to right center, Speaker scored
-- Pedroia grounded out to short
Top of the 6th inning, Yankees batting
-- Lazzeri grounded out to second
-- Jeter grounded out to first
-- Mantle struck out
Bottom of the 6th inning, Red Sox batting
-- Garciaparra flied out to right
-- TWilliams walked
-- Ramirez flied out to center
-- Foxx flied out to left
Top of the 7th inning, Yankees batting
-- Ruth struck out
-- Gehrig struck out
-- AlRodriguez grounded out to short
Bottom of the 7th inning, Red Sox batting
-- Ortiz flied out to center
-- Speaker to first on an error by the shortstop Jeter
-- Fisk lined out to left
-- Boggs popped out to center
Top of the 8th inning, Yankees batting
-- Jackson grounded out to the mound
-- JDiMaggio homered deep to left
-- YBerra walked
-- Maris pinch hitting for Lazzeri
-- LGrove now pitching
-- BeWilliams pinch hitting for Maris
-- BeWilliams walked, YBerra to second
-- Jeter lined a double to left center, YBerra scored, BeWilliams to third
-- Mantle reached on an infield single to the pitcher, BeWilliams scored, Jeter to third
-- Ruth struck out
-- Gehrig walked, Mantle to second
-- JWood now pitching
-- AlRodriguez lined a single to shallow center, Jeter scored, Mantle scored, Gehrig to third, AlRodriguez to second
-- Jackson grounded out to short
Bottom of the 8th inning, Red Sox batting
-- Randolph now playing second base
-- Gossage now pitching
-- Pedroia struck out
-- Garciaparra struck out
-- TWilliams grounded out to short
Top of the 9th inning, Yankees batting
-- JDiMaggio grounded out to third
-- YBerra lined a double to left center
-- YBerra to third, Randolph to first on an error by the shortstop Garciaparra
-- Jeter grounded to second, YBerra out at home, Randolph to second, Jeter to first
-- Mantle walked, Randolph to third, Jeter to second
-- Ruth struck out
Bottom of the 9th inning, Red Sox batting
-- MRivera now pitching
-- Ramirez lined a single to shallow right
-- Foxx popped out to third
-- Ortiz struck out
-- Speaker flied out to left