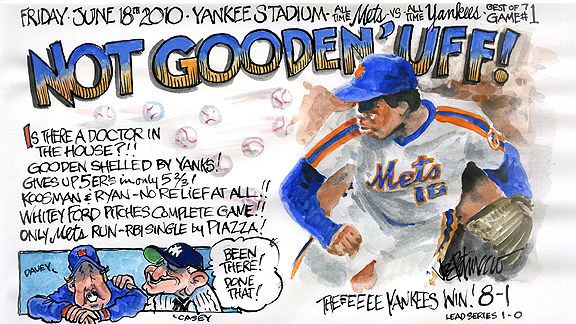 PLAYERS OF THE GAME
W. Ford
D. Jeter
Ford, Jeter drub Mets in opener
Editor's note: In April we asked ESPNNewYork.com users to select the All-Time Yankees team and the All-Time Mets team. Into next week we'll be simulating a series between the Bombers' best and the ultimate Amazin's -- with exclusive cartoons from artist Joe Petruccio.
When Derek Jeter stepped up to the plate against Dwight Gooden in the bottom of the first inning, he might as well have been facing Bobby Jones.
In a moment eerily similar to Game 4 of the 2000 World Series, the Yankees captain set the tone early with a leadoff homer -- the first of two Jeter would hit -- and the Bombers went on to an easy 8-1 win over the Mets in Game 1 of ESPNNewYork.com's simulated series between the two clubs' all-time teams.
Simply put, the Yankees' virtual Murderers' Row was too much for Gooden to handle. Doc was rocked for nine hits and five runs in 5 2/3 innings, walking four. Contrast that with the performance of Bombers starter Whitey Ford, who went the distance allowing just three hits -- one to Jose Reyes and two to Mike Piazza, who drove in the Mets' lone run on a sixth-inning single.
The game was still well within reach at the time of Piazza's RBI, but after Gooden served up a run-scoring single to Tony Lazzeri and loaded the bases for Babe Ruth by walking Mickey Mantle in the sixth, reliever Jerry Koosman couldn't stop the bleeding. Koosman's wild pitch scored Lazzeri, and while he escaped from further damage in the frame, he surrendered a two-run blast to Joe DiMaggio in the seventh to make it 7-1.
By the time Jeter homered off Nolan Ryan to start the eighth, Mets skipper Davey Johnson was already looking ahead to Game 2, which pits Amazin's Hall of Famer Tom Seaver against Yanks All-Star lefty Ron Guidry.
-- Matt Marrone, ESPNNewYork.com
NYY: Nettles inserted at 3b in the 9th; Rizzuto inserted at ss in the 9th
2B-Reyes, DiMaggio,J, Berra. HR-Jeter 2(2), DiMaggio,J(1). K-Beltran 2, Strawberry 2, Hernandez,K, Mantle, Ruth 3, Gehrig 2, Jackson,R 2, Lazzeri. BB-Beltran, Hernandez,K, Mantle, Ruth, Gehrig, Rodriguez,Al 2, DiMaggio,J. WP-Koosman 2, Ford,W. GWRBI: Jeter Temperature: 70, Sky: clear, Wind: out to left at 13 MPH.
Play by play
Top of the 1st inning, Mets batting
-- Reyes flied out to center
-- Beltran walked
-- Piazza popped out to first
-- Wright grounded to second, forcing Beltran at second
Bottom of the 1st inning, Yankees batting
-- Jeter homered deep to left
-- Mantle struck out
-- Ruth lined a single to shallow right
-- Gehrig walked, Ruth to second
-- Rodriguez,Al lined a single to shallow right, Ruth scored, Gehrig to second
-- Jackson,R struck out
-- DiMaggio,J walked, Gehrig to third, Rodriguez,Al to second
-- Berra grounded out to the catcher
Top of the 2nd inning, Mets batting
-- Strawberry grounded out to short
-- Carter,G flied out to left
-- Hernandez,K struck out
Bottom of the 2nd inning, Yankees batting
-- Lazzeri flied out to center
-- Jeter lined a single between first and second
-- Mantle grounded to second, forcing Jeter at second, Mantle to first
-- Ruth struck out
Top of the 3rd inning, Mets batting
-- Wilson,M grounded out to third
-- Alfonzo grounded out to third
-- Reyes flied out to right
Bottom of the 3rd inning, Yankees batting
-- Gehrig lined a single down the right field line
-- Rodriguez,Al walked, Gehrig to second
-- Jackson,R lined out to left
-- DiMaggio,J lined out to first
-- Berra doubled deep down the right field line, Gehrig scored, Rodriguez,Al out at home
Top of the 4th inning, Mets batting
-- Beltran struck out
-- Piazza grounded a single between first and second
-- Wright flied out to center
-- Strawberry struck out
Bottom of the 4th inning, Yankees batting
-- Lazzeri struck out
-- Jeter grounded out to third
-- Mantle flied out to left
Top of the 5th inning, Mets batting
-- Carter,G grounded out to first
-- Hernandez,K walked
-- Wilson,M flied out to left
-- Alfonzo grounded to third, forcing Hernandez,K at second
Bottom of the 5th inning, Yankees batting
-- Ruth struck out
-- Gehrig struck out
-- Rodriguez,Al grounded out to short
Top of the 6th inning, Mets batting
-- Reyes doubled deep down the right field line
-- Beltran grounded out to second, Reyes to third
-- Piazza lined a single to left center, Reyes scored
-- Ford,W threw a wild pitch, Piazza to second
-- Wright grounded out to the mound
-- Strawberry grounded out to first
Bottom of the 6th inning, Yankees batting
-- Jackson,R struck out
-- DiMaggio,J doubled deep down the left-field line
-- Berra flied out to center, DiMaggio,J to third
-- Lazzeri grounded a single between third and short, DiMaggio,J scored
-- Jeter lined a single to shallow right, Lazzeri to second
-- Mantle walked, Lazzeri to third, Jeter to second
-- Koosman now pitching
-- Koosman threw a wild pitch, Lazzeri scored, Jeter to third, Mantle to second
-- Ruth walked
-- Gehrig struck out
Top of the 7th inning, Mets batting
-- Carter,G grounded out to short
-- Hernandez,K grounded out to second
-- Wilson,M flied out to right
Bottom of the 7th inning, Yankees batting
-- Rodriguez,Al walked
-- Jackson,R grounded a single between first and second, Rodriguez,Al out at third
-- Koosman threw a wild pitch, Jackson,R to second
-- DiMaggio,J homered deep to left, Jackson,R scored
-- Ryan,N now pitching
-- Berra popped out to left
-- Lazzeri flied out to center
Top of the 8th inning, Mets batting
-- Alfonzo grounded out to short
-- Reyes popped out to second
-- Beltran struck out
Bottom of the 8th inning, Yankees batting
-- Jeter homered deep down the left-field line
-- Mantle lined a single up the middle
-- Ruth struck out
-- Gehrig grounded into a double play, Reyes to Alfonzo to Hernandez,K
Top of the 9th inning, Mets batting
-- Nettles now playing third base
-- Rizzuto now playing shortstop
-- Piazza grounded out to short
-- Wright grounded out to short
-- Strawberry struck out