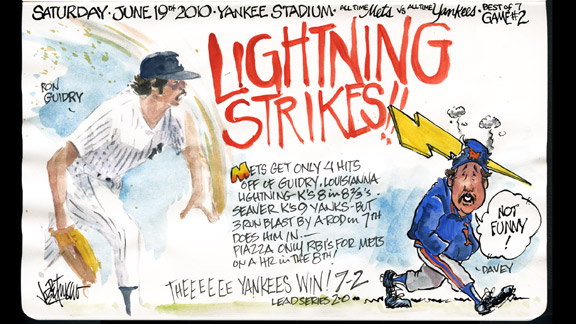 PLAYERS OF THE GAME
R. Guidry
A. Rodriguez
Jose, Tom not so terrific in blowout
Editor's note: In April we asked ESPNNewYork.com users to select the All-Time Yankees team and the All-Time Mets team. Into next week we'll be simulating a series between the Bombers' best and the ultimate Amazin's -- with exclusive cartoons from artist Joe Petruccio.
Give the all-time Yankees an inch, they'll take a mile.
As if Tom Seaver's task wasn't tough enough, Jose Reyes' error on a Derek Jeter grounder opened up the floodgates in another Bombers rout of the Mets in ESPNNewYork.com's simulated series -- a 7-2 win that put the Yankees up 2-0 in the best-of-seven showdown.
Already trailing 3-0, Seaver never recovered after Jeter reached base to open the bottom of the seventh inning. Mickey Mantle singled Jeter to third and, after Ruth and Gehrig wasted at-bats, Alex Rodriguez drove a pitch over the left-field wall -- driving Seaver and the Amazin's out of the game for good.
The Mets scored a few garbage-time runs in the eighth when Mike Piazza -- the only Met with an RBI so far in the series -- hit a two-run blast off Yankees starter Ron Guidry in the eighth inning. Still, that was the only blemish for Louisiana Lightning, who fanned eight over 8 2/3 innings to follow up Whitey Ford's dominant showing in Game 1.
Seaver struck out nine in his 6 2/3 innings of work, but nine hits and six runs (three earned) were enough to saddle him with the loss.
The dream Subway Series shifts to Queens for Game 3, with Andy Pettitte on the mound for the Bombers and Johan Santana pitching for the Mets.
-- Matt Marrone, ESPNNewYork.com
NYM: Dykstra batted for Wilson,M in the 9th NYY: Nettles inserted at 3b in the 8th; Rizzuto inserted at ss in the 9th
E-Reyes, Jeter, Rodriguez,Al. 2B-Reyes, Hernandez,K, Jackson,R. 3B-Beltran, Mantle, DiMaggio,J. HR-Piazza(1), Rodriguez,Al(1), Berra(1). CS-Wilson,M, Rodriguez,Al. K-Beltran, Piazza 2, Strawberry 2, Carter,G, Hernandez,K, Wilson,M, Dykstra, Jeter 2, Mantle, Ruth 2, Gehrig 2, Rodriguez,Al, Lazzeri. BB-Wright, Hernandez,K, Wilson,M, Ruth, Jackson,R, DiMaggio,J. GWRBI: DiMaggio,J Temperature: 81, Sky: clear, Wind: out to left at 10 MPH.
Play by play
Top of the 1st inning, Mets batting
-- Reyes grounded out to third
-- Beltran struck out
-- Piazza struck out
Bottom of the 1st inning, Yankees batting
-- Jeter grounded out to the mound
-- Mantle flied out to center
-- Ruth walked
-- Gehrig struck out
Top of the 2nd inning, Mets batting
-- Wright grounded out to third
-- Strawberry lined out to left
-- Carter,G grounded out to third
Bottom of the 2nd inning, Yankees batting
-- Rodriguez,Al flied out to left
-- Jackson,R doubled deep to center
-- DiMaggio,J grounded a single up the middle, Jackson,R scored
-- Berra grounded to third, forcing DiMaggio,J at second, Berra to first
-- Lazzeri struck out
Top of the 3rd inning, Mets batting
-- Hernandez,K to first on an error by the shortstop Jeter
-- Wilson,M flied out to right
-- Alfonzo popped out to second
-- Hernandez,K to second, Reyes to first on an error by the third baseman Rodriguez,Al
-- Beltran popped out to first
Bottom of the 3rd inning, Yankees batting
-- Jeter struck out
-- Mantle struck out
-- Ruth grounded out to third
Top of the 4th inning, Mets batting
-- Piazza popped out to third
-- Wright flied out to left
-- Strawberry struck out
Bottom of the 4th inning, Yankees batting
-- Gehrig lined a single to left center
-- Rodriguez,Al struck out
-- Jackson,R grounded out to second, Gehrig to second
-- DiMaggio,J grounded out to second
Top of the 5th inning, Mets batting
-- Carter,G grounded out to third
-- Hernandez,K lined a double to right center
-- Wilson,M struck out
-- Alfonzo grounded out to second
Bottom of the 5th inning, Yankees batting
-- Berra homered deep to right
-- Lazzeri flied out to center
-- Jeter struck out
-- Mantle lined a triple down the right field line
-- Ruth struck out
Top of the 6th inning, Mets batting
-- Reyes doubled deep down the right field line
-- Beltran grounded out to second, Reyes to third
-- Piazza struck out
-- Wright was walked intentionally
-- Strawberry lined out to right
Bottom of the 6th inning, Yankees batting
-- Gehrig struck out
-- Rodriguez,Al lined a single to shallow right
-- Rodriguez,Al was caught stealing second
-- Jackson,R walked
-- DiMaggio,J walked, Jackson,R to second
-- Berra lined a single to left center, Jackson,R scored, DiMaggio,J to third
-- Lazzeri popped out to first
Top of the 7th inning, Mets batting
-- Carter,G grounded out to the mound
-- Hernandez,K struck out, Berra to Gehrig
-- Wilson,M walked
-- Wilson,M was caught stealing second
Bottom of the 7th inning, Yankees batting
-- Jeter to first on an error by the shortstop Reyes
-- Mantle lined a single to right center, Jeter to third
-- Ruth struck out
-- Gehrig popped out to second
-- Rodriguez,Al homered deep down the left-field line, Jeter scored, Mantle scored
-- Koosman now pitching
-- Jackson,R flied out to right
Top of the 8th inning, Mets batting
-- Nettles now playing third base
-- Alfonzo flied out to left
-- Reyes grounded out to short
-- Beltran lined a triple to shallow center
-- Piazza homered deep to left, Beltran scored
-- Wright grounded out to short
Bottom of the 8th inning, Yankees batting
-- DiMaggio,J tripled deep to right center
-- Berra lined a single to left center, DiMaggio,J scored
-- Lazzeri grounded to second, forcing Berra at second, Lazzeri to first
-- Jeter grounded into a double play, Koosman to Alfonzo to Hernandez,K
Top of the 9th inning, Mets batting
-- Rizzuto now playing shortstop
-- Strawberry struck out
-- Carter,G struck out
-- Hernandez,K walked
-- Clemens now pitching
-- Dykstra pinch hitting for Wilson,M
-- Dykstra struck out