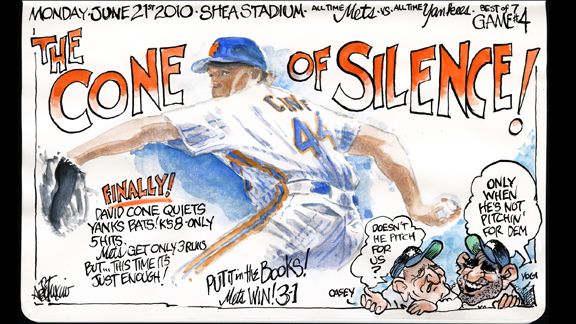 PLAYERS OF THE GAME
D. Cone
M. Piazza
Cone is perfect medicine to save Mets
Editor's note: In April we asked ESPNNewYork.com users to select the All-Time Yankees team and the All-Time Mets team. Into next week we'll be simulating a series between the Bombers' best and the ultimate Amazin's -- with exclusive cartoons from artist Joe Petruccio.
The real David Cone pitched a perfect game for the Yankees, but the virtual Cone had to be nearly as flawless against them.
Cone -- a rare player to star for both the Yankees and Mets -- saved the all-time Amazin's from an embarrassing simulated sweep by holding the Bombers' vaunted lineup to a single run over 6 2/3 innings in a 3-1 win at the old Shea Stadium. Though he labored at times, Cone's effort gives the Mets hope -- albeit just a glimmer -- as they trail 3-1 in ESPNNewYork.com's computerized best-of-seven series.
Cone, who struck out eight and threw 140 pitches, handed the ball over to Tug McGraw and John Franco (who picked up the save) for 2 1/3 scoreless innings as the Mets arms bailed out an offense that was again anemic. Still, the lineup managed to battle back from an early deficit and scrape out a victory, with RBI singles from Carlos Beltran and Mike Piazza and a seventh-inning solo home run from John Olerud, who had entered the game in a double-switch.
The Bombers, whose bats fell silent for the first time in the series, got their customary strong starting pitching, this time from hard-luck loser Lefty Gomez, who tossed six innings of two-run ball.
With some life left heading into Game 5 -- the all-time Mets' last home game of the series, and possibly their last game, period -- the Amazin's turn to Dwight Gooden in a Game 1 rematch against Whitey Ford.
-- Matt Marrone, ESPNNewYork.com
NYY: Williams,Be batted for Gomez,L in the 7th; Jackson,R batted for Jeter in the 7th; Rizzuto inserted at ss in the 7th; Randolph batted for Rizzuto in the 9th; Munson batted for Gossage in the 9th
NYM: Olerud inserted at 1b in the 7th; Dykstra inserted at cf in the 9th
E-Alfonzo. 2B-Reyes. 3B-Beltran. HR-Olerud(1). K-Jeter 2, Ruth 2, Gehrig 3, DiMaggio,J, Lazzeri 2, Gomez,L, Beltran, Piazza, Wright, Strawberry, Hernandez,K 2. BB-Mantle 2, Ruth, Rodriguez,Al, Randolph, Alfonzo. GWRBI: Piazza Temperature: 69, Field: wet, Sky: threatening, Wind: in from center at 12 MPH.
Play by play
Top of the 1st inning, Yankees batting
-- Jeter flied out to center
-- Mantle grounded out to third
-- Ruth struck out
Bottom of the 1st inning, Mets batting
-- Reyes grounded out to second
-- Beltran grounded out to first
-- Piazza flied out to right
Top of the 2nd inning, Yankees batting
-- Gehrig grounded out to short
-- Rodriguez,Al lined a single up the middle
-- DiMaggio,J reached on an infield single to short, Rodriguez,Al to second
-- Berra grounded a single up the middle, Rodriguez,Al scored, DiMaggio,J out at third
-- Lazzeri grounded a single up the middle, Berra to second
-- Gomez,L grounded out to second
Bottom of the 2nd inning, Mets batting
-- Wright struck out
-- Strawberry grounded out to first
-- Hernandez,K struck out
Top of the 3rd inning, Yankees batting
-- Jeter struck out
-- Mantle grounded out to short
-- Ruth walked
-- Gehrig struck out
Bottom of the 3rd inning, Mets batting
-- Wilson,M flied out to left
-- Alfonzo flied out to center
-- Cone popped out to right
Top of the 4th inning, Yankees batting
-- Rodriguez,Al flied out to left
-- DiMaggio,J struck out
-- Berra to second on an error by the second baseman Alfonzo
-- Lazzeri struck out
Bottom of the 4th inning, Mets batting
-- Reyes doubled deep to right
-- Beltran lined a single down the right field line, Reyes scored
-- Piazza struck out
-- Wright flied out to right
-- Strawberry flied out to right
Top of the 5th inning, Yankees batting
-- Gomez,L struck out
-- Jeter struck out
-- Mantle walked
-- Ruth grounded out to second
Bottom of the 5th inning, Mets batting
-- Hernandez,K lined out to first
-- Wilson,M popped out to left
-- Alfonzo walked
-- Cone flied out to left
Top of the 6th inning, Yankees batting
-- Gehrig struck out
-- Rodriguez,Al walked
-- DiMaggio,J grounded out to second, Rodriguez,Al to second
-- Berra grounded out to first
Bottom of the 6th inning, Mets batting
-- Reyes grounded out to short
-- Beltran grounded a triple down the first base line
-- Piazza lined a single up the middle, Beltran scored
-- Wright grounded a single up the middle, Piazza to second
-- Strawberry struck out
-- Hernandez,K struck out
Top of the 7th inning, Yankees batting
-- Lazzeri grounded out to first
-- Williams,Be pinch hitting for Gomez,L
-- Williams,Be lined a single to shallow left
-- Started raining
-- Jackson,R pinch hitting for Jeter
-- OJackson,R grounded to first, forcing Williams,Be at second, Jackson,R to first
-- Mantle walked, Jackson,R to second
-- Olerud now playing first base
-- McGraw,T now pitching
-- Ruth struck out
Bottom of the 7th inning, Mets batting
-- Rizzuto now playing shortstop
-- Gossage now pitching
-- Wilson,M grounded out to short
-- Alfonzo lined out to right
-- Olerud homered deep to right
-- Reyes grounded out to the catcher
Top of the 8th inning, Yankees batting
-- Gehrig struck out
-- Rodriguez,Al flied out to center
-- DiMaggio,J grounded out to first
Bottom of the 8th inning, Mets batting
-- Beltran struck out
-- Piazza lined a single to shallow center
-- Wright grounded into a double play, Rizzuto to Lazzeri to Gehrig
Top of the 9th inning, Yankees batting
-- Dykstra now playing center field
-- Franco now pitching
-- Berra lined out to center
-- Lazzeri struck out
-- Randolph pinch hitting for Rizzuto
-- Randolph walked
-- Stopped raining
-- Munson pinch hitting for Gossage
-- Munson grounded out to third