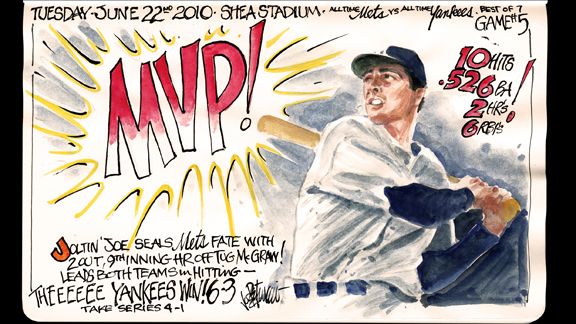 PLAYERS OF THE GAME
J. DiMaggio
M. Rivera
Joe jolts one; Yankees are champs!
Editor's note: In April we asked ESPNNewYork.com users to select the All-Time Yankees team and the All-Time Mets team. Into next week we'll be simulating a series between the Bombers' best and the ultimate Amazin's -- with exclusive cartoons from artist Joe Petruccio.
The Yankee Clipper saved his best for last.
In the final and most dramatic game of ESPNNewYork.com's Ultimate Subway Series, Joe DiMaggio sealed his virtual MVP award with a two-out, ninth-inning three-run home run off Tug McGraw to silence the simulated Shea Stadium faithful and knock off the all-time Mets for good.
By the time Mariano Rivera entered to notch the save in his one and only appearance of the five-game set, a 6-3 series-clinching win was all but a forgone conclusion for the Yankees. As was the crowning of Joltin' Joe as series MVP. DiMaggio, who led both teams with 10 hits and a .526 batting average in the series, to go along with two home runs and six RBIs, drove one deep into the left-field stands, scoring Mickey Mantle and Alex Rodriguez in the series finale.
The tilt was a see-saw affair throughout, but the Mets held a 3-2 lead heading into the eighth. That's when skipper Davey Johnson turned to Armando Benitez, who coughed up the lead on an RBI single by Yogi Berra, the series' leader in RBIs with seven. Benitez, who has had a history of flameouts (and even fistfights) against the Yankees, walked Mantle to start the ninth, heralding McGraw's entrance.
In the end, the best of the Bronx Bombers proved too much for the most amazing Amazin's. But take solace, Mets fans, at least it wasn't a sweep!
-- Matt Marrone, ESPNNewYork.com
NYY: Jackson,R batted for Jeter in the 8th; Rizzuto inserted at ss in the 8th; Nettles inserted at 3b in the 9th
NYM: Kent inserted at 2b in the 8th
2B-Mantle, Hernandez,K. 3B-Beltran. HR-DiMaggio,J(2). SB-Jeter 2(2), Gehrig(1), Rodriguez,Al(1), Reyes(2). CS-Reyes. K-Jeter, Mantle, Ruth, Gehrig, Rodriguez,Al, Berra, Lazzeri, Ford,W, Jackson,R, Reyes, Beltran 3, Wright, Hernandez,K, Wilson,M. BB-Jeter, Mantle 2, Gehrig, Rodriguez,Al 2, DiMaggio,J, Lazzeri 2, Piazza, Strawberry, Hernandez,K. SF-Strawberry. GWRBI: DiMaggio,J Temperature: 79, Sky: clear, Wind: right to left at 4 MPH.
Play by play
Top of the 1st inning, Yankees batting
-- Jeter grounded out to short
-- Mantle struck out
-- Ruth grounded out to first
Bottom of the 1st inning, Mets batting
-- Reyes flied out to center
-- Beltran struck out
-- Piazza grounded a single between third and short
-- Wright flied out to center
Top of the 2nd inning, Yankees batting
-- Gehrig walked
-- Gehrig stole second
-- Rodriguez,Al grounded out to short
-- DiMaggio,J walked
-- Berra grounded to second, forcing DiMaggio,J at second, Gehrig to third, Berra to first
-- Lazzeri struck out
Bottom of the 2nd inning, Mets batting
-- Strawberry grounded out to second
-- Hernandez,K grounded a single up the middle
-- Wilson,M flied out to center
-- Alfonzo popped out to the catcher
Top of the 3rd inning, Yankees batting
-- Ford,W struck out
-- Jeter lined a single up the middle
-- Jeter stole second
-- Mantle walked
-- Ruth struck out
-- Gehrig struck out
Bottom of the 3rd inning, Mets batting
-- Gooden grounded a single up the middle
-- Reyes grounded to the mound, forcing Gooden at second, Reyes to first
-- Beltran tripled deep to right center, Reyes scored
-- Piazza walked
-- Wright popped out to first
-- Strawberry flied out to left
Top of the 4th inning, Yankees batting
-- Rodriguez,Al grounded a single up the middle
-- DiMaggio,J grounded out to short, Rodriguez,Al to second
-- Berra flied out to left, Rodriguez,Al to third
-- Lazzeri walked
-- Ford,W grounded to short, forcing Lazzeri at second
Bottom of the 4th inning, Mets batting
-- Hernandez,K walked
-- Wilson,M struck out
-- Alfonzo lined a single to shallow right, Hernandez,K to second
-- Gooden popped out on a bunt to the mound
-- Reyes struck out
Top of the 5th inning, Yankees batting
-- Jeter walked
-- Jeter stole second
-- Mantle lined a double to left center, Jeter scored
-- Ruth flied out to right, Mantle to third
-- Gehrig grounded out to short, Mantle scored
-- Rodriguez,Al struck out
Bottom of the 5th inning, Mets batting
-- Beltran struck out
-- Piazza lined a single to shallow left
-- Wright lined a single down the left field line, Piazza to third
-- Strawberry lined out to left, Piazza scored
-- Hernandez,K grounded a single up the middle, Wright to second
-- Wilson,M popped out to the catcher
Top of the 6th inning, Yankees batting
-- DiMaggio,J flied out to right
-- Berra struck out
-- Lazzeri grounded a single between first and second
-- Ford,W reached on an infield single to second, Lazzeri to second
--Jeter struck out
Bottom of the 6th inning, Mets batting
-- Alfonzo lined out to first
-- Gooden popped out to center
-- Reyes lined a single to shallow left
-- Reyes stole second
-- Beltran struck out
Top of the 7th inning, Yankees batting
-- Mantle popped out to third
-- Ruth grounded out to short
-- Gehrig grounded out to second
Bottom of the 7th inning, Mets batting
-- Gossage now pitching
-- Piazza lined a single to right
-- Wright struck out
-- Strawberry walked, Piazza to second
-- Lyle now pitching
-- Hernandez,K doubled down the left field line and shallow, Piazza scored, Strawberry to third
-- Wilson,M popped out to second
-- Alfonzo flied out to right
Top of the 8th inning, Yankees batting
-- Kent now playing second base
-- Benitez now pitching
-- Rodriguez,Al walked
-- Rodriguez,Al stole second
-- DiMaggio,J flied out to left
-- Berra lined a single to shallow center, Rodriguez,Al scored
-- Lazzeri walked, Berra to second
-- Lyle popped out on a bunt to first
-- Jackson,R pinch hitting for Jeter
-- Jackson,R struck out
Bottom of the 8th inning, Mets batting
-- Rizzuto now playing shortstop
-- Kent grounded out to third
-- Reyes grounded a single up the middle
-- Beltran reached on an infield single to first, Reyes to second
-- Reyes was caught stealing third, Beltran to second
-- Piazza popped out to the catcher
Top of the 9th inning, Yankees batting
-- Mantle walked
-- McGraw,T now pitching
-- Ruth grounded a single between third and short, Mantle to second
-- Gehrig grounded into a double play, Reyes to Kent to Hernandez,K, Mantle to third
-- Rodriguez,Al walked
-- DiMaggio,J homered deep down the left-field line, Mantle scored, Rodriguez,Al scored
-- Berra grounded out to second
Bottom of the 9th inning, Mets batting
-- Nettles now playing third base
-- Rivera,M now pitching
-- Wright flied out to center
-- Strawberry flied out to right
-- Hernandez,K struck out