Thursday, Oct. 24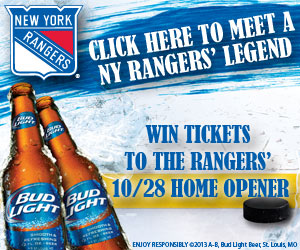 Join Robin Lundberg, Nick Fotiu and the ESPN New York team as they head to Black Bear Bar & Grill on Washington Street in Hoboken, N.J. from 6:30 to 9 p.m.
This invite-only event is the ultimate way to watch the Rangers take on Philadelphia.
There'll be drinks, food, and prizes including autographed Rangers sticks and pucks.
You can watch the game and participate in an exclusive Q&A with Nick Fotiu during the first intermission!
Plus, every attendee will have a chance to score tickets to the Rangers' home opener on Oct. 28!
This event is FREE and in order to attend you MUST register for your tickets. Must be 21+ in order to attend. Click the register link below for your tickets:

We hope to see you there!
Black Bear
205 Washington Street
Hoboken, NJ 07030
(201) 656-5511
Web