GIVE THE BALL TO BECKETT

By Gordon Edes
ESPNBoston.com
Archive
Josh Beckett has started Opening Day for the Red Sox the last two years, and it would have been three if he hadn't hurt his back prior to the team's trip to Tokyo in 2008. He does not relinquish the ball because he had a bad season in 2010, especially with injuries playing such a big role. It doesn't work that way.
On April 1 in Texas, he should be standing on the mound when the Rangers come to bat.
The Red Sox cannot say they expect Beckett will return with a vengeance, that they have no regrets about signing him to a $68 million contract extension last April, then ask him to relinquish an honor that is more symbolic than anything else. All five Red Sox starters, if they stay healthy, will get at least 30 starts this season. Terry Francona can adjust his rotation at any point in the season, and few will likely notice.
But Opening Day is about sending a message, and the best message the Sox can send is that they still believe in Josh Beckett. If you put it to a vote among the other four starters, Beckett would win. He is the leader of this pack. He sets the tone. The young pitchers, Jon Lester and Clay Buchholz, honor his example. The veterans, John Lackey and Tim Wakefield, understand the protocol. So, in his own way, does Daisuke Matsuzaka.
This is a confidence game, and there's no point in doing anything to undermine Beckett's on the first day of a new season.
Gordon Edes covers the Red Sox for ESPNBoston.com.
YANKEES AS UNDERDOGS? GIVE ME A BREAK

By Wallace Matthews
ESPNNewYork.com
Archive
In the English language, there are certain combinations of words that should never appear together.
"Derek Jeter" and "apathetic," for instance.
"Alex Rodriguez" and "affable."
And "New York Yankees" and "underdogs."
The Yankees are underdogs the way Bernie Madoff is a philanthropist, Carl Pavano a warrior and Jeter a slacker.
Right now, the Red Sox are the better team. On paper. But the last time anyone checked, the games were played on grass and clay. And a year ago, the Yankees and Red Sox were supposed to be so close in talent you could only separate them with a feeler gauge.
Of course, the Tampa Bay Rays wound up winning the division. The Yankees settled for the wild card. The Sox finished seven games back.
I know, I know, injuries, bad luck, blah, blah, blah. Who's to say it can't, or won't, happen again? Who's to say that great (on paper) Boston starting rotation won't underperform again?
And who's the say the Yankees are going to stand pat and try to win with CC Sabathia, Phil Hughes and the Seven Dwarfs?
The Yankees are short on starting pitching right now. They're loaded in just about everything else. And there aren't too many teams in baseball that wouldn't leap at the chance to trade their everyday lineup for the Yankees', plus the financial wherewithal to plug any leaks that might pop up.
These are still the New York Yankees. The word "underdog" has about as much right to appear in their lexicon as the word "pauper."
For Matthews' complete column, click here. Matthews covers the Yankees for ESPNNewYork.com.
You've heard our takes; now give us yours. DISCUSS
RED SOX SEASON PREVIEW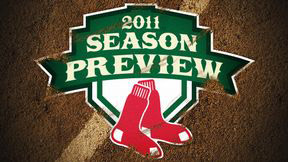 YANKEES: SPRING TRAINING 2011