IVY BEATS THE MONSTER ANY DAY
By Bruce Levine
ESPNChicago.com
Cubs blog
Let's be honest: The Wrigley Field experience is better than a Fenway day at the ballpark.
It starts with the atmosphere, the beautiful ivy-walled outfield compared to the hollowed Green Monster. Unless you have a few seats atop the Green Monstrosity in left, Wrigley's 3,500 bleacher seats provide you with the most fun you can have in baseball.
Fenway's center field experience is more comparable to Wrigley's rooftop experience when it comes to proximity and being in the game. Pesky Pole in right and its quirky corner doesn't measure up to the deepest foul lines in baseball at Wrigley (353/355 feet).
When the Cubs have home run hitters (disregard 2011), the elements impact long drives more than the 37-foot-high fence that Yaz, Boggs and now Adrian Gonzalez head to on a regular basis for cheap doubles.
Box seats are a wash as Fenway's upper grandstand levels and Wrigley's upper deck are all fantastic seats, and there's no need to compare the dungeon-like concourses of both ball parks. Amenities are something that only parks built after 1990 have to offer.
The fan base is top notch in both cities -- the best in the game. Rabid followings from five generations have inhabited these two iconic buildings for 100 years. If you like your baseball with a touch of nostalgia, the Carlton Fisk home run in Game 6 of the 1975 World Series probably edges out Gabby Hartnett's "Homer in the Gloamin' " in 1938, but then again you can't lose in either ballpark experience.
For my liking, I'll take the split doubleheader at Clark and Addison over the one at Four Yawkey Way any day of the week.
And the seventh inning stretch tradition of live guest singers blows away the recording of Neil Diamond's "Sweet Caroline" as well.
Bruce Levine covers the Cubs for ESPNChicago.com and ESPN 1000.
FANS IN STANDS GIVE FENWAY SLIGHT EDGE

By Gordon Edes
ESPNBoston.com
Archive
I come to this argument with a great deal of reluctance. Might as well ask me to choose between the Art Institute or the Museum of Fine Arts, the Public Garden or Millennium Park, Navy Pier or Quincy Market, deep dish pizza or clam chowder, Lake Michigan or the Charles.
Some things just were not intended to be rated better than the other, and that's how I feel about Fenway and Wrigley. Fenway has been my office for the better part of 14 years, and when I moved to Boston I lived just two blocks away. My first visit to Fenway came before my family owned a color TV. I'll never forget walking up that ramp and laying my eyes on the field and wall, and a greener green than I could ever imagine.
But I went to college in Chicago, and spent many afternoons in Wrigley (they only played in the sunlight!), sitting among the Bleacher Bums, watching outfielders poking through the ivy, studying the old scoreboard, or sitting so close you could see the perspiration on Bill Madlock's brow. I loved the place. I still do.
I'm not so provincial as to say Fenway is better than Wrigley, because it's not. If there is one difference, it may be in the clientele. Red Sox fans may bleed more about the baseball being played, while Cubs fans all too often appear happy just to be spending a few hours in the world's biggest outdoor beer garden.
You've heard our takes; now give us yours. DISCUSS
Gordon Edes covers the Red Sox for ESPNBoston.com.
LISTEN LIVE!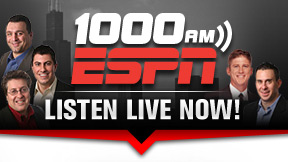 Want to sound off on today's Hot Button topic? Give us a call at 312.332.ESPN. Listen Live