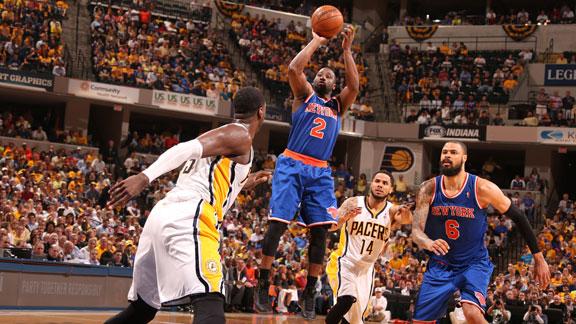 THERE'S TIME TO HEAL
By Jared Zwerling
ESPNNewYork.com
Archive
In the playoffs, even in losing their second-round series to the Indiana Pacers, the Knicks were mostly competitive with an unhealthy Carmelo Anthony, Tyson Chandler and J.R. Smith.
What if they were all feeling better?
That "what if" provides the first taste of promise heading into 2013-14, knowing that those three key players should be back at full strength with plenty of time to heal this summer.
The Knicks did, after all, win 54 games this past season, despite the fact their core players battled major injuries. There's good reason to believe they'll be at it again next season, especially if they get deeper at certain positions.
The Knicks are not expected to make any significant moves this summer -- mostly a first-round draft selection and free-agent signings. As one source familiar with the Knicks' potential free-agency plans said, "They will try to improve and enhance their core. They have [seven] players under contract and they will re-sign J.R."
So with the Knicks acting in win-now mode, they appear to be content with their veteran roster. This means the core of the team will need to avoid long-term setbacks next season. If it can, the Knicks will be Eastern Conference contenders. Remember when the Knicks started 18-5 last season?
But the Knicks still need to make some additions -- a young and talented point guard and big man -- to give the team some fresher legs, more playmaking and low-post scoring and rebounding. They won't be able to replace future Hall of Fame point guard Jason Kidd, who retired on Monday, but it gives them a chance to find another solid, speedy, penetrating PG like Raymond Felton.
If health is on the team's side, Knicks fans will have a reason to be optimistic.
Jared Zwerling covers the Knicks for ESPNNewYork.com
GRAY HAIRS AND NO CAP
By Mike Mazzeo
ESPNNewYork.com
Archive
In 2012-13, the New York Knicks won the Atlantic Division title for the first time since 1994 and a playoff series for the first time since 2000.
They have a superstar scorer in Carmelo Anthony and a tenacious defender with a ton of potential in Iman Shumpert.
And yet, why should you be optimistic about the Knicks' future?
After all, they're cap-strapped, old and don't have a consistent second scorer to go with Melo.
Sure, they could look to trade Tyson Chandler in order to acquire that second scorer, but who are they going to replace him with?
J.R. Smith, who is a free agent but is expected to return, was incredible at times in 2012-13, but he's too inconsistent and hasn't shown he can be counted on in big games.
Amar'e Stoudemire, virtually untradeable due to his uninsured contract and owed $45 million over the next two years, may not even start next season and doesn't play well with Melo.
Raymond Felton is a reliable point guard, but far from elite.
Jason Kidd, who announced his retirement Monday, ran out of gas at the end of the season, but his veteran leadership and playmaking abilities will be missed. Marcus Camby (39) is on the books for the next two years, while Steve Novak (33.3 percent shooting during the Pacers series) is on the books for the next three.
As long as the Knicks have Melo, they're going to be a playoff team. But are they ever going to be able to compete for a championship with this roster, limited financial flexibility and LeBron James playing in the East?
Doesn't look that way, does it?
Mike Mazzeo is a regular contributor to ESPNNewYork.com