February, 1, 2015
2/01/15
1:34
PM PT

By Baxter Holmes
ESPNLosAngeles.com
Archive
NEW YORK -- Near the end of Sunday's blowout, a
New York Knicks
fan seated in the nose-bleeds at Madison Square Garden shouted at
Carmelo Anthony
, telling the Knicks star that the contest was over and that he should join him to watch the Super Bowl.
"I'll go warm up the car!" the fan shouted.
Shortly after that, Anthony checked out, having scored a game-high 31 points in a game his team led by as much as 21, in a game that was never much of one.
The Knicks have won five of their last seven and the Lakers have lost 10 of their last 11.
Turning point: The Knicks built a 26-12 lead early and were never really threatened beyond that.
Player of the game:
Anthony made 13-of-25 from the floor and added eight rebounds and six assists. He also scored 18 points in the third quarter alone -- the same amount that the Lakers scored as a team.
Lone bright spot:
Lakers forward
Carlos Boozer
had 19 points and 10 rebounds off the bench.
No Linsanity:
Jeremy Lin
finished with four points in 24 minutes, far from the numbers he was putting up almost three years ago when he took the world by storm as a member of the Knicks.
Injury update:
Nick Young
(ankle) missed his third straight game.
Jordan Hill
left the game with a right quad strain and the Lakers said an update on his status will be available Monday.
January, 29, 2015
1/29/15
12:46
AM ET
NEW YORK –- In a short amount of time,
Langston Galloway
has made quite an impression for an undrafted rookie.
In fact, Galloway's confidence and ability to step up in some big moments reminds
Carmelo Anthony
of another undrafted
New York Knicks
point guard who created a worldwide stir a few seasons ago.
When asked if he has seen another rookie as fearless as Galloway in taking big shots, Anthony mentioned the "L" word –- "Linsanity."
[+] Enlarge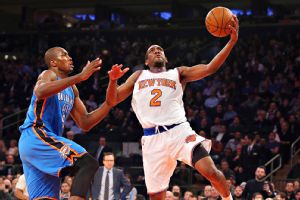 Brad Penner/USA TODAY SportsKnicks rookie Langston Galloway had 18 points in the win over the Thunder.
"I don't know man, I would say probably 'Linsanity,'" Anthony said. "[
Jeremy Lin
] wasn't a rookie but he was here and he had that mindset of taking the big shot when he first got here.
"I don't like to compare anything, but Langston's mindset of being willing to take that big shot, take the open shot, just having the opportunity out there, I think Langston loves those moments."
Galloway may not become the overnight sensation that Lin became when he captivated many with a magical 35-game run with the Knicks in 2011-12. But during this dark and dismal season, Galloway has become a rare bright spot for the 9-37 Knicks.
The Knicks have played their best basketball of the season with help from Galloway, who scored 18 points and had four assists, four rebounds and three steals in a 100-92 win over the
Oklahoma City Thunder
on Wednesday night.
Galloway, who agreed to terms with the Knicks this week for the remainder of this season and the 2015-16 season, has played a pivotal role in helping the Knicks win four of their past five games.
During that five-game stretch, Galloway is averaging 15.2 points, 5.8 rebounds and 3.2 assists. Coach
Derek Fisher
has played Galloway an average of 33 minutes in those five games.
"He is not fearful of any moment," Fisher said of Galloway. "When he is out there on the floor, he trusts himself. He plays with a confident toughness that has been really good for our group. And the guys enjoy having him around because of who he is as a young man, his character and how he's built.
"And it is easy for teammates to want to be on the floor and support a guy like Langston," Fisher continued. "Those are the type of guys we want to have around here as we build this thing out and that is why we got done what we got done yesterday [in signing him to a contract] and we are happy to have him."
The St. Joe's product has seemingly come out of nowhere. He played on the Knicks' summer league team before being in their camp. He played earlier this season on the Knicks' D-League team in Westchester before being signed to two 10-day contracts.
Fisher has credited hungry 10-day guys like Galloway,
Lou Amundson
and
Lance Thomas
with helping change the team's mentality on the court.
While the Thunder played without
Kevin Durant
,
Russell Westbrook
tried to carry Oklahoma City with 40 points, four assists and four rebounds. The Thunder point guard was a load for Galloway and the Knicks to handle, going to the line 12 times.
But Galloway banked in a big 20-footer with 4:41 remaining after Oklahoma City cut a nine-point deficit to two. Galloway's basket started a 10-0 run that finished with him assisting
Tim Hardaway Jr
. on a 3-pointer with 2:35 to go to push the Knicks up 92-80.
"I'm just out there having fun," Galloway said. "Just trying to play ball and learn from these experiences."
Galloway has played in only nine games with the Knicks, so he still has a ways to go before "Langstanity" gets rolling. But so far, Galloway reminds at least one Knick of another previously little-known point guard with the ability to hit some big shots.
"Langston can play," Anthony said. "I don't think a lot of people know about him. But he can play basketball. Even going back to training camp, early in preseason, we knew he could play basketball.
"He's great at getting in the paint, he can score the basketball," Anthony added. "If he don't have something, he'll find the open man. That's what he's been doing."
October, 17, 2014
10/17/14
3:49
PM PT

By Baxter Holmes
ESPNLosAngeles.com
Archive
EL SEGUNDO, Calif. – Three-pointers are in. They've been in for a while, too. NBA teams are firing from long range more than ever – a record 21.5 3-point attempts per game last season, which broke the record set the season before that (20), which broke the record set the season before that (18.4). You get the picture.
That figure has steadily risen through the years since the NBA introduced the 3-point shot in the 1979-80 season, but it has skyrocketed of late, especially as advanced statistics have shown it to be a more efficient option on offense, particularly if taken from the corner.
But the
Los Angeles Lakers
are bucking that trend, at least so far in the preseason. Through four exhibition games, they're averaging about seven 3-point attempts and have made just six of 29.
Worse: the Lakers have shot 1-for-19 from long range in their last three games, including going 0-for-8 in their last two.
Even worse: the Lakers haven't made a 3-point shot since the first quarter of their second preseason game – an 11½-quarter drought.
ESPN.com's Tom Haberstroh also found that there are 24 players who have made more 3-pointers this preseason than the entire Lakers team.
Though first-year Lakers head coach Byron Scott admitted that injuries to perimeter players such as
Jeremy Lin
,
Steve Nash
,
Ryan Kelly
and
Nick Young
have hindered their 3-point efforts, Scott didn't hide how he felt about the league's steep rise in long-range attempts.
"You've got a lot of teams that just live and die by it," Scott said after the team's practice here Friday. "Teams, general managers, coaches, they kind of draft that way to try to space the floor as much as possible. But you have to have shooters like that; you also have to have guys that can penetrate and get to the basket, because that opens up the floor."
But does Scott believe in that style?
"I don't believe it wins championships," he said. "(It) gets you to the playoffs."
Seven of the last eight NBA champions led all playoff teams in 3-point attempts and makes.
And it's not as though Scott isn't familiar with the 3-point shot. During his second season with the Lakers as a player, he led the NBA in 3-point field-goal percentage in 1984-85 (43 percent) and was in the top-10 in that category in three other seasons. Scott also ranked sixth in the NBA in 3-point attempts (179) and ninth in makes (62) during the 1987-88 season.
But are the Lakers' low 3-point attempts this preseason a reflection of injuries or of how the Lakers will really end up playing this coming season?
"I don't think that's an indication of what we'll be when we're fully healthy," Scott said. "I think it will still be 12, 13, 14, 15 (attempts per game), somewhere in that area, when we're fully healthy."
Only two NBA teams averaged between 12-15 3-point attempts during the 2013-14 regular season: New Orleans (15.9) and Memphis (14). No team averaged fewer. Houston averaged the most 3-point attempts (26.6), and 20 teams averaged at least 20 attempts per game.
October, 8, 2014
10/08/14
3:35
PM PT

By Arash Markazi
ESPNLosAngeles.com
Archive
EL SEGUNDO, Calif. –
Kobe Bryant
and
Steve Nash
will start in the backcourt again for the
Los Angeles Lakers
in their second preseason game against the
Golden State Warriors
on Thursday.
Both started together Monday for the first time since March 30, 2013, and Thursday will mark the first time since March 23, 2013 that they will have started a game together at Staples Center.
Lakers coach Byron Scott said both will play limited minutes again after they played around 20 minutes in Monday's preseason opener against the
Denver Nuggets
.
"As we get closer to the end of the preseason we'll ratchet it up a little bit," Scott said. "We're going game by game and day by day. A lot of this is based on how [Kobe] feels. In the last week in a half he says he feels great. He got through training camp feeling really good and he got in great shape."
Bryant and Nash both went through practice with the team Wednesday, but Nash was pulled early, as has been the case during training camp. While Scott believes Bryant can play 82 games and become the 25 points-per-night player he used to be, he has been much more cautious with Nash, who will turn 41 in February.
While the Lalkers will start the season with Nash as the starting point guard,
Jeremy Lin
is effectively the starter in waiting. He will likely play more minutes than Nash and could finish the season starting more games as well, depending on Nash's health.
"He's got to be ready every night," Scott said of Lin. "Every game might be different. That's one of the things we have that we just don't know with Steve right now. Jeremy knows every game he's going to play, but there's going to be games that he's going to start and he's going to have to play a lot more minutes."
September, 15, 2014
9/15/14
2:00
PM ET

By Ethan Sherwood Strauss
ESPN.com
Archive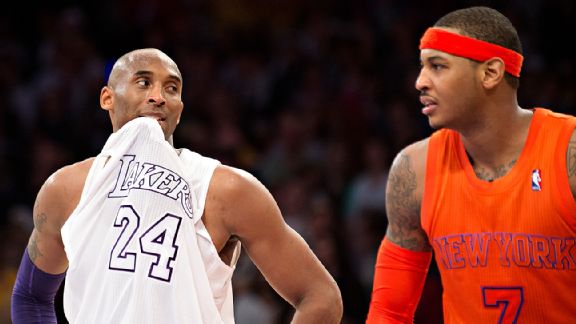 Robyn Beck/AFP/Getty ImagesKobe Bryant and Carmelo Anthony have both felt the cold sting of their #NBArank positions.
#NBArank isn't just a window into how all the league's players might stack up against one another. It's also motivational fuel for the athletes who feel slighted.
It's funny how players take umbrage about a score based on a collection of surveys. There's no one person to get angry at -- unless you subscribe to the belief that "ESPN" is a discrete individual.
Professional athletes are good at this, though. They're masters at taking dry, detached assessments and
converting those into grievous insults
that must be disproven. Write something that you think is a mostly positive assessment of an athlete and you're liable to get "I'll show you" where you might have expected "That was a balanced take on me." Getting to the top comes with a fair amount of pride and a gnawing need to prove oneself. As someone more defined by "laptop" than "the top," I'm often surprised by how reflexively athletes take negative information to heart.
Perhaps, per the rankings, there's just something so cold about a man listed as a number. It's tough, in a way, to see
Kobe Bryant
's entire career reduced to "25" in
last year's NBA rank results
. "Just a number" describes how people are treated in vast, impersonal systems. It seems as if a few NBA players strive to be more than just their allotted ranking number. Maybe they don't even have a specific goal. They would just like to shed the unflattering numerical definition of their talent.
Kobe Bryant
appeared to include his "25"
ranking in his Twitter handle. The vast majority of caterwauling over Kobe's ranking was done by
fellow players and fans
. Another way of defining those offended by Kobe's ranking is, "People who dismiss the importance of the Achilles tendon."
The Mamba didn't come out and prove all the #NBArank haters and doubters wrong. Unfortunately, Kobe's human, and his hasty return from a devastating injury resulted in uneven play and another injury.
Even other superstars aren't immune. In 2011,
Carmelo Anthony
saw himself outside the top 10 (at No. 12!) and
took to social media
to tell the world of his newfound motivation. (It didn't necessarily take. Melo has yo-yoed in #NBArank, falling to No. 17 in 2012 and rising to No. 15 in 2013.)
Ranking rancor went a bit better for
Kent Bazemore
, who
wrote his 2012 #NBArank listing of "499"
on his shoe. Thanks in part to a Summer League MVP performance Bazemore was able to move up 167 spots. He
thanked the rankers
for his progress, while expressing hope that he could prove us wrong once again.
Lavoy Allen
was a temporary #NBArank motivation success story. After getting
tagged with the dreaded rank of "500"
in 2011, Allen helped the Sixers on a strong playoff run. Actually, I shouldn't say "temporary." Last year, Allen managed to finally escape what's become of the Sixers. That's a certain kind of success.
Jeremy Lin
's trainer was yelling his 2011 #NBArank number ("467!")
at Lin during workouts
. Such tactics must have worked because Lin made the biggest jump of any player to 76 the next season. Oh, also Linsanity happened.
There might have been a correlation between that national phenomenon and the ranking boost. Last season,
Lin slid back
into a ranking of 106. It might be time for his trainer to revisit old routines.
All these players should be content to be in the top 500 and to simply be involved in the world's best basketball league. But if these guys were content with such a distinction, they wouldn't have gotten this far in the first place.
July, 11, 2014
7/11/14
6:33
PM PT

By Dave McMenamin
ESPNLosAngeles.com
Archive
It was an injury to
Carmelo Anthony
that led to
Jeremy Lin
's meteoric rise to basketball relevance in New York more than two years ago. Now it appears that indecision on Anthony's part could lead to Lin trying to recapture the magic in Los Angeles.
The Lakers still hadn't heard any official word from Anthony on Friday, according to a league source, when they pulled the trigger on a trade with the
Houston Rockets
to acquire Lin and Houston's 2015 first-round pick in exchange for cash considerations and the rights to an undisclosed player stashed overseas.
[+] Enlarge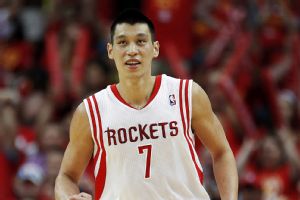 Andrew Richardson/USA TODAY SportsIn addition to providing consistency at point guard, one of Jeremy Lin's biggest assets is his ability to drive to the basket and convert.
While Lin hardly has the reputation now he had back in February 2012 when "Linsanity" reached its height of euphoria thanks to him dropping 38 points on the Lakers of all teams during a Friday night game at Madison Square Garden, it's not as if he's some bum either.
There's no denying that the last we saw of him on the court, Lin struggled. Lin shot just 21.7 percent on 3-pointers in Houston's first-round playoff loss to Portland and was particularly ineffective early in the series, scoring five points on 1-for-5 shooting in Game 2 and four points on 1-for-6 shooting in Game 4 as the Rockets fell behind 3-1 before eventually losing in six games.
But that rough series, combined with the Rockets' preference for Patrick Beverly at the point, ended up clouding the player that Lin really is today.
The fact is, he's a better player than when he was setting the world on fire during that streak with the Knicks. Lin may have averaged fewer points (12.5 compared to 14.6) and assists (4.1 compared to 6.2) last season than he did when he was in New York, but he's more efficient (35.8 percent from 3, up from 32.0 percent, while his attempts have gone from 2.1 to 3.2 per game), more reliable (82.3 percent from the foul line, up from 79.8) and also more in control (2.5 turnovers per game, down from 3.6).
At 6 feet 3, 200 pounds, Lin is a bigger point guard than most think, which perhaps has something to do with his durability. Lin played in 71 games last season and all 82 games the season before that. Having a stable point guard would certainly be a welcome addition for the Lakers after
Steve Nash
,
Steve Blake
and
Jordan Farmar
all missed so many games because of injuries in the last two seasons.
July, 3, 2014
7/03/14
2:01
AM ET
Carmelo Anthony
's free-agency tour hit Texas on Wednesday and left
Jeremy Lin
in its wake.
Anthony met with Houston Rockets stars
James Harden
and
Dwight Howard
, and Dallas Mavericks owner Mark Cuban and
Dirk Nowitzki
in separate meetings with the teams.
In trying to court Carmelo, the Rockets dissed Lin when they showed images of Anthony in a No. 7 jersey. Anthony wears No. 7 for the Knicks. Lin wears No. 7 for the Rockets.
Awkward.
Rockets GM Daryl Morey explained the rationale behind the
display
.
After a meeting at the Toyota Center and lunch in Houston, Anthony headed to Dallas to meet with Cuban, Nowitzki and Mavs head coach Rick Carlisle, among others, at Cuban's home, sources told ESPN.com.
Here's what the Mavs sold Melo on:
There was no pomp and circumstances from the Mavericks. Dallas' meat-and-potatoes pitch emphasized the opportunity to contend immediately with an elite coach in Carlisle, a selfless star in Nowitzki and a quality supporting cast featuring high-scoring guard
Monta Ellis
and defensive-minded center
Tyson Chandler
. The Mavericks also focused on the creativity and proven track record of the front office, stressing their plan to sustain a contender throughout Anthony's prime and ability to add at least one more major piece next summer.
Dallas has enough cap space to offer Anthony a maximum contract valued at $96 million over four years. But Cuban has said that he won't offer Anthony -- or any other free agent -- max money this summer.
The Knicks can offer Anthony the most money of any of the suitors -- $129 million over five years -- though it is unclear if Knicks president Phil Jackson will offer Anthony a max contract.
Both the Rockets and Bulls would have to alter their rosters significantly to create enough cap space to offer Anthony a competitive contract. The more likely path for either to acquire Anthony is via a sign-and-trade. But it's unclear if the Knicks will cooperate in such a transaction, which would make it easier for Anthony to leave New York.
One key player in Chicago's pursuit of Anthony is
Carlos Boozer
. The Bulls would need to exercise their amnesty rights on Boozer and his $16.8 million salary or move it in a sign-and-trade. ESPN's Chris Broussard reported that the Knicks would not be interested in taking back Boozer in a sign-and-trade. ESPN's Brian Windhorst reported on Wednesday night that the Bulls informed Boozer that he will be amnestied or involved in a sign-and-trade.
Anthony will head to Los Angeles to meet with the Lakers on Thursday. The Knicks expect to get the final meeting with Anthony, sources told ESPN New York. It is unclear if a date or time has been set for the meeting yet.
You can follow Ian Begley on Twitter.
February, 23, 2014
2/23/14
3:33
PM ET

By J.A. Adande
ESPN.com
Archive
Two years after Linsanity, the month that took him to dizzying heights never before reached by an Asian American player in the NBA,
Jeremy Lin
offered his perspective on
Jason Collins
, the first openly gay player in the four major American professional team sports.
"I think it's definitely a big step," Lin said after the
Houston Rockets
' morning shootaround before their game at the
Phoenix Suns
. "The game is evolving. You see a lot of different people breaking barriers in a lot of different ways. This is just another one of those."
Collins signed a 10-day contract with the
Brooklyn Nets
on Sunday. But Collins won't just be playing for the Nets ... or for himself ... or for his family. Collins now carries the hopes of the gay community with him, an additional responsibility that Lin handled as a representative for Asian Americans.
"It was definitely not easy," Lin said. "For me, if I didn't have faith, in terms of my Christianity, I'm not sure how I would have been able to handle it or understand it or process it. For me, I try to think of it as living or stewarding God's platform. That's kind of how I approached it."
Only a handful of reporters faced Lin as he spoke, a big drop off from the media throngs he attracted when he averaged 21 points per game at the height of Linsanity in February 2012. Lin is averaging 13.1 points per game in his second season with the Houston Rockets and recently moved to a reserve following the return of Pat Beverley from injury. Just as Collins will receive more attention than the typical player on a 10-day contract, Lin has found that he can't recede completely into the background.
"When I'm with my friends and family back home, it's as normal as it will ever be," Lin said. "But I think I'm getting used to a lot of the changes."
January, 16, 2014
1/16/14
1:15
AM ET

By Kevin Arnovitz
ESPN.com
Archive
NEW ORLEANS -- The
Houston Rockets
use an offensive formula they've been cultivating for years under their current regime: 3-pointers and rim shots. Everything in between is for suckers.
The Rockets attempted 35 field goals in the first half of their 103-100 win over the
New Orleans Pelicans
on Wednesday night. Only
four of the 35
occurred between eight feet from the basket and the 3-point line. The trend held throughout the game, as more than 80 percent of the Rockets' shots occurred in their sweet spots.
That is, until the final minute of play, when Old Man Midrange reared his head and the Rockets soared back in time. Two possessions yielded two isolation plays for
James Harden
, the first resulting in a pair of free throws that briefly gave the Rockets a one-point lead, the second an ankle-breaking, step-back jumper that put the Rockets up 102-100.
But heroball this wasn't. The Rockets didn't run a 1-4 flat set with Harden pounding the ball into the hardwood until he felt inclined to put it on the floor. And though these shots didn't originate from the Rockets' preferred zones, each was cleverly crafted with one goal in mind: Take Harden's primary defender,
Eric Gordon
, out of the play and draw a lesser perimeter defender on the switch. The way to accomplish that? A "small-small" pick-and-roll -- one guard picking for the other guard.
"Teams don't know how to guard it," Harden said. "Late in the game, either you're going to switch it and put a smaller guy on me or they're going to try to show and get confused. It worked tonight."
The first possession was more elaborate and took longer to materialize. It was a familiar NBA set: The point guard (
Jeremy Lin
) gets a staggered screen up top -- one screener a shooter (Harden), the other a big man who can roll (
Dwight Howard
). Harden pops while Howard rolls. The Pelicans defended it beautifully.
Brian Roberts
was able to fight over the first screen, allowing Gordon to stay home on Harden. When Roberts got hung up on the second screen,
Jason Smith
bought him some time, then quickly rotated back onto Howard. New Orleans survived the action with everyone in their right place.
That's when Lin got crafty. He probed, reversed course and circled back out of the lane counterwise, with the sole intention of rubbing Roberts off Harden, thereby forcing Gordon to switch off of Harden and onto Lin.
The ploy worked. A pass from Lin went to
Terrence Jones
out on the perimeter, then Jones zipped it quickly to Harden. From there, Harden did his thing: one dribble, collision, whistle, two free throws, Rockets by one.
"I feel like it's really hard to guard," Lin said. "You see, like, OKC [the
Oklahoma City Thunder
]. They run a 1-3 pick-and-roll, which is really hard to guard just because you're not used to being in that position where they have to get out and show and do different coverages. They're usually like sized enough where they're, like, 'We can switch this.' But that gives us the matchup we want."
The game winner was more basic: Jones, Howard and
Chandler Parsons
along the baseline, with Harden at the foul line poised to set the 1-2 pick-and-roll for Lin.
Pelicans coach Monty Williams elaborated on the theme in Lin's comment: It's easy to say, "Don't switch," but the consequences can be dire.
"The problem is the guy who's setting [the screen] can shoot," Williams said. "If you try to hedge it and that guy pops, he's going to get a shot. We wanted to try to keep Eric [Gordon] on him as much as we could. So we got [Brian Roberts] out of the game and put
Austin [Rivers]
in to try to give us some more size in case they do it again."
Harden set the screen on Rivers to Lin's right (go figure) and, sure enough, when Lin turned the corner, there was Gordon waiting for him. Switch accomplished with relative ease.
"We run that play a lot, especially late in the game," Harden said. "We don't really run it in the beginning of the game. They switched it, and Jeremy threw it back to me."
Harden explained that the element of surprise contributes to the 1-2's effectiveness. Defenses tighten up in the closing minutes, which is one reason we see more switches late out on the perimeter. Nobody wants to be left out to dry. Switching poses the risk of a mismatch, but at least
somebody
picks up the ball handler.
Harden held the ball for a moment, thrust a head fake or two, then went right -- to his off hand.
"I was reading what the other four players were doing," Harden said. "They all stayed home. It was
mano-a-mano
."
Harden took one slick dribble, yanked the ball back as he thrust his arm forward at Rivers. Did it make contact? Hard to say. Harden then lurched back, with all the space in the Bayou to rise and shoot.
"[Harden] made a tough shot on Austin," Williams said. "Austin played him well. Austin thought he got pushed, but in that situation, you got to just play tough. You can't even ask for the ref to bail you out in that situation. It's just not going to happen."
With that, the team that's driven the midrange jumper out of fashion won the game on a 21-footer.
January, 8, 2014
1/08/14
10:50
AM PT

By Dave McMenamin
ESPNLosAngeles.com
Archive
HOUSTON -- After
Kendall Marshall
's impressive 20-point, 15-assist night in his first game starting at point guard for the
Los Angeles Lakers
, coach Mike D'Antoni was so charged by the performance that he likened Marshall to the most surprising success story of his coaching career:
Jeremy Lin
.
The "Linsanity" run during New York's 2011-12 season coincided with a seven-game winning streak by the Knicks, led every step of the way by Lin putting up points and dishing out assists as the starting point guard.
The Lakers are just 1-2 since Marshall took over starting point guard duties last week, but the former D-Leaguer (just like Lin) has been superb, averaging 15.7 points, 12.7 assists and 5.0 rebounds on 56.3 percent shooting in those three starts.
"He's done a great job," Lin said when asked about Marshall after the
Houston Rockets
' shootaround Wednesday in preparation for the Lakers. "He's a phenomenal passer and he's just a smart, smart player. He's definitely taken advantage of the opportunity and all the injuries that they have and really done a great job. So, I think people are happy for him, for sure."
D'Antoni compared Marshall's inauspicious first appearance with the Lakers, when the North Carolina product had four turnovers in six minutes against the
Golden State Warriors
, with Lin's game against the
Boston Celtics
just before his memorable run started when Lin had just two points, one assist, one turnover and two fouls in seven minutes.
"The first time he went out in Boston it was awful, and I'm thinking, 'Oh my gosh,'" D'Antoni recalled following the Lakers' 110-99 win over the
Utah Jazz
last week in Marshall's first start. "Then, obviously it happened to him. It does happen to guys."
A lot has happened to Lin since his days being coached by D'Antoni, most notably signing a $25 million contract with Houston, receiving critical acclaim after releasing the documentary "Linsanity" detailing his rise to fame and just this week, inking a new endorsement deal with Adidas AG.
"We'll still text back and forth throughout the season," Lin said of this relationship with D'Antoni. "He came out and was there for the 'Linsanity' documentary premiere (at the TCL Chinese Theater in Hollywood) and he let me work out at the Lakers' facility when I was down there in L.A. this summer. So, I think we'll always have a special bond just because of everything that happened."
Lin said that D'Antoni's coaching style helped him grow.
"I think he lets guards play through their mistakes," Lin said. "I think he gives them a lot of freedom and creativity and I think he's really good at finding ways to get mismatches on the floor and he's really innovative when it comes to that type of stuff. So, he does a great job and he makes you feel like (you're important). He empowers you, basically."
Lin said that he even notices D'Antoni's coaching influence on the sets that Rockets coach
Kevin McHale
runs in Houston.
"I think in general the league has adopted a lot of what he started," Lin said. "Him and Golden State 'small ball' and stuff like that, you see lot of that just filtering into all different teams right now."